In association with NUFC.com

Date: Wednesday 17th February 2010, 7.45pm.

Venue:

St.James' Park



Conditions: comfortable





Newcastle United

Coventry City

4 - 1

Teams
35 mins Michael McIndoe played the ball down the City left to Carl Baker, whose pull back for Clinton Morrison allowed the striker to find the far corner of Harper's goal with a low shot. 0-1

37 mins Normal service was soon restored, when a Danny Guthrie corner was headed out by Richard Wood and fell nicely for Wayne Routledge outside the City area in a central position. Without breaking stride, he dispatched a perfect volley that flew beyond Westwood into the bottom corner of the Leazes End net 1-1

Half time: United 1 City 1

53 mins A quickly-taken throw in was the key to this goal, as Danny Guthrie picked up possession on the left and threaded his pass through to Nolan, who had got between two covering defenders on that side of the City box. Amid faint and inaccurate offside claims, he turned the ball across goal for Andy Carroll to out-muscle Richard Wood and head home from close range with goalkeeper Westwood helpless 2-1

70 mins some loose play from City allowed Routledge to take possession midway in the opposition half and he set off for goal, with support infield. Opting to go it alone and motoring across the box, he was shoulder- charged by Leon Barnett and lost his footing. Barnett received his second yellow card and left the field, before Peter Lovenkrands stepped up to convert with a powerfully-hit left foot penalty 3-1

92 mins A Simpson/Pancrate combination down the United right saw Andy Carroll get up well to flick the ball on and Pancrate advance before sending over a teasing cross that Leon Best managed to fluff. Fortunately, Ryan Taylor was around to save his blushes, shooting home at the back post 4-1

Full time: United 4 City 1
United Manager Chris Hughton said:

"It is what we have come to expect, we came up against a Coventry side in good form that worked very, very hard. When they got the goal, which was possibly against the run of play, it spurred us on and I think that fact we got the goal back relatively early helped.
"The formations we have played here at home in the last couple of games have been more offensive and you hope when you do that you can capitalise. The standards we have set ourselves this season mean we will have our highs and lows and the last two away games, especially Derby, have not shown us at our best.
"When you are not at your best you hope you can nick something, which we were able to do at Swansea. We will certainly need to take some of our home form into our away form to achieve what we want to achieve this season.

"I think what we have is Wayne and Jonas in wide areas who are able to express themselves. It's certainly a good period at St James' Park at the moment. The team that we've played here has been a little bit more offensive with Danny and Kevin in the middle of the park and you hope you can capitalise on that.
"It was a smashing goal. What Wayne has is old-fashioned wing play and you look to him to provide crosses into the box. They like old fashioned wingers at St James' Park and that's what he is. We've got him at a good age. He has been in and out of big clubs but we hope we've got him at a good time and we can develop his game further.
"I think it's understandable people were worried. We have set high standards and we'd fallen below them, particularly at Derby. You're going to have your highs and lows and the last two away games we haven't been at our best. But thankfully we were back to those high standards. We're continuing to churn out results – we're going to need to do that.
"We'll certainly need to take some of our home form into our away form if we want to achieve what we want to achieve this season. I think in the end it was comfortable. The first half shows what we expect - you had a Coventry side in good form who worked hard.
"We got in good positons but never really capitalised and they defended well. When they got the goal it spurred us on to what we were able to achieve."
City boss Chris Coleman said:


"I don't want to put pressure on Chris Hughton but I don't see anybody finishing above them. They have a strong squad and a fantastic home record.
The scoreline didn't reflect our performance – we asked them a lot of questions for an hour.
"They're a very good side and it wasn't in the script for us to take the lead at St James' Park, but we did and I thought we deserved it because that wasn't the only good chance we created in the first half.
"If we could have held out until half-time it might have been a very different story but I think we got a little bit dizzy after the goal and it was a real blow to concede the equaliser so quickly.
"We knocked off for their second which was very disappointing and, of course, the penalty killed us off, especially because we had a man sent off in the process.
"Kieren Westwood had the ball in his hands when their striker jumped into him (before the corner which led to Routledge scoring). Compare that to last night when Stoke had a perfectly good goal disallowed when there was virtually no contact with the keeper. I'm not going to make a big deal of it – I've just been in trouble with the FA so I need to watch what I say – but it would be nice to have a bit of consistency.
"I've got a bunch of very disappointed players in the dressing room right now because they didn't deserve a defeat like that after what they put into the game. But it's up to me to get their heads back up for Saturday when we've got another massive game and the chance to show how good a side we can be. It's all about self-belief."


Peter Lovenkrands took what was only our third penalty of the season in the Championship, following in the footsteps of Shola Ameobi against Reading at SJP in August and scoring. He thankfully didn't miss as Danny Guthrie had done against QPR in September.

The Magpies completed their third double of the season, after beating Crystal Palace, Cardiff City and now Coventry City both home and away.

United extended their unbeaten record at SJP to

1

8

games

without loss in all competitions (16 in the Championship, 1 in FAC, 1 in LC).

Wayne Routledge scored his first Newcastle goal

and his seventh of the season (six were for QPR). That

made him the

fif

teenth

Newcastle

player

to net for us in the Championship this season (in order:

Duff, Ameobi, Nolan, R.Taylor, Guthrie, Coloccini, Carroll, S.Taylor, Harewood, Gutierrez, Simpson, Lovenkrands, Pancrate, Ranger, Routledge)

.



Congratulations to Steve Harper, who made his 200th senior career appearance:

Bradford City (loan) 1 start
Hartlepool United (loan) 15 starts
Huddersfield Town (loan) 26 starts
Newcastle United 148 starts + 10 as sub

Sky Blues in Toon - last ten:

2009/10:

Won 4-1 Routledge, Carroll,

Lovenkrands pen, R.Taylor
2004/05: Won 3-1 Shearer, Ameobi, Babayaro (FAC)
2000/01: Won 3-1 Speed, Ameobi, Dyer
1999/00: Won 2-0 Shearer, Gavilan
1998/99: Won 4-1 Shearer 2, Speed, Saha
1997/98: Drew 0-0
1996/97: Won 4-0 Watson, Lee, Beardsley, Elliott
1995/96: Won 3-0 Lee, Beardsley, Ferdinand
1994/95: Won 4-0 Lee 2, Watson, Cole
1993/94: Won 4-0 Cole 3, Mathie

Full record against Coventry:
P

W

D

L

F

A

SJP

31
20
5
6
72
32
HR/RA

31

9

10

12

43

42

League

62

29

15

18

115

74

SJP

(FA)

3

3

0

0

10

1

HR

2

1

1

0

5

4

RA

(LC)

1
1
0
0
3
2
Cup
6
5
1
0
18
7
Tot
68
34
16
18
133
81
I
f this all looked a little bit familiar, then cast your mind back 11 years to the day and the 4-1 home win over Coventry. That game sa
w City take a first half lead, only for United to level almost immediately and leave the game 1-1 at half time. The Magpies then scored three more without reply after the break.

Waffle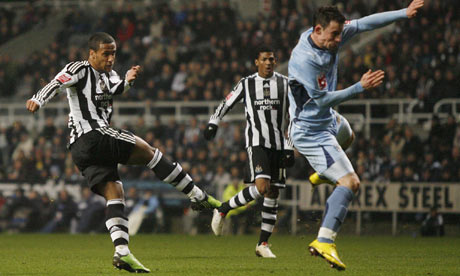 After a difficult pair of games on the road that brought only a solitary and barely-deserved point, Newcastle were grateful for this eminently winnable home fixture that allowed them to return to the top of the table in some comfort.

While Cardiff had been deemed a tricky test last time out at Gallowgate - only to fluff their lines badly - Chris Coleman's side looked to have little capable of upsetting us, not least because two of their better players had swapped sides since the last time the two sides met.

As it was though, the visitors started brightly and Steve Harper got his first touch of the ball within seconds, before Kevin Nolan had to head off his own line when an early corner wasn't cleared properly. From then on it was all United and Gutierrez motored down the left flank on seven minutes, before delivering a centre that Peter Lovenkrands could only head straight at visiting goalkeeper Kieran Westwood.

Chris Hughton's side had a rude awakening on 35 minutes however, when Clinton Morrison put City ahead from only their second attack of the game - the striker marking his 500th career game by making Coventry the fourth side to take the lead here this season, after QPR, Doncaster and West Brom.

None of that trio went on to win though and tonight was to be no different, as a swift reaction from United saw Wayne Routledge net our 50th Championship strike of the season - and one of the very best. From that point there was only going to be one winner and the Magpies duly pulled away in the second half.

With Coventry having no answer to the wing play of Routledge and Gutierrez - and looking increasingly apprehensive every time either player gained possession - the goals came and there could have been more, Routledge supplying the ball of the night to set Nolan away, only for the midfielder to scoop the ball narrowly over the bar.

Despite still being without his left flank buddy Enirique, the return of Gutierrez added an extra dimension to our play and he benefited from rather looser defensive covering than Derby had deployed to nullify his effectiveness the previous week. The usual frustrations of service and shooting remain, but nobody ran further for the cause in this game than Jonas.

His return had come at the expense of Alan Smith, with Danny Guthrie reverting to his preferred central midfield role. And in a strange way, that seemed to inspire Kevin Nolan - who couldn't have moaned had he been the one to rotate his way on to the bench after some lack-lustre displays reminiscent of this time last year.

His assist for the second was the most tangible contribution to the evening, but a couple of other forays upfield and some solid work in the centre hinted at his recapturing some of the form that almost single-handedly saw us collecting points before Christmas.

At the back meanwhile, our home form continues to be the bedrock on which this promotion challenge is constructed, as we continue to collect points away from home, albeit in singles. Mike Williamson returned in place of Fitz Hall to partner Fabricio Coloccini in the centre and was again quietly impressive in an unfussy way, abetted by the averageness of the opposition. And had Best put that late chance in tonight and got off the mark, then that would have rounded off a good night's work. As it was though, the improving form of Routledge is a significant plus.

Despite scoring first, Coventry proved unable to resist our response and gradually fell apart as Newcastle maintained a decent tempo. After the disappointing displays at Derby and Swansea, we scored at the right times tonight and home fans never had the chance to air any frustrations or create a negative atmosphere.

Normal service resumed then - sort of - with the expectation that something similar will be done to Preston on Saturday. Four draws in our last five away games is frustrating to watch, but combined with home form of this magnitude, it's a successful combination.

And while it's undeniable that our own efforts are of primary importance, the fact that both Forest and West Brom have lost some of their gloss in recent weeks has also taken some of the pressure off us, confirming that the quality of our maligned squad is seeing us through as we enter the last third of the season.

As ever though at this club, there's concern that events elsewhere will impact on the team. From Ameobi's continuing fitness issues to Carroll's forthcoming court appearance and Ranger's growing pains, the threat of implosion is seemingly never far away. But for now though, this win gave us some welcome breathing space.


Biffa