In association
with NUFC.com

Date: Tuesday 9th February 2010, 7.45pm.

Venue: Pride Park

Conditions: deflating

Admission: £30 (£33 on the day)

Programme: £3





Derby County

Newcastle United

3 - 0

Teams
40 mins Amid much booing, Robbie Savage pushed the ball forward down the Derby right forward to where Kris Commons had shown himself at the edge of the Newcastle box. The tricky wide man best his marker before crossing from the byline for Rob Hulse to head home from inside the six yard box in front of the away support, with both Andy Carroll and Mike Williamson watching him. 0-1

Half time: Rams 1 Magpies 0

59 mins Stephen Pearson took possession as Derby poured forward, advancing forward down the middle of the field before slipping a short pass infield to Michael Tonge. The midfielder took the ball into the box but was veering away from goal when Jonas Gutierrez arrived behind him and clipped his right ankle with his left boot. Commons then strolled up and calmly sent Harper the wrong way, placing the ball low and with minimum effort to the goalkeeper's left 0-2

64 mins A Commons corner was half headed out before being half-volleyed back into the box by Hulse, falling into the path of Shaun Barker to finish with a crisp first time shot from 10 yards with Harper possibly unsighted. 0-3


Full time:
Rams 3 Magpies 0
Newcastle manager Chris Hughton said:

"We've got to look at ourselves. If we've got ambitions to get promotion we've got to go to places like here and get something. We have to take it on the chin, congratulate Derby on a victory and make sure that it doesn't happen again.

"I know what type of game it was - it was a game where they were putting a lot of pressure on us, and there wasn't a lot of space. What you generally tend to do is give it that little bit longer, and hope that you can turn things around.

"I thought, re the performance, were they three goals better than us? No. They just scored the goals at good times, and we weren't able to.

"If I look at the penalty, whether it was or wasn't, it was a soft one to give away. The first goal, the lad Hulse gets between two defenders, and, of course, the third one the centre-half is allowed to compete in the air, and then come down for the second ball.

"For us, they're bad goals. It's not like us. It's been a particular strength of ours, and we've certainly got to make sure we address that.

"What happened at Derby is now history. It was disappointing to lose by the margin we did, but the best way to deal with that is to put it behind us by putting in a better performance. We have a tough game against Swansea next and that is what we are focused on.

"I don't really care how the results come. It was pleasing to get that many goals [against Cardiff], it was pleasing to do that in front of the home support and it was pleasing because we had a lot of new faces.
"But the reality is we just want to win football matches. If we can do it that way, then great, but what's more important is we win and if it's a 1-0 scrappy win, then we will take it however it comes."

Spot kick conceder Jonas Gutierrez added:

"I thought the penalty decision was a close call – it could have been given, it could have not. The player was clever. As I went to touch the ball, he put his leg in the way and then fell down. He got the decision from the linesman, not the referee, but there was nothing we could do about it after that.

"It was a silly penalty to give away, and I should have been more careful. Hopefully, I can learn from that mistake, and not make it again. You have to try to make sure you don't make the same mistakes twice.

"I think the penalty came at a really bad time. We were on top, and I feel bad for my team-mates and for the fans. It was frustrating, because it gave them a second goal when we were looking to equalise, and I must say I'm very sorry for my part in it.

"We didn't play very well, and it's frustrating, because we were so much better against Cardiff. We thought we could come here and get three points, so to be going home with nothing is very disappointing."
Rams boss Nigel Clough commented:

"Anyone who has seen us in the last few weeks will say that result has been coming. The score may have flattered us a little but that result could have happened at Plymouth and could have happened at Sheffield on Saturday. We got our rewards for the performances and all the hard work in the last few weeks.

"We don't mind playing anybody when we get our side out, or somewhere close to it. We have finally been able to do that and we are in the second week in February. That is a good indication of some of the problems we have had. That is all we have been striving for – a settled side, a side that has fully fit players.
"Look at Paul Green. If you had seen him six weeks ago, you would not have recognised him. Now he is getting all over the pitch because he is fit again and he's strong. He said that during the six-week period he came back after injury, he felt so bad, he felt like he was running in sand all the time.
"It is not just getting players back out there, it's getting them out there fit and getting them a run of games. Shaun Barker is getting better each game, I thought the captain (Savage) was magnificent and the whole midfield four dominated – Michael Tonge, Stephen Pearson, Green and Savage. I thought they were very, very good indeed.
"Stephen Bywater produced a couple of important saves when he needed to because Newcastle could have got back into it at any time. The first 15 to 20 minutes was as well as we've played since I've been here.
"We needed the three points and we are in a position where we are still looking down rather than up. But we have a chance to address that in the next 10 days when we have an FA Cup game at home and then two more home matches in the League."
Newcastle's fourth league defeat of the season - following losses at Blackpool, Nottingham Forest and Scunthorpe United. This was the largest margin of defeat though, with that previous trio all defeats by a single goal (1-2, 0-1, 1-2).

Defender Fabricio Coloccini has missed three of the four defeats through injury, but appeared in the Bloomfield Road defeat.

This defeat ended an all-time record fifteen match unbeaten league run and was our first league loss since October 2009's reverse at Glanford Park.

We last conceded three goals when going down 0-3 at Anfield in May 2009. The only Newcastle player to have started both that game and this defeat at Pride Park was Steve Harper.

This was our heaviest league defeat outside the top flight since
the infamous 1-4 loss of April 1992 by Derby County at The Baseball Ground.
Mags @ Rams - last 10:

2009/10 lost 0-3
2007/08 lost 0-1
2001/02 won 3-2 Robert, Dyer, LuaLua
2000/01 lost 0-2
1999/00 drew 0-0
1998/99 won 3-4 Speed 2, Ketsbaia, Solano
1997/98 lost 0-1
1997/98 won 1-0 Tomasson (LC)
1996/97 won 1-0 Shearer*
1992/93 won 2-1 G.Peacock, Clark*

* @ the Baseball Ground, all others played @ Pride Park.


All time record v Derby:

| | | | | | | |
| --- | --- | --- | --- | --- | --- | --- |
| | P | W | D | L | F | A |
| SJP | 55 | 27 | 15 | 13 | 89 | 58 |
| BG/PP | 55 | 18 | 14 | 23 | 72 | 80 |
| League | 110 | 45 | 29 | 36 | 161 | 138 |
Waffle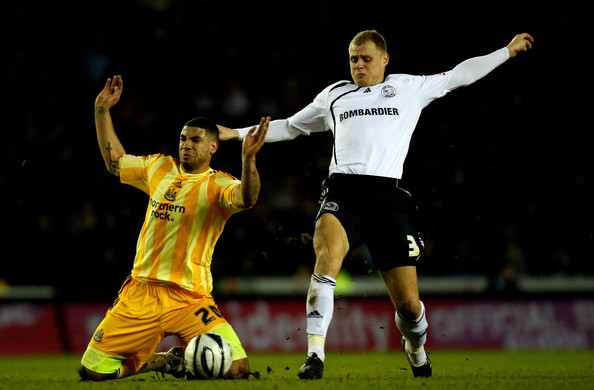 Despite coming into the game on the back of Friday's dismantling of Cardiff City, the recent history of both sides made this visit to Pride Park one of our more testing away trips in this league on paper.

The resurgent Rams had won a bruising East Midlands derby against Nottingham Forest in their previous home game, while some residual bad feeling remains locally about the manner of the pre-Xmas 2-2 draw with West Bromwich Albion when the visitors were gifted a controversial goal.

In between those two high points though had come disjointed home losses to Doncaster, Blackpool and Scunthorpe that had Derby fans questioning their manager's constant shuffling of personnel.

For ourselves, the feelgood factor engendered by the most comprehensive win of the season and the arrival of multiple new faces into the squad was tempered by a creeping tension over the manner of our performances, not to mentioning a quietly lengthening injury list.

We'd hardly covered ourselves in glory on our last visit to this venue back in September 2007, when Sam Allardyce suffered his first loss as United boss and a five match unbeaten run ended. That was to be the only league victory Derby managed in 38 games that season and there were to be echoes of that miserable night in this game, as another floodlight failure unfolded alongside the A52.

As expected, the home side were keen and eager from the first whistle and twice threatened Steve Harper's goal early on without causing the United 'keeper problems. At the other end meanwhile, an unchanged starting XI hinted at a more positive outlook from Newcastle than had been seen at Leicester in our previous away game.

However, the service to Andy Carroll and Leon Best wasn't anything to write home about, despite Wayne Routledge looking busy and at times pushing forward further than the front pair of Andy Carroll and Leon Best.

Jonas Gutierrez looked to have space to run into down the left as on-loan Nicky Hunt struggled badly for the home side and pulled their defence out of shape. The absence of Enrique again seemed to have a debilitating effect on the Argentinean, who opted not to push the ball out to Patrick Van Aanholt on the occasions when the youngster arrived on the overlap. Those moves then usually promptly ended in disappointment, as Jonas headed infield only to be dispossessed by an opponent.

Meanwhile the decision to start with Danny Simpson looked to have backfired when he almost immediately looked to be carrying a knock and needed treatment within 15 minutes. The right back had finished the game against Cardiff in obvious discomfort, shunted out to the safe haven of the left wing while Ryan Taylor covered for him at right back. And although Simpson kept going through this game, he endured a poor night and won't remember this game with any fondness.

That was nothing compared to the toe-ending that Routledge received from Robbie Savage after 37 minutes, with the veteran midfielder cynically targeting the nippy Newcastle man in the Derby half. With the travelling supporters roaring for a red card, a booking was all that the loathed Savage received - along with volleys of abuse from the behind the goal.

Unfortunately that incident inflamed the home fans just as much, which inspired Derby to push down their right and the dangerous Kris Commons centre for the unmarked Rob Hulse to head home.

An instant response from United almost came as Routledge went one on one with Stephen Bywater but saw his shot blocked by the Rams 'keeper. Kevin Nolan then found himself in the uncharted territory of Derby's box, but was unable to beat Bywater at his near post from a tight angle.

Unchanged at the break when the unimpressive Best had looked good odds to be replaced by Lovenkrands, Newcastle pressed forward straight away and looked to have levelled the game within seconds, when Carroll headed home from a Routledge delivery.

However play was brought back for an earlier foul on Routledge down the United right. While it's arguable that the home defence stopped as Carroll jumped, the lack of an advantage was by far the worst decision of a poor night from the officials - how many times have we written that lately?

Nolan then received the ball in the home area but it wouldn't drop for him and the acting United captain soon got himself back up front and within sight of goal, but couldn't get his shot away.

Then came the pivotal moment of the match, as a Derby break ended with Gutierrez clipping Michael Tonge in the box, despite the on-loan Ram being forced away from goal - an easy decision for the referee and an inexplicable action from Jonas, who had Van Aanholt between opponent and goal.

Even though, Newcastle were almost handed a lifeline from the restart, when Shaun Barker headed an attempted backpass past Bywater and towards the unguarded goal. Fortunately for Derby though the ball lacked pace and Bywater was able to race back, with Best too far away to intervene.

A third goal then quickly arrived to put the lid on our night and despite a triple substitution to introduce Shola Ameobi, Peter Lovenkrands and Alan Smith, the home defence posted a clean sheet without too much trouble. They were abetted by more disastrous work from a linesman, who failed to spot a foul on Routledge when the United man was bear-hugged by and almost lifted off his feet.

The closing stages saw buoyant home fans celebrating as if they'd won the cup and added cheers coming when the PA man confirmed Forest's defeat at Coventry. While that was a good result for us, the inevitable West Brom home win over Scunthorpe propelled the Baggies top on goal difference and knocked down once place for the first time since our last defeat, at Scunthorpe last October.

Despite numerous gripes though, this defeat was all our own work. From the poor marking to the ill-advised tackle, we were the architects of our own downfall. It can be argued that we've relied on some good fortune at times since that Glanford Park setback - the unbeaten run was never going to last until May and this was just the sort of place to see us exposed when the luck ran out.

Sometimes history just has greater sway than form and even Nigel Clough admitted that the score flattered his side. However to draw a blank against Derby for the second time in six weeks says more about our poor approach play and inefficient passing than their backline - a situation that we've made reference to previously when considering our own defence.

The dilemma of whether to stick or twist at Swansea on Saturday now has to be faced, against a side who couldn't quite believe that they'd shipped three goals on Tyneside back in November, but who looked eminently capable of tying us in knots with pace and passing in central midfield.

A defeat and a draw would give us a better return than two successive stalemates and an extension of an unbeaten run that was simultaneously welcome and meaningless in terms of the league table.

Breaking with tradition and fielding a more offensive lineup, Chris Hughton watched here as his side proved to be neither crowd-pleasingly stylish or grimly efficient, with set-pieces back to being lack -lustre and too many hopeful forward punts to nobody in particular. All vaguely depressing and predictable, but also a response to those who derided the lack of adventure at Leicester.

One senses that he'll opt for the safety-first approach and for once we'll agree with him, that a clean sheet is our first objective on Saturday. With West Brom otherwise engaged and two home games quickly following, starting off another unbeaten run is vital.

Biffa