In association with NUFC.com

Date: Friday 5th February 2010, 7.45pm.

Venue:

St.James' Park



Conditions: damp/delighted




Newcastle United

Cardiff City

5 - 1

Teams
3 mins Debutant Leon Best saw his forward run stopped by a tackle from defender Gabor Gyepes. Danny Guthrie dug out the resultant flag kick from the Milburn/Leazes corner beyond the far post to where Fitz Hall was unmarked and headed back across the six yard.

Kevin Nolan's flick helped the ball on it's way and it bounced nicely in front of Andy Carroll, who swept it right-footed into the net from close range as the visiting defenders looked on. 1-0

6 mins Jonas Gutierrez crossed the halfway line and moved infield from the left flank, looking to set Leon Best away. However his forward pass was blocked by a retreating opponent, only for Wayne Routledge to nip in and take possession. His astute pass released Carroll on the left hand edge of the box and the striker advanced before sending a low outswinger from seven yards beyond Marshall in the City goal.

The ball rebounded back off the far post and fell into the path of Gyepes, who was tracking Leon Best. The Hungarian defender could only deflect the ball into the net. 2-0

15 mins Leon Best shielded the ball as he moved towards the East Stand, before laying the ball off to the onrushing Danny Simpson. Without breaking stride he served up a peach of a cross for Carroll to powerfully head home from six yards out - beating one defender in the air, as a second remained grounded to wrongly and unconvincingly appeal for offside. 3-0

Half time: Magpies 3 Bluebirds 0

69 mins A classic attacking move began in central midfield, with Routledge picking up the ball before releasing it perfectly to find Lovenkrands as he ran beyond his marker. The Dane finished smartly with a left foot jab. Tidy. 4-0

82 mins It's that man again, as Lovenkrands cut in from the United right to curl a delightful low left-footer in off the far post from 12 yards. 5-0

89 mins Michael Chopra marauded along the edge of the Newcastle area, playing in the advancing Peter Whittingham, who was chopped down by Tamas Kadar as he released Aaron Wildig. The Bluebirds substitute had to time to steady himself before slipping the ball past Steve Harper to register his first ever senior goal. 5-1

Full time: Magpies 5 Bluebirds 1
United Manager Chris Hughton said:

"We had a good day today against a very good side that hadn't lost for a while. We know it'll go right to the end because everybody has their own agendas and they'll be pushing.
"We very much expect West Brom and Forest not to lose too many games so we've got to look after our own business. There have been some really good performances - I think you can take as much out of Sheffield United away 1-0 as you can tonight. But from a footballing point of view, this is the most pleasing.

"The early goals were the platform for the victory. It's very unusual to be 3-0 up in the first 15 minutes against a team of that quality, and if that can't give you even more confidence to get more (goals), then nothing will.

"There is a trail of thought that you take your foot off the pedal, but we opened up our game, and had other chances on top of it. I was surprised that we went so far ahead and so quickly. They're a good side, and a hardened one at that.

"With Chopra's runs, and his goalscoring ability, we expected a tough game, but goals change games, and when you go ahead early, that's what can happen.

"Potentially, he (Andy Carroll) is number nine material. He's a player who leads the line. In some ways, he's an old-fashioned centre-forward who has a prowess in the air, but he's still developing his game and he has to continue to do that. He has good football skills for a big man, but what he has to add to his game is goals, and he was able to do that tonight.

"This group of lads deserve all the credit that goes with it, but it is something we need to maintain. The run stretches back to October and started after a difficult patch.

"Their response to that was tremendous and their attitude since has to be praised, but I personally think every game will get tougher now. We are going into that stage of the season where everybody is pushing for their own agendas. I think the games will be tougher and we have got to make sure we keep raising the bar."

Kevin Nolan chipped in to say:

"Itís a slow process of getting Newcastle back to where they belong. Itís not going to happen overnight. Thatís what we intend to do - to slowly build this club and get it to where it fully deserves to be.
"If we can do that in the next five years here, that will put us back on the map and it will bring superstars back to the club with European football. We want it in the DNA of the club first, to get us back up and to make sure what happened last season never happens again.

"If you look at Alex Ferguson at Man United, he always keeps a core in his team. He moves a core out and moves another core in. The likes of Butty and Roy Keane were among the main characters when they were in that team and were respected. Whenever someone came into the club, if they didnít buy into that, they were gone.

"Chelsea have it with the likes of John Terry, Frank Lampard and Petr Cech and Liverpool have it with Pepe Reina, Steven Gerrard and Jamie Carragher. In five years, we could have five top internationals playing here and I could be long gone, but itís something I could look back on and say, ĎWe started it at Newcastleí.í
"When we went up at Bolton, we battled for a couple of seasons Ė then we had four top-eight finishes and two seasons in the UEFA Cup. If we can do that in the next five years at this club, that would put us back on the map and would bring the superstars back.

"What we hope is that, when people come here, we have the core of a team."

City boss Dave Jones said:

"We were sloppy. You canít come here and given them a start. They have just spent five million on new players, we havenít. We will be in and around it. We will win games, and sometimes get turned over unless we bring people in. Our fans must accept that unless we can bring in players during the emergency loan window.

"I donít know who that will be except kids from Premier League clubs. Thatís the way it is. Iím not moaning. I am envious because Newcastle have been able to spend £3m or £4m to strengthen their squad with six players and we have not been able to do anything. But we have to get on with it and prepare for Peterborough in midweek and then Chelsea in the FA Cup next Saturday.

"We all decided, including Stephen (McPhail) that he would play at Newcastle. He needed to play even though he had only come through one practice match with the kids. He has been given the all-clear (after being treated for cancer of lymph-node) and we decided because we are short of players he would start.

"He did well and gives us our tempo - he certainly didnít look out of place - maybe half-a-yard off, but that will come with games. He feels fit and strong. I didnít want him to go into the last 20 minutes when he was drained and pull something.Ē



A rare Friday night game for Newcastle, although the rescheduling was on police advice to avoid a clash with the mackems v Wigan game on Saturday afternoon, rather than for live TV. That drew a crowd that was over 5,600 less than were in attendance at SJP.

The last Friday night game we remember (as opposed to a Good Friday afternoon fixture) was the FA Cup Third Round defeat by Liverpool at Anfield in January 1984 - which was televised live on BBC1.

In terms of league matches, we faced West Ham at Upton Park on a Friday in February 1975, with that game switched from the Saturday afternoon in order to avoid a clash with the Aston Villa v Norwich City League Cup Final at Wembley.

United are now unbeaten in their last 15 league games, setting a new all-time club record. The draw at Leicester had equalled a 14 game run that began in April 1950 and ran through to September of that year.

The fortress St.James' tag remains and it's now 17 without loss in all competitions at SJP.

It also completed our second double of the season, after also doing the trick against Crystal Palace.

Fitz Hall and Leon Best made their Newcastle debuts, while there was a first appearance at SJP for Patrick Van Aanholt. We've now used 33 players in the Championship this season.

Hall replacing the hamstrung Fabricio Coloccini, while Danny Simpson returned at right back after a three game absence. Mike Williamson and Patrick Van Aanholt continued in central defence and left back respectively, Wayne Routledge made his second start at right midfield and Leon Best debuted, partnering Carroll up front. The absence of both Smith and Butt and the return from injury of Gutierrez finally allowed Danny Guthrie to occupy a central midfield berth, Kevin Nolan dropping back to play alongside him.

Bluebirds in Toon - last ten:



2009/10 won 5-1 Carroll 2, og, Lovenkrands 2
1983/84 won 3-1 Waddle, Keegan 2
1981/82 won 2-1 Varadi, Trewick
1980/81 won 2-1 Clarke, Shoulder
1979/80 won 1-0 Shoulder
1978/79 won 3-0 Connolly, Withe, Robinson
1964/65 won 2-0 Hilley, Anderson
1963/64 lost 0-4
1962/63 won 2-1 Fell 2
1960/61 won 5-0 Luke 2, White 2, Mitchell

This was the first time that we've hit five goals in a match since the UEFA Cup tie against Hapoel Bnei Sakhnin which also finished 5-1 back in September 2004. In the league, we've not managed to score five goals in a game since March 2003 when we overcame Blackburn Rovers 5-1 at SJP.

(a year before, Everton were dispatched 6-2 on Tyneside - a game played on Good Friday afternoon).

Contrasting emotions for Cardiff followers, who have seen six goals scored in both of their last two away games. They'll recall a 6-0 victory at Bristol City with more relish than their Tyneside trouncing however...

We've now been the recipient of three OGs, including two in successive home games. Thanks are due to Chris Morgan (Sheffield United), Shaun Derry (Crystal Palace) and Gabor Gyepes (Cardiff City).

This was Michael Chopra's 19th unsuccessful attempt to score a goal in a first team match at SJP, having previously failed to do so in 16 Toon appearances and a pair of outings for the mackems. His near-misses include a penalty skied in a Carling Cup shootout, one harshly chalked off against Blackburn and of course the miss against us in the closing moments of last season's Tyne-wear derby.




Waffle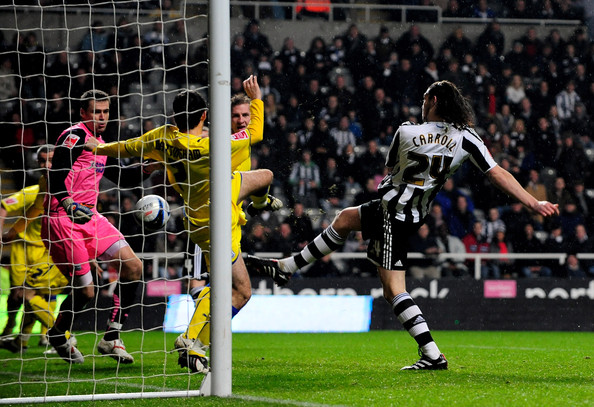 In registering disappointment at a scoreless draw against ten man Leicester City the previous Saturday, we were critical of a lack of pace, invention and endeavour from United as well as some odd team selections. In mitigation however, we also pointed at the number of new arrivals and forced alterations that gave the side an unfamiliar look and caused some confusion among Newcastle supporters, never mind players.

Less than a week later though, everything clicked and a side containing all six recent signings steamrollered a Cardiff side who have off-field financial issues but were in decent nick in the league, arriving as the division's top scorers away from home.

In truth we needed this victory; for the possibly-vital goal difference but more importantly to shake off the dust from ourselves. While our unbeaten record had been retained and extended, there was a sense that our forward momentum was diminishing and doubts were beginning to creep into the minds of those watching.

There's nowt like an early goal to settle people down and unlike the Palace game, Newcastle continued to push forward and find almost instant reward. Three goals in 15 minutes had home fans in dreamland, while the male voice choir on Leazes Level Seven was silenced.

But as well as the stats, the manner of the performance was heartening, as United played at a better tempo throughout and our movement was more fluid and less stodgy than of late. The absence of Butt and Smith from central midfield looked to be a factor in that, while seeing two wingers picking up the ball and heading off on forward raids was a sight to behold.

Routledge in particular was all over the park and put in a shift against his old club that had echoes of both Ruel Fox and Kieron Dyer in terms of his speed and astute passing. And while Van Aanholt looked relaxed to an extent far beyond his tender years, Enrique's absence reduced the impact Jonas made down the left.

Service of a sort that a striker thrives on was evident and Carroll could easily have registered the first treble of his senior career. And to rub it in, Peter Lovenkrands got the vote from the three forward options on the bench - and came on to maintain his recent form, making the decision not to use him at Leicester even more bewildering.

It wasn't all one-way traffic, with Cardiff twice hitting the woodwork - although one which deceived Harper seemed unintended. There were good performances across the park from the home side, with Hall serving up a low-key but faultless display - we're not sure about his slow slung, basketball type shorts though.

While we've constantly bemoaned the strength and quality of the squad and the need to augment it in the latest transfer window, it's undeniable our squad is the envy of the rest of this league. If one considers that this victory was achieved without any contribution from Steven Taylor, Jose Enrique, Fabricio Coloccini, Alan Smith, Nicky Butt, Joey Barton, Shola Ameobi and Nile Ranger, then we have comparative riches at this level.

While praising the contribution of the new acquisitions and borrowings though, our lack of outgoings continues to perplex - and by that we mean loans of less experienced squad players, not selling off assets to claw back cash. If we aspire to be a "big club" and share similar characteristics with Chelsea etc as Kevin Nolan claimed, questions should be asked why we were reduced to borrowing a youngster that walks straight into the team.

While Tamas Kadar began his Newcastle career as a left back, we also have a reserve player in that position in thee shape of local lad Darren Lough. He's almost a year older than Patrick Van Aanholt but has come no nearer our first team than three fleeting friendly outings during his four seasons in the second string, meaning he's in no position to deputise for Enrique.

He's not alone, with the likes of Callum Morris, Ben Tozer, Ryan Donaldson and a host of others stagnating in our eyes as they alternate sitting on the bench with facing the might of Scunthorpe reserves once in a blue moon. The exception of course is Fraser Forster, whose performances while on loan at Norwich City have regularly attracted Premier League scouts to Carrow Road.

In a best case scenario, he'll come back to SJP and give Chris Hughton a selection headache, or be sold for a few quid - a rare example of Newcastle getting a return on Academy players compared to the likes of Manchester United (exhibit A, Danny Simpson).

Given the number of players now available to us, a case could even be made for players who up to this point have featured in the first team to now head off on loan to play regularly - messrs Kadar and Ranger now finding themselves further down the pecking order. That has to be balanced against the demands of the fixture list in coming weeks, but what will they learn sitting on the bench for the next dozen games? Certainly not enough to make them more useful in a top-flight team.

In the very short term, two away games in five days present their own challenges in terms of team selection and tactics. Having raised the bar with this performance, it remains to be seen whether we revert back to the caution that has brought us points on our travels, but not victories.


Biffa