In association
with NUFC.com

Date: Saturday 30th January 2010, 5.20pm.

Live on Sky



Venue: Walkers Stadium

Conditions: chilly/barren

Admission: £27

Programme: £3





Leicester City

Newcastle United

0 - 0

Teams
Half time: Foxes 0 Magpies 0


Full time:
Foxes 0 Magpies 0
Newcastle manager Chris Hughton said:

"I've mixed emotions about the game. They were down to 10 men for so long and it's disappointing we were not able to capitalise on that, but they played with great spirit and what often happens when you go down to 10 men it galvanises the team.
"The sending off also seemed to lift the crowd who felt aggrieved at what had happened.
"I decided to make sure we were very solid through the middle of the park and we had Kevin Nolan playing off the front man – a position where he's scored a lot of goals this season.
"But they got more from each player with 10, and with the pace they've got up front were able to pose problems on the counter-attack. If we had got the early goal, things would have been easier, but the longer it goes on you know they are going to make it tougher.

On debutant Patrick Van Anaholt:
He certainly got better as the game went on, and he is a young lad who will get even better with experience. He's not had much training with us and was thrown in at the deep end and did very well."

Mike Williamson commented:

"The manager had a few choice words after the game. He wasn't happy with us at all. The players were very disappointed but we just take the positives and move on to the next game. I know Chris comes over as very calm and collected but he has a switch on him. I can see his point because we didn't play well enough.
"They've got some good individual players and they showed they play like a team. They set their stall out and showed what they're good at. We were quite sloppy at times all over the pitch and I think we were lucky at times as well to come out with the point. It was disappointing – they went down to ten men and we wanted to capitalise on that. But we just have to go again on Friday now.

"When a team goes down to ten men you want to be pushing forward and creating chances but in the end, considering how we were playing, a draw and a clean sheet – you take the positives and move on. It can be tougher playing against ten men. They get behind the ball when they're down to ten. But they actually went back to two up front and were pushing on in the second half – it was a bit unique.
"The positives are we got the point – we ground it out. We just want to get back to good performances and keep going to stay where we are and push ourselves over the line. At least we didn't lose. We take the positives – a point and a clean sheet."
Kevin Nolan added:

"You have to give Leicester a lot of credit for the way they played. Yes, we're disappointed not to win against 10 men - but they made it incredibly difficult for us today. I don't see it as two points dropped. I just see it as another game unbeaten for us.
"We're leading the Championship, have a game in hand on Nottingham Forest. We need to win that - and we're in a very healthy position to get back into the Premier League, where Newcastle belongs."
Foxes boss Nigel Pearson commented:

"I thought we were the better side with 11 and I thought we were the better side with 10, but maybe that's just me being biased. I think with results how they have been going for us of late it was important for us to get a performance in which we believed in ourselves, but also a little bit of quality.
"I think it was a good response from the players today, we are disappointed that we couldn't go on and win the game but we knew it was going to be a tough one.
"I don't think today would be the right time - this is the Respect Campaign isn't it? I'm not going to be talking about that today and I've not actually reviewed the incidents yet. I'll have my say at some point.
"It's one performance, one point. We still have aspirations to be involved in the promotion shake-up, we want to be involved in that. I think you can see how tight the league is, we can't afford to be putting in a run of results which sees us drop by the wayside.
"Today is a stepping stone for us, it stopped the rot. I'm more pleased with the performance rather than the result - the players have showed a lot of character today."

Bruno Berners added:

"I was very close to a red as well. Probably Richie's were two yellow cards. He didn't leave the ref much choice. After my challenge in the second half on Routledge, I knew I had to calm down. My team-mates told me to calm down a bit and I was so motivated to do well.
"I knew Routledge is a very good player and I knew I had to get tight to him because he would be a threat. But I did calm myself down and I used my experience. I knew I had to get away from the scene after the tackle. Maybe the red card in the first half saved me and I got away with it.
"I was pleased with my performance and I was part of a great point. I don't think we should single out the back four alone, there was a tremendous team ethic and the work-rate was just fantastic. We have shown everyone out there in the league that we are a unit and we are hard to beat."
Magpies @ Foxes - last ten:

2009/10 drew 0-0
2003/04 drew 1-1 Ambrose*
2001/02 drew 0-0
2000/01 drew 1-1 Speed
1999/00 won 2-1 Shearer, Ferguson
1998/99 lost 0-2
1997/98 drew 0-0
1996/97 lost 0-2
1994/95 won 3-1 Cole, Beardsley, Elliott
1992/93 lost 1-2 O'Brien

* At Walkers Stadium, all others at Filbert Street.


Full record v Leicester:

P
W
D
L
F
A
SJP
54
36
11
7
105
63
FS/WS
54
10
14
30
69
108
League
108
46
25
37
174
171
SJP(FA)
4
2
2
0
9
4
FS
2
1
0
1
2
2
SJP(LC)
0
0
0
0
0
0
FS
0
0
0
0
0
0
Cup
6
3
2
1
11
6
Tot
114
49
27
38
185
177
First team debut for Patrick Van Aanholt, a 19 year-old Dutch youth international left back signed from Chelsea on a month's loan. He faced United in the colours of Coventry City back in November 2009, making 21 appearances while on loan at the Ricoh.

Named as substitute but not called upon to make his debut was fellow new loannee, Fitz Hall. The 29 year-old London-born central defender has moved from QPR for the rest of the current season.

This was our third 0-0 draw of the season in the league, coming after home stalemates against Bristol City and Derby County. We also recorded a scoreless draw at Plymouth in the FA Cup.

Number crunching:

13 away games this season
6 victories, 4 draws, 3 defeats

18 goals scored (11 first half, 7 second half)
2 minutes - earliest goal scored
82 minutes - latest goal scored

10 goals conceded (4 first half, 6 second half)
14 minutes - earliest goal conceded
87 minutes - latest goal conceded
11 games scored in
9 times we've scored first

Waffle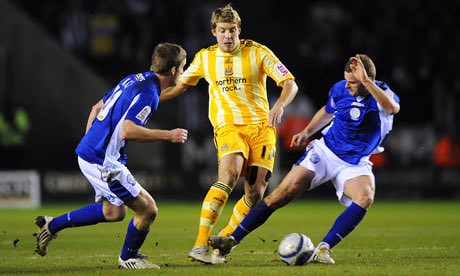 Our second-ever visit to the Walkers Stadium coincided with the FA designating this game as a Respect fixture. That had led to pre-match speculation that someone was bound to be sent off and that duly came to pass - although it wasn't to benefit us (our second prediction of someone invading the pitch and being howked by stewards failed to bear fruit - a goal might have helped...)

After a reshaped Magpies side had unimpressively seen off Palace in midweek, further changes to the line-up saw Ryan Taylor return to replace Tamas Kadar at right back. On the opposite flank meanwhile there was a debut at left back for Patrick Van Aanholt, coming in for the injured Enrique.

Jonas Gutierrez was also absent, although he was to have a non-playing role on the subs bench. Recent acquisition Wayne Routledge made his first start down the right, while Nicky Butt returned in the centre, leaving fall guy Danny Guthrie to be shunted out to the vacant left wing berth.

Buoyed by Derby's earlier derby win over Forest, Newcastle started reasonably well in what was a decent atmosphere in an-almost full stadium. The Andy Carroll / Kevin Nolan front combo was in evidence again, with Shola Ameobi out and both Nile Ranger and Peter Lovenkrands benched, although Carroll operated as the sole front man, with Nolan lurking behind.

What appeared to be a turning point though came on the half hour, when Wellens walked after receiving a second yellow for a tug on Routledge - quite what him and his colleagues were appealing for at this point is unclear, as the offence was blatant enough.

With United apparently handed the initiative, it was City who almost went ahead soon after though, when the marauding Matty Fryatt set off on goal and was only stopped by a desperate block that saw his goalbound shot cannon away off Van Aanholt.
The Newcastle debutant then moved in on goal and hit the target for our first noteworthy effort. From the corner, Alan Smith then came close to that elusive first competitive goal in our colours when he latched on to Guthrie's ball, only for his header to be cleared out of the six yard box by Bruno Berner.

An unchanged United then lined up in 4-5-1 formation again after the break, as a fired-up home side pressed from the off. However, they could consider themselves fortunate not to have their numbers further depleted when the already-booked Berner caught Routledge and was lucky not to see a second yellow.

United were also fortunate not to concede a couple of penalties for handball when Carroll blocked a free-kick with a raised arm and the ball also hit Butt's arm before Harper gathered at the near post.

But with the breakthrough goal looking no more likely than it had during the rest of the game and Carroll remained short of both service and support. Nolan managed to put a rare opportunity on the roof of the Leicester net, but Nigel Pearson's side continued to look the more dangerous - via the simple expedient of running at Newcastle in possession.

A change was required and Ranger duly appeared, although it was left to Routledge to push forward at pace and get away from the 'keeper before shooting narrowly wide from what was an almost impossible angle.

Into the closing stages and with City visibly tiring, the stage seemed set for a late United goal to give them what would be a seventh away success of the season. However their increasing amount of possession failed to break the deadlock, with too many speculative hoiks into the Foxes box being gift-wrapped for the home defence to clear and a continued inability to reach the byline.

With both Lovenkrands and Gutierrez on the bench (the latter apparently still complaining of soreness after being kicked against Palace), Hughton angered those present by introducing Fabrice Pancrate into the fray. However he did break with tradition by replacing Nolan - who by this time was doing a passable impression of a traction engine, lumbering and wheezing (whatever muse took him to double figures in terms of goals scored before Christmas has long-deserted him).

Pancrate made his way over to the right flank for what proved to be a brainless and inept link-up with Ryan Taylor That saw Routledge provide a diminishing return down the left, while Carroll and Ranger were similarly not on the same wavelength. Ranger did poke home Carroll's centre from close range, but had been correctly called offside before the ball reached him.

Ranger then did well to get a shot away after a poor delivery, but dragged his effort wide. And with another awful set piece - this time a corner - the final moments then brought the appearance of
Solano from the bench for City to raise the prospect of the ultimate custard pie for United. That never came though, as neither side carved out a chance worthy of the name, Routledge hammering his effort high over the bar.

Even allowing for the change in personnel, this was a dispiriting display from Newcastle, providing further ammunition to those who have derided them for a lack of creativity and made unfavourable comparisions with alleged footballing sides such as West Brom.

Why Lovenkrands and/or Gutierrez failed to appear remains unclear, and if Jonas wasn't fit then what business did he have being on the bench at all? In fairness Pancrate did try when he came on and made one good intervention to foil a City attack, but that's not really what he was there to do.

The point extended our lead at the top of the table to four points (with a game in hand on Forest), but that was cold comfort to the travelling supporters as they made their way home, for whom the over-riding feeling seemed to be one of frustration and two points lost, not one gained.

A third successive draw on the road in the league differed from the previous stalemates at Barnsley and Sheffield Wednesday in that we made mistakes but also did enough to win the game. That just didn't apply here - and had Leicester kept a full contingent of players on the pitch, they could well have inflicted our first reverse since October.

While Chris Hughton talks about digging in and tough struggles ahead, the fact remains that we've been on the back foot for the most part in recent games, never looking like we'd cut loose and punish opponents in the manner of some other Championship sides. That cannot totally be laid at the door of injuries and squad turnover, although the stats highlight the contribution of Marlon Harewood, despite the poor reviews he received. He needs to be replaced.

A harsh analysis would be that we over-achieved in the first months of the season, aided by opponents in virtual disarray who were in awe of our "big club" status. Other teams seem to have caught up and wised up, while we've stagnated by comparison.

On a weekend when TV viewers watched a Premier League game in 3D for the first time, the side who currently lead the promotion race were disappointingly one-dimensional. It's safe to assume that no manager of the month award for January will be winging its way to Tyneside.

But, we remain at the top of the table and with the meanest defence in the league, still picking up points during what is something of a dip in our form. A home win and an away draw looks like a reasonable weeks work on the face of it, but those who saw both will have a less positive view.

With our fixture programme remaining at this intensity for most of the next two months, there's little time to do anything with the squad other than play and recover in time for the next game. There may well be a few more difficult nights like this to endure.

Biffa