In association with NUFC.com

Date: Wednesday 27th January 2010, 7.45pm.

Venue:

St.James' Park



Conditions: dry and chilly





Newcastle United

Crystal Palace

2 - 0

Teams
13 mins You are now entering Free Derry: Palace captain Shaun gifted United an opener after Danny Guthrie sent over a corner from the Milburn Corner of the Gallowgate End. Andy Carroll helped it goalwards, only for Derry to hook his attempted clearance in from six yards under vague pressure from Kevin Nolan.1-0

Half time: Magpies 1 Eagles 0

93 mins Debutant Wayne Routledge led a counter-attack down the right flank, playing the ball ahead of fellow substitute Nile Ranger for him to run on to. Having outpaced retreating Palace defenders, he advanced into the box before slotting past Julian Speroni from eight yards out at the Leazes end. 2-0

Full time: Magpies 2 Eagles 0
United Manager Chris Hughton said:

"It was one we had to grind out and we can expect a few more before the season finishes. After we got the goal we always needed a second to secure it and it would have been much better for the nerves if we'd got it a lot earlier.

"There are going to be highs and lows, but with a game in hand, we have stretched that lead again and probably more importantly with West Brom's result yesterday we have managed to stretch that lead between ourselves and third place.
"But I expect highs and lows, good form, bad form, wins and losses through to the end of the season. We have just got to make sure we maintain our position.

"Neil (Warnock) is a very experienced manager and a very emotional manager and that comes with the territory. Both benches showed the same enthusiasm. I have sympathy with Palace's predicament, but there is no one better than Neil to guide them through it.
"I am hoping to have a couple in before the window closes, but no one leaves."


Debutant Mike Williamson reporters that:

"It was a great start. The main objective was three points, but we also got a clean sheet and you can't ask for more really on your debut. The boys have made me feel really welcome coming up here and it's just a case of getting a few touches and feeling comfortable. But I'm playing with good players, so it's not difficult.

"It's been a bit of a rollercoaster, but I'm glad to be finally here and I'm going to enjoy it now. It was incredible. It was the first time I'd played here and it was a great experience. I was just glad to get a good performance and a win. Hopefully we can take it into Saturday and get another three points.
The main thing is, performances good or bad, you grind out and get the win. The test for a good team is to grind things out when your back's against the wall and come away with the points. If we can keep going and push us over the line then it will be a great achievement.
"Everyone knows this is not where we belong and the unity we're showing is great to get the club back."

Palace manager Colin [email protected] commented:
"Obviously we have had a lot of problems over the past few days but we didn't want to come here and play damage limitation like a lot of teams did. I don't think we should fear anybody, wages, whatever; they don't win you games and I feel very disappointed that we haven't won the game let alone lose it.

"But the first goal typified our week really. I don't know how Shaun has put it in from there. But is not used to being that far up the field and missed a sitter, then Calvin, and then a world class save by Harper. It is a fantastic save in the bottom corner.

"I don't think people realise how good a save it is until you see it. And that would have been interesting to get a 1-1 at that stage, but not to be and in the end we had to throw the kitchen sink and you are always going to lose another goal.

"So all credit to them, I am very proud when they play like that and that is how we are genuine boys, we play some good football, and if we take our chances we win the game and cause an upset but not quite lady luck tonight.

"Yeah it is frustrating but I tell you something I want to manage at the top again; I am really enjoying it and the lads tonight, when you see a performance like against a side like that I am really proud. I am really proud they came out at them tonight.

"I am disappointed because in all honesty, I don't think I have seen a better team than us over the season and I think we could have gone up, so I am bound to be disappointed at 61 that I have not got a chance of going up when I want to.
"I don't feel we ought to decimate the squad. Yes, if he (the administrator) has got problems, Victor and the odd one other, but if we are talking four or five, then I can't walk across the water just yet. It's difficult playing in the Championship with eight players. I would find it very difficult to put a team out with eight players."


Eagles @ Magpies - last 10:
2009/10 Won 2-0 og(Derry), Ranger
2004/05 Drew 0-0
2001/02 Won 2-0 Shearer, Acuna (FAC)
1998/99 Won 2-1 Speed, Shearer (FAC)
1997/98 Lost 1-2 Shearer
1994/95 Won 3-2 Fox, Lee, Gillespie
1987/88 Won 1-0 Gascoigne (FAC)
1983/84 Won 3-1 Waddle, Keegan, Ryan
1982/83 Won 1-0 Waddle
1981/82 Drew 0-0


Full record v Palace:

P
W
D
L
F
A
SJP
13
8
3
2
18
7
SP
13
7
1
5
17
12
League
26
15
4
7
35
19
SJP(FA)
6
5
0
1
13
4
SP
0
0
0
0
0
0
SJP(LC)
0
0
0
0
0
0
SP
0
0
0
0
0
0
Cup
6
5
0
1
13
4
Tot
32
20
4
8
48
23
Our first Championship victory in four attempts made it thirteen league outings without defeat.

It also completed our first double of the season, while we remain unbeaten at SJP since May 2009.
That record now stretches to sixteen games in all competitions (twelve wins and four draws).

Newcastle recorded their fifteenth clean sheet of the campaign from twenty six games played (that compares to eighteen from forty six in our last promotion season of 1992/93).


Waffle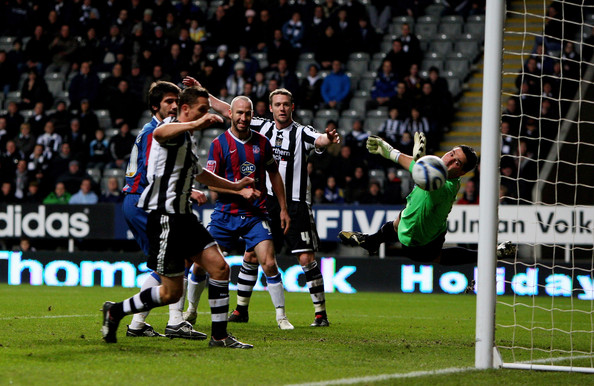 Newcastle restored their three-point lead at the top of the Championship and maintained their unbeaten home record for the season, but made hard work of the victory over the financially-challenged Eagles.

New arrival Mike Williamson was drafted in to partner Fabricio Coloccini in the centre of defence. Meanwhile Tamas Kadar filled in at right back, with Danny Simpson and the Taylors, Ryan and Steven all unavailable.

With Shola Ameobi absent, Peter Lovenkrands returned along with Andy Carroll up front ,while our other new arrival, Wayne Routledge was named as a substitute.

The visitors meanwhile were deprived of their coveted forward Victor Moses, who was pulled out of the game by the club's newly-appointed administrators. And Neil Warnock's side went into the game with just three substitutes named - and no goalkeeper among that trio.

Despite that though, the opening exchanges were equal, with decent chances at both ends - Lovenkrands coming agonisingly close on 10 minutes when he latched on to a centre from Jonas Gutierrez.

By then Palace had already been forced to rearrange their defence, when Johannes Ertl limped off having pulled a hamstring within two minutes of the first whistle.

The breakthrough came on 20 minutes when Palace midfielder Shaun Derry shanked the ball past his own 'keeper. But if home fans thought that slice of good fortune would provide the platform for a routine victory then they were to be disappointed, as United were unable to pull away from their beleaguered guests.

In fairness, the loss of Jose Enrique with a hamstring pull just five minutes after the opening goal hampered the home side's attacking thrust. Despite having rookie defender Ben Tozer on the bench, Chris Hughton opted to introduce Fabrice Pancrate as an emergency right back with Kadar switching flanks.

With the Hungarian youngster understandably finding his feet, the lack of an overlapping full back had a detrimental effect on Gutierrez, who was also less active following a heavy challenge that left him needing treatment.

Pancrate meanwhile was in particularly random form, with some reasonable defensive work mixed with potentially disastrous lapses in concentration. And when he got forward, his dragging of an attempted shot across the Palace area caused Lovenkrands to injure himself when vainly attempting to make contact with the rogue ball.

The second half almost got off to a flying start when Pancrate got down the United right before crossing for Lovenkrands, whose first touch opened up the chance of a shot - only for him to blaze harmlessly over the goal. The contest became increasingly fractious as the second half wore on, with one flare up on the touchline seeing the fourth official step between the two bickering benches.

New signing Wayne Routledge joined the action just after the hour, replacing Lovenkrands and supporting Carroll up front in a 4-4-1-1 formation. However some Palace probing culminated in former Magpie Darren Ambrose almost adding to his fourteen goal tally for the season, his first-time effort from close range deflected away by agile Steve Harper, Kadar clearing the danger.

The arrival of Nile Ranger in place of Gutierrez saw United revert to 4-4-2, with Routledge moving to the right wing. It was to be Pancrate again though who supplied a well-aimed cross from that side on 81 minutes, only for Ranger to head over from six yards out. The youngster did rather better in added time however, calming rising nerves on and off the field with his second senior goal in our colours.

United now lead third-placed West Brom by eight points, with both sides having played the same number of games. Second-placed Forest meanwhile have played one more. The gap to a non-playoff spot is now a massive 16 points.

Of the debutants, Williamson didn't look too rusty in what was his first senior appearance since August 2009 and used his height to good advantage on a few occasions as Palace got the ball into our box from set pieces. His fellow new arrival Routledge looked lively enough, showing some decent touches and awareness without ever really seeing sight of goal or getting a free run. Unlike Williamson, he's been a regular for QPR and last appeared for their first team less than two weeks ago.

But while two additional faces were added to the squad, the injury incurred to a third member of our hitherto settled back four in as many games remains a concern - as does the latest Ameobi setback and fresh concerns over Gutierrez. It's reported that United remain hopeful of bringing two more players to the club, although that could well be in the post-transfer window loan market. At this rate, we'll be needing them.

What could be a priceless three points were thankfully collected - but the manner in which they were acquired is perhaps best forgotten.


Biffa