In association
with NUFC.com

Date: Saturday 23rd January 2010, 3pm.

Venue: The Hawthorns

Conditions: heated

Admission: £20

Programme: £3





West Brom

Newcastle United

4 - 2

Teams
17 mins Jonas Olsson had headed Albion ahead as, for the second game running, he was given all the time in the world to meet Chris Brunt's corner. Enrique's attempted clearance was judged to be behind the line. 0-1

31 mins Roman Bednar fouled Tamas Kadar two or three times, before the Baggies forward then theatrically tumbled near the edge of our area. With a free kick in favour of Newcastle widely expected, Linnington instead took note of the linesman's signal and pointed to the spot, booking Kadar after the inevitable Newcastle protests had subsided. Graham Dorrans then beat Tim Krul to double the home side's advantage just after the half hour mark. 0-2

Half time: Throstles 2 Magpies 0

62 mins A lung-busting burst down the left flank from Jonas Gutierrez ended with him sending a low centre across the Albion box for Andy Carroll to volley home his first goal since November. 1-2

72 mins With Ameobi lying injured in the Albion area, the home side and referee ignored the appeals of Baggies 'keeper Scott Carson to put the ball out and Jerome Thomas ran upfield before being upended in the area by Ryan Taylor. Dorrans beat Krul again, despite the 'keeper guessing correctly as he had done with the first spot-kick. 1-3

76 mins Thomas added insult to injury after Enrique had made an excellent challenge on Bednar and the ball fell loose to him for the easiest of finishes.1-4

91 mins Andy Carroll wove his way through the home defence before slotting the ball past Carson during the six minutes of added time. 2-4


Full time:
Throstles 4 Magpies 2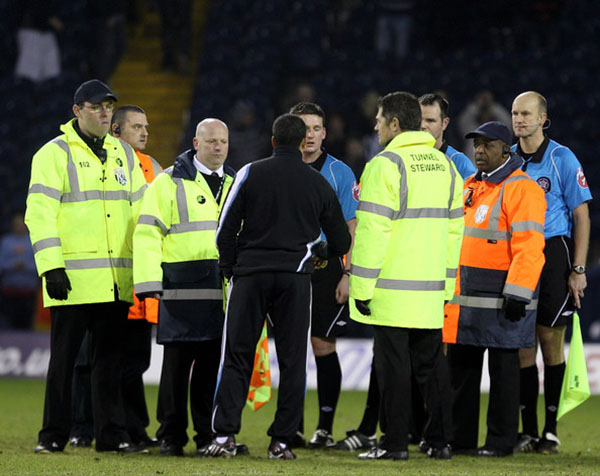 Hughton: not happy

Having calmed down, Newcastle manager Chris Hughton said:

"It is normal at the end of the game when you think that decisions have wrongly gone against you that some of the anger and frustrations come out.
"The first goal, I can't for the life of me see how a linesman can rule that over the line and of course there is the fact he has given two penalties against us and why he has not given any for us. There was no explanation from him.
"I thought the first penalty we conceded was a soft one and if the referee is going to give a soft penalty like that he has to give the two penalties that were against Ryan Taylor and Shola Ameobi.
"What we were led to believe is that he was going to give a yellow card (to Ryan Taylor) and changed his mind to a red one. I think that is incredibly harsh.
"Having got back to 2-1, we felt we had a good chance, but at 3-1 and down to 10 men it was going to be incredibly difficult.
"Losing is a setback. We wanted to make progress in the cup but it wasn't to be and we now have to go on to our main objective, which is promotion."
Baggies boss Roberto di Matteo said not, leaving his assistant Eddie Newton to say:

"The boys have responded in the best fashion possible.Some of the football they played up at Newcastle was fantastic and we should have walked away with all three points.
"The boys have set their standards and they can't drop from them. They need to be more professional now and don't think you can walk on the pitch and it will just happen for you. They have made a name for themselves they have to live up to that respect all the time now.
"If you are on the losing end, people might start staying 'referee this and referee that.' We all know that the referee has a hard job and it is easy for us to look back on things and say 'he should have done this and should have done that.'
"But he has got to make a split judgement decisions and he has seen it as he has seen it and it has gone for us and not for them. This happens. What anyone says it won't change the result.
"They (the Albion players) didn't realise Ameobi was down at the time. It's just one of those things. I tried to get a message on to the pitch but couldn't make my voice heard. In an ideal world you would stop it in the interests of fair play. If it was one of our players we'd want the same thing.
"I thought Ameobi was already on his way down - sometimes they're given sometimes they're not. The referee's position you can't fault. He was right there on it and he gave a clear signal it wasn't a penalty.''

Newcastle's first defeat since October 20th 2009, when they went down 2-1 at Scunthorpe United. That run had extended to fourteen matches in the league and FA Cup.

Mags @ Baggies - last 10:

2009/10 Lost 2-4 Carroll 2 (FAC)
2009/10 Drew 1-1 Duff
2008/09 Won 3-2 Duff, Lovenkrands, S.Taylor
2005/06 Won 3-0 Owen 2, Shearer
2004/05 Drew 0-0
2002/03 Drew 2-2 Jenas, Viana
1990/01 Drew 1-1 Quinn
1989/90 Won 5-1 OG, Brazil, Brock, McGhee, O'Brien
1985/86 Drew 1-1 Wharton
1984/85 Lost 1-2 Baird

This was our fourth FA Cup tie against the Baggies, with all of those ties settled at the first time of asking in the West Midlands:

1937/38 lost 0-1
1953/54 lost 2-3 Milburn, Mitchell
1973/74 won 3-0 Tudor, Macdonald, Barrowclough
2009/10 lost 2-4 Carroll 2
Full record v West Brom:

P
W
D
L
F
A
SJP
54
28
12
14
113
75
H
54
12
18
24
69
105
League
108
40
30
38
182
180
SJP(FA)
0
0
0
0
0
0
H
4
1
0
3
7
8
SJP(LC)
2
0
0
2
1
3
H
0
0
0
0
0
0
Cup
6
1
0
5
8
11
Tot
114
41
30
43
190
191
Ryan Taylor became the fifth Newcastle player to see red this season, following Alan Smith, Danny Guthrie, Zurab Khizanishvili and Kevin Nolan. That compares to eight in the whole of last season, although Habib Beye's was rescinded.

The last Newcastle player to be sent off in this competition was Emre, v Stoke City (h) in January 2008 while this was the second dismissal of Taylor's career (the first coming in for Tranmere Rovers against Notts County in December 2002.)

Waffle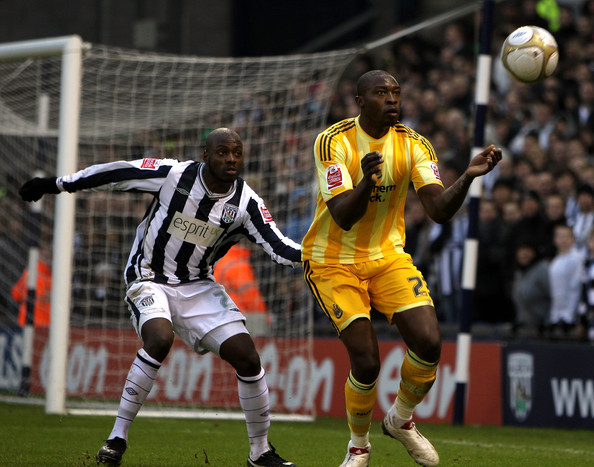 United bowed out of the FA Cup at the Fourth Round stage, as alleged referee James Linington wrote himself into Geordie folklore with the most consistently anti-Newcastle display of officiating witnessed in many years.

Not since Brian Coddington brandished four red cards at the Baseball ground back in April 1992 have United fans been saddled with such an incompetent and one-sided official, seemingly intent on ruining their day.

Isle of Wight-based Linington made former foes Steve Bennett and Rob Styles look like lifelong Toon devotees, while even the odious Trelford Mills now has a rival.

The sizeable away following made their feelings known, while even normally mild-mannered manager Chris Hughton was enraged by the referee's antics, confronting the officials on the pitch following the final whistle.

There didn't seem to be much doubt about the first goal, as Newcastle's defence watched Jonas Olsson net at the near post from a corner, Andy Carroll looking to be culpable this time for leaving his designated marker. And despite appeals led by Tim Krul, from behind the goal it did look as if the ball was already over the line when Jose Enrique made a belated clearance.

The man in blue's catalogue of errors began when a seemingly obvious free kick to Newcastle for interfering with Kadar was instead flagged by the linesman as a penalty. Linington's grip on the game (and reality) steadily weakened from that point, as players from both sides seemed utterly bemused by the official.

Newcastle had lined up with almost a full strength side, injured duo Danny Simpson and Steven Taylor replaced by Ryan Taylor and Tamas Kadar respectively, while Fabrice Pancrate deputised for the indisposed Peter Lovenkrands.

After a poor opening 45 minutes, Newcastle came out seemingly determined to fight their way back into the game, with the inept Pancrate replaced by Ameobi. And the Magpies controlled the opening stages of the second half as the home side were forced to concede territory for the first time in the tie.

The away supporters behind the goal defended by Baggies 'keeper Scott Carson went collectively potty when Andy Carroll finished well to halve the deficit - game on, or so it seemed. Two penalty claims then went against United as Danny Guthrie's cross appeared to hit Olsson's arm, before Ryan Taylor was barged over in the box - although the latter looked to be guilty of waiting to be tackled, rather than shooting on goal or sliding the ball across the area.

Newcastle's third spot kick shout in quick succession then ended in farcical scenes, with two defenders sandwiching Ameobi as he shaped to shoot. Albion broke upfield and Jerome Thomas was duly fouled by Ryan Taylor, who received a straight red card.

However the whistler inexplicably waited until the kick was just about to be taken before showing the card, before Dorrans netted his second and Albion's third as our fourteen game unbeaten record disappeared.

After a sloppy fourth conceded by a thoroughly demoralised United, Alan Smith managed to pick up a silly booking before Carroll netted again at the start of added time. The same player also had the chance of an improbable hat trick when substitute Ryan Donaldson centred in the final seconds, but couldn't get enough on his header.

As well as the controversial penalty decisions, Linington was oblivious to players coming back onto the pitch after injury and even allowed Carson to restart the game with the ball in his hands after he had booted it out following yet another Albion player collapsing to the floor.

He also seemed to be unaware of the haranguing of the linesman who gave the first penalty of the game by Albion's substitutes. And the various examples of foul throws taken by both sides but not pulled up were just another example of the collective myopia at work here.

And for the game to end with a card count of 5-0 against us is both baffling and suspicious. To say Linington was barely Sunday League standard would be an insult to junior officials - if the assessor present at this match allows him to use his whistle in anger again, then we're all in trouble.

It's tempting to say that we can now "concentrate on the league" while Albion have the added burden of FA Cup commitments, but in the heat of battle the sense of hurt and injustice was both real and sizeable. The only mitigating circumstance is that three points weren't at stake today.

Despite the outrageous penalty award that left Albion comfortably two ahead at the break, United's second half recovery was heartening - and had one of the penalty claims been awarded and scored, then at 2-2 the tie would have had a vastly different complexion.

So, twenty one games to go of a season that began with little optimism and could yet reach an unthinkable conclusion in the dreaded playoffs.

Retreating to the world of football clichés, United have an early opportunity to "get this result out of their system" with the visit of Crystal Palace to Gallowgate on Wednesday evening. However, Neil Warnock's side are improved from when we beat them in August and on a six match unbeaten run.

With suspension and injury problems starting to make an impact, the closing of the transfer window on Monday week is perhaps the most significant date on our calendar. A failure to significantly bolster this squad will be almost as indefensible as the performance of the referee in this farce.

Biffa