In association with NUFC.com

Date: Monday 18th January 2010, 7.45pm. Live on Sky

Venue:

St.James' Park



Conditions: occasional mist





Newcastle United

West Brom

2 - 2


Albion's shirts featured the DEC logo
of the Disasters Emergency Committee (www.dec.org.uk), who are currently
engaged in fundraising to aid victims
of the recent earthquake in Haiti.

Teams
13 mins Having shepherded him to the left touchline, Kevin Nolan was powerless to prevent Graham Dorrans taking a step sideways and then delivering a right wing centre. Jonas Olsson found himself all alone on the edge of the United six yard box and steered the ball first time past Steve Harper in the Gallowgate End goal, with his nearest marker Shola Ameobi motionless.

Olsson ran towards the home fans in the Strawberry Corner and received some abuse, claiming later that he was in fact making sure that the Haiti Aid logo on his shirt was picked up by cameramen. 0-1

25 mins A long forward ball from right back Danny Simpson was headed down by Ameobi, who then retained possession and was clumsily fouled by Mulumbu. With Jonas Gutierrez standing over the ball, Danny Guthrie stepped up to whip a right-footed effort to Scott Carson's right, with the 'keeper rooted to the spot. 1-1

Half time: Magpies 1 Throstles 1

46 mins Albion pushed forward down the left, with Cech evading the out-of-position Danny Simpson before sliding the ball forward for Dorrans. Although Simpson raced back, neither he nor Nolan were near enough to prevent Dorrans centring from the corner of the box. His target was Bednar and when Fabricio Coloccini failed to react, the Albion striker sent a downward header towards Steve Harper from six yards out.

Harper instinctively diverted the effort upwards with his knee, but when the ball rebounded off the crossbar, Bednar had the easiest of tasks to nod the ball into the unguarded goal from just inches out, just 34 seconds after the restart. 1-2

72 mins Peter Lovenkrands made a forward run in possession down the left channel, finding Gutierrez outside him, who was shepherded by Chris Brunt. The Argentinean winger checked back and found Enrique, who delivered his cross without further ado. The ball fell to Peter Lovenkrands, who had stolen into the Albion area undetected - and although his near post header from nine yards out was on target, Carson looked to have made a hash of it, diving in a vain attempt to swipe the ball away after it had already crossed the line.

Having made a late decision to play following the death of his father days before, an emotional Lovenkrands raised a finger and looked to the skies in tribute, before being surrounded by team mates. 2-2

Full time: Magpies 2 Throstles 2
United Manager Chris Hughton said:

"It was a tough game – it was a great example of men playing football the way they should do. There were some hefty challenges. You want the referee to control that, but you also want your own players to dust themselves down and get back up, and we've got enough men in the team to be able to do that.
"You certainly never enjoy the game as much as the supporters, and especially the neutrals.When you've got a support like ours, they want to see us winning. The game was certainly entertaining enough to lift everybody. Sky were the winners, because they were able to serve up a very exciting game for the neutral.

"It could have gone either way, but overall, I think it was a fair result. They had their moments, and they're a very good side. They've only lost once away from home. They've got a lot of good quality, and you can see why.

"I think it was because of the way the game was – it became very open. When it becomes that way, there's an excitement that you can win, but also a fear you can lose. You get to a stage in the game where it becomes very tough. What's the greater? The fear of losing, or the benefit of winning?

"The only benefit of the draw is that we haven't lost. It's three points that West Brom didn't get, and it keeps the gap the same. Forest are probably the big winners.

"The Andy Carroll one was a blatant penalty. We've seen it again, and he makes no attempt to get the ball. It was one of those where, if the referee saw it again, I couldn't imagine he wouldn't have agreed it was a blatant penalty."
On Lovenkrands, who played despite the death of his father and scored:

"I think Peter deserved it. We've got a very close and tight-knit group, and he's part of that group.

"He wanted to play for obvious reasons. He wanted to play for his father, because that's what he'd have wanted. We're really delighted that he got the equaliser.

"It shows great qualities from him as an individual. It was a very difficult time. His father was very proud of him and I think he felt his father would have liked him to play. His father wasn't a particularly old man and it was a very difficult time for him."

Peter Lovenkrands said:

"It was a difficult decision to play, but one that I wanted to make for my father who was a big football fan. I'd like to dedicate that goal to him."

Baggies boss Roberto di Matteo commented:

"If I reflect over the game I think we deserved to win. We had some good chances and probably more chances than Newcastle. We thought when the ball went through Ishmael just had to knock it in for the third goal. I'm not a psychologist but I'm happy with the response after the defeat last time out. The players put tremendous effort into the game tonight. I would also like to say you can't judge a team on one bad game.

"We have had loads of good games and over the course of the season we have had loads of positives. I think we deserved to win this game and Newcastle went very close to losing their first home game this season. We have a bit of frustration in ourselves because we had the better chances and more chances too. I think we are among the highest scoring teams in the league and we always try to be positive.

"I have to say, we showed a bit of character tonight away at Newcastle. We looked comfortable and played the ball around nicely, created chances and nearly won the game. It was a very high-tempo game and you could see towards the end both teams were a little bit tired.

"We drew the first game against them and we drew here - in both games we were quite good and should have won both. In the first game, Tim Krul made several good saves and tonight we had chances but lady luck was not on our side.

"I don't know how he (Miller) missed that one! It was a tap-in. But he has been out for a while and needs to get used to scoring again.

"It's a strange league so I expect other teams to be in the mix as well. I think Swansea, Leicester, Cardiff and Sheffield United will have something to say as well. You can see that any team can beat any team. Newcastle have the edge over everybody else with a strong squad and the players they have in their team - it's Premier League all over.

"We just have to keep working hard in training and, on Saturdays, put a lot of effort and hard work into the games. We just need to grind results out because that's what the Championship is like. You need to work for your wins.

"We seem to be a bit more free when we play away from home. We have a young team and they do suffer a little bit with the pressure and expectations when we play at home. We have to work on it because we need to win home games as well."


Newcastle maintained their unbeaten record, which now stretches to fourteen games (twelve in the Championship + two in the FA Cup). And at St.James' Park, the Magpies remain unbeaten all season - a run of fifteen games (eleven wins and four draws).

Having conceded just four goals in their previous twelve home league fixtures, that total was extended to six in this game. However that's still the meanest home defence in the league (Swansea are the next best, having conceded eight).

A third consecutive Championship draw means that it's now just one win in five for United.


Magpies v Throstles - last ten in Toon:
2009/10 drew 2-2 Guthrie, Lovenkrands
2008/09 won 2-1 Barton(pen), Martins
2005/06 won 3-0 Solano, Ameobi 2(1pen)
2004/05 won 3-1 Kluivert, Milner, Shearer
2003/04 lost 1-2 Robert (LC)
2002/03 won 2-1 Shearer 2
1990/91 drew 1-1 L.O'Brien
1989/90 won 2-1 Quinn, Anderson
1989/90 lost 0-1 (LC)
1985/86 won 4-1 Reilly 2, McDonald, Clarke


Full record v
Albion:

P
W
D
L
F
A
SJP
54
28
12
14
113
75
H
54
12
18
24
69
105
League
108
40
30
38
182
180
SJP(FA)
0
0
0
0
0
0
H
3
1
0
2
5
4
SJP(LC)
2
0
0
2
1
3
H
0
0
0
0
0
0
Cup
5
1
0
4
6
7
Tot
113
41
30
42
188
187
Waffle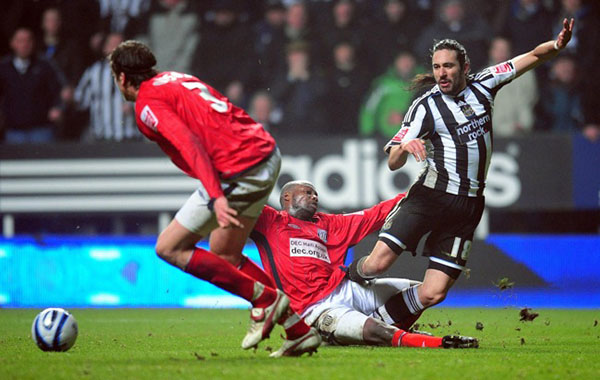 After a succession of routine home fixtures this season, this was the real deal - a genuinely competitive match between two committed teams. Just like times past, in that "other" league we used to inhabit.

Albion had come here to do a job and unlike many other sides, were never going to be impressed by the architecture - although quite what distracted Miller from the easiest of finishes late on remains a mystery.

Behind twice, United showed admirable spirit to take a point from the game and both sides then had chances to win it. Unlike the visitors, the home side also had a couple of justifiable penalty shouts turned down.

However, the return of "proper football" to Gallowgate for one night only brought with it memories of last season's struggles and also provided a depressing reminder of what may face us next season.

From the off, West Brom showed speed and creativity in midfield to find space, leaving our lot looking leaden-footed and although their red change shirts are a different hue to those worn by certain sides from the North West, a slight feeling of helplessness was unpleasantly familiar.

While Gutierrez looked in the mood for the game (although again misfiring at crucial times), Smith and Nolan showed an embarrassing lack of pace, with the former reverting to type and getting wound up, while the latter made minimal impact throughout. He stayed on though, with the equally sloth-like Butt on the bench.

And where the visitors played a smooth passing game, Newcastle by contrast were rather less refined and often incapable of retaining possession. Albion also looked to have done their homework and looked to run at Simpson whenever possible, giving the on-loan defender a difficult game on the last night of his loan spell. Similarly Taylor never looked particularly comfortable and seemed to be struggling early on, suggesting that he wasn't 100% fit to play.

With the Tyneside fog spilling over the East Stand roof and starting to descend on the pitch, it looked like a case of lost in the mist when Albion regained the lead while we were still mentally in the dressing room. At that point an equaliser hardly seemed likely, but Lovenkrands quickly made it an emotional and memorable night for himself with a potentially priceless goal.

Other than that though he unsurprisingly wasn't at his best and wasn't blessed with much in the way of support from Ameobi, whose first three attempts to win possession resulted in soft free kick awards. To these eyes, the arrival of Carroll came far too late, while the fresh legs of Ranger could also have deterred Albion from pushing up into midfield as often.

Despite the late disappointment that a Gutierrez forward run couldn't deliver the ball to the onrushing Carroll, this was still a valuable point that preserved our six point lead over the Baggies. But, they needed the win more than us and didn't get it, despite their attractive pattern of play.

In a game when Chris Hughton fielded his strongest XI and a fair few of his players endured off nights, the team pulled through and maintained their unbeaten record. That's worthy of praise in itself.

The form team in this league currently are Forest, whose manager Billy Davies watched this first-hand as a SkySports pundit. His side benefited from the draw and now lie three points behind Newcastle. And although we have a game in hand on them, it's at our unfavourite destination of Reading, hardly a gimme.

Games like this don't come along very often in seasons like this and only the still-to-come visit of Forest to Gallowgate promises to be of similar onfield intensity. That's not to say that there won't be banana skins along the way of the Scunthorpe variety, but promotion will be achieved by routine victories over routine sides. Smith, Nolan and the rest need to earn their money between now and May to achieve that.

However as a preview of life in the top flight this was a useful - if sobering - reminder of how far we've fallen and how much turnover is required in this squad if we're not to become the Premier League whipping boys next season. We're not a good team, we're a good Championship team.

PS: At this point exactly thirty years ago, we were top of Division Two and apparently en route back to the "big time". We ended the season in ninth position - partly due to the failure of the club to replace injured players and invest in improving the squad. Having experienced that, we're at pains to wipe out any cockiness or complacency from our writing. Take nothing for granted.



Biffa

Re: The It's a Knockout / NUFC link - the referee at Wembley Stadium for our 1952 FA Cup Final success was Arthur Ellis aka Uncle Arthur the It's a Knockout judge (often seen measuring amounts of luridly-coloured liquid during the "mini marathon" with his trusty "dipstick" - which had actually no measurements on it.)