In association with NUFC.com

Date:Wednesday 13th January 2010, 7.45pm.

Venue:

St.James' Park



Conditions: snow-free




Newcastle United

Plymouth Argyle

3 - 0

Teams
10 mins Jonas Gutierrez advanced and played in a well-judged pass for Peter Lovenkrands to finish with a left-footed shot between goalkeeper and post at the Leazes End. 1-0

40 mins Same provider, same scorer: Gutierrez swapped passes with Jose Enrique and bent in a right-footed centre for Peter Lovenkrands to heading home from six yards out The 'keeper got a hand to the ball, but couldn't it keep out of the net. 2-0

Half time: Magpies 2 Pilgrims 0

72 mins The supply line was again from the left, with Enrique crossing beyond the back post for Carroll to head back into the path of Nolan. He took a touch before steering the ball across the Argyle box for Peter Lovenkrands to hook in a six yard shot with his right foot to complete a "perfect" treble.

His celebration consisted of running towards the East Stand while tapping his left leg, slapping his head and then tapping his right foot - confirming he was aware of the significance of his hat trick. From behind it did look like some peculiar folk dance though.... 3-0

Full time: Magpies 3 Pilgrims 0
United Manager Chris Hughton said:

"It's job done, and a very good all-round performance. We went about the game in the right way, and looking at the crowd, I only want to say we appreciate the crowd that was here.

"When you look at other crowds (from the previous night), we've shown again we will always attract more. There were crowds of 5,000 and 7,000, but to get what we got was still a good achievement given the time of year and the bad weather we've all gone through.

"What they saw was a professional performance and that's the best way to describe it.

"They were three very well-taken goals and, of course, what he has to be is in the positions to put them in and that is what Peter has got a knack of doing. He's got that pace to get beyond defenders and I have to say the first goal was the one I enjoyed the most because it shows what Peter can do once he gets in behind teams.

"Jonas has done well for Peter's first two goals and the second was a good header. I know he was hungry for that hat-trick after half-time and I was delighted for him when he got it. It's thoroughly deserved and showed what an important player Peter is for us.

"
It hasn't changed my thinking (in terms of transfers). I've always been very aware of what Peter can do. I've always said that he gives us something different up front compared to Andy, Shola or Nile. He's a different type of striker, and that was the reason we brought him in. He prefers to play up front.

When I brought him in (an interesting comment, given that he signed while JFK was allegedly in charge), I knew he was a player who could play in one of three positions, either up front or on either flank. He's done that on numerous occasions elsewhere, and also did it here last season. But up front is undoubtedly the position he prefers.

"The first objective was to win the game. If it was possible to do that with a good performance, then even better still. And then it would be even better still if we were able to do that and come through unscathed.

"Thankfully, we managed to do all three of those things. We felt the timing of the game was good for us. We had a game called off on Saturday, so it was important to get back into some sort of a rhythm and come through okay.

"It's going to be a big week for both clubs. It will give us both a fair indication of where we are at the moment. Our priority at the moment is the first game here at St James', and it will give us a massive boost if we're able to win that game."

PS: no words of wisdom from Llambias in the programme for this game, but both Chris Hughton and Nicky Butt kicked off 2010 in their notes by welcoming fans to "St.James' Park". Renaming? what renaming?

Treble-hitter Peter Lovenkrands added:

"I'd not scored a perfect hat-trick before and it was very, very exciting. Everybody put a lot of pressure on me at half time, saying I needed to get the last one on my right foot. But I got it and it was perfect. I was very happy.

"Not many people do it for Newcastle United, so I'm really proud to be one of the people who have done it. You cherish these moments, especially as a striker. Knowing the last one was 15 years ago makes it even more special and exciting.

"We have so many good players up front and we need to have the best team out there. I'll just hope it was enough to get me to start the game. It was really exciting to get the hat-trick.

"It's going to be an exciting week. Monday's game is probably the biggest game of the season so if we get three points we're looking good."

Pilgrims boss Paul Mariner commented:
"
The timing of his runs is pretty special and his first goal, his finish was fantastic. He has a lot of composure in the box. When everybody was getting excited, he was the coolest guy on the pitch and just chipped it over the keeper. I thought he was terrific.
"To be perfectly frank, I thought the first half was pretty even-stevens.We gave away two bad goals. When you are 2-0 down at St James' Park, it's a difficult ask to come back.
"We changed it at half time and tried to put some impetus into the team, but we just couldn't quite pull it off. I thought the finishing from Newcastle was fantastic. If you don't fancy playing at St James' Park then you may as well pack the game in. It's a fantastic theatre of football and the supporters are wonderful."



Peter Lovenkrands became the first Magpie to score an FA Cup hat trick since Paul Kitson in a Fourth Round tie at SJP against Swansea City, back in January 1995. Kitson completed his treble in 31 minutes, while Lovenkrands took 62.

His was the third senior United hat trick of the season, following on from Shola Ameobi (v Reading, home) and Kevin Nolan (v Ipswich, away) - the first time that's been done since the 1994/95 season, when Rob Lee (v Royal Antwerp, away), Andy Cole (v Royal Antwerp, home) and the aforesaid Mr Kitson all claimed the matchball.

United are now unbeaten in their last 13 games (all competitions) and our unbeaten record at SJP was extended to 14 games.

Pilgrims in Toon - all-time:

2009/10 won 3-0 Lovenkrands 3 (FAC)
2009/10 won 3-1 S.Taylor, Nolan, Carroll
1991/92 drew 2-2 Carr, Quinn
1990/91 won 2-0 Kristensen, Quinn
1989/90 won 3-1 McGhee 2, Quinn
1964/65 won 2-1 Thomas, Taylor
1963/64 drew 1-1 Thomas
1962/63 won 3-1 Kerray 2, Fell
1961/62 lost 0-2
1947/48 won 6-1 Shackleton 2, Bentley, Pearson, Walker, Wayman
1946/47 won 3-2 Bentley 3
1938/39 won 2-1 Birkett, Clifton
1937/38 won 3-1 Mooney, Smith, Imrie
1936/37 drew 1-1 Smith
1935/36 won 5-0 Weaver 2, Smith 2, Ware
1934/35 won 3-0 McMenemy, Pearson, Smith
1904/05 drew 1-1 Gosnell (FAC)
1904/05 won 2-0 Orr 2 (FAC)



Full record v Argyle:

P
W
D
L
F
A
SJP
15
11
3
1
39
15
HP
14
6
3
5
17
17
League
29
17
6
6
56
32
SJP(FA)
3
2
1
0
6
1
HP
4
2
2
0
8
2
SJP(LC)
0
0
0
0
0
0
HP
0
0
0
0
0
0
Cup
7
4
3
0
14
3
Tot
36
21
9
6
70
35
Waffle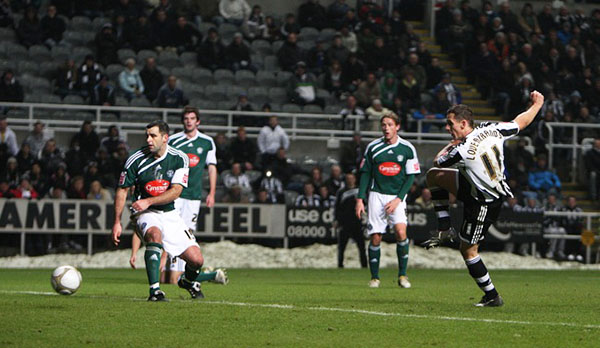 Maybe Plymouth's toon-loving assistant John Carver had a library book that needed taking back.

There must have been some valid reason for the Pilgrims side to have made the 820 mile trek to Tyneside - but it certainly wasn't to try and win through to a Fourth Round tie in the Black Country on Saturday week.

Perhaps their view of this competition this season is like our own - that a trip to the Hawthorns with no Championship points at stake isn't top of their list of priorities, or even on said list at all....

Certainly our season-long unbeaten home record hasn't been in as little danger of ending since it began back in August (when Reading appeared to have signed some sort of non-aggression treaty and studiously avoided making any threat to our goalmouth).

Last Saturday's postponement at Reading had persuaded Chris Hughton to field a more experienced side in order to give senior players a runout ahead of next week's scheduled return to Championship action. And a starting XI bolstered by the return of Kevin Nolan and Steven Taylor was further strengthened when Tamas Kadar cried off through sickness, Fabricio Coloccini replacing him in central defence.

The enforced eleven day break inevitably led to some early slackness, but from their first cohesive attack, United put an end to a barren goalscoring run that had just ticked over the four hour mark. That was a left-footed effort from Peter Lovenkrands and after a header before halftime, he duly registered a so-called perfect hat trick with a routine right-footed finish in front of the Gallowgate End.

Aside from the one-man Danish goalscoring glut though, there wasn't too much else for the meagre home crowd to get excited about, with both Andy Carroll and Nolan wastefully shooting over. And even when Gutierrez snaked towards goal in the second half before shooting, his effort was wide of the target.

At least the Argentinean winger was earning his pay for providing service - in stark contrast to his opposite number on the left wing. Fabrice Pancrate had provided one decent cross before the break for Carroll, but the Frenchman's variable second half distribution began to frustrate the crowd before he was replaced. Like the away tie against Argyle, one senses this was another missed opportunity for him to earn a starting berth in the league side. The look of disdain on the faces of some fellow players said it all.

The final stages of the game were mainly notable for Jose Enrique making progress down the left and shaping to try and grab his first Newcastle goal, but hesitating the first time and then looping an effort into the 'keepers arms.

It was a case of job done though for Newcastle, who set up a Fourth Round tie away to West Bromwich Albion on Saturday week - five days after the pair meet at SJP in a first v third Championship fixture. They'll need to tighten up considerably though, after what was a stroll for the most part here, against a poor team who couldn't have complained if they'd conceded half a dozen goals.

After deriding the replay, the disruption caused by the weather though ended up making this a valuable piece of match practice ahead of that Baggies home game - even if the small crowd and lack of solid tackles (and bookings) lent it the air of a friendly match at times.

Looking beyond the game, with no tangible activity in the transfer window so far (save for a Geremi press conference in Turkey that lacked only a Noel Edmonds/Jeremy Beadle "gotcha" moment), it's difficult to pass judgment on what our intentions truly are before February 1st.

On the one hand there were supposed bids for messrs Kilgallon and Beckford and alleged agreement over a fee for Danny Simpson with Manchester United - counter-balanced by failures to sign the first two and some worrying noises over the level of wages offered to the latter.

While seeing any Newcastle player score a hat trick is a rare and prized sight, the worry remains that anyone showing a hint of competence on the field is interpreted in the boardroom as a justification for not spending money.

Simpson wants too much? well, we've always got Ryan Taylor, who played in a defence tonight that kept a clean sheet. We've got no Harewood replacement? Who cares, Lovenkrands is scoring against Championship opposition - stop being so negative, we love this town and you're all great etc. etc.

Hughton may talk about targets and not changing his mind about the areas in need of strengthening, but there's no guarantee that those above him are of the same mind. After all, they have a track record of lying, or making statements that are "nothing more than an exercise in public relations", to use their own words...

Not being of the Keegan temperament, there's little likelihood of Hughton storming out if his desired targets don't appear and he ends up with, say, a central defender a right back and a striker on loan from Premier League clubs. And even if he did, well there's always someone else ready to take over.

The opportunity remains to blast through this league in the second half of the season with just a modicum of investment. Whether we do that, or amble along with the Pancrates of this world hoping to stay just ahead of the chasing sides, remains to be seen. We really don't want to have to say we told you so. Honest.


Biffa