United Manager Chris Hughton:

"There is more right here than there is wrong. We're disappointed again, but only by the result.

"It wasn't the performance – the performance in the large part was fine. On the majority of occasions that would get you a win.
"We certainly had enough chances to win the game. That was evident for everybody to see. They came and played well, did Derby, and were very spirited.
"They defended well enough, although they had the rub of the green. Sometimes you get that and sometimes you don't, but I couldn't fault the performance of my players.
"We've hit the woodwork twice and Ryan Taylor's had a one-on-one where the keeper made a good save.
"My first reaction to Nile's chance was that it was in and it must be a goal. But it wasn't to be. The emotions after the game are one of real frustration.
"The positives are it's another clean sheet and we haven't lost a game. It will be a season like this when there will be odd results.
"Look at Cardiff's result and that typifies this league. That's what this league is like. We've played two teams at the wrong end of the table in two days and haven't got the points we'd like to have got."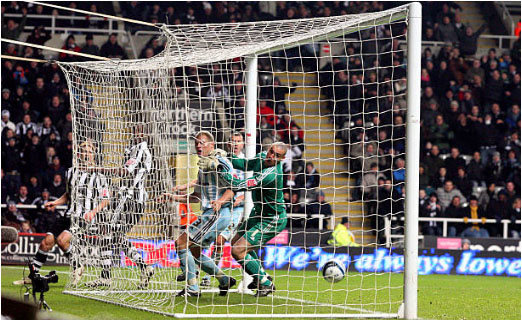 United bade farewell to 2009 by extending their unbeaten run to eleven games, but it was a Tayl of two sitters at SJP against struggling Derby. Both Ryan and Steven Taylor missed gilt-edged chances to make the breakthrough, as Chris Hughton's side were held for the third time in their last four outings.

After a sloppy opening spell at Hillsborough on Boxing Day, the Magpies looked in the mood from the off in front of another sizeable Gallowgate crowd of over 47,000.

With Marlon Harewood's loan spell now over and Shola Ameobi dropping to the bench, Andy Carroll and Peter Lovenkrands were selected as our front pairing. Fit-again Alan Smith returned in place of Nicky Butt, while Ryan Taylor took over from Danny Guthrie in right midfield for his first start in that role since early November.

Chances came and went in a first half of almost total domination from the home side, with Carroll putting two headers narrowly wide and Lovenkrands putting one shot across the face of goal from a tight angle.

Ryan Taylor had already smacked one free kick off the Rams crossbar, before his well-timed run to split the visiting defence was spotted by Jonas Gutierrez. One on one with 'keeper Stephen Bywater, Taylor chose to shoot early and saw his effort blocked, when it had seemed feasible to continue his forward run.
At the other end however, Steve Harper was called to make an instinctive close-range block from DJ Campbell -who once scored here in the colours of Birmingham City.

After the break the chances became less frequent but it looked like United would finally take the lead in the move of the game - when a fine crossfield ball from Gutierrez found fellow countryman Fabricio Coloccini.

He played in Carroll who set up Steven Taylor, but the defender opted for power rather than placement and his header from six yards was straight at Bywater. Shola Ameobi replaced Carroll but the ambling substitute never looked likely to maintain his goal-a-game record, unlike fellow replacement Nile Ranger.

With two minutes to go, Kevin Nolan crossed to the far post and Ranger did well to hook the ball back on target only to see Bywater make an instinctive save onto the bar, the ball bouncing down on the line before being cleared.

And there was almost a sting in the tail, when Nolan conceded a free kick in a central position outside the United box. The much-abused Robbie Savage stepped up, but thankfully punted his effort high into the Gallowgate End.

There was still time for Jay McEveley to receive a second yellow card and leave the field but some poor late corners and crosses failed to test the visiting defence further.

Our record of not ending the year with a victory was therefore extended to seven, but the Magpies go into 2010 with a six point lead over their nearest challengers, West Bromwich Albion.

The Baggies are next up at SJP, by which time our lead could have been trimmed to three points with a home game against Forest up next for Roberto di Matteo's side and United away at Reading - with both our previous competitive visits to the Madejski ending in defeat. (Albion also have a game in hand - away at Blackpool).

However it's not just ourselves who have failed to collect expected victories over Christmas - eg Cardiff City's 4-4 draw at Peterborough, after leading 4-0 at half time.

The talk from club sources has been of the "speculate to accumulate" variety in the January transfer market, rather than looking to continue our player sales. In real terms though the squad has shrunk in recent weeks and with Simpson's loan period up after the Baggies game, signings are needed to retain our challenge - even without the injury problems that we've largely avoided thus far.

Taking stock on what has been something of a traumatic year, for this club to be top of the table halfway through the season is something of a minor miracle - and for us to start and end the season with the same manager is a novelty in itself.....

It's been a learning curve both on and off the field for players alike - with pre-season thoughts that our collection of nice haircuts would be bullied by roughhouse defenders in this league soon dispelled, along with another misconception - that referees at this level would cock a deaf 'un to our "big time" moanings.

In reality we've been the footballing equivalent of royalty coming to open a new bus shelter, with home sides releasing DVDs of our defeats. Opposition players and fans have mostly been in awe of us (with a couple of exceptions) while officials have at times been almost intimidated by their being on the same pitch.

Inevitably the TV cameras have lapped it all up - perhaps initially turning up to witness more Magpie misery, but rapidly seeing that guaranteed bums on seats and the sense of occasion generated by our appearances made good box office. We've actually had more games on live TV so far this season than in recent top-flight campaigns.

On the other side of the coin though, the absence of a full TV crew from some games has caused issues for some - we've had numerous enquiries from punters desperate to know which channel our game is on, unaware that the sole coverage from some away games has been one bloke with a camera - shades of the 1980s, before wall-to-wall coverage was the norm (and when the "Going Up" ITV programme didn't have footage of the promotion clincher at Huddersfield - unimaginable now).

And at SJP, the so-called 12th man has been not only the largest home crowd in the Football League but also the ground itself, week after week playing host to players and supporters for whom it seems to be the equivalent of a trip to Wembley - arrive early, walk around craning neck, buy something from the club shop, get photo taken in front of stand/statue/arch, sample local brews etc. etc.

Much has gone from what was familiar before, from high-profile under-performers in the side to loyal club servants who paid the price for relegation with their jobs. Our international roundup certainly takes up far less space, now that Senegal, England, Ireland and Nigeria are no longer on our radar....
Alan Shearer ends the year as he started it - on the outside looking in - while the old-fashioned pleasure at winning matches has been rediscovered after a gradual decline over three or four seasons.

But what remains is effective at this level: we don't have a number nine, but there's a goalscoring midfielder on double figures in our squad. The prawn sandwich brigade have voted with their feet, but the numbers of fans we're taking to many away games are limited only by the tickets made available.

Our concerns about what happens at the end of this season remain massive, while a look at previous Championship seasons when the new year table-toppers have failed to gain promotion is a timely reminder that the work is not done by any stretch of the imagination.

Not getting out of this league at the first attempt remains utterly unthinkable. But if nothing else, there's a sense that the rot has been stopped round these parts and rock bottom was reached in May 2009.

Who knows, we may even get an end of season highlights DVD of our own, come 2010.