In association with NUFC.com


Date: Sunday 20th December, 1pm
Live on BBC1

Venue:

St.James' Park



Conditions: snow-free





Newcastle United

Middlesbrough

2 - 0

Teams
20 mins A half-cleared ball fell to Alan Smith outside the Boro box, who was unceremoniously felled by Dave Kitson. Danny Guthrie clipped the consequent ball towards the far post, with Ameobi and McMahon clashing as the former knocked the ball down on the edge of the six yard box. With the Boro 'keeper caught off his line, Marlon Harewood got between two idling defenders to convert with a four yard toe poke at the Leazes End. 1-0

Half time: Toon 1 smogs 0

83 mins A virtual rerun of Shola's second goal against Reading, only with Danny Guthrie providing the superlative cross from the right flank rather than Ryan Taylor. The end result was the same, with Ameobi powering in a header past a helpless goalkeeper in the Leazes End goal 2-0

Full time: Toon 2 smogs 0
United Manager Chris Hughton:

"Itís a case of job done. We knew it would be a difficult game because Middlesbrough have been good away from home. Thereís a lot of quality in their side but I thought we went about the game in the right way. We scored at good times.
ďI think guarding against complacency is one of the biggest challenges we will face now. We are where we are, we are the team to beat and be shot down. Weíre the team that everyone has to catch so we have to make sure as a squad and group of staff that we continue to do the things that got us here in the first place.

Not doing that is what we have to guard against because the games will not get any easier than they have been in the first half of the season. But if we go about our business in the same way then of course weíll have a chance.

ďI donít think we could have envisaged being ten points clear. We didnít know what to expect because this division is new to us. Weíd all watched plenty of Championship football over the years and people in the game were telling us what a
difficult league it is. You donít really know until you experience it yourself. So far, weíve coped with the demands well but there have been tough games.

ĒWe all know that sometimes things go for you, sometimes they go against you Ė thatís just the way it is. With the first goal I thought Pogatetz was turning and was half-stumbling anyway. But I can understand that if youíre the manager on the other side of things you might see it a little differently.
ďWith the handball incident with Steven Taylor, thereís certainly no intent there. It did hit his hand and I suppose on another day it might have gone against us.
ďMarlonís loan finishes after the boxing day game and we have decisions to make on Marlon, Danny and Zurab Even though Zurab has played the last game of his loan he was still here watching the game today.

Dannyís loan finishes on January 18 so we have three decisions to make. The decisions will be kept in house at this stage. Iím not aware that Manchester United can bring Danny back. His loan officially finishes on January 18 and Iím not aware that can be changed.Ē
Steven Taylor added:


"
We are getting there, but I donít think we have hit top form yet by any means. I really believe that. As long as we win the Championship I donít care about how many points we get, just as long as we win it. I will only be delighted if we go up as champions in first place, not second.
"I think there is more to come from this side. There is something going for us but there is extra in the tank. We have had some great results lately. There have been games where we have been poor but we have still got the right results. In this league you have to grind results out, especially away from home.
"The fans might not like the football but they will have to deal with it because we are the ones who are playing and we are just interested in getting results. If you ask me the question do I think we will get better, yes I do. I am not bothered how we do it though, as long as we keep winning.
"Iíll be happy with 1-0 for the rest of the season. Arsenal built a side around doing exactly that and I would take that all day. I know the fans want to see great football but I hope they realise it is difficult when teams face us with two banks of four players trying to frustrate us. That is why we have to use the wingers so much.

"We have shut the back door and we know we have got the quality up front. The midfield can also get a few goals as Kevin Nolan has shown all season. We have got pace and delivery from the wings.
"Danny Guthrieís ball for the second goal was absolutely fantastic. That is the quality we bring and I think teams are nervous of what we can do in attack. All around we are doing the business, if you speak to opposition players they say we are the best team they have faced all season.
"Away from home we go after teams whereas our biggest problem last season was losing too many games on our travels. We conceded too many goals but we have now put that to bed. We have a good, strong team and we are physically better. We have a lot stronger players. The pre-season games put us in good stead because we got battered in a few matches, so we knew what to expect in the Championship."
Smoggies boss Gordon Strachan (not in Panto this year) spat:


"We got in the places where we wanted to get, the problem areas, but we couldnít capitalise on that. We didnít do enough when we got into these areas to score the goals. We didnít have enough in our locker. Thatís our fault.
ďWe made a terrific start to the game, and we did the same in the second half. But we couldnít keep it going. Weíve got enough individual quality but we have to take advantage of it when we get in the right areas of the field. We know thatís wrong. And we will work until we put things right.

"Newcastle deserve to be top of the league. Itís a manís game. You need men to win things.
"Our two centre-backs were terrific. Rhys Williams worked very hard again and Gary OíNeil got into some lovely positions. The players who did well in the game should be pleased with themselves."
On lead up to the opening goal:

"It was a shove in the back. But we didnít get the free-kick we deserved and thatís what happens when things are going against you. Newcastle found that things were going for them. But itís something that we can influence. We have to change the situation and play well enough to get into a position where we get the breaks."

On the Boro penalty claim:
"It was a penalty. Thereís no doubt about that. He moved his hand to it. It was a good save from him.Ē
Smog on the Tyne - last twenty:
2009/10 Won 2-0 Harewood, Ameobi
2008/09 Won 3-1 Taylor, Martins, Lovenkrands
2007/08 Drew 1-1 Owen
2006/07 Drew 0-0
2005/06 Drew 2-2 Solano, Clark
2004/05 Drew 0-0
2003/04 Won 2-1 Bellamy, Shearer
2002/03 Won 2-0 Ameobi, S.Caldwell
2001/02 Won 3-0 Speed, Shearer, Bernard
2000/01 Lost 1-2 Cort
1999/00 Won 2-1 Shearer 2
1998/99 Drew 1-1 Shearer
1996/97 Won 3-1 Beardsley 2, Lee
1995/96 Won 1-0 Ferdinand
1992/93 drew 0-0 (LC)
1991/92 lost 0-1
1990/91 won 1-0 Anderson
1990/91 drew 0-0 (LC)
1989/90 drew 2-2 McGhee, O'Brien
1988/89 won 3-0 Mirandinha 2, OG
Shola Ameobi marked his sixth league start of the season by scoring his sixth Championship goal.

Adding in his League Cup goal against Huddersfield Town, Shola's return of seven so far puts him within striking distance of his seasonal best of 10, achieved back in 2003/04....injury permitting.

2000/01: 2 (2 Premier)
2001/02: 5 (3 Intertoto, 2 League Cup)
2002/03: 8 (5 Premier, 3 Champs League)
2003/04: 10 (7 Premier, 3 UEFA Cup)
2004/05: 7 (2 Premier, 3 FA Cup, 1 League Cup, 1 UEFA Cup)
2005/06: 9 (9 Premier)
2006/07: 5 (3 Premier, 2 Intertoto)
2007/08: 0 (0)
2008/09: 4 (4 Premier)
2009/10: 7 (6 Championship, 1 League Cup)

Total: 57

Gordon Strachan's Managerial record @ SJP:

With smoggies:
2009/10 lost 0-2

With Celtic:
2007/08 lost 1-4 (FR)
2005/06 lost 2-3 (FR)

With Southampton:
2003/04 lost 0-1
2002/03 lost 1-2
2001/02 lost 1-3

With Coventry:
2000/01 lost 1-3
1999/00 lost 0-2
1998/99 lost 1-4
1997/98 drew 0-0
1996/97 lost 0-4

(As a player, wee Gordon's trips to SJP with Manchester United, Leeds United and Coventry City were similarly unproductive: by our reckoning he made five without winning a single one).
Full record against ' Boro:
P

W

D

L

F

A

SJP

58

31

16

11

99

57

AP/R

57

14

19

24

67

82

League

115

45

35

35

166

139

SJP

(FA)*

2

1

0

1

6

4

AP*

2

1

0

1

3

3

SJP(LC)
2
1
1
0
1
0

AP/R
3
1
0
2
4
6
AP(ZDS)
1
0
0
1
0
1

Cup

9

4

1

4

14

13

Tot

124

49

36

39

180

152
* includes FA Cup qualifying games in 1896 & 1898
Waffle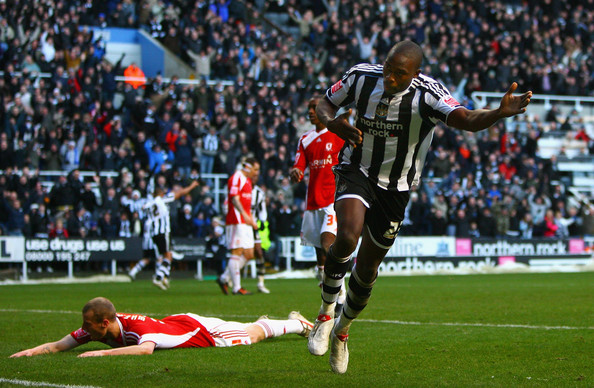 After last week's out of character defensive generosity, Newcastle returned to winning ways, notching up another clean sheet against a listless Boro side who remain becalmed in the lower half of the table.

And although the wintry weather affected transport in the region and meant that some Metro passengers missed the kickoff, there was never any chance of a points failure at this St.James'.

Wee Gordon had justifiable whinges about some pushing before the first Newcastle goal and a handball that could easily have seen his side awarded a penalty, overall the Teessiders were second best throughout and lacked the sort of midfield service that the likes of Downing formerly provided.

Today was a question of quantity versus quality for United down the flanks, with much of the play funnelled down the left side through Gutierrez and Enrique. Neither claimed any assists in this game though, as the right boot of Danny Guthrie proved to be the difference between the two sides.

The fit-again midfielder was recalled to supply the raw materials and duly did so, although his deployment in right midfield doesn't look to be the best use of his talents and his tendency to come infield gave us an unbalanced appearance at times.

But while Chris Hughton's side kept their home record intact and extended their unbeaten run to nine Championship games, for much of this game they were little better than the visitors.

The early kickoff and reduced refueling opportunities made for a lack of atmosphere at times, while continual off-the-ball jostling at set pieces may have raised temperatures a little, but hardly added to the ebb and flow of the contest.

Both players vitally and welcomly found the net, but the spectacle of balls battered towards Marlon Harewood and Shola Ameobi (and their equally burly markers) reminded TV viewers of the lack of quality in this league.

Dave Kitson contributed little to proceedings and was replaced at half time, but the fleet-footed Leroy Lita was involved in what noteworthy moves Boro produced - fortunately finding Fabricio Coloccini on another good day when his timing was immaculate.

Overall though, another side who played some football but had nothing up front left here empty-handed. That - and our consistent averageness and effectiveness - is the story of the season, so far.


Biffa