In association
with NUFC.com

Date: Saturday 12th December 2009, 3pm.

Venue: Oakwell

Conditions: sepia-tinged

Admission: £19-21

Programme: £3





Barnsley

Newcastle United

2 - 2

Teams
6 mins Ryan Taylor's sweeping diagonal pass from halfway was nodded forward by Andy Carroll into the path of Kevin Nolan and he converted with a low left-footer from 10 yards.1-0

Half time: Tykes 0 Toon 1

52 mins United lost possession and Brazilian midfielder Anderson De Silva got beyond Enrique on the right hand side of the visitor's area to centre. Maltese forward Daniel Bogdanovic beat Ryan Taylor to the header and did just enough to deflect the ball into the path of on-loan Icelandic midfielder Emil Hallfredsson to lash home his first goal for the club from close range. 1-1

78 mins Steve Harper's clearance upfield was headed on by Andy Carroll again and Marlon Harewood volleyed home what felt at the time like a slightly undeserved winner from 12 yards in front of the away end. 2-1

87 mins Bobby Hassell headed a corner through a crowd of players and past Steve Harper - with no defender covering on the line. 2-2


Full time: Tykes 2 Toon 2
Newcastle manager Chris Hughton said:

"I think when you're 2-1, up with so little of the game to go, it's very disappointing when you don't get the result. What we didn't do well enough today in that last period was defend a set play, which we've been very good at doing."

On Andy Carroll playing after his recent arrest:
"He coped very well with it. I think the fact that he was instrumental in both goals and gave the contribution that he did. I suppose he didn't give us anything we don't already know. We know he's a handful and on his day a very good player."
On the travelling support:
"The effect it had was a real appreciation from this group of lads. On a cold Saturday afternoon, just before Christmas, 7,000 fans turning up to the game is outstanding.
On Newcastle losing a table-topping lead, as has happened on previous occasions:
"We know references will be made to teams in the past. It's not my priority to banish those memories – it's just about making sure we get it right.
"These kind of statistics are the kind of things that are always brought up. It's not something I will particularly bring up with the players.
"All the things that we have spoken about this season are around maintaining the standards that we have set. If we're able to sustain anywhere near the standards that we've set, we'll be OK.
"It's about guarding the players against dropping the qualities, efforts and determination – all of those things we need to keep going."
Goalscorer Kevin Nolan added:

"It's unbelievable – I don't think I've had a home following like that, apart from St James's, let alone an away one. It's just a big thank you – they've been absolutely fantastic again. They were brilliant throughout the game, even at the end the way they stayed behind.

"I've got nothing to say – there's nothing to describe it. Unless you're there and you see it, it's just unbelievable. We just thank them for being behind us. It's been a bit of a tricky time for them as well as us, but with them behind us, we can get back into the Premier League. I feel that now we're going in the same direction, and hopefully that can continue throughout the season, as we need them.

"I was really gutted about missing the Coventry game, but delighted with the result. And to come back in and score in the first 10 minutes was nice. It's always nice to score goals, but I just don't like scoring goals when we don't win. This feels a bit more like a loss, with them scoring late on.

"We were disappointed in the end to concede a goal, but I thought Barnsley played really well. They were one of the best sides we've played away from home this season. I think it was quite an entertaining game in that respect.

"We probably could have made the game a little bit easier for ourselves, but we didn't, and we've got to learn from our mistakes."
Tykes boss Mark Robins:

"I am pleased with the way we responded to going behind really. I thought we limited them to them a few long range chances apart from the goals and I was pleased with the way we performed especially in the second half.
We upped the tempo and caused them problems and had to dig in deep at the end to get back into the game.
"I am delighted and it could have been even more than just a point but that would be being greedy. I thought our supporters really played their part today and were as loud, if not louder, than the Newcastle lot. They were fantastic.
"I am pleased and proud of them all today. We have to be pleased with a point but it could have been a bit more. We were great value for that point but we are disappointed not to have won here at home".
Toon @ Tykes -all-time:
2009/10 drew 2-2 Nolan, Harewood
2001/02 won 1-0 Bellamy (LC)
1997/98 drew 2-2 Gillespie 2
1994/95 won 1-0 Cole (LC)
1992/93 lost 0-1
1991/92 lost 0-3
1990/91 drew 1-1 G.Peacock
1989/90 drew 1-1 M.Quinn
1985/86 drew 1-1 Cunningham (LC)
1983/84 drew 1-1 Waddle
1982/83 won 5-0 Varadi 2, McDonald 2, Keegan
1981/82 lost 0-1
1947/48 drew 1-1 McCall
1946/47 drew 1-1 Stobbart
1945/46 lost 0-3 (FA)
1937/38 lost 0-3
1936/37 lost 0-1
1935/36 lost 2-3 Cairns, McMenemy
1934/35 lost 1-2 Wilson
Full record v Barnsley:
P
W
D
L
F
A
SJP
14
9
2
3
28
10
O
15
1
7
7
17
23
League
29
10
9
10
45
33
SJP(FA)
2
2
0
0
7
3
O/CP/G
3
1
1
1
3
4
SJP(LC)
3
2
1
0
4
1
O
3
2
1
0
3
1
Cup
11
7
3
1
17
9
Tot
40
17
12
11
62
42
Newcastle's run of four successive clean sheets came to an end after 423 minutes but they remain unbeaten in their last eight outings.

The Magpies led at half time but failed to win, not doing so from that position for the first time this season (having achieved ten of our fourteen league victories in this manner).

This game was the last that defender Zurab Khizanishvili played for the club, with his loan spell from Blackburn Rovers ending next Saturday. The 28 year-old Georgian international made six starts for Newcastle and one substitute appearance.
Waffle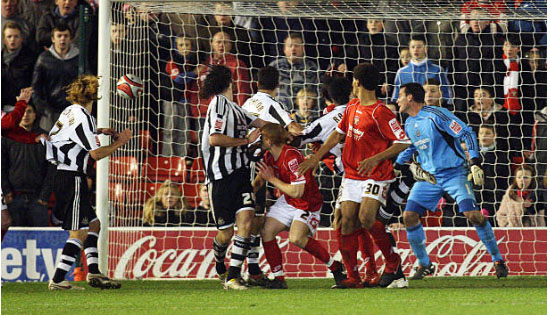 This eagerly-awaited excursion to South Yorkshire stirred up memories of the days before our travelling hordes were collectively referred to as the "Toon Army", older generations of fans retracing their steps while newer converts were experiencing this for the first time.

The convoys of buses snaking off the M1 added to the 1980s vibe, as did walking up a terraced street behind a bloke in an NCB donkey jacket. Only the ever-present clatter of a police helicopter above threatened to intrude on the retro atmosphere of this good-humoured Geordie invasion.

For anyone who thought this was a mega Magpie turnout though, the 15,000 who travelled to Hillsborough in 1983 takes some beating - countries have been invaded with less manpower....

That was back in the days when Newcastle struggled to win at places like this, and a look at the "previous visits list" in the section above gives a glimpse of the misery and disappointment that even extended to losing here in the 1993 promotion and title-winning season.

Our aim in those more primitive times was invariably returning to the promised land of the First Division, when such trifles as playing entertaining football were as unrealistic as habitable toilets and a covered, seated away end without a fence.

The surroundings may have changed and the facilities improved - at least on three sides of Oakwell - but the ambition remains the same for the eleven players whose every move was roared on by the visiting contingent.

Hopes of an eighth successive win and a second away victory in a week (again something thinkable in a previous age when our ration was two in a season) were ultimately dashed by a late equaliser,
but the draw was probably a fair result against

the resurgent Tykes and their manager, who himself had left us cursing back in his days as an emerging Manchester United striker.

Chris Hughton rang the changes again, with Ryan Taylor replacing Danny Simpson at right back and Andy Carroll returning to lead the attack, as Shola Ameobi and Peter Lovenkrands both dropped to the bench. It was subsequently confirmed that the Simpson move was tactical, Danny Guthrie had a slight knock and that Shola wasn't risked after his comeback in midweek.

As expected, Kevin Nolan returned to the side after suspension and was deployed in an advanced role, taking just six minutes to fire home his tenth goal of the season.

That provoked great celebrations at the other end of the ground, who at that point were squinting into the winter sun - although that was soon replaced by the floodlights as darkness fell.

However the black and whites failed to build on that early advantage, with only a Ryan Taylor effort from distance worthy of note as wide men Jonas Gutierrez and Fabrice Pancrate struggled to make headway down the flanks and the home side persisited with their direct approach.

They were made to pay within seven minutes of the restart, as some inspirational words from Barnsley boss Mark Robins saw his side on the attack from the outset, forcing a trio of early corners.

There was almost an instant response from Newcastle, with Carroll sending an angled chip just wide of the post and Pancrate dragging a shot wide with the whole of the goal to aim at. The second United goal of the game came slightly out of the blue, Marlon Harewood's fourth effort in our colours coming within nine minutes of his introduction.

However that proved not to be enough and there was no repeat of the rearguard action that had seen us through at Cardiff, Sheffield United and Preston, as Barnsley continued to throw crosses, corners and long throws into our box and were eventually rewarded.

And the final seconds of the game saw Andy Carroll tangle on the ground with veteran defender Darren Moore, with the latter having to be led away by other players.

Both collected bookings, with Carroll's his fifth yellow card of the season which means that he'll be suspended for the visit of the smoggies to SJP next Sunday.

The five added minutes failed to produce a serious chance for Newcastle to steal the win, but the applause from the away sections at the final whistle was warm, in recognition of a point gained on a day when our performance levels dipped across the field.

Carroll didn't get great service and spent most of the game trying to latch on to long balls pumped upfield from the defence - both his assists coming in this manner. However a general absence of pace across the field saw Barnsley mostly keep us at arms length, with virtually nothing in the way crosses delivered from the byline.

Defensively we looked vulnerable to their direct approach box and unlike the likes of Watford and Swansea, who lost to us recently by playing more attractively, the ploy of hiking the ball into the corners and dropping balls into the box was as effective anything else we've seen this year.

The continuation of our unbeaten run though and the point collected were the main headlines from this place, along with the support. The fans are doing their bit at present and the players are showing some consistency on the field - at least in terms of results.

That just leaves the bloke upstairs (who was here today) who either speculates to accumulate next month, waits for his payday from a bid that may never come, or hosts a January sale. Time will tell.

Biffa