In association with NUFC.com


Date: Saturday 28th November, 3pm

Venue:

St.James' Park



Conditions: two-faced





Newcastle United

Swansea City

3 - 0

Teams
8 mins Danny Guthrie's flag kick from the South West corner of the ground was played out to an unmarked Alan Smith towards the nearside corner of the box and he scooped it forward with his right foot.

Fabricio Coloccini got above his man to help the ball on in the City box and it fell nicely in front of goal for Marlon Harewood to open the scoring with a cushion header from eight yards. Weak Swansea appeals for an offside were rightly ignored, with Orlandi caught on his heels 1-0

21 mins Enrique took a throw in down towards the Strawberry corner, going backwards to find Jonas Gutierrez, who took a touch before setting off for the byline, forcing his way between two defenders.

His fine left-footed centre fell perfectly for Peter Lovenkrands to direct a powerful downward header home from six yards. 2-0

28 mins Lovenkrands took advantage of acres of free space down the Magpies left to advance forward and curl over a left-footed cross from the edge of the box that Marlon Harewood directed into the net with another header, this time at the near post.

Danny Guthrie provided nuisance value, but the City marking was appalling and the goalscorer had a free run at the ball 3-0

Half time: United 3 City 0

Full time: United 3 City 0
United Manager Chris Hughton:

"Weíve got good momentum at the moment and that makes a big difference. Winning becomes a habit: you sometimes get a little bit disappointed because you want everything and at 3-0 up I felt we didnít do well enough in the second half. On another occasion, we might not get away with it.
"But I generally feel that if the score is 0-0 at half-time, I donít think we get that second-half performance. Weíve produced some really good finishes recently, and weíve been helped by some really good delivery. That hasnít always been the case. Weíve had periods of the season where weíd have liked to have made things a bit more comfortable for ourselves, but theyíve ended up being quite scrappy wins.
ďIf you ask anybody in my position, you want to win the game however you win it.
"Weíre very pleased. Itís the most important gap Ė on third place Ė and all we can do is continue to do what weíre doing and be hopeful that other results go for us. Youíve always got to look over 94 minutes and to come away with three goals at home in a very good first-half period and not to concede . . . you canít ask for any more.
"Youíll see numerous games where a team takes the lead and the score finishes the same as it was at half-time, especially against a team in the form of Swansea. They showed itís no coincidence they are where they are. They caused us more problems in the second half, but we defended superbly."

On Coloccini:

"I thought he was outstanding. You normally don't want that to be the case with centre-backs because it means they've been kept busy. But I thought he coped very well with the way Swansea played and always looked comfortable. He's a real class defender and I thought the man-of-the-match award was thoroughly deserved."

On Smith:

"I'm disappointed for Smudger, because it's been a really good season for him. For him to cap off the result with a goal would have been fabulous.

"He's probably run, I would think, some 60 yards to get there, and it would have been a fitting finish to the game. That would have been nice, but the most important thing for Alan Smith is his contribution to the team, and if he can add the odd goal, then the better."

On Harewood:

I'm pleased for Marlon. To be fair to him, we knew when he came he wasn't really up to speed with his fitness, but we knew he'd get stronger and fitter, but that still doesn't guarantee goals. There was a part of me that wanted him to leave him on, but the bigger part is the team. It wasn't particularly Marlon dipping in his form.

"I just wanted to bring a bit of freshness on. We were losing a fair bit of possession, and you just want a different option. Probably, at that stage, it would have been Marlon or Peter, but because of the fact Peter can drop that little bit deeper, we decided to take Marlon off."

On Harper:

ďMy feeling is that Steve will be okay. He just felt his back, which was starting to stiffen up. It was the right decision to take him off."
City boss Paulo Sousa (who lurked around the touchline throughout the game, looking like Jose Mourinho's bin man) commented:
"We arrived here at Newcastle with a lot of hope, but it is not easy for some players to come to a stadium like this with a lot of people and a lot of support. But it has been a beautiful and fantastic experience and something we would like to achieve to play in this environment all the time.

"
I donít think that 3-0 is a fair reflection of the game. My team deserved far more than they got. But it was a good experience for us though. We started being afraid and conceded the first 25 minutes which is something we can learn from. We got better control of the game, were more like ourselves and finished the first half well.
"What we then saw in the second half is the picture I want to see in every game. We canít be afraid to show our identity on the pitch. When we play with the right personality, we have everything else. This team just needs to be more mature. But this experience will help us be stronger in the future.
"We arrived at St Jamesí with plenty of hope because of everything thatís happened beforehand, but we only showed what we are capable of after that first 25 minutes. The players corrected themselves and that is a big step for the team - Iím proud they were able to do that.
"Things improved and we kept pushing. It would have helped if we had scored though, because it would have increased the belief. Newcastle are a great team and Iíve said before, they donít have to run to win games, just walk. They had to run against us though and Iím proud of that.

"What happened here, the players being affected by the stadium, has not happened anywhere else. We have been at other grounds where teams have pressed us but we coped well. Itís not easy for some players to come to a stadium like this with so many fans. We felt that too much and it cost us.
"In terms of our personality, I havenít felt what I felt here in other games. Even our most experienced players lost control at the start of this game. That can happen at a place like Newcastle. But it will only happen once and it was against a very strong team.
"Newcastle are a great team and they have players that can win games even when they donít deserve it. That is their strength and it will be very difficult for anyone other than West Brom to catch them this season.Ē

Swans @ SJP - all-time:

2009/10 won 3-0 Harewood 2, Lovenkrands
1994/95 won 3-0 Kitson 3 (FAC)
1983/84 won 2-0 Beardsley, Wharton
1980/81 lost 1-2 Rafferty
1979/80 lost 1-3 Shoulder
1964/65 won 3-1 Penman 3
1963/64 won 4-1 Hilley 2, Taylor, Thomas
1962/63 won 6-0 Fell 2, Suddick 2, Thomas, og
1961/62 drew 2-2 Leek, Allchurch
1952/53 won 3-0 Davies, Keeble, Mitchell (FAC)
1946/47 drew 1-1 Woodburn
1938/39 lost 1-2 Clifton
1937/38 won 1-0 Imrie
1936/37 won 5-1 Rogers 2, Smith 2, Pearson
1935/36 won 2-0 Connelly, J.Smith
1934/35 won 5-1 Cairns 3, Imrie, Murray
1914/15 drew 1-1 McCracken (FAC)
Full record v Swansea:
| | | | | | | |
| --- | --- | --- | --- | --- | --- | --- |
| | P | W | D | L | F | A |
| SJP | 14 | 9 | 2 | 3 | 37 | 14 |
| VF | 13 | 8 | 0 | 5 | 20 | 22 |
| League | 27 | 17 | 2 | 8 | 57 | 36 |
Chris Hughton now has a 100% win record from his four matches in a permanent managerial role.

Fabricio Coloccini posted a man of the match performance as he played his 50th competitive appearance for United (46 in the league, 2 in League Cup, 2 in FA Cup - all starts).

Alan Smith meanwhile came agonisingly close to breaking his scoring duck for the club on the occasion of his 50th competitive start for the club (46 in the league, 2 in League Cup, 2 in FA Cup). He's also made 10 appearances from the bench (9 League, 1 FA Cup).

Fabrice Pancrate made his senior debut, becoming the 28th player to appear in the Championship for us this season (29 including James Tavernier, who only featured in the League Cup).

He also avoided the fate of fellow countrymen David Terrier and Lionel Perez, who never got any nearer to a competitive first team outing in our colours than a place on the subs bench.

Tim Krul made his second league appearance of the season for Newcastle, like the first one (at West Brom) replacing Steve Harper at half time and keeping a second half clean sheet.

Marlon Harewood scored the second and third goals of his time at United, all of which have come from close range at the Gallowgate End.

Peter Lovenkrands scored his fourth goal in our colours - and the first since rejoining the club. He's now one ahead of fellow Dane Benny Arentoft and level with Benny Kristensen.

Waffle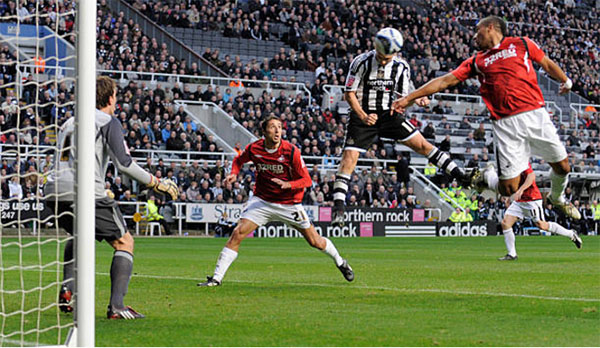 A fifth successive victory, top spot in the table and a tenth clean sheet from 18 league outings - all cause for celebration, as was the twenty minute salvo that put us three goals clear before the half hour mark.

The visitors had arrived on an eleven match unbeaten run, propelling them to their highest league placing in over quarter of a century and with an increasing reputation for defensive meanness and decent football.

However they met a side who were in equally fine fettle at the back and with a revamped strikeforce who proved to have more of a cutting edge had been anticipated before kickoff.

And as well as those factors, the architectural apprehensiveness that is dogging long-time SJP absentees this season was to the fore again, with City no better than previous opponents Peterborough in protecting the Gallowgate End goal in the opening stages.

The first of a hat trick of headers came from the unfancied Harewood, who had replaced the ailing Andy Carroll at Preston and kept his place in the starting XI despite the claims of Ranger, with Ameobi not quite ready for a return after his injury layoff.

Then after Lovenkrands had exploited more defensive weakness, Harewood was left alone again to wrap things up: three chances, three goals, goodnight.(although long-term SJP watchers will recall that we've squandered three goal leads before...)

The balance of play from then on began to alter though, as Swansea belatedly started to find their feet - and their men - with Steve Harper twice acrobatically leaping to his left to tip goalbound efforts away. That exertion hardly helped the back spasms he'd been troubled with since earlier in the game and he made way for Tim Krul at the interval.

Those home fans towards the Leazes End who waited expectantly for some net-based action were to be disappointed however, as City took the initiative from the off and played the better football in the second half without ever really threatening to produce a memorable comeback.

Danny Simpson heading off the line when Steven Taylor had left the field for treatment, while Krul rushed off his line to make one timely block and then preserved his clean sheet with another close range intervention in time added on.

United were also boosted by Sousa's replacement of Darren Pratley, whose passing range had caused the home side some problems.

Harewood did his best to look gutted at being dragged off in favour of Ranger and thus denied the opportunity to complete his hat trick, although he'd barely had a touch of the ball on the City side of the pitch since scoring.

Comparisons with Viduka were made post-match, although the man from Melbourne was a) more expensive and b) boasted a better first touch. Finding the net at an opportune time though was a trait of the Aussie - and with Ameobi almost back, Lovenkrands also belatedly becoming match fit and Carroll only temporarily absent, Hughton has a greater range of striking options than his Championship counterparts - and can nurture Ranger rather than exploit him.

The arrival of Ranger roused the crowd, but the volume increased more noticeably when Pancrate made his entrance. He served notice of his intentions with a forceful run down the right that ultimately saw him lose possession, but continued running as the ball was cleared via goalkeeper and defender - those efforts at retrieval drawing as much applause as his initial forward burst.

And the debutant was involved again down the same flank soon after, with Lovenkrands somehow not chalking up another assist when his dolly of a cross was headed over by Ranger with the most of the goal open up to him.

That really should have been the teenager's first goal and there was to be an even more agonising passage of play, as Alan Smith dashed headlong upfield to spearhead a counter attack, taking Pancrate's pass in his stride but blasting his shot against the City keeper's legs. Had that gone in, there would have been people on the pitch....

For all the positive and supportive comments of their boss (who took to the field at the final whistle to praise his side), Swansea weren't robbed or cheated here, but beaten fair and square by a side who were out of sight before the visitors could compose themselves.

However, the award of the sponsor's (well-judged) man of the match trinket to Fabricio Coloccini gave some indication of the way the game went. Maybe there's something about the Welsh he likes; after scoring his first Toon goal at Cardiff earlier in the season, he was calm and competent throughout this game - and even able to cover up for the misfiring Enrique, who had a real off day. For a defender to win the accolade in a 3-0 home win was telling.

Post match reports that Chris Hughton tore a strip off his charges for their lack-lustre second half showing are interesting, if one takes that as notice that he felt his side weren't trying their utmost and had eased off after their half time cuppa, job done.

From our perspective though, Sousa caught the mood when he spoke about Hughton urging his side upfield after the break - invention being lacking rather than effort. A lack of pace in midfield (Nolan again bypassed on home ground) and a general absence of organisation when things started to get tight were concerning.

We simply didn't have a reliable enough outlet, with Gutierrez a non-event after half time, but it didn't matter- this time. That SJP factor and the comparative strength of the squad (with genuine options on the bench) saw us through again, with the increasing fitness and effectiveness of both scorers frankly a relief.

To now be eight points ahead of third spot is perhaps the biggest boost though - while not wishing to deny anyone not around in 1993 the chance to see a trophy waved around SJP, getting promoted and avoiding the accursed playoffs is the only thing that matters this season.


Biffa