In association
with NUFC.com

Date: Monday 23rd November 2009, 7.45pm. Live on Sky

Venue: Deepdale

Conditions: periodic dampness

Admission: £20

Programme: £3





Preston North End

Newcastle United

0 - 1

Teams
Half time: PNE 0 NUFC 0

74 mins Danny Guthrie's cross into the box found Marlon Harewood who shielded the ball before it reached Kevin Nolan who, in an instant swivelled to fire a low left-footed shot into the far corner of the goal. That delighted the away following behind the goal with Nolan leading his colleagues in extended celebrations 1-0


Full time: PNE 0 NUFC 1
Newcastle manager Chris Hughton said:

"We've lost Ryan Taylor in the warm-up with a calf problem and Andy (Carroll) was ill all day and had no right to start the game, but he's a tough individual and wanted to play his part.
"Danny (Simpson) going off at the time he did wasn't ideal, but looking at the performance, I'm happy. It's based on a clean sheet and Steve Harper, when called upon, showed a safe pair of hands.
"Preston will probably feel a little hard done by, but we showed enough about us to get the clean sheet and nick the goal.
"We've got nine clean sheets now. If you look at what we've got here, so far we have been able to come to tough places like Preston and do this.
"You know you will be under pressure and you know will have to dig deep. That's what we did. We didn't show enough quality on the ball on a very good surface, but we showed enough in the end.
"We've been fortunate enough to sustain the challenge at the top, but there's a big group of teams who are below us. On the back of a couple of wins they can climb a couple of places.

"We just have to make sure we maintain the level that we have so far. We know that if we dropped that there are enough teams to put pressure on us.

"This is our fourth win on the spin, and any back-to- back wins are massive. "The more you can do it, the more you can pull away in the table. We're very happy with the way it's going but we know there is plenty of hard work ahead of us."

PNE boss and former Magpies Academy coach Alan Irvine commented:

"I don't think we should have lost the game, certainly. I thought that we matched Newcastle for many parts of the game. I felt as if we had some good chances to score ourselves.
"But we didn't take our chances and Kevin Nolan finished his chance, which was maybe not even that much of a chance, very well. We have seen him do that many times before, he has got that kind of quality and it was something we were aware about before the game, and he has popped up again.
"It can become a problem (not scoring goals). We have got some good finishers at the club and I expect them to score goals in the future without any question.
"We didn't get them tonight and we will keep on working at it. We do a lot of work on our finishing and we will keep on doing that.
Michael (Tonge, newly signed on loan from Sheffield United) was very good and I was amazed that he could play 90 minutes when you see how little football he had played."
Magpies @ Deepdale - Post War:

2009/10: won 1-0 Nolan
1980/81: won 3-2 Rafferty, Shinton 2
1979/80: lost 0-1
1978/79: drew 0-0
1964/65: lost 0-2
1963/64: lost 0-3
1962/63: lost 1-2 Hale
1961/62: won 1-0 Woods
1960/61: won 3-2 White 3
1959/60: won 2-1 Eastham, OG
1958/59: won 4-3 Franks, White 3
1957/58: lost 1-2 White
1956/57: lost 0-1
1955/56: lost 3-4 Hannah, White 2
1954/55: drew 3-3 Hannah, Milburn, White
1953/54: drew 2-2 Keeble, Milburn
1952/53: lost 1-2 Brander
1951/52: won 2-1 G.Robledo 2
1948/49: lost 1-2 Taylor
Full record v Preston:
| | | | | | | |
| --- | --- | --- | --- | --- | --- | --- |
| | P | W | D | L | F | A |
| SJP | 36 | 20 | 7 | 9 | 72 | 52 |
| D | 37 | 12 | 5 | 20 | 44 | 64 |
| League | 73 | 32 | 12 | 29 | 116 | 116 |
This was Newcastle's fifth away win of the season, following on from successes at Crystal Palace, Cardiff City, Ipswich Town and Sheffield United.

In six games shown live on SkySports, five have ended in 1-0 scorelines - victories for Newcastle at Cardiff City, Sheffield United and Preston North End and at home to Leicester City and a single goal defeat at Nottingham Forest. The odd one out was the 3-0 home win over Reading.

Comparisons with our last promotion campaign, of 1992/93, after 17 games:

1992/93: Won 14, Lost 2, Drawn 1. 34 goals scored, 13 conceded, 7 clean sheets.
2009/10: Won 11, Lost 3, Drawn 3. 26 goals scored, 10 conceded, 9 clean sheets.

Fabrice Pancrate was an unused substitute in this game, having seen his international clearance go through following confirmation that the free agent had joined United for the rest of the season.


Waffle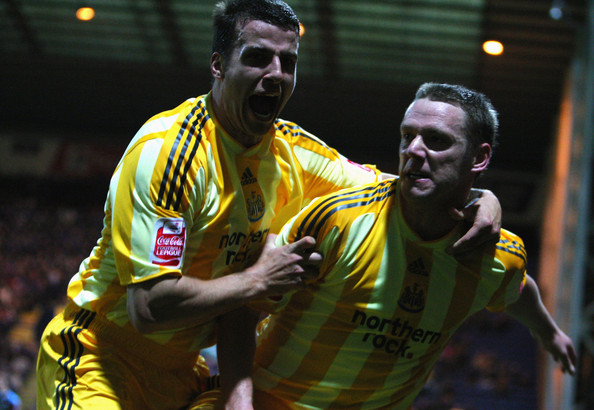 Newcastle's fourth consecutive victory saw them topple West Brom from their brief reign on top of the table, as Chris Hughton's side again successfully played catch up in the Monday night TV slot.

Our winning return to Deepdale after nearly thirty years may have been described as "winning ugly", but the goal that separated the sides was in itself something of a thing of beauty, as Kevin Nolan once again masked the fact that we're a table-topping team who lack a goalscoring striker.

The return of Andy Carroll to his former loan home had been expected to see him continue in his recent reasonable form, with good reviews from his two recent England U21 outings adding to his club strikes in successive home games. In the event though, illness played its part in a more low-key, less physical display from him, along with a lack of quality service from his colleagues.

And with Harewood a late replacement for Ryan Taylor (lost to through injury after the warm-up) alongside him, it meant that the same starting XI that had beaten Peterborough United before the international break was fielded - with recent signing Fabrice Pancrate on the bench.

Starting reasonably well - although not enjoying the total domination that had seen them bombard Posh from the off - Steven Taylor came close early on, diving to make contact at the far post but diverting the ball narrowly wide.

The Enrique/Gutierrez combination funnelled most of our attacks down the left, but the final ball from Jonas was again wayward and after breaking his duck in our last game, his shooting accuracy was back to its default setting of erratic.

According to one's point of view, our formation was either fluid or ragged, with Nolan lying deep until his decisive foray upfield and Danny Guthrie doing his best to drive United forward from the centre of midfield - although he escaped with a misplaced pass that set Preston on the attack.

Smith was booked before the break and would controversially split Chris Brown's head later on with a stray elbow. However referee Scott Mathieson deemed that latter clash to be accidental and the United man was restrained by Harewood before he talked/fought himself into an early bath.

Preston had lost Youl Mawene just before half-time when he collided with his own 'keeper, which sparked some minor pushing and shoving as both teams and benches made their way towards the tunnel in the far corner of the ground.

The second half was played out in similar fashion, with both sets of fans finding their voice as periodic rain showers emptied the first few rows of the stand on the east side of the ground.

With neither side looking like they had a goal in them, booing greeted Hughton's decision to substitute Carroll rather than Harewood (those fans unaware that Andy was under the weather) added the volatile Ranger to the mix and seemed to buck up wor Marlon slightly.

Following the goal there was no repeat of the heart-stopping finale at Bramall Lane three Mondays earlier, PNE unable to test Harper save for one effort from the home side's Nolan that was blasted straight at him.

Four minutes of added time allowed for Gutierrez to ineptly blaze over the bar after a counter attack inspired by substitute Peter Lovenkrands split the home defence, before yet another much-prized but unconvincing win was recorded.

To say we're sleepwalking to the title is both unfair and inaccurate, ignoring the efforts of our squad and also the endeavours of challengers West Bromwich Albion. However, we continue to prosper at least in part due to a succession of average teams full of average players making up this division.

A decent side would have filled their boots here, whereas the PNE 'keeper wasn't seriously tested throughout the game. A had his side been equipped with more potency up front, then we'd have struggled to get a point.

Perhaps the best appraisal of where we find ourselves came in the post-match pub debate (a lengthy affair, given the £1.60 a pint bar prices and the lack of licensing hours)..... "never mind us being good enough to go up, we're not bad enough to stay down".

As we've said before, the danger is that people look at only results and tables.

Winning's great, winning ugly is more than adequate for our purposes, but believing that we're a better side than the one that went down is downright dangerous. Putting aside that constant "great spirit in the camp" refrain and the subtext that we're better off without those talented shirkers who departed following relegation, we lack quality, creativity and cover - three factors that contributed to our demise and are yet to be addressed.

Seeing old boys like Caldwell, Carr and Bowyer making headlines in the top flight over the weekend is vaguely heartening, given that those sides will be our rivals should we make it back up. However among their current colleagues are players of substance and value, who while not world-beaters are quite literally out of our present free agent signing, player borrowing league.
January promises to be an interesting month on three counts:

1. the possibility of us facing a Premier League side in the FA Cup and the opportunity to measure ourselves against what may be a weakened XI but a side composed of players who would be guaranteed Championship starters.

2. the visit of West Bromwich Albion to SJP for what looks like the match of the season.

3. the makeup of our squad altering during the transfer window, with questions to be answered over the fate of the loan trio, possible new temporary/permanent arrivals and whether a bid for any one of our players would be turned down by the current owner. Coloccini out, Campbell in? Gutierrez out, Pancrate in? time will tell...

In the meantime, the process of collecting points continues and the return of Ameobi to fitness will be a significant boost - assuming he's able to take up where he left off in front of goal. At least that would take some of the burden off Nolan. An injury to him doesn't bear thinking about.

Biffa