Date: Saturday 7th November 2009, 3pm

Venue:

St.James' Park



Conditions: Turbulent






Newcastle United

Peterborough United

3 - 1

Teams
15 mins Having taken advantage of the space afforded to him in what seemed to be a free role, Jonas Gutierrez collected the ball just inside his own half. Turning infield, he set off towards the Gallowgate End, dodging tackles before delivering a right foot shot from 12 yards that took a slight deflection en route to goal. Comparisons were made with the 1981 FA Cup Final effort from fellow countryman Ricky Villa 1-0

18 mins Danny Guthrie delivered a right-footed flag kick from the Strawberry corner to Andy Carroll, who rose above two stationary defenders to powerfully head home 2-0

Half time: United 2 United 0

52 mins Marlon Harewood held up play on the edge of the Posh box, spraying the ball out to the right flank, where Danny Simpson arrived, checked back on to his left foot and then drifted a looping effort beyond Lewis in the Leazes goal. Initial thoughts that he'd meant to cross were dispelled by watching TV reruns, while the player himself was adamant that it was intentional. 3-0

79 mins A late rally from the visitors saw Steve Harper make a couple of noteworthy stops in quick succession, before he was beaten by a scrambled effort from Keates. He reacted first to latch on to an earlier goalbound effort that deflected off both home and away players, netting from 10 yards. 3-1

Full time: United 3 United 1
United Manager Chris Hughton:

"Perhaps it wasn't as comfortable as we would have liked. We did allow them chances but they're a good footballing side and nobody is going to come here and give in. At 2-0 up it was comfortable at that stage and instead of captialising on that, we allowed them to get back in the game.

"There were a few edgy moments but a win that was thoroughly deserved. We have a very good home record and it is important to keep that going. We have got a totally focused group of players who, from minute one, saw an opportunity for us to stay on top of the division, and very much took that opportunity.
"We have got used to getting on with the job. There are things we can't affect, but I am very lucky that I have got a group of players who are focused on one thing, and that's on staying where we are at the right end of the table with the ultimate aim of getting promotion.
"We are focused enough and it certainly hasn't taken anything away from the victory. It was just what we wanted. We could have made it a little bit more comfortable, but I don't think you can complain too much about a 3-1 victory at home.

On Jonas:
"He was certainly delighted with that. We were expecting the mask to come out, but he has probably put it away somewhere."

Goalscorer Gutierrez said:

"We have 15 days to recover, to rest and to prepare for the rest of the season. From here to January is a very important period for us.
"It's not too bad - I talked with the doctor. He told me it's not a big problem. With the scan they are confident I would only be out for a week to 10 days. The 15 days off gives me chance for recovery."
"I did not celebrate because there was speculation that I wanted to leave on websites. I do not know who said it but for me it is incredible, because I said nothing.

**************
NB: A quick excursion to Google and a search on the terms "Gutierrez" "leave" and "Newcastle" brings up multiple references to quotes from the player's own agent, Pedro Jimenez Bravo as follows:

"We know European clubs are interested. We have held meetings with Newcastle, but there is an option for the player to leave, although it must be a good offer."

That story was published by the People newspaper on November 1st 2009.
**************

"The only thing I have ever said is that I want to stay in Newcastle and get promotion. I am happy here and my family are happy. When you hear people saying you want to leave it is bad. Yes it is hard this season to be in the Championship. But I want to be here.
"It is a shame because I have waited a long time to score. I wanted to show the Spiderman mask. I had it with me today but I left it in the changing rooms for these reasons, because I saw these words on some websites and I was not happy. That was the only reason I didn't take the mask out, because I didn't enjoy it. I just want people to know those things were never true.

"We know the crowd were shouting out something to the owner but we try not to think about that because it can be difficult for us. The only thing we can think about is to win and get the three points. We know if we do that the crowd will be happy.
"We try to win for the crowd. When they are shouting to the owner we don't think about it. I have met him and I think the owner is doing really good things for Newcastle. They want to stay. The team is good.
"It is good for Newcastle. We are going about things in the right way. We try to win all the games and the owner is now doing the right things. We know Chris Hughton is the manager now and that is very important."

Posh boss Darren Ferguson (who became the ex-Posh boss a couple of days after this loss) said:
"You have seen the team that will win the league. The manner of losing the first two goals was awful. We left ourselves a mountain to climb. They are on a roll at the moment. Chris has done a good job and stabilised the whole club, so it was always going to be difficult for us.

"We are bottom and we don't like it, but I am sure that my players will react in the right way. I know what I have in that dressing room and it's plenty of spirit and commitment and the players showed that in the final half an hour.

"Let's be honest and say we were outplayed by the team that will probably be champions at the end of the season, but one of the positives I will take from the game is the fact that we didn't throw the towel in.

"We could have chucked it in after losing the third goal, but instead we pushed forward and had a go. Obviously it was too late by then and it doesn't alter the fact that we endured another shocking start which included giving sloppy goals away.

"We have plenty of quality in the side, but you can have all the skill and ability in the world, but if you don't have the right sort of temperament you will not be able to handle big occasions like playing in front of 40,000 at Newcastle United.

"We didn't handle it very well at all for half an hour, but playing here will always be difficult for a club like ours. It's the defeats at home to the likes of Barnsley and Plymouth that have really hurt us. The situation is what it is, but we are staying positive and we have 30 games to put things right which is a lot of time.

"It was touch and go for both Craig and Aaron and it was a last-minute decision for both of them. They did OK considering, although Craig missed a good chance in the second-half. I am working on bringing in a different sort of striker to help them out.

For the record, this was the first game since club MD Derek Llambias announced the renaming of the ground as [email protected] James' Park Stadium for the remainder of the season.

However there were no physical signs of that renaming at the ground, in the programme, over the PA etc. We shall never mention this again.

Posh @ SJP - all-time:

2009/10 won 3-1 Gutierrez, Carroll, Simpson
1992/93 won 3-0 Lee 2, Kelly
1977/78 won 2-0 T.Craig, Blackhall (FA)
1965/66 lost 3-4 Hilley, Bennett, Iley (LC)
1961/62 lost 0-1 (FA)
Full record v Peterborough:
| | | | | | | |
| --- | --- | --- | --- | --- | --- | --- |
| | P | W | D | L | F | A |
| SJP | 2 | 2 | 0 | 0 | 6 | 1 |
| LR | 1 | 1 | 0 | 0 | 1 | 0 |
| League | 3 | 3 | 0 | 0 | 7 | 1 |
Of the two sides who faced each other at London Road in the League Cup in September, five players were in the Posh starting XI for both (Lewis, Morgan, Diagouraga, Boyd, Mackail-Smith). For Newcastle that figure was two (Steven Taylor & Guthrie).

Debut goals in a Newcastle shirt for both Jonas Gutierrez (41st appearance, 32nd start) and Danny Simpson (12th appearance, 12th start). For the latter it was the first senior goal of his career.

With those two breaking their duck, our current outfield non-scorers are:

Enrique (64 appearances, 7 starts)
Smith (53 appearances, 44 starts)
Ranger (16 appearances, 4 starts)
Khizanishvili (6 appearances, 6 starts)
LuaLua (6 appearances, 0 starts)
Kadar (3 appearances, 1 start)
Donaldson (2 appearances, 0 starts)
Tozer (1 appearance, 0 starts)
Vuckic (1 appearance, 0 starts)

(NB: all scoring stats above refer to NUFC appearances in league games only - and only players who have appeared in league football for us are featured, before anyone emails in and asks where James Tavernier is).


Waffle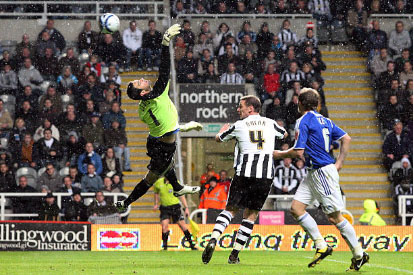 After a sticky period that saw them fail to win in four outings, Newcastle's recent resurgence took a step forward on Saturday as they notched up a third successive victory and posted their most convincing performance in recent weeks.

It's questionable how much of that was due to a score to be settled from the League Cup tie or the influence of a stoked-up SJP on the players. If, as John Lydon said though, "anger is an energy", then the mood of the fans in the wake of the ground renaming farce did as much to inspire the team as Chris Hughton's pep talk.

From the off, Newcastle settled into what Chris Waddle would doubtless call a "good tempo" and set about the visitors, never allowing them to settle and having the game virtually won while some of the opposition were still admiring the architecture - a distraction that teams seem to take around 20 minutes to get over.

The end result was a resounding victory against poor opposition and some noteworthy build up play, although a more emphatic margin could and should have been arrived at. Certainly an earlier arrival for Ranger might have produced dividends.

In our pre-game buildup we'd invoked the ghost of Hughton's first game in charge, when Hull City came here and without being any great shakes, took full advantage of our off-field feuding. Thankfully the attitude of the home players this time round was more positive and they seem more able to shut out extraneous goings-on - a handy quality to possess, given that turmoil is a virtual default setting round these parts.

And crucially this time round, they scored at the right time - before the noisy support started to work against them. However it's fair to say that no more damage can be done to our reputation among those outsiders looking in - those elusive overseas investors must surely know the script by now - and the debt.

Having welcomed back Steven Taylor to the defence and reshuffled his side to omit namesake Ryan, Hughton was soon forced to make a change when goalscorer Gutierrez limped off. Although some suspected that he could be suffering from shock, Jonas picked up with a thigh/groin strain soon after scoring. That looks set to rule him out of Argentina's forthcoming kickabout in Spain, which is probably no bad thing.

Meeting no great resistance, Newcastle continued to push forward and Danny Guthrie came close to making it 3-0 before the break, taking his time before threading a shot through the crowded area that rebounded off the post.

The expectation after the break was for more goals and although Simpson quickly chipped in to extend the lead, thereafter things started to ebb away and attention was focused towards the bloke in the white shirt from Hertfordshire - despite Enrique doing his best to get on the scoresheet and even Alan Smith venturing over halfway.

Those present departed having seen a better display on the field than in the narrow win over Doncaster, achieved in a belligerent atmosphere that somehow succeeded in being both supportive of the team and abusive of the owner - easily the best home backing since the smogs victory last season, but with a different type of flag fluttering....

The victory left us two points ahead of West Brom and six clear of the teams in playoff positions. A home victory for the Baggies over Bristol City on Saturday week would put them above us, ahead of our televised away fixture at Preston. And for many among us, that's the beginning and end of it.

Much as we'd like to share that view though and keep it all related to the football, concern for our future prevents us from taking that view.

While some may scratch their heads that the collective breaking point finally came not over Keegan, Shearer, Hughton or even JFK but the name bestowed to a 130 year-old piece of grass, our interpretation is that this was the week when it finally got personal (the popular media view of KK and AS being universally acclaimed has never matched the reality in our eyes).

Decent, honest, loyal supporters - who wouldn't dream of writing anything on a banner - seem finally to have had enough. Or have they? The mood of September 2008 seems to have been recaptured to a certain extent - big protest @ SJP, plenty bellyaching....and err, that's it.

Saturday's protests weren't orchestrated by the Supporters Trust but were genuine, individual expressions of disgust against the current owner - as were the boycotts of the game that some lifelong fans maintain.

Whether the NUST can transfer the energy of boycotts, protests and bedsheets on to their spreadsheets remains to be seen, but our question remains; what are the protests aimed at achieving? To get him "out of our club" - and possibly be replaced by a facsimile entrepreneur; to achieve a radical fan-owned solution of the type the NUST propose, or merely to try and exercise some influence on current thinking @SJP.

We have to confess that in among the endless shades of opinion, we're unable to answer that. Hopefully the coming weeks will bring some answers, or at least lay some (mis)conceptions to rest.

NUFC.com pre-match piece:

Speaking ahead of Saturday's game, Newcastle manager Chris Hughton said of the renaming debacle:

"I sympathise with the supporters. I am quite sure though that, in everybody's eyes, St James' Park will always be St James' Park. The fans give us wonderful support and there is no doubt this is their club but, for me, this is a purely commercial decision. To the fans and the people of Newcastle it will always be St James' Park.
"Football matters are the things that are most important to me. I'm trying to keep this team in the position we are now and I'm sure that is what the supporters want as well. It's vital that they continue to get behind us.

"There are two ways of supporting a club and, how they do it is our fans' prerogative, it is their club, but my concern is that they stay behind the team. No other club in this division has crowds likes ours and, after everything we've been through, their backing has been wonderful to see."

There's a certain sense of deja vu here, as Hughton prepares for his first home game as the permanent Newcastle manager.

In the aftermath of Keegan's departure in September 2008, he took the reins for the first time when Hull City came to SJP - on what became a low point in our history. Mass protests outside the ground and the Cockney Mafia banner inside contributing to an eerie atmosphere in which the players wilted - Charles N'Zogbia certainly distracted by the goings-on as Hull scored what was the winner.

As we wrote in our report of that game,

"Unfortunately that poisonous atmosphere can only have a negative effect on the team, as was shown today.

"We may only be in September but the evidence of this encounter is that we lost a relegation six-pointer, unless something is done very quickly to halt the slide."
On such moments do seasons - and relegations - depend (as well a litany of poor performances, feigned injuries and regrettable transfer activity). Handing three points to the sundance kid's team ultimately put us where we are now.

As it was in 2008, the talk is of boycotts - both of club outlets and Sports Direct outlets. Unfortunately, those seem doomed to failure, due to the collective local appetite for A) alcohol before/during/after home games B) cheap hoodies & trackie bottoms.

And for anyone who doubts that, recent TV Vox Pops of unhappy fans underline the issue - be it lads condemning Ashley and his schemes before returning to their half -supped pints outside Shearers, or shoppers slagging off the owner, while clutching a Sports Direct carrier bag. The argument of putting further local jobs at risk in a fragile economic climate has also been put forward by some, as it was last time.

The sad reality is that after a year of discontent and numerous cringeworthy episodes, the "FCB" and his sidekick are still in charge - and thousands of punters are paying him £20+ every home game to abuse him. No wonder he's laughing - and dreaming of new wind-ups.

The only boycott that will really make a mark is non attendance at home games - we won't advocate it, because we won't comply with it. While we admire and respect those who have opted to stay away until the current administration is toppled - it's not in our DNA.

Hopefully the soon-to-be released NUST buyout will strike a chord with enough supporters, businesses and financial institutions to bring an end to the present stalemate. Nothing else looks likely to.

In the same way that we consistently refuse to appear on radio or TV for fear of our views being misrepresented as your collective opinion, we certainly won't be advocating that you pawn your family heirlooms or sell your house.

What we will ask though is that you give consideration not only to the NUST plans published next week, but also to what you want from this season - and whether banners, chants & protests are the right way to achieve that goal.

PS: returning to the Ashley "you win - I quit" statement released following that home defeat by Hull in 2008, he signed off by pledging to be:

"...determined that Newcastle United is not only here today, but that it is also there tomorrow for your children who stand beside you at St James' Park."

No mention of [email protected] there - and given the lies that have spewed forth from Barrack Road since, there's no reason to suggest he has any interest in preserving the soul or the dignity of this club for future generations.
The only thing that will make him walk away is cash.


Biffa