In association with NUFC.com



Date: Saturday 24th October, 3pm

Venue:

St. James' Park



Conditions: relieved





Newcastle United

Doncaster Rovers

2 - 1

Teams
18 mins Billy Sharp wriggled into the right hand side of the United area and was to pull the ball across for Dean Shiels to finish easily in front of the Galowgate End. That chance came about when Tamas Kadar - making his first senior start - allowed Sharp to get goal side of him. PS: The goalscorer has only one eye, as the result of a childhood accident 0-1

Half time: United 0 Rovers 1

67 mins Goal number three this season for Andy Carroll was a superb low, left- footed volley from a neat Danny Guthrie pass. 1-1

90+2 mins Carroll turned provider, carrying the ball infield from the right touchline and laying if off to Kevin Nolan, who cracked home a low shot from 20 yards in off a post as the visitors stood off him. 2-1

Full time: United 2 Rovers 1
Interim United Manager Chris Hughton:

"I certainly wouldn't rule out an appeal (over Zurab's dismissal). It's the correct procedure for us to look at it and make sure we've got all our facts right. But my first reaction was that I couldn't believe it.
"It seemed to me an incident that would happen at some stage in every game in any league. Not only myself, but everybody else, was astounded. At first glance, their lad seemed to be the aggressor.
"I'm relieved, because at 1-1 they had the opportunity to go 2-1 up, but I thought, on the balance of the game, we deserved to win it.
"In the first half, they played a good tactical game, and they will keep possession against any team in this division. But they scored with their only chance of the first half, and over the 90-odd minutes, if there was a side going on to win the game, it was us.
"Winning with 10 men says everything about the players' spirit. We were realistic enough to know we've had a difficult time in recent weeks, but the performances in the last two games – or, at least, the last one and a half – were very good.
"We've got to show a little more invention to break teams down, but to get the winner like we did today speaks volumes for the players.
"The impression I am under is that the club is still available for sale. A lot of people felt that the sale might have happened by now. But as far as I am aware the situation hasn't changed. The important thing for me is to be given the opportunity to take this group of lads back into the Premier League. That is what drives me on. Winning promotion would be the proudest achievement of my career.
"The key thing for me is they want me here and I want to be here. It is a very nice feeling. I don't want to speak about the actual contract. I already had a contract which runs until the end of next season.
"Man management, I don't think, will be a problem. I have learned a fair bit about that side of the game during my spells as temporary manager and my years in the game have also helped.
"And, as a coach and a player, I have worked under some very good managers and I like to think I have learned something from all of them. But I think above all you have to be yourself. If you try to be someone else then people will see through that one.
"The Gareth Southgate sacking hasn't put me off going into management. Two managers gone in the last week and two the week before, But it is part of the game you learn to accept if you are interested in being a manager. It is a precarious business."

Winning goal scorer Kevin Nolan commented:
"I think it's a bit of a get out of gaol card, but at the end if the day we did enough throughout the game to deserve the win. We got what we deserved in the end."
Rovers Boss Sean O'Driscoll said:


"
If my auntie was my uncle. I would have said the same if we'd have come off winning 1-0.
"There's no point hiding behind that, we pride ourselves on doing certain things and at times I thought we didn't do them very well. "He (Woods) is the skipper. Penalties will be scored and missed as long as there are football matches. He's taken responsibility and the modern game needs players to take responsibility.
"All we ask is that if they make a mistake they react in a positive manner so in training on Monday morning he's got to be bright. I would have said the same had we won 1-0, drawn 1-1 or lost 2-1; we need to be better with the ball. For us that's the big aim. When you come off a game you need to learn from it and just because we've lost I can't throw my toys out of the pram and moan about things I don't think are relevant.
"We're disappointed but if we want to turn a 2-1 defeat into a 2-1 win then we have to be better with the ball."
Ex-Mag James Coppinger added:

"We were obviously disappointed that Woodsy couldn't convert. He's the type of lad who takes it badly. The lads have tried to do what they can to make him feel better because he is devastated.

"But he's got nothing to apologise for really. It was a big moment in the game and he stepped up to take it. It's disappointing for both the team and Martin, but he's a big character and he'll bounce back.

"It was disappointing really. It looked like we were going to get a point at least, then they got a goal at the end. We came here with a game-plan to try and stop their key players and get on the ball and try and create things.

We went 1-0 up and we were good value for the lead, so to go in ahead at half-time and end up losing 2-1 was disappointing. We had our backs to the wall at some stages of the game, the second half especially.

"In a way it seemed as though we were waiting for them to score, then we went down to the other end and created a chance and got the penalty.

"Newcastle is a tough place to come and they've got a lot of players who have played in the Premiership, but I thought that the lads did well. I thought that we were well organised and I thought that we limited their scoring opportunities - especially in the first-half - and it took a great goal to beat us.

"We always knew the second season in the Championship was going to be tough. I don't want to harp on about it, but if you lose two of your most influential players like Richie Wellens and Matt Mills you are bound to lose some of your momentum at a time when everyone wants to add to the squad and push on.

"Richie was a massive player for us. He used to pull the strings in midfield and with Stocky out, we don't know what our best team is or what our best formation is. We've brought new players in but it takes time to gel."



Rovers @ SJP - all-time:
2009/10 won 2-1 Carroll, Nolan
1973/74 won 6-0 Macdonald 3, K.Robson 2, Clark (LC)
1947/48 won 2-0 Lowrie Thompson
1936/37 won 7-0 Smith 4, Leighton 2, Rogers
1935/36 won 2-1 Pearson, J.Smith
Full record v Rovers:
P
W
D
L
F
A
SJP
4
4
0
0
13
2
BV
3
2
1
0
7
3
League
7
6
1
0
20
5
SJP(FA)
0
0
0
0
0
0
BV
0
0
0
0
0
0
SJP(LC)
1
1
0
0
6
0
BV
0
0
0
0
0
0
Cup
1
1
0
0
6
0
Tot
8
7
1
0
26
5
Our last meeting with Doncaster came in July 2008, when a Stuart Elliott goal consigned us to a 1-0 friendly defeat on what was our first-ever visit to the Keepmoat Stadium.

Of the fourteen players who saw action that day, we've since lost the services of Sebastien Bassong, David Edgar, Claudio Cacapa, Charles N'Zogbia and Damien Duff.

Two of Doncaster's trio of ex-Mags appeared in the game - James Coppinger and Lewis Guy. The third - goalkeeper Ben Smith - is on loan at Morecambe.

Kevin Nolan struck his 8th goal of the season (7th in Championship):

Palace (a) 2 mins, 6 yard shot.
Huddersfield (h) 84 mins, 1 yard shot (League Cup)
Plymouth (h) 61 mins, 1 yard header.
Ipswich (a) 30 mins, 10 yard header.
Ipswich (a) 32 mins, 8 yard shot.
Ipswich (a) 51 mins 4 yard header.
Scunthorpe (a) 65 mins 20 yard shot.
Doncaster (h) 92 mins 20 yard shot.

(Nolan's best-ever seasonal return was 12 for Bolton Wanderers back in 2003/04).

Zurab Khizanishvili's dismissal was our third of the season, following Alan Smith at Cardiff and Danny Guthrie at Peterborough United in the League Cup.

(one wag noted after the game that the person Mike Ashley had been waiting for all year had finally made an entrance at SJP - on the visiting bench. Step forward Rovers number 24 - Mustapha Dumbuya !)

Waffle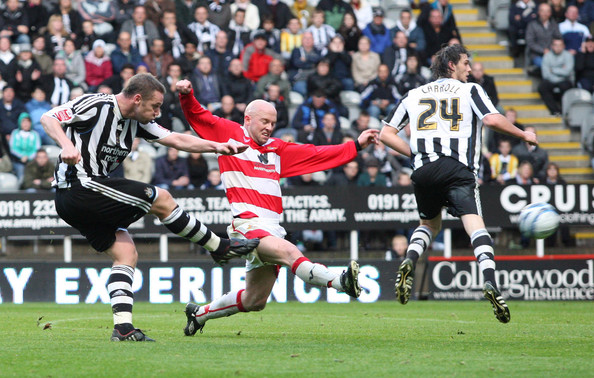 Ten-man Newcastle returned to the top of the table on Saturday thanks to an added time strike from Kevin Nolan, after Zurab Khizanishvili had been dismissed and Rovers missed a penalty in a farcical, frantic finale.
A poor quality but nonetheless entertaining afternoon ultimately saw United record their first victory in five, as Chris Hughton's side extended their unbeaten league run at Gallowgate to seven championship games.
Result aside however, the manner of the win wasn't to the liking of the largest home crowd of the season to date - just under 44,000 including around 3,000 travellers.
Rovers had only scored once in four previous visits to SJP, but were ahead within 20 minutes after more defensive generosity.

With the return of Fabricio Coloccini delayed (perhaps due to the damp pitch) and Danny Simpson out with an ankle knock, Tamas Kadar was drafted in alongside Zurab Khizanishvili, Ryan Taylor featuring at right back.

The rest of the first half saw United chasing an equaliser, but aside from a handful of hopeful balls into the box, there was little of note until the final few minutes. At that point, Kevin Nolan failed to make adequate contact on a 41st minute header and the loose ball ran to Jonas Gutierrez, who seemed a certain scorer. He blazed a shot from just seven yards over the Leazes crossbar though - coming rather closer to entering Argentina in the space race, than scoring his first competitive goal for United.

And before the whistle blew, centre forward Andy Carroll had contrived to head wide from Jose Enrique's deep left wing cross with the net gaping. It was a similar story after the break, with Carroll again guilty of a horrible miss, blasting wide in front of an open goal as he went for power rather than precision.

Within minutes the crowd had been lifted by the arrival of Nile Ranger from the bench to partner Carroll, Marlon Harewood being loudly booed by home fans as he exited - having done nothing to enhance his reputation.

With United finally starting to find Carroll with balls toward the far post from the right wing, the striker converted a far more difficult chance on 67 minutes than those he'd spurned previously. And with Ranger pressing forward and the home crowd alive again, United upped the pressure and won a series of corners.

Within eight minutes though, our comeback looked set to crumble as it had at Scunthorpe, when Ryan Taylor was correctly adjudged to have waved his hand at a right wing centre into the Newcastle box.
Referee Darren Deadman pointed to the spot and up stepped Martin Woods, only to horribly skew his left -footed spot kick well past Steve Harper's right post.

That let-off seemed to confirm that it was our day, but the hoped-for winner didn't materialise, despite decent efforts from both Nicky Butt and Nolan. Our forward momentum was disrupted on 85 minutes though, when a tussle between Kadar and sharp midway in the Newcastle half saw the Doncaster man clearly strike out with a rabbit punch by to Kadar's kidneys.


That caused Khizanishvili to intervene, grabbing Sharp round the neck as players from both sides got involved in pushing the Rovers pugilist away.
A second flare-up then saw United's Georgian react angrily to being poked in the chest by Martin Woods and his action in swiping away the former mackem's hand proved to be costly.

With Deadman apparently unsure whether to punish Butt or Khizanishvili after letting Sharp off with a booking, the linesman on the East Stand side intervened, with the end result seeing a bewildered Zurab red-carded as his fellow players protested.

Peter Lovenkrands having been readied for action some moments earlier, but United were forced into a rapid reshuffle, bringing on central defender Ben Tozer for his Newcastle league debut, as Gutierrez was sacrificed.

That episode, plus some amateur dramatics from Donny aimed at running the clock down, saw five minutes of added time played, during which United found a winner.

Rovers pushed for an equaliser in the final moments of play, with ex-Mag Lewis Guy guilty of a blatant dive in the area. However no second goal came for the visitors and the relief around SJP come the final whistle was tangible.

Draws for fellow relegation sides, West Brom and the smoggies, made it an even better day with Cardiff City taking over second spot after a 4-3 win at Sheffield United.

For United the result was ultimately all that mattered, but when Woods planted the ball on the penalty spot with 15 minutes to go, a third defeat in a week seemed inevitable.

Another enforced defensive reshuffle hardly improved our cohesion at the back, while in midfield the rapidly fading Butt was deployed in place of the suspended Smith. What threat we did muster going forward came from the boot of Ryan Taylor, although defensive duties meant that his deliveries were mostly restricted to set pieces - from which his colleagues were anything but impressive.

Gutierrez was once again poor against the most mediocre of defenders, while Nolan's man of the match award from the sponsors was reward for the winner - but little else.

PS: it's reported that the Newcastle players refused to speak to the Evening Chronicle after this victory, in protest at what they saw as unfair coverage of the defeats at Nottingham Forest and Scunthorpe United.

Regardless what the newspaper reported though, those fans who travelled to the City Ground and Glanford Park (and those who watched the game former on live TV) will have their own views on the teams' shortcomings. And before the Chronicle went to press, fans at SJP on Saturday provided their own instant negative verdict on the performance of Harewood - and the current owner.

Regardless of whether the paper praises the team to the skies or rubbishes them, the opinion of a section of those watching won't alter: that we're an underachieving side in a very average league, starved of meaningful investment and with significant question marks over the direction and leadership of both the club and the first XI.
Biffa