In association
with NUFC.com

Date: Tuesday 20th October 2009, 7.45pm.

Venue: Glanford Park

Conditions: unsettling

Admission: £19

Programme: £3





Scunthorpe United

Newcastle United

2 - 1

Teams
Half time: Iron 0 Magpies 0

53 mins Some unadorned route one, as the ball was cleared from the left back slot, leavin Alan Smith swiping at thin air. Gary Hooper out-muscled Khizanishvili and forced his way into the Newcastle box, before running across Simpson and teeing up the unattended Martyn Woolford, whose grass cutter easily beat Harper from eight yards 0-1

65 mins Jose Enrique made progress down the Newcastle left and as he crossed halfway, turned the ball infiield to Kevin Nolan. He pushed the ball between two home players and nicely into the path of the advancing Danny Guthrie. He returned the favour for Nolan to stroke home a right-footed effort beyond from Murphy's outstretched left hand from the edge of the box 1-1

71 mins A scooped clearance out of defence dropped for Smith, whose aimless header bounced once and sat up nicely for Togwell to nod forward into space on the edge of the Magpies area. Woolford was first to the ball and beat Harper again from close range 1-2
Full time: Iron 2 Magpies 1
Chris Hughton said:

"The game plan was to come here and do well. On the balance of play and chances it's a game we should have won, but we have to do better. We didn't defend moments well enough and that enabled them to get the goals that they did. On the balance of play it's a game that we should have won.
"I think this is a pressure on us. We are a side in this division that everybody expects to do well and certainly our own supporters expect us to do well and that's the pressure that we carry with us in every game. That's a pressure that we've got to live with.

"We have to learn very fast and wherever we go crowds will raise their game and crowds will raise their enthusiasm. We have to rise above that. We lost because we conceded poor goals and didn't put our chances away It's hard to take. It was a game we tried to be positive in and we did create chances throughout. On another day they go in and you put a percentage of them away.

"If you don't, there's a chance you are going to concede and we did concede poor goals, and they came at bad moments for us. We were able to come back from the first one and at that stage I thought we'd go on and win the game, I really did. We then got caught again and paid the price for it.

"It's difficult to accept we haven't got anything out of it. "This is a side that beat Sheffield United on Saturday and they are a hardened Championship team that most people would have considered promotion candidates at the start of the season.

"Scunthorpe know how to play the game, albeit in a different way. You can only speak about the game itself and that was one we should have won - it shows how tough this league is."

Iron boss Nigel Adkins commented:

"We have the smallest fan base and the smallest budget in the division. But it's what you do on the field of play. We've got a fantastic team spirit. This is a great victory. When we got promoted, this was the first game everybody was looking for - Newcastle United at home.
"We packed Glanford Park out, played against a top side and we have gone and got a victory. We've got an honest, hardworking bunch of players. If you ask most people that come and watch us, we try to play football."

It's now four games without a win for Chris Hughton's side.

Iron v Magpies - all time scores/crowds:

2009/10 lost 1-2 Nolan (8,921)
1973/74 won 3-0 Macdonald 2, Barrowclough (FAC) (19,028)
1963/64 lost 0-2 (6,433)
1962/63 lost 1-2 Kerray (13,953)
1961/62 lost 2-3 Allchurch, Suddick (13,987)

(all games except the 2009/10 one were played at Scunny's former home of the Old Showground).
Full record v Scun
thorpe:
| | | | | | | |
| --- | --- | --- | --- | --- | --- | --- |
| | P | W | D | L | F | A |
| SJP | 3 | 2 | 1 | 0 | 6 | 3 |
| OSG/G | 4 | 0 | 0 | 4 | 4 | 9 |
| League | 7 | 2 | 1 | 4 | 10 | 12 |
Our only previous first team visit to Glanford Park was a pre-season kickaround in August 1993, when Steven Watson's second half equaliser was a rare moment of interest in an otherwise uninspiring 1-1 draw.

This was the lowest crowd to see Newcastle in a league match since 7,925 fans were present at Cambridge United's Abbey Stadium in April 1993 (the lowest Premier League crowd we played in front of was 13,358 for Wimbledon at Selhurst Park in February 1994).

That Cambridge crowd was larger than a number of away attendances in the 1990/91 & 1991/92 seasons, with the 5,048 who trailed to Plymouth's Home Park in December 1991 the lowest since the 4,026 present for Orient versus Newcastle at Brisbane Road in November 1981.

As for SJP league crowds, the 7,134 who witnessed May 1979's visit of Wrexham remains (quite literally) a low water mark -on a night when Tyneside experienced monsoon conditions.


Waffle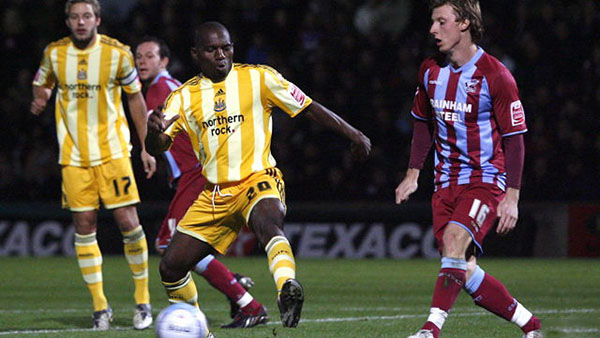 Thirteen years to the day after the "Howay 5-0" home trouncing of Manchester United, Newcastle slipped to defeat in front of barely 9,000 fans in a Lincolnshire field, reliant on a trio of loaned players to populate their side. From the Entertainers to the Court Jesters - but nobody's laughing.

Although holding the Iron at 1-1 would have been enough to take us back to the top of the table, few among those of a Magpie persuasion would have been reassured that their side were back on track.

After the defeats at Blackpool and Forest, this was another "so-called" cup final for the home side - who will doubtless be rush releasing a DVD entitled "VG Day", "Glan All Over" or some such.

It could have been radically different however, had Newcastle not wasted a series of first half chances when the opponents seemed slightly overawed by the presence of a former top flight side at their humble abode.

Barely two minutes were on the clock when Kevin Nolan missed the first of what was to be a trio of opportunities, taking an unnecessary extra touch after good work down the right from Guthrie.

And with Carroll also seeing one good effort saved, a United side including Geremi and Gutierrez at the expense of Lovenkrands and Harewood looked set at that point to fulfil their vow of avenging Saturday's reverse at Nottingham Forest.

The goal never came though and by the half hour mark, there was a realisation by home players and fans that the "biggest team" ever to visit this part of Lincolnshire were there to be shot down.

Although some wayward finishing meant Harper wasn't tested, the danger signs were there when Scunny pushed forward – our stand-in central defensive pairing of Simpson and Khizanishvili hardly inspiring confidence.

Goalless at the interval, the second half started positively again for the Magpies, Carroll seeing one goalbound effort blocked and a run from Enrique ending with a blast narrowly wide of the far post.

At the other end however, Nigel Adkin's side gave notice of their intentions when striker Gary Hooper grazed the Newcastle woodwork with an angled shot on 51 minutes. And within two minutes, former York City player Woodford had opened the scoring.

That brought an immediate negative reaction from many of the visiting fans, with Geremi bearing the brunt of their anger after one bungled chance. Conspiracy theorists may note that Kevin Nolan apparently indicated to the Magpies bench that the Cameroonian be replaced due to the crowd whines - whatever next, a clapometer?

Harewood (dubbed "the poor man's Kluivert" by one fan on Saturday) duly appeared and within seconds, Newcastle's first goal in 265 minutes of play had brought them level. Nolan's exaggerated bowing celebration in front of the away support seemed OTT though - opinion is divided whether prompted by relief at scoring or anger at earlier moans.

With thoughts turning towards a winner, the Newcastle defence again buckled and the humiliation could even have been worse, had Iron substitute Jonathan Forte not dragged his shot wide of Harper's goal when well placed.

A second equaliser never came, despite five minutes of added time, with both Harewood and Ryan Taylor unable to test the home 'keeper. The final whistle then sounded, amid scenes of great home celebration - as several fights broke out between booers and non-booers.

A suitably shambolic end to a night when our points advantage over the chasing pack finally evaporated cast a shadow over Mike Ashley's recent utterances and the pre-match comments from Chris Hughton about taking the job on a permanent basis. But this wasn't a one-off and had much in common with our previous failings - although an overall improvement on the City Ground display.

And while the early weeks of the season saw success on the field (and the hope of change off it), both have ebbed away as the cracks begin to show. The dismantling of the club's admin staff mirrors the short-term recruitment policy of the owner, namely getting a few lads in until Christmas to tide us over through a busy patch. Are Sports Direct also running the Royal Mail?

The bottom line is that in the twisted and fractured world of Newcastle United, Hughton has as much talent, experience and credibility as anyone else who would work under these conditions. The appointment though says everything about the direction of the club under the current regime.

Smith got himself suspended again following another brainless tackle - hardly Hughton's fault - while the cost of injuries to defenders and a lack of experienced cover was evident to anyone.

And while the forward instincts of Nolan are more than welcome - his scoring habit turning the clock back to the likes of Robert Lee - they don't hide the fact that since Shola Ameobi succumbed to injury, we're without a natural goalscorer (and even he was in something of a purple patch).

Andy Carroll's return in front of goal isn't great (although he would argue that a lack of service is hindering him) but those fans who roared for the introduction of Ranger tonight enjoy a blind optimism that we don't as yet share, of him being a superstar-in-waiting.

The continued drift of the club can also been seen to have had an effect on those who choose to watch it first-hand. Once upon a time (when we won one away game a season), conceding a goal on foreign territory would have been the signal for an redoubling of vocal efforts from the away end.

Those days are long gone though, as people air their frustrations in the only way possible - apart from commenting on newspapers websites and/or stopping away. And when not abusing the owner, our followers seem ever-quicker to berate the players - a reflection of the times we live in and of the communication breakdown between their club and them.

Maybe tonight was the point at which that old line about the away crowd being a different breed to the SJP moaners was finally disproved. Another loose thread starts to fray, as the support element of being a supporter is misplaced.

A small number indulged in slack-jawed abuse of our own players and fought amongst themselves, but more just shook their heads and walked off into the night - wondering what the hell is to become of us all.

In the early weeks of the season, the sheer novelty of winning games was almost enough to keep people's spirits up. Now that the clocks are set to go back though, that's no longer enough, as another unfashionable side provides us with a reality check.

Biffa