In association
with NUFC.com

Date: Saturday 17th October 2009, 5.20pm. Live on SkySports

Venue: City Ground

Conditions: confrontational

Admission: £30

Programme: £3





Nottingham Forest

Newcastle United

1 - 0

Teams
45 mins Stand-in central defender Danny Simpson pushed forward, only for Alan Smith to renege on his covering duties and allow Forest midfielder Radoslaw Majewski to slide a forward pass beyond him. Striker Dexter Blackstock ran into the gap and rolled the ball beyond the advancing Steve Harper. 0-1
Half time: Forest 1 United 0


Full time:
Forest 1 United 0
Chris Hughton said:

"We paid the price against Forest for a poor first half performance when they were much better than us. I just wanted to get the players in without conceding a goal and see if we could change and improve things.

"But Forest scoring just before half-time left us with a bigger challenge and although we responded to it, we just could not get the break.

"We knew how difficult it would be against Forest because they have been in an excellent run but we were looking to get something from the match. It's not pleasant to be leaving here without something but we are still at the end of the table where we want to be.

""What we had was a very disappointed changing room. There were people in there that were annoyed and upset that we lost. They know that every set of points we drop are opportunities to stay at the top.
"It's a good feeling being where we are - but we weren't good enough overall. The quality of this league is very good, Forest were a good side and we have to be able to compete with these sides.

"We need to be able to make sure we don't concede when we aren't playing so well. I'm quite sure if we had gone in at half-time at 0-0 we would have gone on and won the game - this is what we're up against.

"I genuinely felt that once Kevin (Nolan) had put the ball into the back of the net it was going to be allowed - I couldn't see an offside. "It was a tight one and sometimes they're given and sometimes they're not."

Jose Enrique told The Chronicle:

"It's time that we woke up now. We have been top of the table, which is good, but we need to wake up because we haven't been playing very well.
"We can't think we're in the Premier League - it's not true. We've played only 12 games, and there are 34 games left. The team haven't played very well in the last three games – we have two points from nine.
We need three points (at Scunthorpe). If we want to stay top of the table, we need to win the games. We've been lucky, because in the last three games, the results of other teams were not very good, but the luck will not always be with us. If we lost the next two games, we will be in third or fourth position in the Championship.
"I think we have a good enough team to win these games, but we need to play the 90 minutes like we did in the second half against Forest. I think we lost because we didn't play very well in the first half – in the second half we played much better."

Kevin Nolan:

"We need to strengthen. We've been saying this for a long, long time and it seems to have fallen on deaf ears. We need to strengthen the squad if we are going to give ourselves the best chance of going up.
"Chris Hughton needs the right backing, that's been proved against Forest. We've lost Steven Taylor and Fabricio Coloccini and we're having to play a right-back at centre-half.
"It's a paper-thin squad and a couple of injuries kill us. It can't be allowed to happen and it is frustrating to have to keep saying it.
"We want to get back to where we belong and I hope we are backed to do that. We weren't good enough against Forest, but we are not getting the help we deserve.
"A lot has been made of the togetherness we have. We've got a great set of lads and potentially one of the best, albeit small, squads in the division. We have to put this right because the performance wasn't good enough.

"All we can do is try to show our character again. The lads are hurting really bad and I don't think there is any doubt we will get a reaction against Scunthorpe. Hopefully that reaction will mean we get the right performance and the right result.
"It's difficult to explain why things were so poor, but when it comes to naming names I think we could point the finger at every single player in our dressing room. The fact is we're not going to come to grounds and get it easy. We've got to get used to that. I'm not happy at all. I don't think anyone is.
"We've got a game on Tuesday at Scunthorpe and it will be the same again. We've got to put it right there. We expect a reaction, that's for sure. If we don't get the right reaction, it's going to be ugly. It's not going to be a nice dressing room to come back into because we set high standards for ourselves."
Alan Smith commented about his 120 second yellow card:

"I don't know how it was a booking – I just put it back to where it was.The referee said to me at half time, 'I won't book you for anything you do in the second half, because it's not a booking'.
"It's one of those things – he apologised at half-time for it, but he can't take it off, unfortunately. It wasn't even a booking. The referee apologised, but he can't take it away. I'll get on with it.
"Bookings, suspensions, sendings off are going to happen in this league – there's a lot of games. It's been a bit of a rollercoaster, and I'm sure there are many ups and downs to come.
"We're disappointed – in the second half we didn't get out of their half. We've been beaten by a goal just before half time – it was a poor time to concede. In the second half we couldn't have done much more to score a goal, and if we'd got one, we'd have got two."
Forest manager Billy Davies said:

"I have to say I thought the first 45 minutes was a little bit special. The way we moved the ball around and our possession, the pace we played and the chances we created – we should have been three or four goals up in the first half.
"Then we came out in the second half and, while you have to give Newcastle credit, we became sloppy in possession, we didn't pass the ball quickly enough, we didn't move off the ball quick enough and we sat too deep.

"We are not ready (for promotion) this year, we will keep doing what we are doing, but we are not ready. We need to consolidate this season, because there is still work to do. But we will keep grafting away at it.

We are pleased with the result, but I am not kidding anyone. It is about going into the top league when things are in place and you are ready for it. We have a lot of work to do to put that infrastructure in place.
"But we have great young players, we have great experienced players, we have a great togetherness on and off the pitch and we have a wonderful set of fans who are starting to understand what we need.
"It is players, we are still missing players, we need one or two. And time is also important, we still need time to work on one or two things we are working on. I said before that it can take months and months to build a side. I am pleased because of the response we have had from the players.
"But we can't get carried away, there is too much of a season still to go. We have to keep our feet on the ground, keep our spirit and togetherness – then we will see where we are come the end of the season.
But I will remind everyone – when you win a league or get into a play-off position, it is the three points that you pick up against the likes of Peterborough, Plymouth and all the so called smaller teams that matter most.
"There are not any easy games in the Championship and the quicker people realise that, the better. It doesn't matter who the opposition is, three points take you higher up the league no matter who you are playing."
Forest v United - last 20:

2009/10 lost 0-1
1998/99 won 2-1 Shearer, Hamann
1996/97 drew 0-0
1995/96 drew 1-1 Beardsley
1994/95 drew 0-0
1991/92 lost 1-2 (ZDS) Scott
1990/91 lost 0-3 (FA Cup)
1988/89 drew 1-1 Brock
1987/88 won 2-0 Gascoigne, Mirandinha
1986/87 lost 1-2 Gascoigne
1985/86 won 2-1 Beardsley 2
1984/85 drew 0-0
1984/85 drew 1-1 (FA Cup) Megson
1977/78 lost 0-2
1974/75 drew 1-1 Macdonald
1971/72 lost 0-1
1970/71 lost 1-2 Robson
1969/70 drew 2-2 Dyson, Robson
1968/69 won 4-2 Davies, Dyson, Foggon, Robson
1967/68 lost 0-4

Full record v Forest:


P
W
D
L
F
A
SJP
43
24
9
10
86
47
CG
44
17
11
16
48
52
League
87
41
20
26
134
99
SJP(FA)*
9
4
3
2
19
13
CG
7
2
3
2
5
9
SJP(LC)
1
1
0
0
3
0
CG
1
0
1
0
1
1
CG(ZDS)
1
0
0
1
1
2
Cup
18
7
7
4
28
23
Tot
105
48
27
30
162
122
* Includes the 1973/74 FA Cup game, ordered to be replayed.

It's 200 minutes since we last scored a goal - Harewood at home to QPR - and this game was the first time that we've failed to score away in the Championship this season in six outings.

Jonas Gutierrez made his 40th competitive appearance in all competitions for United (30 starts) and still awaits his first goal.

West Bromwich Albion's 3-1 win over Reading earlier in the afternoon saw us concede top spot to the Baggies on goals scored.

Waffle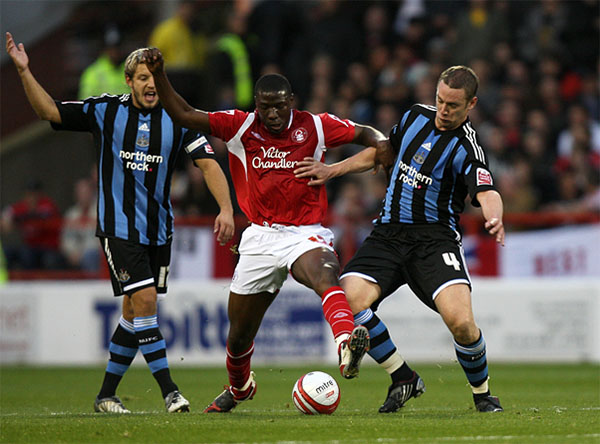 The second competitive appearance of Newcastle's third kit coincided with their second league loss of the season, as Forest and their fans followed the example of Blackpool in seizing the midfield area and exposing our shortcomings, leaving us brainlessly poking the ball forward.

The man in the ill-fitting suit pacing around in front of the home dugout had seen it all before of course.

Two years ago, Billy Davies was in charge of Derby County as Newcastle lost 1-0 to a first half goal at the other end of Brian Clough Way (aka the A52). He'll doubtless remember that night, it being the only top flight game he won while Rams boss. 1-0 in his Cup Final. Again.

Some post-match comments from Enrique caused a stir in the United camp, but while both he and fellow interviewee Kevin Nolan opted to make a general point about collective doziness, to those watching from behind the goal there were some specific culprits.

Much was expected of United's on-loan striker Marlon Harewood - able to put his feet up during the international break after his first competitive action in five months, ahead of this return to his first professional club.

Never mind the chance of impressing possible future employers, one could reasonably assume that the Villa forward would bust a gut on his return to the City Ground - having spurned a loan move here earlier in the year and marked previous visits with goals.

In the event though, Harewood's contribution amounted to one flashy backheel out by the touchline and sticking his leg out to make partial contact with Ryan Taylor's goalbound effort. A noticeable lack of movement off the ball and attempts to gain possession were belatedly acted upon by his late withdrawal in favour of Nile Ranger, but the damage - or lack of it - was done.

And as he left the field and preferred to applaud home fans in the Main Stand rather than return Chris Hughton's handshake, he walked past a man who could have told him a few things about putting a shift in and sweating in a Newcastle shirt - Forest assistant manager David Kelly.

Similarly Lovenkrands seems to have more trouble coping with Championship defenders than their top flight brethren since returning to United and moving into the comfort zone of a three year deal.

He again was anonymous and with Danny Guthrie seldom seen out right in his nominal midfield role, we looked unbalanced throughout against the pace of an eager but unpolished home side.

Continual failures to deliver crosses from open play or take advantage of a number of corners were frustrating, with the absence of our two central defensive scorers this season - Coloccini and Steven Taylor - apparent at both ends of the field.

Meanwhile, substitute Jonas Gutierrez was for once in the mood to shoot, but blazed over hopelessly from way out on a couple of occasions - to the anger of his colleagues. And thoughts that Kevin Nolan had secured a point in the second half when he scooped the ball in were rapidly dispelled by an offside flag.

A late chance for Nile Ranger saw the substitute head over from close range, but having opted to sit on their lead for the whole of the second period, Forest ultimately secured a fourth successive win with something to spare.

United were once again handed possession and the initiative by their opponents, but as was the case in their previous two outings at home, proved incapable of finding a way through - either by artistry or brute force.

For a side who have now gone three games without a win, Tuesday's trip to a cramped Glanford Park on Tuesday isn't the best of places to try and halt this temporary slide.

Biffa