In association with NUFC.com



Date: Wednesday 30th September, 7.45pm

Venue:

St.James' Park



Conditions: patchy






Newcastle United

QPR

1 - 1

Teams
7 mins Under pressure from an attacker down in the South West corner of the pitch, Jose Enrique's wayward infield clearance fell nicely for Ben Watson, with Nicky Butt idling nearby to no great effect. The on-loan midfielder set off for goal and as Taylor and Khizanishvili closed him down, tried his luck with a low 25 yard effort that clipped off the former's heel, totally wrong-footing Steve Harper in the Gallowgate goal. 0-1

Half time: Magpies 0 Rangers 1

70 mins Marlon Harewood received a forward pass on the edge of the Rangers box and funnelled it out to the United right, where Danny Guthrie lurked. Turning it back to Danny Simpson, the full back's deep cross was headed back across goal by Andy Carroll and although Kevin Nolan was unable to make contact with the ball, Marlon Harewood was in the right place to stab home a first Newcastle goal on his home debut. 1-1

Full time: Magpies 1 Rangers 1
Interim United Manager Chris Hughton:

"We got back into the game and I think once we did get back into the game if there was a side that was going to go on and win it, it was going to be us.

"We were up against a very good QPR side this evening, that played some good football and were very good in their movement. For periods of the game, we didn't get close enough to them.

"It's a big reminder for anybody of the quality in this league, the amount of games you need to play, and you are up against Championship-hardened teams who are used to playing the amount of games we are going to play.
"It's a big reminder, and it's something we keep stressing to the players. If I look at the games we have played so far this season, we have had to fight hard for everything we have got."
R's Boss Jim Magilton said:

"I'm pleased and proud - I thought we came here and showed our intent from the first whistle and scored an early goal which always helps confidence and helped with our composure on the ball.

"We knew that Newcastle would put us under pressure and we thought it would be a great test of character, but we stood up to that test and proved we're a decent side.

"A draw is probably a fair result. I am very proud of the players. To a man, they were outstanding.
"I still think it's going to be a division where - we have seen results already this year - it's still going to be a pretty open division.
But if you look at the talent and the ability and the squad depth of Newcastle, if you finish above them, you will be very close."
But if you look at the talent and the ability and the squad depth of Newcastle, if you finish above them, you will be very close."

Magpies v R's - all-time:

2009/10 drew 1-1 Harewood
1995/96 won 2-1 Beardsley
1994/95 won 2-1 Kitson, Beardsley
1993/94 lost 1-2 Allen
1988/89 lost 1-2 Ranson
1987/88 drew 1-1 O'Neill
1986/87 lost 0-2
1985/86 won 3-1 Beardsley, Reilly, McDonald
1984/85 won 1-0 Reilly
1982/83 won 1-0 Keegan
1981/82 lost 0-4
1980/81 won 1-0 Waddle
1979/80 won 4-2 Withe 2, Shoulder, Cassidy
1977/78 lost 0-3
1976/77 won 2-0 Burns, Cannell
1975/76 lost 1-2 Gowling
1975/76 won 2-1 (FA Cup) T.Craig, Gowling
1974/75 drew 2-2 Tudor, Macdonald
1973/74 lost 2-3 Tudor 2
1968/69 won 3-2 Burton, Dyson, Gibb
Full record v QPR:
| | | | | | | |
| --- | --- | --- | --- | --- | --- | --- |
| | P | W | D | L | F | A |
| SJP | 19 | 9 | 3 | 7 | 28 | 29 |
| LR | 18 | 6 | 3 | 9 | 24 | 35 |
| League | 37 | 15 | 6 | 16 | 52 | 64 |
A goal on his home debut for Marlon Harewood, for whom Newcastle is his sixth English club, following on from: Nottingham Forest, Ipswich Town (loan), West Ham, Aston Villa, Wolves (loan).

His last goal came for Villa two days short of a year ago - at Villa Park against Litex in the UEFA Cup. Failing to score in a subsequent five game loan spell at Wolves, his last Championship goal came for West Ham in a playoff game back in May 2005.

Harewood joins an illustrious list of players who have scored while on loan at Newcastle, including Dave Mitchell (whose goal against Blackburn in 1991 was greeted by the Gallowgate scoreboard operator memorably posting "That's the Magic of Mitchell".)

The last loan player to find the net for us was Giuseppe Rossi against Portsmouth in the League Cup, back in October 2006 @ SJP.

Chris Hughton was able to welcome back Danny Simpson and Jonas Gutierrez after injury, while Danny Guthrie was available once again after suspension. However both Ryan Taylor and Fabricio Coloccini failed to recover from knocks sustained at Ipswich on Saturday and were missing.

Waffle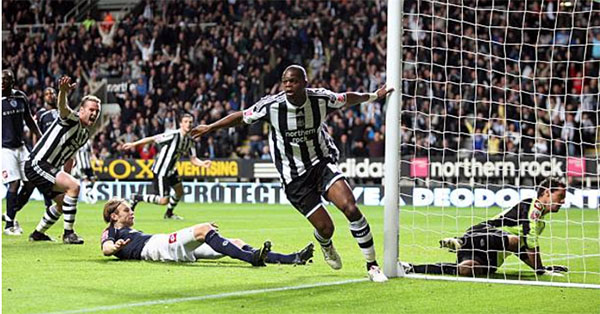 The first meeting of these two sides since 1996 may not have been in the top flight, but thirteen years on, the influence of the Premiership was still sizeable - and had a direct bearing on the eventual outcome.

Both goalscorers were on detachment from the big league - surplus to requirements at Wigan and Aston Villa respectively, while another two on-loan players from each side saw service during the evening. 23 of the 24 Championship teams currently have loan signings - West Brom being the only exception. Plymouth have six.

One plausible explanation for the averageness of this league is that the second tier of English football is in reality the third tier. That's a logical conclusion to draw from a situation where virtually every Premiership team can field a shadow XI that would compete in the Championship and still be able to lend players who can perform in the second tier - Manchester United currently have eight out on loan.

This isn't a particularly new phenomenon - the likes of Beckham and Giggs honed their skills elsewhere before graduating to the Old Trafford first team. And in the Newcastle side tonight, both Steve Harper and Steven Taylor made their league bows while on loan at lower league sides before becoming fully-fledged Magpies.

The fact that we're now out of the top flight has undoubtedly brought this issue into sharp focus, but the hoovering up of players by top flight sides is more pronounced now than when we bought Darren Huckerby and barely played him - and has greater ramifications across the Football League.

The introduction of seven substitutes has also resulted in an awful lot of Premiership players sitting around in big coats doing remarkably little, assuming they can even push their way into the matchday eighteen. Marlon Harewood is one perfect example of this - sixth in line for a striking spot under Martin O'Neill and picking up his weekly wedge despite not having featured in their Premier League side since 2008.

And given also that reserve team football now consists largely of Academy sides playing under floodlights, the sight of an established first teamer dirtying their boots in the stiffs is now newsworthy, with players increasingly seeing themselves as too "big" to find form or fitness in comparatively humble surroundings.

Enough of the bar-room philosophy - as forced beggars, we currently cannot be choosers. Nobody else's apparent loss was our gain this evening, as one loanee (Khizanishvili) performed well in defence, another (Simpson) claimed an assist for our equaliser and the third (Harewood) made the old onion bag bulge.
The 120th senior career goal of Harewood's career was enough to preserve our unbeaten home record this and collect a point which extended our lead at the top of the table to three points.

That had looked fairly unlikely in what was a strange pre-match atmosphere that the opening stages did little to quell. That feeling of unease grew when a side that had the legs on us grabbed a slightly fortuitous goal, while the penalty award instantly brought a feeling of dread from Guthrie's seeming reluctance to step forward and body language as he lined up. Rightly as it turned out.

Further spurned chances before half time seemed to confirm that this just wasn't going to be our night - with the ghost of Jim Dobbin and Grimsby in 1992 invoked during the half time inquest.

Too often United's buildup was ponderous and let down by wayward final balls, in contrast to some slick passing and movement on occasion from Rangers. Hughton attempted to address the shortage of pace and lack of threat down the left by replacing Nicky Butt with Gutierrez for the second half, but despite making more headway down that flank in tandem with Enrique, the quality of our crossing was little improved.

Harewood entered the fray just after the hour mark in place of a tiring Nile Ranger and took just nine minutes to find the net - to his obvious delight. Newcastle then went in search of a winner, but save for one fine flowing move that ended in Enrique shaving a post, the quality just wasn't there and we failed to either get shots on target or capitalise on our set pieces.

Alan Smith picked up a yellow card after a rash challenge and was then fouled himself, thankfully failing to exact his own brand of revenge on the perpetrator - and thus avoiding what would doubtless have been a second red card in five games.

As we keep pointing out, the last time we were champions of this league, nine games were drawn and eight lost. Given our collective off night, a point was more than acceptable as we went from goalscoring feast to famine. There's nothing wrong that putting a few past the cider drinkers on Saturday won't put right.

However, it does beg the question what side we'd be fielding if these loan lads hadn't been acquired. When the cheering dies down from that face-saving equaliser, it's almost humbling to contemplate that the largesse of Big Sam, Sir Alex and MoN is underwriting our promotion. They're happy to help us because it helps them - and we're not a threat to them any more. Humbling and embarrassing, but our new reality.


Biffa