In association
with NUFC.com

Date: Saturday 26th September 2009, 5.30pm. Live on BBC2

Venue: Portman Road

Conditions: memorable

Admission: £31

Programme: £3




Ipswich Town

Newcastle United

0 - 4

Teams
30 mins Ryan Taylor whipped in a right wing free-kick and Kevin Nolan guided a powerful header into the top corner and out of Wright's reach. 1-0
32 mins Andy Carroll neatly cut in to avoid a challenge on halfway and clipped a ball forward down the left hand channel that set Kevin Nolan galloping away on goal. He skipped inside Pim Balkestein's poor challenge and fired a low shot between Wright and his post 2-0
34 mins Hysterical scenes, as a foul on Ranger down the United left led to a free kick that Ryan Taylor potted into the top right hand corner beyond the stretch of the badly-placed Wright. 3-0
Half time: Town 0 Toon 3

51 mins Debutant Khizanishvili pushed down the right flank and skipped around the linesman before pulling the ball back for Ryan Taylor. He whipped over another fine cross to Ranger, who headed the ball down and back across the six yard box for Kevin Nolan to nod home from close range. He then ran off clutching the match ball - although he did give it back for Ipswich to restart the match. 4-0
Full time:
Town 0 Toon 4
Chris Hughton said:

"It was a special day, a special result and a special performance as well. This group of lads were all present last Monday's at Sir Bobby's memorial. It was quite an emotional occasion and one which the players were delighted to attend. And they knew the important thing today was to put on a performance worthy of him.
"It was testament to this group of lads that they did just that, although the fact that they knew other teams' results before kick-off was a driving force behind the display as well.
"It's a wonderful feeling when you can go in at half-time with the cushion we had. It doesn't happen that often. You have got to make the most of it.
"We had to make sure in the second half that we kept up the tempo, and I think we did that superbly. It's a massive boost to go top. The most important thing is that we are fighting at the right end of the table.

"When he (Nolan) came to the club, he'd had an ankle problem at Bolton not so long before, but now he is a player very much free of any added problems and physically as good as I've seen him.
"He is a very good character anyway, but someone we know is capable of scoring goals."
Roy Keane joyfully exclaimed:

"The game was dead and buried by half-time. We conceded some unbelievably bad goals and we just have to defend better. I don't know if Nolan has scored a hat-trick before but he won't get an easier chance to get one. He must have thought it was Christmas.

"I'm not daft, a lot of supporters voiced their opinions at the end but that is fair enough. They pay their money and they are entitled to that. But we will keep going.

"It (the Robson rah rah stuff) didn't affect the team, what affected them was conceding the second goal so quickly after the first. It should have been something to enjoy, there was a good energy in the stadium but we keep giving teams a helping hand.

"You have to cope with set-pieces, it's basic stuff. There are no magic wands and confidence comes with results. The longer this run goes on then the harder it will get.

"We have our pride and it has been massively dented. It is hard to take but we have the chance to start to put it right against Sheffield United on Tuesday. But if we give goals away like we did today, we will get beat on Tuesday. There is no doubt about that."
Toon @ Tractor Boys - all-time record:

2009/10 won 4-0 Nolan 3, R.Taylor
2001/02 won 1-0 Solano
2000/01 lost 0-1
1994/95 won 2-0 Fox, Kitson
1993/94 drew 1-1 Cole
1991/92 lost 2-3 G.Peacock 2
1990/91 lost 1-2 Quinn
1989/90 lost 1-2 McGhee
1985/86 drew 2-2 Beardsley, McDonald
1984/85 drew 1-1 McDonald
1984/85 drew 1-1 (League Cup) McDonald
1977/78 lost 1-2 McCaffery
1976/77 lost 0-2
1975/76 won 3-0 Macdonald 2, T.Craig
1974/75 lost 4-5 Tudor 2, Macdonald 2
1973/74 won 3-1 K.Robson, Cassidy, Smith
1972/73 lost 0-1
1971/72 drew 0-0
1970/71 lost 0-1
1970/71 lost 1-2 (FA Cup) B.Robson
1969/70 lost 0-2
1968/69 won 4-1 B.Robson 2, Foggon, Dyson
1964/65 lost 1-3 Burton
Full record v Ipswich:
| | | | | | | |
| --- | --- | --- | --- | --- | --- | --- |
| | P | W | D | L | F | A |
| SJP | 20 | 9 | 8 | 3 | 33 | 19 |
| PR | 21 | 6 | 4 | 11 | 31 | 30 |
| League | 41 | 15 | 12 | 14 | 64 | 49 |
There were senior debuts for on-loan duo Marlon Harewood and Zurab Khizanishvili in what was our biggest away win in the league since Bobby Robson's United won 4-0 at Bolton Wanderers in October 2001. We only led 1-0 at the break that afternoon at the Reebok though.

Ryan Taylor's second goal for the club was his first dead ball conversion since converting for Wigan against us in December 2008.

Kevin Nolan's 21 minute hat trick was our second of the season, following Shola Ameobi's 37 minute treble at home to Reading in August. He doubled his haul this season to six goals.

NUFC - post-war away hat tricks (league only):

1947/48 Jackie Milburn v Bury
1950/51 George Robledo v Liverpool
1955/56 Vic Keeble v Huddersfield (scored 4)
1958/59 Len White v Preston
1958/59 Bill Curry v Portsmouth
1960/61 Len White v Preston
1963/64 Barrie Thomas v Plymouth
1972/73 Malcolm Macdonald v Coventry
1978/79 Peter Withe v Blackburn
1981/82 Imre Varadi v Cardiff
1982/83 Kevin Keegan v Rotherham (scored 4)
1984/85 Chris Waddle v QPR
1989/90 Mick Quinn v Brighton
1990/91 Mick Quinn v Leicester
2005/06 Michael Owen v West Ham
2009/10 Kevin Nolan v Ipswich Town


Waffle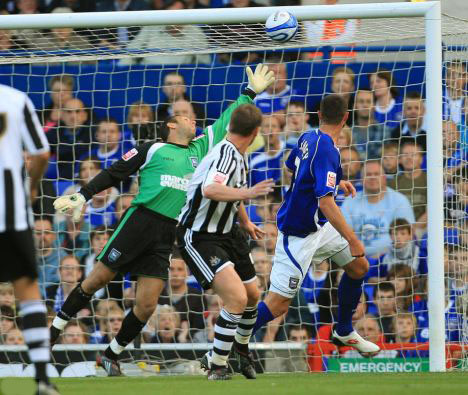 In the same week that a stellar collection of football personalities gave thanks for his life at Durham Cathedral, football fans participated in a dignified tribute to the late Sir Bobby Robson as some fortunate fixture planning pitted two of his former sides against each other.

But on a day in celebration of one former Newcastle manager, thoughts of two others were never far from the surface - at least from the black and white sympathisers who made it to Suffolk.

The selection of this game for live BBC transmission allowed Alan Shearer the chance to watch his former club live again and get paid for it, sharing a studio with fellow Toon fan Gabby Logan. By the end of the game, Al was acknowledging chants aimed at him from a jubilant away section, although it's stretching a point to to state that the vocal support was of the "appoint him now" variety.
Those overjoyed travellers - celebrating a third away win in five league games - had spent most of the previous 85 minutes voicing displeasure at the continued presence of Mike Ashley @ SJP.

After becoming less evident in recent games, on first impression this renewed anti-Ashley feeling seemed to have been prompted by the previous day's holding statement about the legal feud with ex-boss Kevin Keegan (whose name has never been sung since he departed from SJP).

However the increased vocals seemed to owe as much to pre-match drinking as off-field politics - TV playing its part in giving fans an extra two hours to refuel and also providing close-ups of a sullen-faced Ashley watching the game, despite the ever-improving scoreline.

The temptation to flash that news to Portman Road seemed to be too much for some viewers and the chants grew stronger as people received texts of the "he's here - and he can hear you" variety.

Of the current incumbent in the job there was no specific mention from the fans though - chants of "one Chrissy Hughton" remaining as rare as black and white shirts with "Owen 10" ever were.

Thankfully all the sentiment and emotion of this occasion didn't overshadow the game - at least not for the visitors - as this resounding victory saw United return to the top of the table in some style.

With West Brom surprisingly losing at home to Crystal Palace and the smoggies held to a draw at Coventry, the stage was set for Newcastle make their mark and they certainly didn't disappoint.

The margin of victory and the manner in which it was achieved heaping further misery on Roy Keane, who seethed on the touchline as his side ensured their worst-ever start to a league campaign. It's now nine league games without a win for the Iranian President lookie likie, with renditions of "you're getting sacked in the morning" and a certain canine-related ditty aired at frequent intervals.

Aside from their participation in the various Robson-related tributes, the home support meanwhile were largely silent until deep in the second half when Town managed a shot in the vicinity of the United goal, prompting a spontaneous round of applause for the all-too-rare forward foray.

With Danny Simpson not 100%, Chris Hughton brought in Zurab Khizanishvili at right back for his Newcastle debut, while in the absence of the suspended Danny Guthrie, injured Joey Barton and ill Geremi, Nicky Butt returned to the midfield.

A front pairing of Andy Carroll and Nile Ranger caused the home defence problems from the start, Ranger going close after setting up a shooting chance for himself. The United youngster then saw a back-post header palmed away by Richard Wright, before the vital breakthrough came after half an hour. And within four minutes, the Magpies were three ahead as Ipswich totally capitulated - although that didn't take much for a side who'd been absolutely Tolly Cobbold from the off.

It was made all the sweeter given the number of former mackem players on show (and one current loanee), while their current leader's son, Alex Bruce, had a torrid time at the back and was booked before departing with an injury before half-time. Perhaps he wanted to lock himself in the lavvy ahead of the inevitable teacup tirade from his manager...

Any thoughts that Keane would inspire his side into an unlikely fightback soon disappeared however, as Nolan soon completed his treble and became the first player to net in front of the newly- christened Sir Bobby Robson Stand.

With his side out of sight, there was scope for Hughton to tinker, on-loan striker Marlon Harewood (once of Ipswich) appeared for his debut in place of Nile Ranger. And despite not having kicked a ball in anger this season he looked lively and committed, muscling through the home defence to test Wright with a strong effort.

A groin pull saw Fabricio Coloccini made way for Peter Lovenkrands, resulting in Khizanishvili partnering Steven Taylor in central defence and Ryan Taylor going to right back. That reshuffle lasted barely 10 minutes though, before Ryan Taylor departed with what was later termed a tweaked calf - a appropriately agricultural ailment to report at the home of the Tractor Boys.

Youngster Ryan Donaldson appeared in an unfamiliar defensive role for the remaining minutes, but a seventh clean sheet never looked in doubt and thoughts began to turn to a pair of home games that look eminently winnable ahead of the international break - by which time the KK business will surely be settled and the club sale will either proceed - or be curtailed again.

Having covered our first game back in this league at West Bromwich Albion in the days following the passing of Sir Bobby, the BBC were present once again to capture scenes of tribute. But focusing on the football (at last), there's clear evidence of progress since those faltering steps at The Hawthorns, since when we've re-discovered the winning habit.

Back then, our chief on-field concern was the pillaging of the first team squad ahead of the closure of the transfer window, the failure to make additions to the squad and our apparent lack of appetite for what we took for granted would be a series of attritional contests.

In the event only one member of our starting XI that day was sacrificed - Duff - while eight of today's XI appeared and only injuries to Jonas and Shola kept them out at Portman Road.

The evidence thus far of the loan trio is that they are all more than capable of being effective in this league - and reinforce the conviction that we still have more playing resources than most/all of our counterparts. Meanwhile, some newly-rediscovered battling qualities have been enough to deal with anything we've come up against, as we've won physical battles as well as footbaling ones.

In short, we've been better than we thought and the others worse than expected. If anything is going to derail this, it's as likely to be the owner as an opposition player - after all, we're past masters at scoring own goals.

If the Cockney Mafia banner really riled him that much a year ago, how bloody-minded will the latest wave of abuse make him? Tune in for the next instalment of the show that never ends...

Biffa