In association
with NUFC.com

Date: Wednesday 16th September 2009, 7.45pm

Venue: Bloomfield Road

Conditions: Dry and cool

Admission: £26

Programme: £3

Blackpool

Newcastle United

2 - 1

Teams
40mins Making his first appearance after a four game absence through injury, striker Andy Carroll headed Danny Guthrie's chipped cross from the right powerfully home, after smart work from Danny Simpson in what was virtually the only coherent move of the night from the visitors.

Carroll's thumb-sucking goal celebration was later revealed to be in honour of his new-born daughter - in stark contrast to his last post-goal routine, looking up to the heavens in tribute to the recently -deceased Sir Bobby Robson. The fact that Andy played for deadly rivals PNE on loan earlier in his career seems to have eluded the Seasiders support, judging by a general lack of abuse. 1-0
45mins In first-half stoppage time, the home side forced Steve Harper into his ninth save of the evening at that point. Unfortunately the United 'keeper was only able to parry a long-range strike from Adams and Brett Ormerod took full advantage of the loose ball bouncing at his feet to rifle home from 12 yards and score Blackpool's 100th goal against United. 1-1

Half time: Blackpool 1 Magpies 1
65mins Bouazza's corner found Evatt at the front post and he made contact with the ball to send it looping across the United six yard box. Harper blocked Jason Euell's first shot, but the ball fell to him again and he hoofed it home from close range. Enrique was close by on the goal line, but failed to beat the Seasiders striker to the loose ball.1-2


Full time: Blackpool 2 Magpies
1
Chris Hughton said:

"There were words said at half-time and we did get a response. Unfortunately we conceded a very poor goal. I'm bitterly disappointed with our first-half performance - those who have seen us play this season will tell you it was very unlike us.

"Blackpool were first to the ball and they asked more questions of us. They were a bigger goal threat than we were. We found it hard to come to terms with them. We were better in the second half and had opportunities, but over 90 minutes we weren't good enough.
"We weren't resolute, certainly not in the first half. They came out of the traps quicker than us. They were encouraged by a wonderful crowd here, but in most departments we weren't doing what we have been doing.
"The area that disappointed me most was that we didn't keep the ball well enough. We allowed Blackpool a lot more possession than we would have liked and consequently they used it to create chances.
"We didn't create enough over 90 minutes. We had two good chances – one for Kevin Nolan and one for Nile Ranger who came on. It wasn't enough. In the position we're in we should now know that coming to places like Blackpool we will be facing sides who are buoyed by a good crowd and a good manager and you have to ask more questions.
"Blackpool were better than us in every department, especially in the first half. We need to regroup quickly as we have another big game at the weekend.

"I thought we came into the game a lot more strongly after the break and we finished quite well and were perhaps unlucky not to have grabbed an equaliser but over the course of 90 minutes we were not the better side on the night."
Stanley Ian Holloway's latest stream of consciousness ramblings:

"I am absolutely delighted, we set off and started to run at Newcastle and passed the ball around them. I don't think they realised what was hitting them. People might say they have lost a lot of big-name players since they were relegated but you only have to look at their team sheet to realise what talent they have still got at the club.
"We had to draw on a lot of experience, particularly up front where I had to play both our senior pros Jason Euell and Brett Ormerod. They worked their socks off for me and got a goal each and you can't ask anything more than that. We have got to keep this going now and prove that it's not some sort of one-off.
"I said to the squad, if you watch Bedknobs and Broomsticks, one of my favourite films, that's what Hameur (Bouazza) can do. He can blaze a trail, and we need that. Then you look at their sub, when he came on, he can catch pigeons that boy, deary, deary me!

"I think Hameur is a different kettle for fish for us. He's going through his period of Ramadan, where he can't eat properly. "He was praying in the dressing room on Saturday, and I don't know if our lads have seen that, but they've respected him, and he respects us.

"It was a fantastic performance from him to unlock that back door and open up a back four. We kept at it, and we worked it from side to side against a team which was in the Premier League last year. They've had a great start, and we'd like to be where they are, and hopefully we can gain some belief from that.

"If you look at their back four, arguably they're one of the strongest in the division. I think they've got rid of a lot of people who weren't really wearing the shirt with pride. They've kept a group of people who have really set about us. They didn't come here and not fancy it, they were at it, and we were at it, and we just managed to scrape a victory. I was delighted we saw it through at the end, with all the big lads they've got.

""That fella with the drum – if I could see him now I'd snog him because he was great. I didn't mean it literally, but he's a good looking lad and he definitely keeps good rhythm."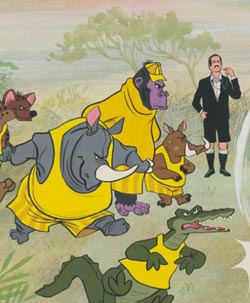 A scene from Olly's favourite film - aren't
those shorts made out of our second kit?
Ex-player for both sides, Tony Green, added:

"It was as good a match as I've seen for 20 years. It is the first time in a long time Blackpool have got a lot of quality. Players like Charlie Adam and Hameur Bouazza are the kind we normally sell. Now we are buying them, which bodes well. I think the quality in the side is a lot higher than it has been for 30 years and the encouraging thing is that it could get even better.

"When I came back to live in Blackpool the crowd was often below 3,000. I always loved going to Bloomfield Road but I didn't enjoy the football. On Wednesday the football was terrific. Normally the best part of the night has been seeing every-one and socialising, and you put up with the football. Now the hour and a half of football is the best part. Ian Holloway has been a breath of fresh air."


United's seven game unbeaten start to the season in all competitions ended, while they conceded only their second league goal, 546 minutes after the first (Goalkeeper Steve Harper's shut out record ended at 501 minutes, having not played the second half at West Brom)

The last side to defeat us in a league match outside the top flight was Wolves, back in April 1993, playing in a strip slightly more gold than orange...

Newcastle wore their third choice black and blue kit for the first time in a competitive fixture, having debuted it at Dundee United in pre-season. Andy Carroll also netted in that game.

The header was Andy's first competitive goal of the season and fourth senior effort for the club, three of which have come from headers. However he's failed to finish on the winning side in any of the games he's netted in: 2-2 West Ham (h), 1-2 Man City (a), 1-1 Stoke City (a) and tonight.

Toon @ Tangerines - post WWII:

2009/10 lost 1-2 Carroll
1987/88 lost 0-1 (LC)
1970/71 won 1-0 Foggon
1966/67 lost 0-6
1965/66 drew 1-1 Suddick
1964/65 lost 0-3 (LC)
1960/61 lost 1-2 Woods
1959/60 lost 0-2
1958/59 lost 0-3
1957/58 lost 2-3 Mitchell, Franks
1956/57 won 3-2 Casey, Milburn, White
1955/56 lost 1-5 Keeble
1954/55 lost 0-2
1953/54 won 3-1 Broadis, Hannah, Mitchell
1952/53 won 2-0 Brander, G.Robledo
1951/52 lost 3-6 Milburn, G.Robledo 2
1950/51 drew 2-2 Milburn, G.Robledo
1949/50 drew 0-0
1948/49 won 3-1 Hair, Stobbart, OG
Full record v Blackpool:
| | | | | | | |
| --- | --- | --- | --- | --- | --- | --- |
| | P | W | D | L | F | A |
| SJP | 24 | 13 | 3 | 8 | 44 | 31 |
| BR | 25 | 7 | 4 | 14 | 33 | 60 |
| League | 49 | 20 | 7 | 22 | 77 | 91 |
In one respect, nothing has really changed since the last time these two teams met, in October 1987 at SJP. That night, a section of the Newcastle crowd watched from uncovered temporary seating, erected at the Leazes End to house fans displaced by Milburn Stand redevelopment.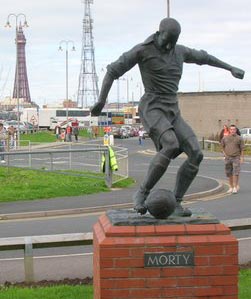 In common with an increasing number of present day grounds, Bloomfield Road has a statue nearby that commemorates a footballing hero of times past.

This effort is a likeness of South Shields born Stan Mortensen, who made 354 appearances for the club between 1941 and 1955, scoring a total of 222 goals including a hat trick in the 1953 FA Cup Final.

"Morty" was also a Magpie - albeit briefly - appearing
once for United in war time football and netting twice against Leeds United in a 9-0 win at SJP in 1943.

The £25K cost of the statue was partly met by fan donations, with Blackpool Council contributing £10K.

Cast in bronze and sculpted by Peter Hodgkinson, it was unveiled in 2005. Another work by the same sculptor, of Tom Finney, is on display at Preston's Deepdale ground.


Waffle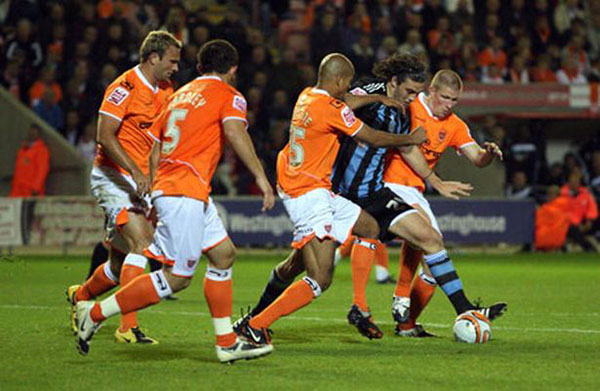 The realisition that our most eagerly-anticipated away game of the season was in midweek wrecked many a grand plan for weekend excess, but didn't stop a fair proportion of the away following from obtaining full measure before kickoff.

And as well as filling the tills of Blackpool bar owners, the many local vendors of tat experienced something of a boom, if all the crap that people rolled up to Bloomfield Road with is any indication. Ticket (check), beer money (check), inflatable guitar (check), sombrero/straw boater (check)....

And while it's a fair bet that many of the tanked-up travelling toonies nursed raging hangovers on Thursday morning, their team had undergone a sobering experience the previous evening.

Up to this point, it had been possible to pretend that we were still in the Premiership, playing at stadia that have hosted top-flight football recently - and a new one that looks the part. However that all came to an end at a scrappy ground on the Lancashire coast, as scrappy goals deservedly consigned us to a first defeat in a scrappy league.

Maintaining the habitual record of failing on this side of the Pennines, Newcastle also provided an unwelcome reminder of the form that contributed to their relegation - this from a side that we're told now have a new found unity, following the departure of various charlatans.

Well, it was well hidden tonight.

As had been the case on Sunday, we created virtually nothing, save for Coloccini's shot that should have prompted a penalty and headers from Butt and Nolan that flew wide (whether much-travelled 'keeper Paul Rachubka is actually any good remains a mystery, as he never had a save to make...)

Unlike Sunday though, we never looked convincing after going ahead and defensive frailties returned with a vengeance. A team with a top-class finisher would have run riot against us.


Blackpool's old stagers Euell and Ormerod have worked the clubs since time immemorial - the former on the field for Wimbledon when Alan Shearer scored the first of his 206 Newcastle goals, the latter responsible for cleaning Big Al's boots when an Ewood Park apprentice.

Neither had previously scored against us, but both found the net here on a magical night for the Seasiders. Holloway's pumped up side dominated from the start in what had all the hallmarks of a cup tie, being rewarded for a shoot on sight policy and a high tempo approach that was anything but long ball hit and hope.

It has to be said though that we beat ourselves, posting the most disjointed performance since our demotion. We never looked like a side playing for the points to get back to the top of the table, on a night when complacency seemed to replace confidence.

With Nolan perhaps feeling the effects of a second game in four days and a general unwillingness by any visiting midfielder to stay wide, the centre of the park was both cluttered and unproductive.

And whether the gap between midfield and defence that the absence of the suspended Smith caused was real or imagined, the pedestrian trundlings of Butt added nothing at either end of the field and merely provided a visible target for younger, fitter and keener opponents to feast on.

Barton was similarly culpable, losing possession on every occasion that he got near the ball and also seeming to cuff an opponent unnecessarily. Having failed to be the player who took the team by the scruff of the neck and kept us up, his displays thus far in this league haven't provided reassurance that he's going to lead us back up by example.

Only Hughton will know what purpose the introduction of Geremi just after we went 2-1 down was meant to serve - our best guess is that he was committed to the replacement and had settled for a point with a quarter of the game to go. It does beg the question though of just what eventuality LuaLua was on the bench for: after all, we were losing away from home, fielding a big striker who had converted the only ball chucked into his vicinity all night (when he wasn't offside).

If there is a positive, it's that this game wasn't live on TV anywhere - and the action was recorded for posterity on a solitary camera precariously housed on a gallows gantry. That does mean that only those opposition sides who sent scouts down the M55 will know just how painfully easy it was to get through us. Certainly Cardiff would have been kicking themselves.

One final chance arrived in the dying seconds, with Crainey able to clear Ranger's angled header off the line. However an equaliser would have been cruel and undeserved and a reality check at this stage of proceedings is probably not a bad thing, if takes a little bit of wind out of our sails.

After all of the recent talk of great spirit and togetherness, this was ample evidence that there needs to be little bit more than that on the field in terms of play, possession and passing. Pace could be added to that list also, but maybe that's being greedy.

To finish with a cliché, there's always another game in this league for wrongs to be righted, with the current bottom team next on Tyneside. And while there may be a handful of compact and raucous venues like Blackpool, half of our games are staged in an arena that is perhaps even more intimidating to opposition teams - St.James' Park.

One look at the stats below underlines the importance of maintaining that "fortress":

Our 96 point, 1992/1993 Championship-topping season:

Home: Played 23, Won 16, Drew 6, Lost 1
Away: Played 23, Won 13, Drew 3, Lost 7

Biffa