In association
with NUFC.com

Date: Sunday 13th September 2009, 2.05pm
Live on Sky.

Venue: Cardiff City Stadium

Conditions: warm and unthreatening

Admission: £26

Programme: £3

Cardiff City

Newcastle United

0 - 1

Teams
18mins A cross to the far post found Nile Ranger who outjumped the City defence to head back across goal. Ryan Taylor looped the ball back into the danger area and Fabricio Coloccini beat Steven Taylor to the ball to power a header past David Marshall in front of the Canton Stand. 1-0

Half time: Bluebirds 0 Magpies 1


Full time: Bluebirds 0 Magpies
1
Chris Hughton said:

"I thought Alan (Smith) was very unfortunate. There was no argument with the second booking but on the first we felt at the time that he didn't touch the lad. I know the lad had to do an evasive movement to get out of the way, but we didn't think Alan touched him so I thought the sending off was very harsh.

"Maybe his reputation had something to do with it because of the type of game it was. It was a competitive game and I thought you had two teams that desperately wanted to win the game and compete. Amongst all of that you are going to get challenges and you are going to get the referee having to make decisions.

"I'm very proud. I thought we limited Cardiff in their home stadium to minimal chances. We probably didn't play as well on the ball as we have done in other games but as a group I couldn't have asked any more from them.
"The key now is maintaining this. We're going to be up against Championship-hardened teams on a weekly, basis, teams who have fared very well in this division. Cardiff were that. They are a quality side who are used to playing the amount of games you play in this division and the football that is played in this division. That is something we still have to get used to.
"It's no secret we would like to bring players in. At the moment we're really getting away with it in terms of the squad but we know the games are coming thick and fast over the next few weeks.
"I don't know whether we'll be able to do anything before the Blackpool game but I think most people would accept we need to bring people in to boost this squad in certain areas."
Goalscorer Fabricio Coloccini added:

"A lot of things were written in the newspapers about me over the summer saying I wanted to leave the club, but that was not true at all.

I am happy here and happy to help the club get back into the Premier League, so because of that, it was a great feeling to see my goal go in. It was good to turn around and see the fans celebrating my goal. I thank them for sticking by us. They have been excellent with me and the team."
Red card victim Alan Smith broke off from growing his beard to tell pressmen that:

"I just thought I had to foul him – he was going to score. It was a yellow card I had to take it for the team. To be fair, the first one was never a yellow – I've not even touched him – but I had to get on with it.

"I was sent off at Ninian Park for an elbow on Andy Legg – it's just one of those places!

"But it was a good three points for us. There was nothing in it – it was a good game. It was a good, honest battle. We want to keep winning - we've got to dig in.

"We didn't play as good football as we'd have liked, but that's what you've got to do to get three points."

I'm going to miss Wednesday night, which I'm disappointed about. But if there's one department where we've got enough players to cover, it's that one. Hopefully, it won't have any effect really, and I'm still going to travel.

"There's going to be players who miss out in games they want to play in, but we're going to all be part of it. We're a squad together, and I'll go with them, and hopefully we'll get the three points."

Dave Jones commented:

"We might not have had many opportunities, but there were plenty of times we got in good positions to get shots away. Our free-kicks around the box weren't as good as they can be and I think the referee has missed a stonewall penalty where a shot has gone in on target and Steven Taylor slid in and it hit his arm.

At this level, when there is something like that in such a tight game then the referee can't miss it, and when I saw it on the television it was even harder to swallow. That's something that should be given simply because of the pressure we've put on them and then when it's not it's hard to take.
The performance certainly didn't warrant us losing the game, but if you make the mistake we made in the first half then against good sides with Premiership players you will get punished.
The officials have to look at it in such a high-profile game and ask were they up for it? When they've missed the penalty they missed I don't think they were. I can speak to the referee until I'm blue in the face, but he's not going to replay the game and say it was a penalty. But you always feel hard done by when you lose a game.
I can't remember David Marshall making any saves, just plucking out a few crosses.What I do know is that our players worked their socks off and the substitutes Newcastle brought on were all defensive players so we had to keep going forward.
Maybe then, when we got in those positions, our quality let us down a bit. We've had good positions to get in, but when we have we've over hit the cross, haven't missed the first man, or we've been hauled down because we're up against good players who know what to do in those situations. We've basically dominated, but we didn't stop the goal after making a mistake."
Magpies @ Bluebirds - post WWII:

2009/10 won 1-0 Coloccini
1983/84 won 2-0 Keegan, Beardsley
1981/82 won 4-0 Varadi 3, Davies(pen)
1980/81 lost 0-1
1979/80 drew 1-1 Shinton
1978/79 lost 1-2 Connolly
1964/65 drew 1-1 Cummings
1963/64 drew 2-2 Cummings, McGarry(pen)
1962/63 drew 4-4 Fell(pen), Kerray, Hilley, OG
1960/61 lost 2-3 Allchurch, White
1956/57 lost 2-5 Davies 2
1955/56 drew 1-1 Curry
1954/55 lost 2-4 Milburn, White
1953/54 lost 1-2 Monkhouse
1952/53 drew 0-0
1947/48 drew 1-1 Stobbart


This was our first visit to the new Cardiff City Stadium and United became the first side to score a league goal there and win there in a competitive game.

Our unbeaten start to the season is now seven games and Steve Harper's shut out record now extends to 456 minutes.

Five successive league wins and as many clean sheets is an all-time NUFC club record.

This match fell one year to the day that Chris Hughton first took the role of interim Newcastle boss, at home to Hull City. In three spells in charge of United, his record reads:

2008/09: Played 7, Won 0, Drawn 2, Lost 5 (1st spell)
2008/09: Played 6, Won 1, Drawn 2, Lost 3 (2nd spell)
2009/10: Played 7, Won 6, Drawn 1, Lost 0.

Alan Smith's dismissal was our first red card of the season and his second for Newcastle, the first coming at Old Trafford in January 2008. The last player to receive his marching orders for us in this division was Kevin Sheedy, away to Leicester City in October 1992.

Fabricio Coloccini scored his first Newcastle goal on his 43rd appearance in all competitions. He became the third Argentinean to find the net in a competitive match for the club, following in the boot steps of Christian Bassedas and Daniel Cordone. Jonas Gutierrez has scored in a friendly.


Full record v Cardiff:

| | | | | | | |
| --- | --- | --- | --- | --- | --- | --- |
| | P | W | D | L | F | A |
| SJP | 23 | 17 | 3 | 3 | 52 | 15 |
| NP/CC | 24 | 3 | 9 | 12 | 27 | 43 |
| League | 47 | 20 | 12 | 15 | 79 | 58 |
Waffle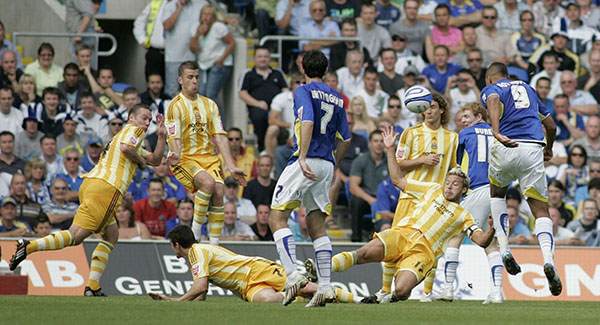 United's maiden trip to the new Cardiff City stadium saw them become the first visiting side to win there, despite losing the services of Alan Smith in the closing stages after two yellow cards.

The victory extended our unbeaten start to the season and left Chris Hughton's side two points clear at the top of the Championship table, having been temporarily toppled by results elsewhere on Saturday.

United started brightly in the Welsh sunshine but despite their domination of the opening stages, didn't really threaten to score until Coloccini got upfield to good effect.

With United relying on lone striker Nile Ranger and occasional support from Danny Guthrie, the home side pushed on in an attempt to find an equaliser. However they but were found wanting in front of goal on the rare occasions that they got past Newcastle's back four.

Old boy Michael Chopra was the chief threat for the Bluebirds but Steve Harper was only called into action to deal with a snapshot from Chris Burke.

United's rearguard action continued after the break, with Peter Lovenkrands making a second debut for the club as a substitute in an attempt to lend support to Nile Ranger, who again chased down every ball and won more than his fair share of aerial challenges.

At the other end of the field, City grew to dominate the midfield area and had a couple of hopeful penalty shouts ignored, but were continually let down by wayward shooting and crossing.

With the game into four minutes of added time, Alan Smith brought down Bothroyd on the edge of the box and was deservedly given a second yellow. However the free-kick came to nothing and United duly recorded a fifth consecutive league victory and clean sheet, a second second away win of the season also matching last season's miserly total.

So, another success for August's Manager of the Month to savour, doubtless after the now ritual pre-match dressing room soundtrack including Deacon Blue's "Dignity." What a shame that term continues not to be applicable in the SJP boardroom.

Our early season run is now unfolding against a backdrop of the Keegan/Ashley court case, while the current owner has also now to contend with a Serious Fraud Office investigation into alleged price -fixing and fraud. That's quality isn't it?

The sub-plot to all of this may well be that the desperation of Mike Ashley to sell up and ship out has diminished due to our current form - and the inveterate gambler may opt to ride the wave through to a top-flight return and then cash in his chips.

Despite shedding a sides' worth of players in 2009, we're rubbing shoulders with club possessing equally small squads featuring unproven youngsters. A lack of striking options is also a league-wide problem (and a partial explanation for our new-found defensive solidity).

The worry remains that although we possess a 15 or 16 man squad who are capable of an instant return to the top flight, injuries and suspensions will limit the number of times that team will appear.

That process is now underway, with Smith missing on Wednesday, Shola and Jonas still sidelined and Carroll barely back in training. Ranger will run out of steam as teenagers do, Ameobi will struggle with injuries and our combative midfield will steadily amass cautions – and that's without the threat of another 31 days of agonising uncertainty in January, courtesy of the "fat Cockney B*st*rd."

Even the mild-mannered Hughton is openly speaking of the need to add numbers to the squad via loans, while quietly concerning tales of apparent failures to conclude such deals on financial grounds appear in the press.

The only thing that seems certain at this stage is that we've bottomed out and look to be on an upward trajectory again – one year after a clash of egos and emotions saw the club implode with disastrous consequences. But it's a fragile revival.

To dare to think of what lies ahead for us in August 2010 is in itself a measure of progress, but our current Heath Robinson make do and mend approach doesn't bear scrutiny as a season-long policy, let alone a blueprint for a top-flight return.

Biffa