Interim United Manager Chris Hughton:

"It speaks volumes for the 11 players that were on the park, it speaks volumes for a very young bench that we were able to give them some of them an experience of first-team football. Nile Ranger will get better as each game goes by. When you look at the bench that was the youngest bench that I've had since I have been here and the result is a testament to all of them.
What I did believe was that this group of lads could show a real desire to want to do well, and I never felt it would be through lack of effort. What we didn't know was the division and what we would be up against on a game-by-game basis. I never felt they would show any less than they have shown; whether that would be enough to get us the amount of points we have got, I didn't know.

"At times we had to dig in, at times it wasn't so pretty and at times we weren't able to play the way we wanted to against a very good Championship side that can mix up their game. I think, for as much as we would have liked to have scored more goals, keeping a clean sheet was certainly as important.

"We'll take a few more. You always want to win the game, and you want to win the game well, and in a certain style, but that's not always possible. The most important thing is winning games, and if we're keeping clean sheets, it gives us a chance.

"We know of Steven Taylor's quality and we're absolutely delighted with Danny Simpson. He's a lad that came in as a right-back. I asked him the question before the Huddersfield game about playing centre-half. "He's a lad who has played there, but certainly not very often.

"I thought he was excellent that night, and again against Leicester. He's not a big lad, but he's got a good leap on him. You're either a big, physical strong one like Howard, who wins perhaps the majority of high balls, because that's his strength, or you're somebody like Danny, who is about spring and elevation.

We're still assessing Shola, but it's not going to be a two or three-week job – it's certainly going to be longer than that. It's a big blow for us because of how he started the season, and what a big player he is for us. We're certainly very disappointed to lose him at this stage.

"Jonas will certainly not be involved in the national team. As far as a timescale, you're always a bit reluctant to have one, because you'd like to think you can bring them back before, but at the time he did it, we were looking at three weeks."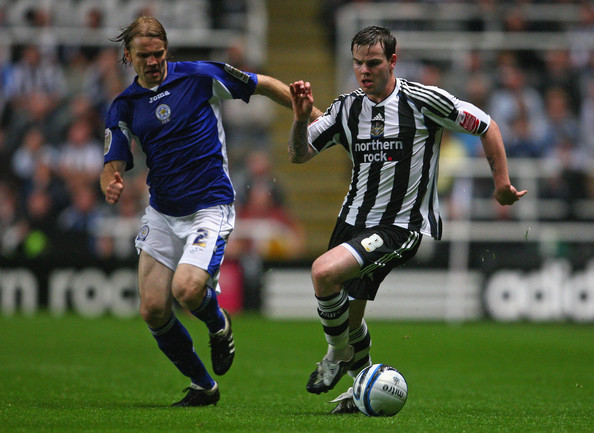 A thunderbolt from Danny Guthrie on Monday night put Newcastle two points clear at the top of the Championship table after a fourth successive victory and clean sheet.
Eyebrows were raised by the non-appearance of central defender Fabricio Coloccini in the squad, but it was soon confirmed that Argentina had invoked the five day rule ahead of their game against Brazil on Saturday. That forced Chris Hughton to pair the returning Steven Taylor with Danny Simpson in central defence, Tamas Kadar dropping back to the bench after his first senior runout in our midweek Carling Cup victory.
Injuries saw both Shola Ameobi and Andy Carroll sidelined, while Xisco packed his bags and returned to Spain, leaving Nile Ranger to make his first league start. Alan Smith and Joey Barton were restored to the side, while Geremi kept his place at right midfield, making his first league start since last March.

Ranger however was supported by makeshift forward Kevin Nolan, while Alan Smith - a man who has played for his country as a striker - was either unwilling or not asked to reprise his former role and instead remained in the anchor role.

And on the bench, only goalkeeper Tim Krul and Kazenga LuaLua had any league experience for the club, with Tamas Kadar, Ben Tozer, Ryan Donaldson, Wesley Ngo Baheng and Haris Vuckic all filling a shirt to underline our current wafer thin squad.
Steve Harper returned to the starting XI to make vital stops from Toon supporter Steve Howard and Paul Gallagher, while Matty Fryatt missed the best chance of the half when he blazed wide after Leicester exposed the home defence.
At the other end, two penalty shouts for handball were ignored by referee Neil Swarbrick as a Geremi cross found two City hands in quick succession - various other poor calls from his Milburn stand side assistant angering fans.
Nolan was proving to be our principal goal threat, with one early effort a routine take for visiting 'keeper Chris Weale and a later foray into the box seeing some poor ball control fail him after he turned to evade his marker.
A low-key first half in constant rain unsurprisingly ended scoreless, Newcastle failing to consistently pressurise the City defence and scarcely delivering a cross worthy of the name to give Ranger and Nolan anything to work with.
The second 45 though saw a brighter opening from the home side who imposed themselves with some early pressure and saw Ranger try his luck with an improvised effort that wasn't far away.
The decisive goal came seven minutes after the break when Danny Guthrie drove home at the Leazes End for the second time in as many home games. Geremi almost did likewise shortly after but his effort flashed wide of the upright, both Barton and Steven Taylor later going close as we looked for a killer second and left Ranger in a lone upfield role that he relished.
With United players visibly tiring in the closing stages, City sensed an opening as Chris Hughton introduced a trio of league debutants from the bench, in the shape of Kadar, Vuckic and Donaldson. However the visitors were kept at bay by some whole- hearted challenges from Alan Smith, while both Steven Taylor and Jose Enrique impressed again at this level.
Taylor even had time to reprise Alan Shearer's clock running down trick of taking the ball into the corner, before the four minutes of added time were played out without Harper being tested any further.
A well-deserved ovation from the home fans in a 38,813 crowd greeted the final whistle, as United extended their shutout record in the league to 411 minutes and ended a ten game unbeaten league run stretching back to March for Nigel Pearson's side.
International fixtures mean that the Magpies don't return to action until Sunday week, when the first part of a testing pair of away games sees us visit Cardiff City, followed by Blackpool the following Wednesday.
The current management team in both boardroom and dressing room seem set to be unchanged by the time we travel to Wales, but as a result of the United front shown on the field to date, that doesn't quite seem as tragic as once thought.
It has been suggested that Hughton is in line for the August Championship Manager of the Month award - for taking the heat off the owner though, he really should be nominated for the Nobel Peace Prize....
However, news that both Jonas Gutierrez and Shola Ameobi will still be sidelined with injury by then is a pertinent reminder of the vulnerability of this squad - which will cost us dear at some point in the future.
Trimming the financial excesses of the Premiership era was both inevitable and necessary, but depriving the team of desperately required resource is simply short-sighted. Put it another way, what pittance will this madhouse be worth post-parachute payment if we fail to gain promotion?
For a bloke allegedly desperate to get out of town, Mike Ashley seems to be spending a fair amount of time sitting in his Milburn Stand seat. What remains a source of mystery and frustration is that we've proved - so far - that an instant return to the top-flight could be within our grasp with even just a modicum of investment in the squad.
That's not cobbling together borrowed discards from the big lads with greenhorns from our reserve and academy teams but spending reasonable sums of money on reasonable players who attract reasonable wages. It's called speculate to accumulate, isn't it?