In association with NUFC.com



Date: Wednesday 26th August 2009, 7.45pm

Venue:

St.James' Park



Conditions: eventful






Newcastle United

Huddersfield Town

4 - 3

Teams
36 mins Shadowed by Ryan Taylor out on the Huddersfield left, Anthony Pilkington turned the ball infield and Danny Guthrie took possession, taking advantage of hesitant defending to advance and convert with a left-footed effort from the edge of the area into the Leazes goal 1-0

37 mins A right-footed punt upfield from a Terriers player into the right hand side of the United half was challenged for by Kadar and an opponent. Neither made contact but the ball dropped nicely for Robinson to get ahead of Simpson and clip his low 12 yard shot through the legs of the advancing Krul. 1-1
39 mins Different wing - same move, as Rhodes headed on a long through ball to take ball past Simpson and into the path of Robinson. The Huddersfield striker took a touch to divert the ball beyond Krul and then went to ground - it's unclear whether there was contact, but the reaction of crowd, goalkeeper and colleagues suggested not.

The referee's decision to award a penalty but only book Krul was also indicative of uncertainty, but Robinson confidently placed the spot kick beyond Krul's left hand 1-2
Half time: Newcastle 1 Huddersfield 2

47 mins Yet more route one stuff from the Terriers, after some poor play on the United left from LuaLua had given away possession. Rhode's touch on a ball that dropped into the right hand side of United's box left Krul stranded off his line, as Kadar hesitated, with the visiting player steering the ball home from a narrowing angle, Simpson making an unsuccessful lunge to try and keep the shot from going in. 1-3
48 mins A flowing passing move involving Enrique, LuaLua and Ameobi ended with Kevin Nolan teeing up Geremi in the box and the veteran took a touch with his right foot before sliding the ball left-footed beyond 'keeper Alex Smithies from almost on the penalty spot. 2-3
64 mins Another slick exchanges of passes between Nolan and Geremi released Guthrie to run into the Town half down the right and he threaded a well-weighted ball through for the onrushing Ameobi. Muscling past Andy Butler and into the area, Shola tumbled under slight contact from the defender and a penalty was awarded. He then placed his kick into the bottom corner of the goal after deceiving the 'keeper. 3-3
84 mins The lively Gutierrez was stopped in his tracks some 10 yards from the left edge of the Huddersfield box, with Guthrie swinging the consequent free kick towards the far post. The advancing Ameobi rose between two defenders to nod the ball across the six yard box and Kevin Nolan shot into the roof of the net from barely a yard out 4-3
Full time: Newcastle 4 Huddersfield 3

Interim United Manager Chris Hughton:

"It got to a stage where we found we had to use them if we wanted to win the game. It's the price you have to pay when you have to play midweek games. We knew that Huddersfield would be a tough side but when you get to 3-1 down, you try to battle away or you turn to the players who can help turn the game. Thatís what we had to do to win it.

ďFair play to Huddersfield they done very well but it was an exciting game to be involved in. The normal emotions are you are angry and upset at the goals you concede but what I was aware of was that we had two young centre-halves in there.

ďFor most of the game they acquitted themselves very well under pressure. It was a great experience for them, a fabulous game to play in, they won't forget it and they'll certainly learn from it. We had to play Danny Simpson at right back and he did really well at centre-half, Tamas Kadar similar, he's a centre -half who can play at left-back.
"Until their goal, I thought they coped very well, but then they conceded two poor goals in that period and I think they'll put that down to experience and they'll be better for it.

"We knew it would be tough and we needed experience and quality to get us through, but it does emphasise that if we have injuries we are stretched. Hopefully, those two (Ameobi & Gutierrez) will be OK for Monday and have an extra couple of days before we play Leicester. There is never a dull moment at Newcastle."

Town boss Lee Clark:
"
It was a magnificent cup tie - you wonít find a better one around the country after the second round. Iím delighted with my teamís performance. We put a terrific show on.
"Weíve done ourselves and our fantastic fans proud. We took Newcastle to the wire and posed a threat all game, so itís desperately disappointing to lose. It was a good, high-intensity Cup-tie with some quality play from both sides, and we made a massive contribution.
"For myself and my staff, coming back here was a great experience, but itís really about the players. We wanted them to perform like we know they can, and I think they did that. We can be very proud and very positive. We passed the ball well and created some fantastic opportunities.
Unfortunately, weíve lost the game, and I can be a bit picky about some of the goals, but overall, I thought every single one of them were magnificent. I certainly wasnít getting carried away (at 1-3).

"There was a long way to go, certainly because of the players Newcastle have and the strength they had on the bench as well. They had very experienced footballers to try to get them the result they wanted, and eventually they did that. The fact Chris made the decision to bring on Shola and Jonas Gutierrez, whom he would probably like to have rested, shows they were under the cosh and concerned.

"At 3-1, we could have maybe started to control the game in terms of possession and getting the crowd frustrated. But it wasnít 3-1 for long, and they got their tails up a little bit. We still had opportunities, we didnít stop playing, and the players were magnificent.
"It was a magnificent turnout from our fans, theyíve been superb from day one, and I think the Newcastle fans appreciated what they saw from both teams.

"As I said all along, it is not about me. I wanted to come here and put on a performance I knew we were capable of and it would have been nice to win but the League One campaign is my priority."

Newcastle extended their unbeaten start to the season to five games and won their fourth consecutive fixture (both in all competitions). They actually went unbeaten for six games in Nov/Dec 2008, but haven't won four in a row since Oct/Nov 2005 (mackems home, Grimsby league cup away, West Brom away and Birmingham home).

Terriers in Toon - Post War:

2009/10 won 4-3 Guthrie, Geremi, Ameobi(pen), Nolan
1983/84 won 5-2 Waddle 2, McDermott, Keegan, Beardsley
1971/72 drew 0-0
1970/71 won 2-0 Dyson, Robson
1964/65 won 2-1 McGarry 2
1963/64 won 2-0 Thomas, Hilley
1963/64 won 5-1 Taylor 3, Hilley, McGarry (FR)
1962/63 drew 1-1 McGarry
1961/62 drew 1-1 Wilson
1955/56 drew 1-1 Davies
1954/55 won 2-0 Keeble, Mitchell (FAC)
1954/55 drew 2-2 Curry, White
1953/54 lost 0-2
1951/52 won 6-2 Milburn 3, Mitchell 2, G.Robledo
1950/51 won 6-0 Milburn 3, Mitchell, G.Robledo, Taylor
1949/50 drew 0-0
1948/49 lost 2-4 Hair, Milburn
Full record v
Huddersfield Town:
| | | | | | | |
| --- | --- | --- | --- | --- | --- | --- |
| | P | W | D | L | F | A |
| SJP | 28 | 12 | 8 | 8 | 52 | 39 |
| LR | 28 | 11 | 6 | 11 | 39 | 40 |
| League | 56 | 23 | 14 | 19 | 91 | 79 |
There were competitive first team debuts for both Tamas Kadar and Haris Vučkić, who became the first Hungarian and Slovenian-born players to represent Newcastle United (former Magpies striker Imre Varadi was of Hungarian parentage but born in London).

Goalkeeper Tim Krul meanwhile made his third first team outing for the club - all of which have come in different competitions (UEFA Cup, Championship and now League Cup). This was his first senior game at SJP, although he has played in reserve and FA Youth Cup games here).

Kevin Nolan scored his second goal for the club after breaking his duck on Saturday at Palace, Geremi also hit his second, having scored at Spurs in March 2008 (and having one at West Ham the following month taken off him by the dubious goals committee). Danny Guthrie's was his third for United, following efforts at Portsmouth and Wigan in December 2008).

All three midfielders therefore got on the scoresheet @ SJP for the first time as Newcastle players (Geremi having netted an OG here when a Chelsea player in 2003).

This was Newcastle's 122nd match in the League Cup, which has been in existence since the 1960/61 season. We've won 54, drawn 18 & lost 50. Netting 191 goals, we've conceded 163 (not inc. shootouts).

As well as manager Lee Clark, other former Magpie players on the Terriers coaching staff included Terry McDermott, Paul Stephenson and Andy Cole. In addition, Derek Fazackerley and Steve Black have both previously been part of United's backroom staff.

Waffle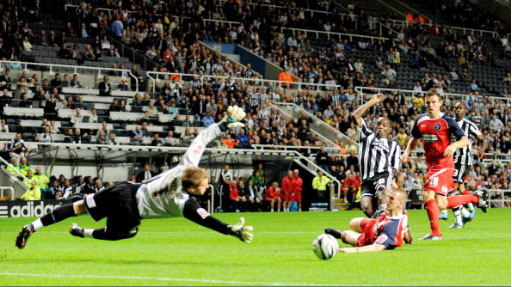 An entertaining night at SJP saw Newcastle retain their undefeated record this season and come from behind to claim a place in the Third Round of the Carling Cup.

Steven Taylor and Fabricio Coloccini were absent from the eighteen man party selected by Chris Hughton, along with injured duo Andy Carroll and Joey Barton. And a starting XI including debutants Nile Ranger and Tamas Kadar, plus rookies Tim Krul and Kazenga LuaLua were deep in trouble after a crazy 12 minute period either side of half time in which five goals were scored.

But salvation was at hand, with Shola Ameobi coming off the bench to provide support and an added forward threat to the isolated Ranger. Jonas Gutierrez meanwhile was brought on to provide some threat and service down the left flank that had been beyond a ragged LuaLua.

The introduction of that experience ultimately proved enough to dispose of Lee Clark's hyped-up side, but a central defensive combination of Tamas Kadar and recent loan arrival Danny Simpson soldiered on in front of Krul - and just about managed to keep the Terriers at bay.

Evidence that our squad lacks the necessary depth and experience was laid bare for all to see tonight - and that's before possible further sales and the inevitable rising toll of injuries and suspensions kick in. Even before the transfer window closes though, there may well be fitness issues for our interim management team to face, with Gutierrez and Ameobi both limping out of the action tonight with respective hamstring & ankle problems.

To the game then and the first 35 minutes gave little hint of what was to follow, although United had created the majority of chances - Danny Guthrie shooting wide, Geremi close with two headers from corners and Kevin Nolan seeing his chipped effort ruled out for an earlier offside.

Guthrie opened the scoring but three remarkable minutes later though, Newcastle were behind. Town counter -attacked from the restart and the in-form Robinson netted twice, his side then coming close to a third goal within as many minutes as United were left reeling.

United sacrificed Nicky Butt at half time for Ameobi, but he had barely taken a touch when the Terriers extended their lead, Jordon Rhodes leaving Krul and his defence red-faced as he shot home. Almost immediately though Newcastle got a foothold back in the tie thanks to Geremi. Parity was restored with 26 minutes remaining, when Ameobi pushed forward into the area before falling under challenge from Andy Butler; getting up to net his fifth goal of the season and first in this competition since 2004.

And the comeback was complete when Gutierrez won a free kick that was sent over by Guthrie for Ameobi to head across goal and Kevin Nolan to finish from close range. Some late pressure from Town saw a couple of corners forced during four minutes of added time but no further scoring - a mighty relief to a United side who by the end had seen Ameobi replaced by debutant teenager Haris Vuckic and Gutierrez limp off, reducing them to ten men.

Once the result and the place in the next round are digested though, the reality of our situation should be evident to anyone with half an idea of running a football club. Whether that applies to our current custodians is open to considerable question.


Biffa