In association with NUFC.com


Date: Saturday 15th August 2009, 5.20pm


Live on Sky.



Venue:

St.James' Park



Conditions: Fine





Newcastle United

Reading

3 - 0

Teams
38 mins Enrique delivered an excellent cross to the far post and although Ameobi's downward header wasn't convincing, it was firm and accurate enough to elude Federici's dive at the Leazes End. 1-0 Jose Enrique delivered an excellent cross to the far post and although Ameobi's downward header wasn't convincing, it was firm and accurate enough to elude Federici's dive at the Leazes End. 1-0
Half time: Newcastle 1 Reading 0

61 mins Some smart build-up play looked to have come to nothing as the ball was trundling out of play by the corner flag. Nolan showed some quick thinking and reached the ball, laying it back to Barton who laid the ball into Ryan Taylor's path and the cross was a beauty to Ameobi whose header found the far corner again, this time with some purpose. Magic. 2-0
Some smart build-up play looked to have come to nothing as the ball was trundling out of play by the corner flag. Nolan showed some quick thinking and reached the ball, laying it back to Barton who laid the ball into Ryan Taylor's path and the cross was a beauty to Ameobi whose header found the far corner again, this time with some purpose. Magic. 2-0

75 mins An innocuous cross to the back stick towards Steven Taylor found the hand of Shane Long who seemed to just mis-time his jump. The linesman flagged and ref Taylor pointed to the spot. Ameobi, who was about to be substituted, grabbed the ball and completed his hat-trick with a firm, low effort into the Strawberry corner of the Gallowgate net. 3-0
Full time: Newcastle 3 Reading 0
Interim United Manager Chris Hughton:

"What we wanted first and foremost was to win the game, and if we were able to do that by scoring goals and putting in a performance, that was certainly going to be a bonus.
"We had good periods of the game against a very, very good passing side, and the first two goals were of the highest quality.
"He (Shola) is a local lad and for any striker to come away with a match-ball is always a very, very proud moment for them. The fact that he is doing it here at St James' Park just adds to it for him.
"If there is a takeover which everyone is hoping for then a new manager will be put in place but until that happens I will do the job I am paid to do until I am told otherwise."

Hat trick hero Shola Ameobi:
"Considering the man in Sir Bobby Robson that we were remembering today - he was the man who brought me into the first team - and it's only fitting that I dedicate the hat-trick to him. He started off my career and for me, it is a fantastic way to remember him. It was a brilliant team performance."

Speaking to the official website, he added:

"I remember sitting in the East Stand paddock watching Faustino Asprilla doing that against Barcelona thinking, 'That could be me one day', hoping and praying. It's been a while in the making, but I'm delighted, not just for me, but for the team.

"Before the corner, I was supposed to come off and when we got the corner, I waved over to Chris to say, 'Hold on until after this corner'. I am obviously delighted I did. To be able to score at the Gallowgate End for my third goal, as a child growing up here and a supporter was a great feeling.

"I set myself targets every season and this season is no exception. It's a great opportunity for me, as well as the team, to get that winning mentality back, to win games and win games well like we did on Saturday.

It's a great opportunity for me to score a lot of goals. I've set myself a target, I know what I can do and hopefully I can accomplish that this season and help us get back into the Premier League."
Reading boss Brendan Rodgers:
"
It's one we won't cry about. It was a great experience today here for the young players.
It is a wonderful club with a big history and stature and it was good for my players to experience that, and we will be better.

"
We're obviously disappointed with the result. a lot of teams coming here will find it hard, but we felt positive beforehand and for a lot of the game we did very well. But the first goal gave them momentum and we're disappointed with the goals we conceded.
"We'll draw the positives, we are building a new group, we will get better every day but this wasn't our day. Newcastle were better, they scored when it mattered, one of the goals coming when we were dominating the game. We're disappointed with the cross and that Ameobi has got between our defenders.
"We came out second half, they scored again and the third was a killer. But I can't ask any more, the players gave everything but we conceded at the wrong times. We'll learn from it and move on."
Our first home league game outside the top flight since May 1993, when both David Kelly and Andy Cole hit hat tricks in a 7-1 victory over Leicester City.

The last team we beat @ SJP by three clear goals was Reading, 3-0 in April 2008 (away from home was a 3-0 win at Portsmouth in December 2008 when, as he was today, Sol Campbell was a spectator....)

Ameobi's treble was the first by a Newcastle player since Michael Owen grabbed three in a 4-2 success at West Ham in December 2005.

The last SJP home hat trick scorer was Alan Shearer versus Bayer Leverkusen in February 2003 and he was also the last player to nab one in the league, when he hit five against Sheffield Wednesday in September 1999.

Shola's previous hat-tricks:

Jul 2000 for Academy v Scarborough (h) (friendly)
Aug 2002 for Reserves v Workington (a) (friendly)
Nov 2005 for Reserves v Aston Villa (h) (league)

Royals in Toon:

2009/10 won 3-0
2007/08 won 3-0
2006/07 won 3-2
1989/90 won 4-1 (FAC)
1989/90 won 4-0 (LC)
1968/69 won 4-0 (FAC)
1899/00 won 2-1 (FAC)

All time record v Reading:

P
W
D
L
F
A
SJP
3
3
0
0
9
2
MS
2
0
0
2
1
3
League
5
3
0
2
10
5
SJP(FA)
3
3
0
0
10
2
EP
1
0
1
0
3
3
SJP(LC)
1
1
0
0
4
0
EP
1
0
0
1
1
3
Cup
6
4
1
1
18
8
Tot
11
7
1
3
28
13
New signing Danny Simpson wasn't involved and watched his new team mates in action from the Milburn Stand next to former Man United youth colleaue Danny Guthrie. Absent was Damien Duff - reportedly in London having a medical ahead of a move to Fulham.

Butt's absence saw Alan Smith continue as captain, the armband passing to Joey Barton following Smith's substitution, ending up being worn by Steven Taylor when Barton himself was replaced.

Waffle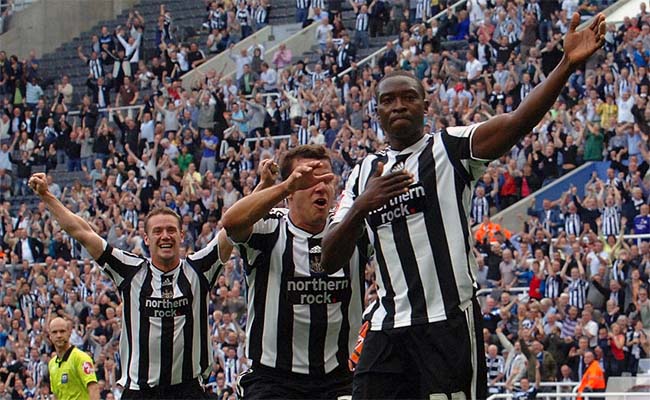 In a match which had echoes of our season opener almost exactly twenty years ago, Newcastle marked the return of second tier football to SJP with a resounding victory - and a hat trick from their centre forward.

Back in August 1989, it was Mick Quinn who rewarded those fans who had shrugged off boycotts and protests against the club owners to turn up and cheer on their side, smashing four in a 5-2 victory over Leeds United.

Fast forward to 2009 and Shola Ameobi did his bit to alleviate the depression that has settled over Tyneside with his first senior treble to dispose of The Royals.

With Mike Ashley and prospective purchaser Barry Moat in attendance, it took 36 minutes for United to divert fans from their anti-owner songs. At that point Jonas Gutierrez wriggled free in the box and tested visiting 'keeper Adam Federici, bringing the crowd to life.
The Argentinean had earlier missed a fantastic opportunity when bearing down on goal, once again showing an amazing reluctance to pull the trigger with Barton and Carroll also contributing to the farcical scenes.

Within a minute Jose Enrique strode forward to deliver a superb cross that Ameobi headed home at the Leazes End goal to give Newcastle a deserved half time lead, although his downward header seemed to take an age to find the corner of the net.
It was a relief to turn the possession into a goal and had referee Anthony Taylor been firmer with Smith's second rash tackle in a matter of minutes (his first earning a yellow card) then things could have been very different.
Indeed, the Royals should have scored a few minutes before the break when a cross from the left was only just out of reach of two orange jerseys that would surely have scored have scored if the ball hadn't evaded them.

The second half saw a distinct improvement in the pattern of play from a home side whose confidence was visibly lifted - and who started to play through an increasingly ragged Reading side, rather than rely on long ball tactics.

And having had a quiet game, Kevin Nolan's persistence in chasing down a loose ball on the byline led to Ryan Taylor swinging over a fine centre from the right for Ameobi to power home a superb headed effort from six yards out.

Within ten minutes Shola was only denied a hat trick of headers by an acrobatic stop from Federici, but Reading's Australian custodian could do nothing shortly afterwards.

The Gallowgate End appealed loudly for a handball by Shane Long as Steven Taylor lurked at the far side of the area and Ameobi lined up the subsequent penalty.

Six times in his previous 252 outings Shola had netted twice in a game without going one better, but he sent Federici the wrong way as he tucked his spot kick nicely into the bottom corner of the net to make it 3-0.

Further goals could have followed as Reading surrendered totally and with Steve Harmison among the 36,944 present, this could easily have been a cricket score.

Having been subbed to a standing ovation, Shola returned at the final whistle to take the applause of the crowd. The last player to exit the pitch though was Steven Taylor, whose facial expression resembled a "goodbye look" to us.

God alone only knows what's happening at this club off the field, but for ninety minutes at least there was some respite for the most patient supporters on the planet - who at last had something to smile about.

There may have been audible anti-Ashley and pro-Shearer chants, but the loudest cheers of the day were for goal celebrations and pro-NUFC songs. For that be grateful - for now, at least.


Biffa & Niall