In association
with NUFC.com

Date: Saturday 8th August 2009, 5.30pm
Live on BBC1

Venue: The Hawthorns

Conditions: a fine night

Admission: £23 (£40 in February 2009!)

Programme: £3

West Brom

Newcastle United

1 - 1

Teams
39mins Albion 'keeper Scott Carson launched the ball downfield for a quick counter and Koren took possession down the left flank before being clipped by Duff level with the United penalty area.

Greening swung over a right-footed inswinging free kick toward Olsson, who jumped in front of the advancing Harper. The United 'keeper made contact with the ball but succeeded in pushing it into the path of Moore on the edge of the six yard box.

His instant shot cannoned off the back of Olsson and dropped for Martis to steer home from close range, with Ameobi's attempted clearing lunge seeing him make contact with Harper's face rather than the ball. 0-1

Half time: Baggies 1 Toon 0

55mins Ryan Taylor's corner kick was headed away unchallenged by Wood then up in the air by Smith before Koren cleared his lines more effectively. Enrique took two touches to control the ball just over halfway, before making a short pass to the adjacent Smith.

He in turn pushed it forward to the unmarked Ameobi, who had scope to go forward and passing options ahead and to either side of him. He chose Nolan ahead of him on the edge of the box, who was able to half-turn and push the ball across the edge of the box to where Duff was galloping in.

The Irishman steadied himself before netting with a low right-footer from 8 yards out, in front of the Magpies contingent. A fine team goal. 1-1
Full time: Baggies 1 Toon 1
Chris Hughton said:

"The most important thing is to have got the game under our belts. We had a feelgood factor at the end of the game, particularly having gone behind. We always knew it was going to be very tough today – probably most people would have felt that West Brom would win – so for us to come away with a draw was a good result."
On Krul:

"He was certainly busier than what we would have liked him to be but I thought he was excellent. In particular I thought two saves that he made were absolutely top class. We've always been aware he's a talented young goalkeeper".

On the Barton tale:

"Joey was part of the squad that travelled with us. As always decisions had to be made, and the decision was to go with two big lads up front. Joey took it the same as everybody else would - he was disappointed, but that's the decision that was made."We are getting used to rumours at Newcastle United. It is something that we have to work around."

On Steven Taylor's newspaper criticism of the club:

"What we have had over a period of time is a lot of things said. We are all aware of where we are as a club, and its important we focus on matters on the pitch."

Tim Krul said:

"My main thought is about Steve and his head – hopefully it's not as bad as it looked. I'm hoping everything's all right. First of all I realised straight away it was his head, so I felt really bad in the first place.

"Then I looked at Paul Barron, who said to get warmed up just in case. Steve was really dizzy, and I went to him when the first half was finished and he said it wasn't very good at all.

"The first (save) was after one minute, I think. It's always good to get straight in. It was a great feeling, and got my confidence straight up. After that loads happened – it was crazy!

"It was fantastic – unbelievable again! I've been waiting for it. There was nothing better than looking at the 2,500 Geordies who travelled. Of course, your debut is the most important thing, but it was three years ago, and this is a fantastic result for the boys, and it gives us a good boost."

Speaking on Match of The Day before kickoff, Alan Shearer said:

"I could be the manager if someone comes in, buys the club and wants me as manager.
"If they want to get the club back up to the Premier League I'd dearly love the chance to finish what I started last season, which was very disappointing.
"As far as I'm aware the club's up for sale, they haven't got a buyer. My last conversation with Mike Ashley was on the Tuesday after we'd been relegated. I told him the players I wanted to keep, the players I thought had to be moved on, and the players I wanted to bring in.
"He said he wasn't going to put any more money into the club, and that is it as far as I'm aware.

"Newcastle's squad was thin last season, and when you consider the players who have gone out, that tells a story. They need players quickly and it could be a long, hard season if that doesn't happen.
"I've spoken to one or two consortiums but for confidentiality reasons they can't be named. I would love the chance to take the manager's position.
"What's most important is the football club. I loved being the manager despite the problems that were thrown at me and the threat of relegation - I loved the challenge and the situation.
"There are obvious concerns though and it doesn't look a healthy place at the moment."

Gary Lineker added:

"They look like a bunch of bananas - let's hope they don't play like them."

New Baggies boss Roberto Di Matteo said:

"We wanted to get off to a good start and get three points under our belts. Unfortunately they equalised and we didn't manage to score the second goal. Even before they equalised we had a great chance and I think we did enough to win the game.

"We had plenty of chances but as you saw the keeper made some very fine saves to keep them in the game. You hope that the substitute won't be good but he had a hell of an afternoon."

"If you get into those positions then you need to score - that's how you win games. But the goalkeeper did very well. I thought we were solid, we didn't concede too much to a very good Newcastle side.

"On the goal Koren was just half a yard late and Duff took it well with his experience. Apart from that I think they had a shot from outside the box and that was about it for efforts on target.

"Going forward we created enough chances but we need to be more clinical when we get them.

On the last minute offside decision that ruled out Albion's "winner"

"It was the right decision - we can't complain about it. Will both these teams be up there? I hope we will be for sure. If you look at Newcastle's team-sheet it is a strong team, with some good players.

Was it a bad time to play them? I looked at their team-sheet and knew it wouldn't be an easy game. There's a lot of quality there, Premier League quality and experience among many players.

"It was a tough afternoon and we did well."

Mags @ Baggies - last 10:

2009/10 Drew 1-1 Duff
2008/09 Won 3-2 Duff, Lovenkrands, S.Taylor
2005/06 Won 3-0 Owen 2, Shearer
2004/05 Drew 0-0
2002/03 Drew 2-2 Jenas, Viana
1990/01 Drew 1-1 Quinn
1989/90 Won 5-1 OG, Brazil, Brock, McGhee, O'Brien
1985/86 Drew 1-1 Wharton
1984/85 Lost 1-2 Baird
1977/78 Lost 0-2
Full record v West Brom
wich Albion:
| | | | | | | |
| --- | --- | --- | --- | --- | --- | --- |
| | P | W | D | L | F | A |
| SJP | 53 | 28 | 11 | 14 | 111 | 73 |
| H | 54 | 12 | 18 | 24 | 69 | 105 |
| League | 107 | 40 | 29 | 38 | 180 | 178 |
We're now unbeaten in our last six non-Premiership, league games, stretching back to April 1993.

No new signings this summer, but Tim Krul appeared at half time in place of Steve Harper for his Newcastle league debut - and is still to be beaten in a senior toon match, having kept a clean sheet in the UEFA Cup away at Palermo in November 2006.

His last competitive outing came in January 2009 while on loan at Carlisle United, in a 3-2 win over MK Dons - who were managed by Roberto Di Matteo - now at Albion.

Nile Ranger meanwhile made his senior competitive debut as a late substitute, managing to set up a shooting chance for Duff with his first meaningful touch.

Damien Duff's goal was our first in this league since Andy Cole completed his hat trick against Leicester City at SJP in a 7-1 victory back in May 1993. The last player to score in this league for us away from home was David Kelly at Grimsby Town in May 1993 - like Duff, a Republic of Ireland international.

That was Duff's sixth goal in a Newcastle shirt, coming on the same ground as his fifth - scored here back in February, at the other end of the Hawthorns.

In the absence of the injured Nicky Butt, Alan Smith captained the side.

Steve Harper was taken to hospital after the match and had a precautionary brain scan which thankfully showed nothing untoward.

Waffle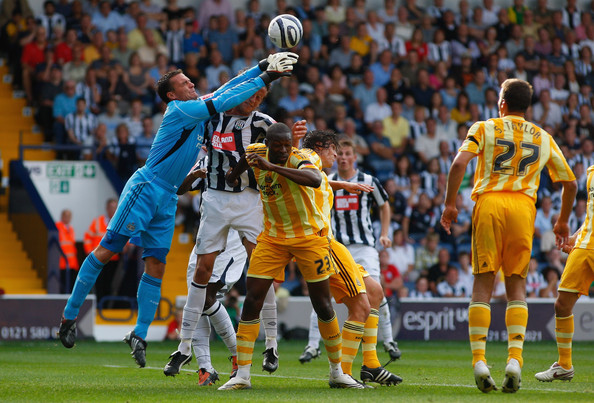 It may not have been the much-craved new beginning for Newcastle United, but those fans present departed in a rather better frame of mind than they had from nearby Villa Park 76 days previously.

And amongst the team there looked to be a discernible lifting of spirits - even if there had been a seemingly inevitable behind the scenes bust-up in the run-up to this season opener (Barton reputedly walking off the training field after a difference of opinion with our Argentinean pair).
Our return to the second tier after a sixteen year absence felt like a Premiership game in everything but name, with Duff reprising the goal he scored here earlier in 2009 and the BBC desperately trying to build up the occasion for their debut Match of the Day Championship broadcast.

However, it was a player who never got a Premier League look in that probably did most to earn a point with four or five fantastic stops. Tim Krul had waited since his 2006 debut for a second crack at the first team, keeping his gloves warm at Carlisle and Falkirk in the interim - but his appearance at half time to warm up confirmed that Steve Harper wouldn't be returning.

United's first choice custodian had taken a kick in the head as West Brom went ahead, Shola Ameobi's inadvertant whack leaving him with concussion. It's debatable whether the man from Easington would have stopped everything that his Dutch understudy did - leading to claims that Shola should receive the man of the match award for his part in our enforced lineup change...

With fellow reserve 'keeper Fraser Forster debuting on loan for Bristol Rovers down the M5, Krul grasped this opportunity with both hands - and also his legs and various other parts of his body - to keep Albion out.

While it was heartening to see Krul excel after patiently waiting for his go, his display though may potentially alert other clubs to what we already knew - he's a confident and competent 'keeper.

The worry is that any players who excel in our opening games will move to the head of the SJP exit queue, Sunday newspapers instantly seeing goalscorer Duff linked with a hasty Premiership return.

Conversely though, the current stalemate means that some other players have had a new lease of life at the club. Most of those players Alan Shearer pinpointed to build a side round may have gone, but for others who were on his discarded list, there's at least a stay of execution - notably Barton.

While this was hardly a classic performance against a side who didn't hit the ground running, there were at least a clutch of committed performances to hang on to - had we exhibited this level of effort on our last visit to nearby Villa, then we might not have ended up in this league....

Starting brightly, Newcastle conceded slightly against the run of play - the goal coming just at the time when they were well on top possession-wise. However a lack of cutting edge was already apparent from the strike duo, while the pedestrian midfield threatened little. Zero meaningful output and amateur dramatics from Jonas also failed to impress, although one elbow from Zuiverloon that felled him could have seen the Baggie man depart.

Whether the former Mallorca man can adjust to the rigours of this league and the refereeing levels is in severe doubt - and this game was officiated by a top-flight whistler. Quite what he'll make of Glanford Park on a Tuesday night with Andy Penn or some other greenhorn remains to be seen.

And save for his astute layoff for the goal, Kevin Nolan looked to be struggling with the pace of the game - although he did at least get forward to head over Joey Barton's free kick near the end.

Aside from that chance and Duff's conversion though, it was difficult to see where a goal would come from, with neither Ameobi or Carroll able to pose any forward threat and the supply of crosses also far from satisfactory - Duff may have scored, but would surely have been more productive down his natural left wing role.

The opportunity for debutant Nile Ranger is there, but there's a danger that too much expectation is heaped on the striker who only turned 18 at the end of last season.

Elsewhere on the bench, Xisco and LuaLua remained unused - with the former having briefly found his shooting boots at the back end of last season in the reserves. Kazenga meanwhile should not be confused with a goalscorer, managing just four from 40-odd second string outings - all but one against inferior sides in cup games.

With megabucks trio Owen, Martins and Viduka all taking their leave in the summer, there's certainly a vacancy for someone who knows where the goal is - but that's a situation we share with most teams in this league.

In the twelve months since we opened up last season with an identical result at Old Trafford it's almost impossible to catalogue the mishaps and misery that have befallen us - let alone make sense of it all. Starting and ending the season with the same manager would be nice, but yet again that's not going to happen this time round.

In a summer chock-full of bewilderment, lies and half-truths though, the relief on and off the field of getting back to some sort of reality was evident to all - with unwavering support from the away section rightly acknowledged by the players. Our yellow kit may be an atrocity, but at least there was some proof here today that those selected were playing for the badge that's displayed on it.

While the man at the top remains though, that's of only limited value. Mike Ashley is currently on holiday in Hawaii. We meanwhile continue to be part of the footballing equivalent of Pearl Harbour.


Biffa