Date: Sunday 2nd August 2009, 3pm

Venue:

Tannadice Park



Conditions: Sunny intervals

Admission: £12

Programme: £2.50






Dundee United

Newcastle United

1 - 1

Teams
Half time: United 0 United 0

60mins Carroll shot at the West end of the ground 1-0

84mins Goodwillie penalty in front of the Eddie Thompson (East) stand 1-1
Full time: United 1 United 1
Chris Hughton said:

"The game was ideal preparation as far as I was concerned. They finished in a good position in their own league last year, so we knew we would get a good level of competition. Of course there is also the added factor of England v Scotland, and I was glad that was there. It was the perfect type of game in pre-season for us and I was pleased with the outcome.

"Seb and Habib were always going to miss this one. Seb's suspended for West Brom, and Habib has a hip problem, but we've lost Oba, who's gone to Wolfsburg. In all honesty, my thoughts were all on the game, and the first I knew of the (alleged £10m Spurs) bid for Seb was when I saw it at the team hotel on TV.

"It was news to me then, and I'm not expected to talk to anybody from the club until later today. I will talk to Derek Llambias, I don't know any of the facts. Oba's gone, and it's a shame to lose a talented player. He offered us pace and directness up front, and it's always a blow to lose what you regard as a better player.

"I do not know whether I will lose any more players before West Brom - I'm working on a day-to-day basis, and I really don't know if more will go. Oba's gone, and, at this moment, everybody else is still here and fit to play. Whether anybody else is going, I really don't know.

"Tamas (Kadar) was a big positive – he did very well in the type of game we played. I think sometimes it can be the making of young players to throw them in at the deep end, and I wouldn't hesitate to throw him in at the deep end against West Brom."

On Duff's involuntary replacement:

"It was just heat of the moment really and not something we are going to make a big deal of. All we are doing is focusing on West Brom and that's at the forefront of our minds.

"We know it could be any day. We're hoping, of course, the sooner the better - then everybody can get on with their roles and know where they stand. But until we're told otherwise, all we can do is do the job we're doing at the moment and prepare the team for what's going to be a very tough campaign.
"I've been asked to perform a role and the general consensus is that once a takeover is in place, a new manager will come in. But until that does happen I've got to work with this group of lads - and at the moment they're a very spirited group of lads."

On the mood following Sir Bobby Robson's death:

"Everybody at the club knew what Sir Bobby meant to the club. I had the opportunity to meet him on numerous occasions and it has been an emotional week. But I think he would have enjoyed the game today and the passion shown.''
"It has brought us together in some ways. Players have bonded even more and it has been an emotional few days."
Terrors manager Craig Levein commented:

"I felt we had a great pre-season last year and then we were bottom of the league after five games so I'm not the best judge. I though it was a decent enough game, a worthwhile exercise. The result wasn't important but we would have hated to lose the game and I thought we were more than a match for them over 90 minutes.
"We are looking OK fitness wise. The quality of our passing has been significant and we've worked really hard in training. We look as if we are just about ready to start the season.
"I did play 4-4-2 all day but that's now striker No.6 on the treatment table.
"I didn't have any other strikers apart from Johnny Russell, who is just a kid, and I didn't want to play him against Newcastle. I was really pleased with Danny Cadamarteri and David Goodwillie in the first half. Danny is strong and will do a good job for us. He got a kick on the calf and couldn't quite shake it off. I didn't want it to develop into a strain."

Missing from the Magpies lineup were: Habib Beye (injured), Nicky Butt (injured), Danny Guthrie (injured), Fabricio Coloccini (tbc), Shola Ameobi (tbc), Xisco (tbc), Sebastien Bassong (tbc), Fraser Forster (loaned to Bristol Rovers). Obafemi Martins completed his move to German side Wolfsburg some 48 hours previously.

Former Newcastle defender Jeff Clarke was spotted on the home bench - a long-standing member of the backroom staff at Tannadice.


Previous Tangerine Toon Tannadice tussles:

1959/60 won 9-2 Friendly
1969/70 won 2-1 Fairs Cup
1970/71 won 2-1 Friendly
1973/74 lost 0-2 Texaco Cup
1999/00 lost 1-3 Friendly
2008/09 drew 1-1 Friendly

Waffle

Newcastle's final pre-season warm up took them to Scotland on Sunday afternoon, as they supplied the opposition for Dundee United's centenary celebrations. Inevitably the death of Sir Bobby Robson overshadowed the event, with a pre-match ovation from both sets of supporters and repeated renditions of "....Robson wonderland" from the sizeable travelling contingent.

Played in sunny conditions, the first half was almost completely forgettable, with Newcastle taking 40 minutes to fashion a chance - when Andy Carroll tested 'keeper Stevie Banks with a header from Damien Duff's cross.

Within a minute Joey Barton stepped forward and tried his luck with a shot that Banks diverted for a corner, which was then promptly wasted in typical Newcastle style.

The second half showed some improvement in tempo and organisation - with the visitors belatedly seeming to clear up evident confusion over what system they were playing and who had responsibility for marking who etc.

An opening goal came on the hour, as Duff's cross from the right found Carroll at the far post and he challenged the 'keeper, reacting first to take possession when the ball dropped loose, before swiping it into the unguarded net. Within five minutes the home side were handed a great opportunity to level the game, when referee Chris Boyle penalised Kevin Nolan for a handball in the area.

Former Berwick Rangers midfielder Danny Swanson took the spot kick, but Steve Harper guessed right and blocked his effort, with the rebound passing wide of his goal.

The Magpies should have doubled their lead on 70 minutes when Barton broke clear and bore down on goal, but Banks defied him and watched Carroll fail to direct the rebound on target from a tight angle.

Urged on by their fans, the home side pressed on for a goal and were rewarded after another favourable decision from referee Boyle, who spotted Ryan Taylor's tug out by the byline on Craig Conway on 84 minutes. David Goodwillie was entrusted with spot kick duties this time and duly converted, sending Harper the wrong way.

A game which was becoming increasingly fractious then saw a flare-up on the halfway line which resulted in Damien Duff's apparent dismissal for an unseen offence. However it rapidly became clear that the referee had "suggested" that Duff be immediately substituted and Geremi appeared in his place for the closing seconds.

Kevin Nolan then almost supplied a late winner, only for Banks to make the save of the match to claw away a shot that was destined for the top corner of the net.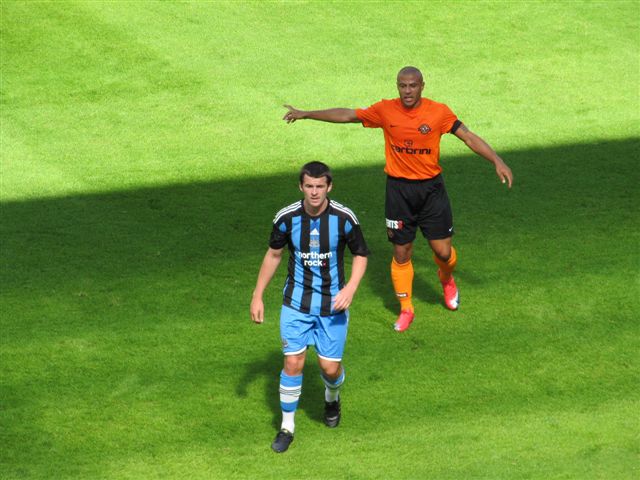 Newcastle handed a debut to their new third kit of black & blue stripes, modelled here by Joey Barton. It was later confirmed that due to a colour clash with the home side, the usual black shorts and blue/black socks for this kit weren't worn at Tannadice.

While an improvement on the uninspiring display in their last outing against Leeds, this performance however still gave little cause for optimism going into Saturday's opener.

Carroll may have battled hard, but the Tangerines defence became the latest side to work out and nullify the threat of Gutierrez - again overshadowed by Jose Enrique in terms of meaningful forward runs. If you're looking for a one word summary of this display, 'unconvincing' would seem to fit the bill nicely. However there's still Shola to add in to this lot - lucky us.

The absence of Sebastien Bassong and Fabricio Coloccini saw Chris Hughton pair Steven Taylor with Tamas Kadar in central defence. Ryan Taylor meanwhile appeared at right back, with Habib Beye back in Paris to see a specialist regarding a nagging hip problem.

Chris Hughton confirmed after the game that Bassong hadn't featured due to his being suspended for next Saturday's opening league game. Whether he's actually still a Newcastle player by then is a moot point.....


Biffa