Chris Hughton supplied further inoffensive, blatantly obvious guff to bored journos:

"

I think it's the norm that as you get to the end of pre-season, you start to formulate the team that is going to start the first game. The other important thing is keeping players on their toes, and you give people minutes on the pitch.

"Going into the last game against Dundee United, we need to get somewhere near the shape we start with at West Brom. It was the type of game that we needed. Leeds are a good side. Yes, they're one league below, but I think a lot of people expected them to come up last year.

"That was their strongest side, and they've played a lot of games together. In the game our attitude and application was spot on. Probably the only disappointment was that we didn't win the game, but we deserved to do it.

"One thing we wanted was a reaction from last week's game at Leyton Orient and we certainly got that. We gave the crowd enough for them to get behind us and I'm delighted they turned out in their numbers. It's something that we'll experience this season - teams coming here to St James' and raising their game."

'Sh*t Scum B*st*ard'

(apparently) Alan Smith added:

I'm not a silly lad – I understood when I left there that there would be repercussions. But I'm a Leeds fan myself. I'll never hide that I'm a Leeds United fan, and it was a good occasion for me.

"I relished every minute of it. A little bit of stick never hurt anyone, did it?

"I hope they get promoted, because they're a big football club like we are. They're two teams that really should be in better positions than we are.

"My main focus is Newcastle United, and getting us back to where we should be, which is in the Premiership. It was the first time I've ever played against them. Leeds were relegated when I left, so it was a nice occasion for me. They've got great support, as we have. Both clubs should be better off."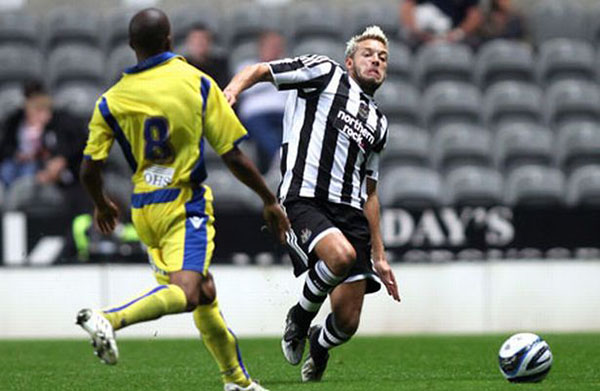 It wasn't meant to be like this.

A shade over ten weeks ago, the first appearance of our new white and black home shirt saw Newcastle tragically unable to score at SJP against a team clad in yellow. At the time, that defeat to Fulham seemed like the end of the world - and a week later that was confirmed by defeat at Villa.

This first return to Gallowgate was hoped to be the start of a new era - or at least confirmation that the old one was well on the way to being banished. Instead though, nothing positive has happened and the players who got us into this mess are still in post - save for a few who departed toll-free.

Tonight was the footballing equivalent of a revival tour by old chart acts, going through the motions in reduced circumstances. Desperately dreaming of a return to the limelight and packed arenas, while shambling around with rookie performers in front of loyal devotees. And if anyone doubts that, just take a look at Alan Smith's boy band barnet.

And a throwback crowd they may be in both mood and subject matter (with long memories to shout owt about Chelsea), but the assembled Yorkie throng injected life and noise into what otherwise was a mournfully quiet arena for much of the night. They also provided just about the only mention of the S word (Shearer), with their chant of "he took you down....."

Hit for six by League One Leyton Orient on Saturday, a goalless draw with another third tier side was a slight improvement, but a desperate lack of pace, creativity and movement was as depressing as it was expected.
Ryan Taylor returned to the team, playing in midfield while Steve Harper and Shola Ameobi were also back. Alan Smith captained the side and took plenty of stick from the sizeable away contingent throughout the evening.
And it was Taylor who looked a certain scorer in the 41st minute from an Andy Carroll knock-down, only for visiting 'keeper Higgs to blocked his shot from point blank range. At the other end, Harper barely had a shot to save in the first period, although Jermaine Beckford hit a drive narrowly over his crossbar midway through the first period.
The Magpies should have taken the lead on 48 minutes when Ameobi centred from the left and the unmarked Sebastien Bassong planted his header wide. And three minutes later another Shola cross from the same side found Ryan Taylor, whose first time shot from the edge of the box struck the Leeds crossbar.
Substitutions were made on the hour mark and fans were once again treated to seeing Kevin Nolan in an advanced role - later joined by Xisco. Fellow replacement Fabricio Coloccini had a glorious chance to break the deadlock in the 76th minute when Ryan Taylor's cross found him free but the defender's first time shot was over the bar.
A one-man pitch invasion from the Gallowgate end followed seconds later - with the speed and movement of the trespasser in evading a steward of a higher standard than much of what had been seen on the field earlier...

Most depressing of all was the lack of a cutting edge from messrs Carroll, Ameobi and Xisco - with what chances we did fashion dropping to midfielders/defenders. Three games against League One opponents have seen us manage just one goal from open play against what are quite literally third-rate defences & 'keepers.

That hardly augurs well for the immediate future.

PS: Much was expected from the visiting duo of Beckford and Delph - both linked with moves to us in the past - but neither player particularly caught the eye.