Date: Saturday 25th July 2009, 3.00pm

Venue: Brisbane Road
(Matchroom Stadium)

Conditions: Warm and sunny

Admission: £15 adults, £10 concessions

Programme: £2.50





Leyton Orient

Newcastle United

6 - 1

Teams
4mins Smith 0-1
23mins Thornton penalty 0-2
30mins Barton penalty 1-2
Half time: Orient 2 Toon 1

52mins McGleish shot 1-3
54mins Mkandawire shot 1-4
82mins Jarvis shot 1-5
87mins Baker shot 1-6
Full time: Orient 6 Toon 1
Chris Hughton commented:

"It was disappointing and embarrassing. It had been a very good pre-season until then. This is a major disappointment in the pre-season programme but itís not the be-all and end-all.

"It certainly wasnít a 6-1 performance but I donít want to take anything away from Leyton Orient. When you concede six goals theyíre not all going to be great goals but there were a couple of smashing goals.
ďWith the way the pre-season had been going we would have expected to win and we didnít.
ďWe start again on Monday and Iím absolutely sure the lads will put in a good training session and be in a good position to go into a tough game on Wednesday.
ďOver a pre-season you know there will be highs and lows. I just thought we didnít have as much in our legs as on other occasions. What you canít do is beat ourselves up over one result. Itís a major blip in whatís been a good pre-season so far.
ďI made a decision that because of the major disappointment of the result everything that was said should be through myself.
"It's a strong possibility I could lead Newcastle out for the first game. My role is increasing. It will continue to do so. It will build to that first game. My thinking has been to prepare the group of lads as well as I can until someone comes in and takes over the role.
"The fact that hasn't happened means it starts to change. I have enjoyed my time at the club. I feel the passion the fans have for the club and it's always a very proud moment for me to be in charge of this group of lads.
"I am certainly prepared to be in charge of this team for whatever period the club want me to be. But I am not in the position where I can fight to keep players here. We will be the scalp this season. The players are aware of that. Now they have to combat that and be good enough to come back again."

He later added:

"Pre-season or not, that wasn't acceptable and it was hard to take. It was an embarrassing performance and result and the lads were hurting after the game.

"We can only apologise to the fans who have backed us tremendously during pre-season. The situation off the field is well documented but the supporters have never turned on the players and have been magnificent.

"We now have to re-group on Monday and come out against Leeds United on Wednesday and put on a show."
Orient boss Geraint Williams said:

"A clean sheet would have been nice. But all joking aside it was one of those freak results.
"We put everything in when we went forward and our goalkeeper made a couple of good saves, so it could have been a different scoreline.
"But we'll take a 6-1 win - we showed good attacking intent, putting the ball away, and we defended well at times too.
"The first thing we said after the game was that we can't get carried away by this.
"We got beaten at Ebbsfleet on Tuesday and we weren't on the floor then because there were a lot of good things to come out of the performance.
"Things have gone our way today - and we won't be getting carried away - but it was nice to put that on for our fans."
"We have worked on our attacking play and I'm a manager who likes his teams to score goals.
"You can only do that from a solid base at the back - so you have to get both elements right.
"We want to go forward and score goals but we also have to defend as a team to keep clean sheets."
This was our heaviest loss in a friendly match since the 0-4 reverse at the hands of Manchester United at Wembley in August 1996 in the Charity Shield.

Newcastle have lost three post-war non-competitive games by a five goal margin, as follows:

May 1946 Norrkopping (a) 0-5
October 1954 Doncaster Rovers (a) 2-7
September 1966 Hearts (h) 2-7
Players not involved: Butt (hand injury), Bassong (fitness), Ryan Taylor (reason tbc), Harper (other keepers given a go), Ameobi (reason tbc but he was spotted out in Jesmond in the early hours of Saturday. Rested? Seems unlikely given that Nolan played up front).

Waffle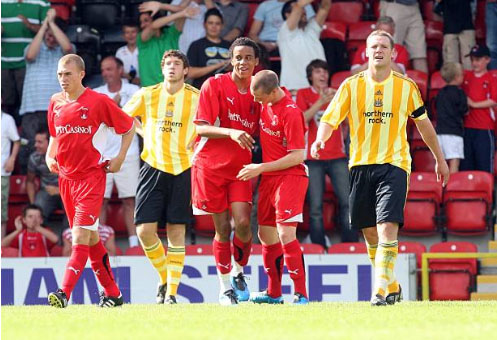 United's pre-season winning streak came to a juddering halt at the hands of the O's on Saturday, as a lethargic display was duly punished by the League One side.

Behind after just five minutes when Jimmy Smith headed home a free kick conceded by Joey Barton, United tried in vain to threaten the home side with a front trio of Martins on the left, Duff on the right and Nolan in the middle.

An alleged Beye handball saw a slightly dubious penalty awarded after 24 minutes, with former mackem Sean Thornton gleefully beating Krul from the spot.

Within six minutes Newcastle had similarly benefited from referee Singh's generosity, with Martins tumbling in the box and Barton converting the resultant penalty.

And before the break the Magpies could easily have been level, with home 'keeper Jamie Jones doing well to keep out efforts from Nolan, Taylor and Duff.

United regrouped at the interval, with Andy Carroll appearing to lead the attack alongside Xisco, Nolan retreating to a midfield role and Beye partnering Taylor in central defence. Geremi appeared and went to right back, with Ryan Taylor nowhere to be seen.

Within eight minutes though the home side had made it 3-1, after Scott McGleish was given the freedom of E10 to chest down a cross and beat Forster with a bicycle kick.
Minutes earlier the same player had bemused his colleagues with similar acrobatics on the halfway line, booting the ball out of play but United failed to heed the warning.

And just seconds later Orient scored again, lax defending from a corner allowing Tamika Mkandawire to sidefoot in at the far post.

The semblance of a fightback from the stunned Magpies saw a goalbound header from Carroll saved, while Xisco smacked the crossbar with an effort from 20 yards out.

With further substitutions made though, more shambolic defending allowed Ryan Jarvis to waltz through on goal before shooting home on 81 minutes,

Harry Baker completed the rout and fulfilled the "we want six" chants of the home support, sidefooting home with four minutes remaining.

Among those watching was Spurs coach Joe Jordan, who may have been present in the hope of seeing alleged Tottenham target Sebastien Bassong appear, running the rule over fellow defender Steven Taylor or maybe just fancying a good laugh at our expense.

Still it wasn't all bad news for Newcastle - MD Derek Llambias will have been back home in Essex for his tea....
Niall MacKenzie