Date: Tuesday 21st July 2009, 7.45pm

Venue: Galpharm Stadium
(formerly the McAlpine Stadium)

Conditions: Occasional heavy showers

Admission: £15 adults (Coventry visit here for
a friendly on Saturday, admission for that? £10)

Programme: £2.50 for a thick volume - half of which is printed upside down for said Cov game.

Huddersfield Town

Newcastle United

0 - 1

Teams
Half time: Town 0 Toon 0

69mins Nolan lob in front of the Toon fans in the Pink Link Stand (!) 1-0
Full time: Town 0 Toon 1
Chris Hughton (or Huyton, if you believe the programme editor) commented:

"As you get towards the last few games of pre-season, you have to start getting a possible starting line-up in mind. You have to do that.

"I have to cover all eventualities. I'm still under the opinion that at some stage, someone will come in and a new manager will take over. It will then be his responsibility. But until that happens, I have got to start planning for the start of the season.
"I will be investigating the (Beye) incident today. But sometimes it's nice to have that bit of edge on the pitch - at times it didn't look like much of a friendly.
"That's the nature of the game. You have got players who care out there and sometimes they over step the mark – but that's part and parcel of the game.

You'd rather have a game where the players care, and that is what happened with that incident. The referee didn't ask me to take Habib off – I was always going to do that.
Meanwhile, the club will begin life in the second tier without Butt, who is set for an operation on the hand that he broke at Neasham Road on Saturday.

On the Butt injury:
"It's a blow – a big blow. Not only he is a fabulous player, he doesn't miss many games and he's an excellent personality to have around the dressing room.
"Of course, he will still be around but he's the kind of player that you want out there on the pitch. We haven't really had any injuries in pre-season and it was fairly innocuous, so it is disappointing.
On new player recruitment:

"At the moment I'm not thinking like that. At this moment, this is the group of lads we've got. If you told whoever starts the season as manager that they had these lads, they'd be happy with this squad."
Town boss Lee Clark said:

"I thought we passed the ball around pretty well in the first half but, in the second, our retention was not what I wanted and we gave it away too easily.
"We had to put a lot of effort in against quality opposition who made us work hard, so our fitness levels will have improved a great deal, especially as we had to chase the ball for quite a lot of the second half.
"When we did get on the ball I thought we created two or three chances which we might have capitalised on and I've said to the lads that we just need to show a bit more belief in certain situations and we will be fine."

"It was just a competitive match. It wasn't played in a friendly manner whatsoever because both teams were very committed with players wanting to do their best for their clubs.
"That's what you want. I would rather have that than a game played at testimonial pace with no-one tackling each other. Lee (Novak) had blood on his face and a cut on his chin (after a late clash with Coloccini) but it's got to be a contact sport. It's just football."

Steve Harper captained United on his return to the club he previously played for on loan. The goalkeeper made 26 appearances for the Terriers back in the 1997/98 season.

As well as boss Lee Clark, fellow ex-Mags Terry McDermott, Derek Fazackerley and Paul Stevenson are all on the Town staff.

Still no sign of Bassong, Geremi or Martins, while Butt was missing with a hand injury.

Our first team debut at this venue - although we've previously played both reserve and Northern Intermediate (junior) fixtures in its previous incarnation as the McAlpine.

It's 25 years since we last faced the Terriers, when a 2-2 draw confirmed our return to the top flight. That match was played at their former Leeds Road ground, upon which the retail park adjoining the Galpharm Stadium now stands.

Waffle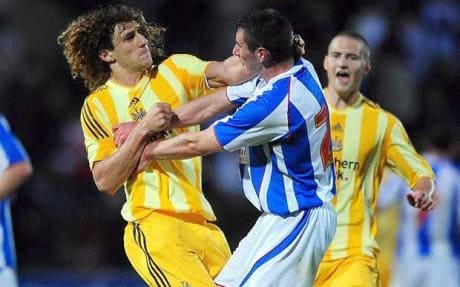 Newcastle made it three pre-season wins out of three at the Galpharm Stadium on Tuesday evening, although they were grateful to midfielder Kevin Nolan for the victory.

The midfielder was a half time substitute and got on the end of Shola Ameobi's flick on from Steve Harper's punt upfield to lob the Terriers 'keeper after 69 minutes.

A poor first 45 minutes played in a mixture of sunshine and showers had seen forgotten striker Xisco come closest to breaking the deadlock when his effort was blocked.

However the ease with which the League One defence coped with Carroll's aerial threat and the attempts of Gutierrez to make progress down the left weren't greatly encouraging - especially as the home side's central defenders weren't particularly intimidating.

The most notable action of the half happened after the half-time whistle, when Habib Beye tangled with a Town player as the teams left the pitch - seemingly a hangover from an earlier onfield clash.
Coaches, players and even the police intervened as the confrontation continued, but thankfully things had calmed down after the break - with Beye substituted at half time.

Ameobi appeared for the second half to good applause from the away section, putting a header wide within seconds of the restart. He then brought a reasonable stop from the home 'keeper, but contrived to miss the clearest chance of the night after Nolan teed him up ten yards out.

Other than a rare Fabricio Coloccini effort on goal though, there wasn't much for the travelling fans to cheer, save for some decent Duff touches that lacked an end product.

Unsurprisingly, the appearance of former Leeds player Alan Smith provoked the loudest reaction from home fans and he was jeered throughout, being spoken to by the ref after one full-frontal challenge.

Lee Clark's side could have equalised in the closing stages but failed to test Steve Harper with three good chances, former Gateshead striker and Toon fan Lee Novak livening things up when he appeared from the bench

Chris Hughton ended the game by blooding two teenagers Leeds-born defender James Tavernier (number 48) and Swedish front player Samuel Adjei (number 49).

United also used the game to give youngster Tamas Kadar a runout in central defence, following his appearance in a more familiar left back role at Darlington. Ryan Taylor also began at right back, switching sides for the final few minutes for Enrique, Tavernier coming on at right back.
Biffa