Date: Saturday 18th July 2009, 3.00pm

Venue:

Northern Echo, Darlington



Conditions: fine after recent heavy rain

Admission: £10 adults

Programme: £2.50 joint issue for pre-season games here v mackems, us, Hamilton Accies
and the smoggies (subsequently cancelled).





Darlington

Newcastle United

2 - 7

Teams
3mins Duff 1-0
7mins Windass pen 1-1
17mins Nolan 2-1
27mins Ameobi 3-1
36mins Ameobi 4-1
Half time: Darlington 1 Newcastle 4

48mins Gutierrez 5-1
60mins Steven Taylor header 6-1
65mins Windass 6-2
76mins Carroll 7-2
Full time: Darlington 2 Newcastle 7
Chris Hughton commented:

"It was a good workout for the players. Their escape from it all is where it should be, on the football pitch. All we can affect is what goes on on the training pitch and on the football pitch.
"If that's the squad we have come the first day of the season, we would be delighted. We have certainly got a good enough squad and a good enough team to acquit ourselves very well in this division, that I have got no doubts about."
On injury victim Nicky Butt:

"Nicky's just dislocated his thumb. As a precaution he went to hospital, but hopefully everything will be all right. We made a decision that if we lost a player towards the end, we'd use it as a fitness exercise to play 10 against 11.

"One thing we knew with the Darlington squad was that they wouldn't have the numbers to chop and change that we would. We knew they'd have a side similar to that in the first half.

"It was probably a bit earlier than we'd have liked, as Nicky went off straight after we made the last two substitutions, Xisco and Donaldson."

On the new yellow kit:

"I think it's quite nice. The bottom line is that we won in it, so the lads like it for that reason."

Steven Taylor added:

"The squad is really good. Everyone is sticking together, from the young lads to the older ones. Last season we knew there were a few people who didn't want to be here, but now we realise that we are in the Championship and the only way to get back up is by sticking together.

"The Dublin trip was the best thing that could have happened to us all. We had to spend every single day together. Three times a day we spent training, getting up at 7am. "Most players didn't fancy that, but after the first day everyone was pushing each other, it was good to see.

"There was never anyone hiding away, that to me highlights that none of us wanted to be seen as coming last." The fans don't understand. Because it seems the club is a shambles, they probably think that the players are fighting every day in training, but with us it is completely different.

"I just wish they could spend one day on the training ground to see just how we are going about this and getting along with each other. There's a much better team bond now. "The worst thing about it is that no matter what I say it seems that I'm just putting over a message the fans want to hear. We were accused of that after the Shamrock Rovers game, but it isn't.

"They don't realise what it has been like and I can assure you that Dublin was definitely the best thing that could have happened to Newcastle United. We have to stick together.

"We get sick of hearing differing things and reading different things in the papers. Every day is different. It's been said it's going to get taken over one week, then it's the week after and it still has not happened. Until we see it finalised, that's it. fitness is the main thing and the score doesn't really mean much. We have three weeks left and we have to make sure we are in the best possible condition, shape, because we know it will be a difficult start for us. We will get on with it.

"It's frustrating, but all we can do is get on with our jobs because if you think too much about things off the pitch, it will affect performances on it. You have to look after yourself and each other. It's a small squad now, but that's Newcastle United now.

"Colin and Chris have done a fantastic job. For them to get us in the great shape that we are, in the circumstances, is fantastic. They have not complained, they have just gone about it the right way."
Darlington boss Colin Todd said:

"People may just make a judgement by looking at the scoreline but that would be unfair. I'm pleased these two games are behind us now (Darlo lost 0-4 at home to the mackems earlier in the week). The players go out there with the best of intentions but they're playing against opposition that has played at the highest level so it was difficult.
"Supporters might be disappointed but there's no reason to be. It's difficult to judge us on these last two games, we'll have to show the supporters what we're about against Hamilton on Wednesday and I think they have already seen glimpses.
"We've had two games now that have taught us lessons, very difficult lessons. We'll have to make sure confidence hasn't been affected and I don't think it has. We had a chat in the changing rooms afterwards and there's a lot of players who did well.
"We had three trialists in defence in the first half and then went back to the back four that played against Sunderland. We've got trialists in but whether we've got the budget to do anything that is another matter."
Our first team debut at this venue, although United have previously played a reserve game at what was formerly known as the Reynolds Arena.

Not involved were Steve Harper, Geremi, Sebastien Bassong and Obafemi Martins.
This was United's highest score in a first team friendly since they won 7-1 at Irish side Bray Wanderers back in August 2005. From that side, only Steven Taylor and Shola Ameobi remain - with the latter also scoring twice back in 2005.


Waffle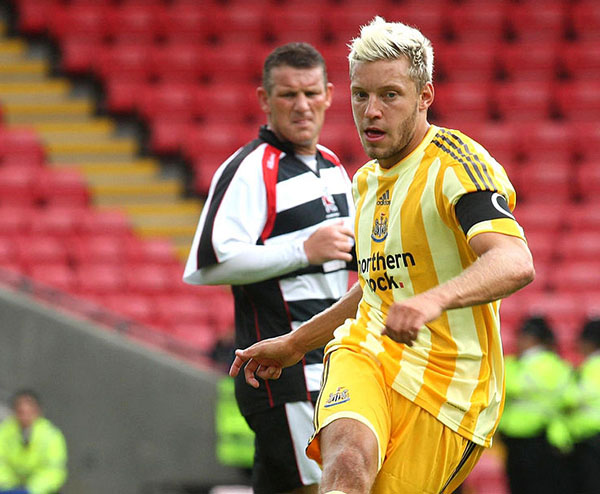 It wasn't quite a mag-nificent seven against a hastily assembled Quakers side composed of trialists and free transfers, but United brought some cheer to their fans at Darlington's Northern Echo Arena on Saturday lunchtime.
Clad in the new yellow away kit, goals from Damien Duff, Kevin Nolan, Shola Ameobi (2), Jonas Gutierrez, Steven Taylor and Andy Carroll did the damage, veteran Dean Windass grabbing two for Colin Todd's side.
Duff netted with an early strike after Joey Barton's pass from the left was missed by a home defender, but Darlo soon equalised when Tamas Kadar gave away a penalty that Windass tucked away.
It was 2-1 to United in the 17th minute when Barton again provided the pass for Nolan to grab his first Magpie goal with a routine finish past Tom Woodhead from 12 yards.

Having missed one glorious chance earlier, Shola then grabbed his first and our third on 28 minutes with a toe poke after some neat control. He then wriggled past a defender before crashing home a spectacular effort nine minutes before half time.
More was to follow and only two minutes into the second half Gutierrez got his first Newcastle goal with a neat finish from a tight angle.

Darlo chose to swap their keepers on the hour, with Nick Liversedge taking his place between the posts as United prepared to take a corner - and his first touch was to pick Steven Taylor's header out of the net seconds later.
Our scoring was then completed when Carroll slammed home an Enrique cross with 14 minutes left, Windass having got his second minutes earlier.
United played the final 25 minutes of the game with ten men, Nicky Butt having left the pitch with a dislocated thumb after all of our substitutes had been used.

Alan Smith captained the side, while coach Chris Hughton paired Steven Taylor and Habib Beye in central defence and fielded Ryan Taylor at right back.

The home side included former United reserve defender Paul Arnison in their starting XI, while on-trial ex Magpie Mark Doninger was an unused substitute - which kinda defeats the object of taking him on trial..........
Biffa