In association with NUFC.com


Date: Wednesday 14th January 2009, 7.45pm

Venue:

St.James' Park



Conditions: despondent





Newcastle United

Hull City

0 - 1

Teams
Half time: Newcastle 0 Hull City 0

81 mins A rare City attack saw Gutierrez fail to block a run in from the right by substitute Mendy, whose deflected effort landed nicely for Garcia to roll the ball across the box for Cousin to beat Shay Given at the Gallowgate End. 0-1

Full time: Newcastle 0 Hull City 1
"We're out of it, so we have to concentrate on staying in the Premier League. That's sad, because we've missed a great opportunity of beating Millwall and going even further.

"Now I have to pick up the players. We've got to just concentrate on creating chances like that and converting them.

"We're not getting any luck. Over the two games we've missed a minimum of eight chances. We should have had three in the first game, and for them to get the goal so late, when they were dead and buried, is hard to take.

"We had five clear-cut chances, and Hull had one smash-and-grab and scored from it.

"I think we dominated the game for long periods of time – we just needed one chance to fall our way. "Xisco missed a great chance and Michael Owen, on any other day, could have had a hat-trick. Butty scratched the bar too, we were unlucky.

"You can't fault the players – it's just unfortunate. I should be sitting here talking about a minimum of a 4-1 victory, but it's not to be, and that's on the down side of things.

"On the up side of things, if we continue it, then we'll win more matches than we lose. I'm disappointed because they aren't a good side.


About his clash with Phil Brown and subsequent touchline dismissal:

"I don't know why I was sent off, we just had words. He had plenty to say and I answered.

"He didn't actually say anything to me. He was having a rant at Chris. He wasn't saying too many pleasant things to him. I just said to him, 'Enough'* and sent Chris to sit down. I don't know if my reputation precedes me."

"I don't really know what it was. The referee came over. We didn't lock horns as people are saying. I've seen the tape and we were that much away (indicates a small distance).

"Yes, we had plenty to say to each other. He was starting on Chris Hughton, not me.

"What he did that got up my nose was when one of my players got a yellow card he had the cheek to start clapping and ranting like, 'Send him off, referee, do this, do that'. That stuff is just not acceptable

"I objected to what he had to say about our players. I don't know a manager who applauds the referee for giving players yellow cards. He must be the only one.

"But I didn't see any reason for him to get involved in that way and when Chris told him he was out of order, he decided to abuse him. I wasn't going to accept that.

"It's part and parcel of how I feel about it. If you've something to say you have to say it. I didn't attack him in any way or anything like that. We just had lots of verbals. He had plenty to say to young Chris that wasn't very nice so that's when I interrupted and gave him a few words and gave him a few challenges. That was it really.

"You never win saying anything about referees. I don't know how the referee got involved in it. There must be some sort of rule that says you can't have a ruck with an opposing manager. That's all I saw it as - a ruck with an opposing manager which he started. I finished it but he instigated it."

* we're no lipreaders, but our interpretation of Joe's "enough" comment was along the lines of:

"you f***ing c**t. Go on f**k off you f***ing w**ker"


Phil Brown commented:

"I didn't see any argument there and I don't know why they have got involved in an argument.

"At first I get Chris Hughton coming at me and then the next thing I know Joe Kinnear is in my face so we are then sent to the stand, end of story.

"It's quite simple – the centre-half's gone through the back of the striker, and he's let the first one go, and rightly so. He was always going to get booked for the next challenge, and I don't know what (JFK) was complaining about.

"I'm passionate about Hull City, about winning and about performances, and sometimes that spills over. I've got myself to blame for that. Phil Dowd was right."

He later added:

"I wouldn't fancy meeting Joe forehead to forehead.

I am a little concerned that the Football Association might overreact to the so-called touchline bust-up between Joe Kinnear, the Newcastle manager, and myself at St James' Park.

"So I am hoping that the powers-that-be will show common sense when they deliberate on our FA cup tie and that there are no books being thrown at anything.

"There has already been plenty of talk about touchline bans, but it was only a case of the proverbial handbags at 10 paces after a dispute was all blown out of proportion - not by the referee, Phil Dowd, but probably by ourselves.

"What The FA do is their business, but I'd like to think that a line was drawn underneath the episode by the referee, who dealt with the matter."



It proved to be unlucky 13 for Newcastle, as their run of scoring in every home game this season came to an end after a run of twelve successive fixtures.

Tigers in Toon:

2008/09: lost 0-1 (FA)
2008/09: lost 1-2 Xisco
1997/98: won 2-0 Rush, Hamilton (LC)
1990/91: lost 1-2 Clark
1989/90: won 2-0 McGhee 2
1935/36: won 4-1 Pearson, Connelly 2, Weaver
1934/35: won 6-2 Smith 2, Pearson 2, Gallantree, Wilson
1929/30: drew 1-1 Lang (FAC)
1912/13: won 3-0 Hibbert, Rutherford, Hudspeth (FAC)
1910/11: won 3-2 Shepherd 2, Veitch (FAC)

Total record against Hull City

:

P
W
D
L
F
A
SJP
5
3
0
2
14
7
BP/KC
4
2
1
1
8
6
League
9
5
1
3
22
13
SJP(FA)
4
2
1
1
7
4
BP/KC

5

2

2

1

6

2

SJP(LC)
1
1
0
0
2
0

Cup
10
5
3
2
15
6
Tot
19
10
4
5
37
19
Newcastle's Third Round Replay Record - last 10:

2008/09: Hull City (h) lost 0-1
2007/08: Stoke City (h) won 4-1 Owen, Cacapa, Milner, Duff
2006/07: Birmingham City (h) lost 1-5 Milner
2000/01: Aston Villa (a) lost 0-1
1999/00: Spurs (h) won 6-1 Speed, Dabizas, Ferguson, Dyer, Shearer (2)
1996/97: Charlton (h) won 2-1 Clark, Shearer
1995/96 Chelsea (h) drew 2-2 Albert, Beardsley (lost on pens)
1994/95: Blackburn (a) won 2-1 Hottiger, Clark
1991/92: Bournemouth (h) drew 2-2 Hunt (2) (lost on pens)
1988/89: Watford (a) lost 0-1 (third replay)

Waffle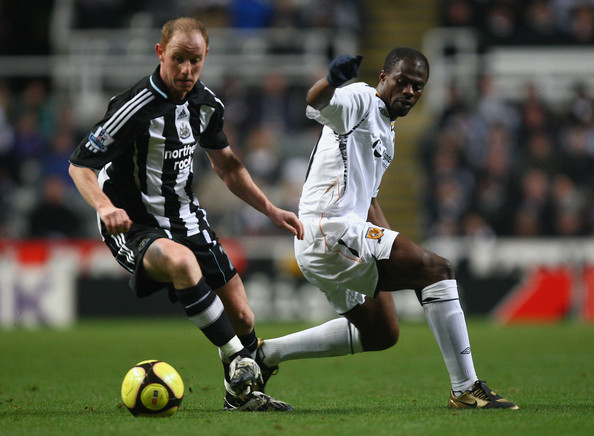 And so the Tigers came to the circus and now go forward to meet the Lions, ending our interest in the FA Cup ended for yet another year and ensured that Bobby Moncur will celebrate the 40th anniversary of picking up the Fairs Cup later in 2009 as the last club captain to lift silverware.

City's second SJP success of the season sets them up with a home tie with Millwall, while Newcastle fans and players can now contemplate one less fixture and an empty weekend in January.

Fielding their only ten fully fit senior outfield players against weakened opponents, JFK's side gave a timely illustration of the message he tried to convey to the owner 24 hours before....we're sinking.

There were strong echoes in the current manager's comments with those previously made here by Glenn Roeder, Sam Allardyce (present here tonight) and Kevin Keegan about the size and quality of the players available for him to select from currently.

And when one considers that no fewer than three of the starting XI - Given, Owen and N'Zogbia - are odds-on to depart in the near future, things look even bleaker, as we extended our winless run to five games.

The Magpies were dominant in the opening 45 minutes, with Michael Owen and the recalled Xisco both blasting shots high over the City goal when well-placed. And the closest either side came to a goal was a header from Nicky Butt which cannoned off the crossbar and was cleared to safety.

Soon afterwards the fourth official intervened on the touchline to separate Joe Kinnear from Phil Brown, with referee Phil Dowd promptly banishing both managers to the stands, heaping further disciplinary woe on JFK.

Owen's run and shot in the opening moments of the second half proved to be a high point, as the home side faded badly and penalties began to look inevitable.

Having been reported as absentees through injury, both Andy Carroll and Steven Taylor were named on the bench and the former was brought on for the plainly knackered Xisco to try and force a way through the City defence.

Shorn of his hair braids though, Carroll failed to repeat his scoring heroics of last Saturday, with fellow replacement Kazenga LuaLua similarly unable to play a decisive role.

Following City's goal, United pushed forward in desparation, but despite five added minutes of injury time and the presence of Given upfield for a series of corners and free kicks, no equaliser came.

Owen again missed our best chance when he headed over, while Carroll was unable to get sufficient contact on a loose ball to bundle it home. Bassong meanwhile clashed on the field with on-loan mackem McShane - a spat which continued later in a corridor of the Milburn Stand. Like his team though, the French defender failed to get a shot on target that caused the Tigers any problems.

Putting any ribbon-related sentiment aside, a defeat in 90 minutes was probably the best result possible for us in our current dishevelled state - apart from having lost at the KC Stadium last time.

While a few quid would have been banked from a home tie, our progress at the first time of asking would by no means have been certain, with any replay sandwiched between the home derby and a trip to West Brom.

Similarly, playing a Fifth Round tie immediately before a run of three more pivotal league games in just eleven days would be a challenge - with the potential of being drawn against one of the top five a further unwanted burden.

In essence, we're relieved that our only remaining chance of any glory this season has ended, enabling us to now concentrate on the task of retaining our top-flight place. What a state to be in, as we approach the first anniversary of Kevin Keegan's re-appointment at SJP.
Progress, my arse.

Biffa