Date: Sunday 14th January 2007, 4pm
Live on Sky

Venue:

White Hart Lane



Conditions: eventful

Admission: £44 upstairs (last season £43)
Programme: £3 (last season £3)





Spurs

Newcastle United

2 - 3

Teams
15mins Malbranque pushed down the Spurs left but Defoe was beyond the last defender as he sidefooted the ball past Shay Given. 0-1

16mins James Milner's free-kick found Paul Huntington at the far post and when his header hit Sibierski, the defender hammered a goalbound shot low and hard and it went in via 'keeper Paul Robinson's boot. No doubt about the scorer though, who indulged in a spot of sarcastic ear tugging as we trotted past the Spurs fans. 1-1
Half time: Spurs 1 Newcastle 1
54mins Spurs regained the lead when Solano superbly blocked a Tainio shot, only for Berbatov to net the rebound despite scuffing his effort into the turf. 1-2
72mins Another contender for goal of the season, as Dyer's pass to Obafemi Martins saw the striker advance to the left edge of the area before letting loose with an unbelievable strike into the top corner - timed by Sky at 84mph. TV replays emphasized the sheer power of the effort, with both feet off the ground at the point of impact.

In our twisted world the goal bore a strong similarity to one Andy Cole scored against Chelsea at the Leazes end in 1994. 2-2
73mins Scarcely had the away corner celebrations died down than the daftness recommenced as some neat play culminated in a perfectly-weighted pass from Martins and an equally precise low finish from Nicky Butt, stretching to slide the ball beyond Robinson from the right side of the six yard box.

The scorer produced an original celebration, running a few paces backwards in slow motion before being engulfed in a pile-on of team mates. 3-2
Full time: Spurs 2 Newcastle 3
Glenn Roeder said:

"The beauty of this game is that everyone can express an opinion- and in my opinion Shay is undoubtedly the best goalkeeper in the Premiership; he's right up there with Petr Cech."

On the half time incident:

"They (the Newcastle players) knew what happened. They'd already made their mind up that what had happened would pull them together tighter and that we'd come out with the result.
"I had to make a few points tactically but, in terms of sending them out motivated, that was done for us by what happened at half-time.
"The temperature was raised, that's all I'd say. Our players don't want to make anything of it but certainly the incident galvanised the players to go out and play and fight like they did in the second half.
"Only someone of Nicky Butt's character would have started the game.
"The boys on the bench were not well known, apart from Steve Harper who was basically child-minding for an hour and a half.
"The manner in which we did it, considering the adversity we've had, was thoroughly deserved and everyone played their part."
Goalscorer Paul Huntington commented:

"Centre-back is an important position and I know I wasn't good enough at Birmingham.

"The manager told me in the changing room that I responded well which is what I was looking to do.

"It was a relief for me because I have been waiting a while. To pull the shirt on is a dream, to be honest, but to score and help the team win is special.

"It wasn't just the goal - it was the team's all-round play on the day.

"It was a great feeling and good to get it out of the way. My colleague David Edgar got his two weeks ago against Manchester United and now I am pleased to join him. The ball just broke me to and I hit it as hard as I could.

"I am getting used to first-team life, I just want to stay in the team. Celestine Babayaro is out so I have a chance at left-back.

"Tottenham isn't an easy place to come and win and now we have done the double over them, which is great. To come away with three points is a great feeling."

Martin Jol grunted:

"We didn't play badly and their staff told us they couldn't believe their luck that they had won.
"You have to give them credit because, if you score three goals at White Hart Lane, normally you win games. In the first 20 minutes, we outplayed them and we had chances.
"All credit to them, but it wasn't deserved. I feel we possibly played out best game this year.
"I can't fault them. In the Keegan era, we would have won 6-3.
"We are not as strong as last year collectively, I can't recall conceding three goals.
"We had at least 20 attempts on goal, so it was about Shay Given as well. It was a combination of things - being unlucky and Shay Given."

Magpies @ Cockerels - Premiership years

2006/07: Won 3-2
2005/06: Lost 0-2
2004/05 Lost 0-1
2003/04: Lost 0-1
2002/03: Won 1-0 Jenas
2001/02: Won 3-1 Acuna, Shearer, Bellamy
2000/01: Lost 2-4 Solano, Dyer
1999/00: Lost 1-3 Solano
1998/99: Lost 0-2
1997/98: Lost 0-2
1996/97: Won 2-1 Ferdinand 2
1995/96: Drew 1-1 Ginola
1994/95: Lost 2-4 Fox 2
1993/94: Won 2-1 Beardsley 2

We've now won our last three games against Spurs, scoring three goals in the process each time - 3-1 at SJP in December 2006 and the same score on Tyneside last April.

Paul Huntington netted his first senior goal for the club, becoming the third different defender to score in successive games in 2007, after Edgar's effort against Man U and Taylor's toe-poke against Birmingham. Howay Rammy, we're waiting.........

Obafemi Martins struck his eighth Premiership goal of the season and counting his two in the Intertoto Cup has now reached double figures. Only two of those ten have coming in the opening 45 minutes of a game.

All five of our subs today were former (or current) Newcastle juniors: Harper, Edgar, O'Brien, Carroll, Troisi.

Second competitive outing for the second kit and our first victory after the Bolton reverse.

SkySports man of the match Obafemi Martins gave his bottle of bubbly on camera to the player who presented him with it - Nicky Butt - claiming he was a more worthy recipient.

We completed our first double of the season and registered our third away success of the season and second in London (West Ham & Blackburn being the other successes).

Of our 263 Premiership away games we've now won 72, drawn 78 and lost 113. Of those 72, 21 have come in London.

Away successes in the Premiership:

Aston Villa 6
Leeds 6
M'boro 6
Spurs 5
West Ham 5
Everton 4
mackems 4
Arsenal 3
Coventry 3
Crystal Palace 3
Derby 3
Sheff Wed 3
Blackburn 2
Bolton 2
Fulham 2
Ipswich 2
Leicester 2
QPR 2
Birmingham 1
Charlton 1
Liverpool 1
Man City 1
Norwich 1
Nottingham F 1
Oldham 1
Southampton 1
West Brom 1

With seven away games remaining, only Craven Cottage and The Valley have seen us collect a maximum return in the Premiership. Wins at the other five (JJB, Bramall Lane, Fratton Park, Madejski and Vicarage Road) would see them added to the above list.

Waffle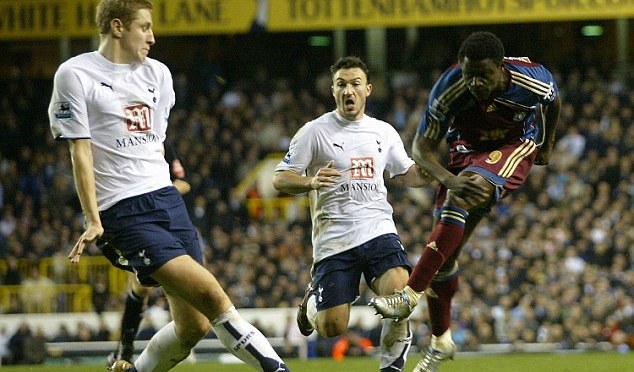 Having won the corresponding home game less than a month ago against a distinctly off-colour Spurs side, we weren't alone in having a sneaking feeling that the boot would be firmly on the other foot for this return match.

And the early exchanges certainly seemed to back up this theory, with the home side rampaging through our colander-like defence and a only thin green line between the posts standing between us and a hammering.

But Hurricane Lillywhite blew itself out rather rapidly after Defoe's dubious opener and Huntington's timely leveller from our first attack set the stage for a contest which ultimately proved to be eventful and entertaining in equal measure.

And at the end of it was a result to savour and a possibly pivotal acquisition of three points on a weekend that saw profligacy from many sides in the bottom half, meaning a four-place leap to the dizzy heights of eleventh.
A season that has seen victory at West Ham and a wholly unexpected point to mark our Emirates bow now has a further London highlight in it, with hopefully more in store in our trips to Fulham and Woolwich. We'll just forget about Stamford Bridge eh?

It's all a far cry from the 29 game winless run we endured between 1997 and 2001 that prompted countless "capital punishment" headlines.

The last time that we'd come back from being a goal down was at the mackems last April and this turnaround wasn't far behind that in the satisfaction stakes.

The pleasure derived from beating this lot home or away never recedes. Whether it's the sycophancy of the press, the inflated sense of "heritage" that their fans carry with them or just Micky Hazard's perm - we've simply never liked the buggers.

Coming from behind here therefore was especially entertaining, if only to see the crestfallen expressions of those seated adjacent to the away sections - and the suited and booted toon -supporting blokes in one of the executive boxes returning the stick they'd received earlier in the game.

However in the post-match glow of victory it was easy to forget that for much of this game we were ordinary in the extreme; Sibierski adding little and the chief contribution of Martins being two daft attempts to win free kicks when he could and should have stayed on his feet.

And in midfield Butt did look like a man who hadn't trained that week, Milner couldn't keep the ball and Pattison seemed way out of his depth - although his facial growth and cropped ginger barnet does rather put one in mind of Taffy windbag John Hartson. His heading isn't as good though.

But lurking behind those disappointments was genuine character and once goaded, some reserves of resolve and determination - one could almost believe we have some team spirit.

That was epitomised by Butt's refusal to be sidelined by an illness that saw him spend five days confined to bed and lose nine pounds in weight, yet complete ninety minutes despite not being on song for much of it - and somehow find the energy to crucially get into the opponent's box.

While other players made themselves unavailable in a lightning attack of Bosphorous flu, Butt stood up (gingerly) and was counted. His stock continues to rise in 2007.

While Roeder rightly pinpointed Given's saves and the half time Butt incident as the cornerstones of our success, our own remixed interpretation incorporates elements of both.

Having previously seen Berbatov escape unpunished for aiming kicks at him as he cleared the ball , Given hared off his line through a crowd of retreating players and from our vantage point "accidentally" collided with Chimbonda before tumbling over - stirring things up nicely as it transpired.

That then saw the first flickers of a face-off between the sides, Chimbonda interfering as Given confronted the referee, Butt and the Frenchman then tangling after the latter swiped a gloved hand across the Newcastle midfielder's face.

Butt then shoved his opponent before Milner intervened, as the Spurs man did a runner to the edge of the tunnel and Bennett yellow-carded our man.

TV viewers then saw Butt apparently lunge at Milner in the tunnel (although in reality one toon man was stopping the other from mixing it with an opponent) while it was soon confirmed that Chimbonda had been booked during the interval.

Within seconds of the restart the warring factions had tangled again, with the Spurs man winning a free kick amid Butt protests.

However we showed little initial improvement despite being apparently fired up by the earlier nonsense and it was to take a second Spurs goal to really kick-start us into action.

The home team were genuinely stunned by Martin's equaliser and in shock when Butt fired us ahead. By contrast, the away contingent were simultaneously euphoric and incredulous - but certainly not speechless.

Jol reacted by making three changes in 15 minutes, but that seemed to do as much to muddle his side as improve it, with defender Michael Dawson ending the game as a makeshift striker.

Defoe did hit the post late on, which seemed to convince most of those present in White Hart Lane that it just wasn't going to be the home side's day as we held out in classic backs to the wall style.

So, a genuinely uplifting scoreline and a game that may turn out to be the highpoint of the season. Sometimes things just work out, and all the crap that one has to endure to get here is worthwhile.

Let's hope the players got a similar buzz ahead of what is a sequence of eminently winnable games in league and cup - the Martins goal was certainly a well-timed confidence booster after his penalty miss and subsequent patchy showings since Goodison. Thankfully and unexpectedly the defenders (and Dyer) have taken some of the goalscoring burden off the number nine recently.

Whether this result provides sufficient diversion though from our failure to add to the squad remains to be seen though - while it's a great achievement to win here given the players available to Roeder, the result doesn't completely mask the shortcomings of the previous three away displays at Bolton, Everton and Birmingham.

What price no new arrivals and a place in the Fifth Round FA Cup draw in a fortnight's time?
Biffa

Reports