Date: Thursday 25th November 2004, 7.45pm(BST)
8.45pm (local) Live on ITV2

Venue: Stade Auguste Bonal, Sochaux.

Conditions: Freezing.

Programme: None

Sochaux

Newcastle United

0 - 4

Teams
29 mins A long punt forward appeared to be being dealt with by defender Paisley but Ameobi managed to get his head to the ball first and gained possession.

He tried to beat Paisley on the outside but when the tackle came, the ball bounced loose and back across the box for Lee Bowyer to run onto it and net with a low drive into the far corner. 1-0
Half time: Sochaux 0 Newcastle 1

46 mins Bernard made progress down the left and when he crossed from the byline, Paisley sliced an attempted clearance past his own keeper and across the six yard box. Ameobi was waiting at the far post to tuck the ball in from close range although the angle was narrow. 2-0
75 mins As Sochaux pressed forward the ball broke to Dyer and suddenly he had two or three options ahead of him. He chose correctly and slotted the ball through for Hughes to race clear of the defence, before drawing the 'keeper and squaring for the onside Craig Bellamy to side-foot home from 12 yards. 3-0
90 mins United were awarded a free-kick on the right a few yards outside of the penalty area. Perfect Laurent Robert territory and accordingly the Frenchman stepped up and curled an inch-perfect shot over the wall into the top right corner of Richert's goal for his fourth toon Euro strike. 4-0
Full time: Sochaux 0 Newcastle 4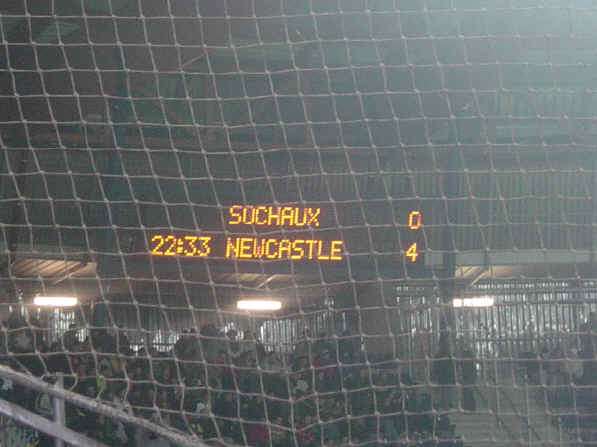 Graeme Souness said:
"It was a good performance, but we could have been more clinical in front of goal. Towards the end of the match, when we were leading by three or four goals, we missed some very good chances.
"Even at 4-0 we could have scored another two and as a manager you are always looking for more. We had some good finishers in that team and they are the type of players who I would expect to put away those chances.
"We could be talking about an even more comprehensive win but overall I suppose I have to be delighted with the result and the performance."
"In the first half we rode our luck at times and Shay kept us in it. He was outstanding all night.
"I have to single out Titus for special praise. If we could get him focused like that every game then he'd be playing for England. But he obviously finds that difficult and that's why he isn't a senior international just yet."
Sochaux boss Guy Lacombe said:
"When we play in a European cup competition we must display a performance worthy of a European cup competition. I am very disappointed, we should have scored first.
"Even when they led 2-0 we could have fought back into the game. But when we play a game like that we must do it all together.
"It's not shameful to lose to Newcastle; what is shameful is the way we did it.
"At least the team is now back down to earth. They must learn their lesson. Before thinking about qualification we'd better bounce back against Lens this weekend.
"Sochaux can lose or win against anyone."
Our first win on French soil at the sixth attempt:

Bastia lost 1-2
Metz drew 1-1
Monaco lost 0-3
Troyes drew 0-0
Marseille lost 0-2
Sochaux 4-0

We equalled our best-ever run of form in Europe with our fifth successive victory, emulating the Fairs Cup campaigns of 1968/69 and 69/70: Rangers (h) Ujpest (h) & (a), Dundee United (a) & (h)

Second successive away win in "lucky" white shorts!

Shay Given made his 44th European appearance for the club to extend the appearance record further. It was also his 300th appearance for United (299 starts +1 as sub.)

Euro goal number 10 for both Craig Bellamy and Shola Ameobi joining Wyn Davies in second place - behind Alan Shearer who has 22.

Waffle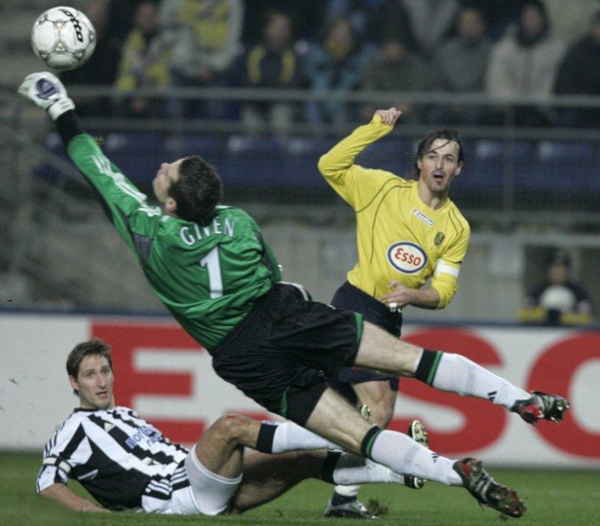 The road to Lisbon that has so far seen us trekking to Tel Aviv and Athens this time presented us with what turned out to be a slightly-unexpected stroll in Sochaux, as we qualified for the next stage of the UEFA Cup.

Predictions pre-match had it that we could struggle in the Auguste Bonal, with reports of our opponents having won at Monaco the previous weekend and being in decent fettle with confidence high from a lengthening unbeaten run, both domestically and in Europe.

In the event though their opening salvo proved manageable for our makeshift defence and when Sochaux did threaten our goal, they found Shay Given in no mood to give up his second successive clean sheet easily.

At the other end we scored four times and could have had another two or three, but didn't have it all our own way. If anything this was a partial reversal of fortune in the manner of our Fulham home defeat, but with Newcastle this time emulating the Cottager's role of potency and punishment on the counter-attack.

Going in one ahead at the break having scored slightly against the run of play, there seemed a likelihood of further goals in the second half at either end, with some improvement from Sochaux expected to extend us (and Shay) further.

However with the half-time instructions of coach Guy Lacombe coach still ringing in their ears, the home side resumed and promptly conceded a crucial second goal from which they never really recovered.

The final lifeline of a penalty kick just after the hour was spurned by Sochaux and thereafter the game became a procession as the opposition played out time and we looked to increase our goals scored tally.

Full time saw Toon fans and players celebrating (Robert again indulging in his gimpy disco dancing), while home fans sidled away to contemplate their first European defeat on home soil in over thirty years. The Sochaux players meanwhile had no time for les mopings, facing Lens at home on Sunday before next week's excursion to Sporting Lisbon.

Anyone not part of the travelling contingent who stayed it home to watch it on the telly can be content that this trip was in many ways a composite of previous away games.

Both ground and town were reminiscent of Troyes, while the away section had elements of Basel - with the police attitude almost universal - plenty posing in riot gear and deliberate attempts to inconvenience travelling fans - two doors and two sets of steps open to gain access to the ground, half a door and one set of steps to exit.

Once back in town though, apart from a shortage of licensed premises still open things were quiet and calm as they had been pre-match, with similar stories from those who returned to nearby Belfort or made it back to Basel and encountered partying Hearts fans.

With the club's trip cancelled and Toon Travel taking similar numbers to this game as went to Israel and Greece, it's clear that for some the Euro-travel bubble has burst, while for others the almost endless permutations of budget-priced international travel makes independent travel a no-brainer.

Those who opted to keep their powder dry after making a judgement on the quality of the opposition or scenic value of the destination missed a good trip this time out, as we tasted victory on French soil for the first time and returned home, having filled bar owner's cash registers and (hopefully) made a positive impression on the locals.
Whether the thousands who turned out for the likes of Barcelona, Milan or Marseille will return in 2005 if we continue to progress remains to be seen, but while this low-key game was more of a second-division tie, it was no less enjoyable for those present.

Biffa

Reports