Date: Tuesday 21st October 2003, 20.19pm

(match KO delayed 34 minutes, due to suspect car parked nearby that was eventually dealt with by means of a controlled explosion.)

Venue: Loftus Road

Conditions: Shaken but then stirred

Tickets: £28 lower, £30 upper

Programme: £2.50
&nbsp

Fulham

2 - 3
Newcastle United
Teams
6 mins Aaron Hughes failed to deal with a forward ball and could only succeed in passing to the advancing Malbraqnue, He teed up Lee Clark who seemed off balance momentarily but recovered to look up and beat Shay Given from the edge of the six yard box. His goal celebration consisted of a scratch of the chin and a walk back to the halfway line 0-1

7 mins Legwinski sprayed a pass out to the right hand edge of the United area to the waiting Luis Saha. With Titus Bramble apparently rooted to the spot, the former toon striker controlled the ball and moved in on goal before shooting home across Given. 0-2
16 mins A third goal in as many away starts from Laurent Robert and in common with his efforts at Arsenal and Breda, it was a close range strike. Shola Ameobi did the damage with a centre from the right and when Alan Shearer returned the ball back to Robert, he blasted home an unstoppable rising shot into the net 1-2
Half time: Fulham 2 Newcastle 1
51 mins After penalty misses against van der Sar in the last two seasons, Alan Shearer opted to slide his spot kick almost down the centre of the goal, just fooling the 'keeper enough to see him commit to a dive the other way. The award came after Shola was dragged down by Alain Goma en route to goal. 2-2

56 mins United on the charge forward again, with a perfectly-weighted short ball from Jermaine Jenas into the path of Alan Shearer, who lifted the ball over van der Sar into the roof of the net in front of the ecstatic Toon contingent. 3-2
Full time: Fulham 2 Newcastle 3
Sir Bobby commented:

"Alan (Shearer) was awesome. He was marvellous and quite magnificent. He won a lot of balls in the air, held it up well, had a lot of movement and scored two goals and made the first.
"But the goals are just part of the story as his overall display was outstanding.
"He is a strong personality. He is 33, has kept his fitness and he is very mobile. He scored two and made the first, but when you are two-down and win 3-2 away you have had fine displays from all your players.
"We were 2-0 down and they were very much in control. The first goal came at the right time for us. We said at half-time we could win it and had masses of enthusiasm."

About the absent Bellamy:
"Craig has had the operation, he has been to the best man in the world and now has got to get fit.
"Craig went over there to have it investigated. Doctor Steadman saw what there was to do and just got on and did it.
"He will be out for three to four months. If it is a bad one, it will be four months rather than three.
"It was a clean-up op to take away scar tissue. He will be over there for three days and the important thing now is rehabilitation."
Chris Coleman said:

"We were beaten up tonight. We were second-best and lost battles all over the pitch.
"I am disappointed as Saturday's performance was not up to scratch and we were not at the races again tonight.
"We know we are not good enough to be playing at 75 per cent - if we are not at 100 per cent we will lose a lot of games.
"We were 2-0 up inside 10 minutes but lost 3-2. When there are people like Shearer in the opposition, you know it is not game over."
Two shots past Edwin van der Sar completed 154 Newcastle goals in all competitions for Alan Shearer in his 283rd game giving us the chance to shower you once again with some utterly useless stats:
117 Premiership
19 FA Cup
8 CL (inc qualifiers)
6 League Cup
3 UEFA Cup
1 CW Cup

95 Home

52 Leazes
43 Gallowgate

59 Away
76 Shots
36 Headers
35 Penalties
5 Free Kicks
1 Knee
1 Shoulder
17 Kev
1 Coxy (ctkr)
17 Kenny
22 Rudi
0 Clarky (ctkr)
97 Bobby
All Time toon scorers list:

Jackie Milburn 200 goals
Alan Shearer, 154 goals
Len White 153 goals
Hughie Gallacher 143 goals
Peter Beardsley 119 goals

Shay Given completed his 100th consecutive Premiership game for Newcastle - the all-time Premiership record is held by Wayne Bridge with an unbroken run of 112 appearances.

Toon at Fulham (Craven Cottage/Loftus Road*)

2003/04: Robert, Shearer 2*
2002/03: Lost 1-2 Shearer*
2001/02: Lost 1-3 Speed
1983/84: Drew 2-2 Beardsley, Keegan
1982/83: Drew 2-2 McDermott, Varadi
1981/82: Lost 0-2 no scorer (League Cup)
1979/80: Lost 0-1 no scorer
1978/79: Won 3-1 Connolly, Withe, Shoulder
1967/68: Lost 0-2 No scorer
1966/67: Lost 1-5 Pop Robson
1965/66: Lost 0-2 no scorer

The hosts numbered no less than three SJP old boys in their ranks: Lee Clark, Alain Goma and Luis Saha.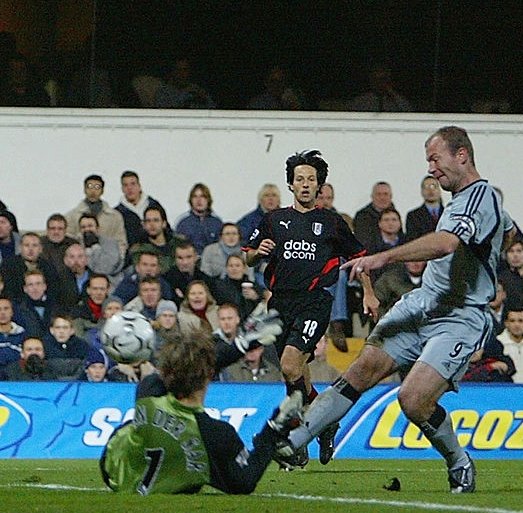 At the end of a truly miserable September, a comment appeared in these pages about looking forward to an October revolution for the team.
Well, it was almost a case of be careful what you wish for in west London on Tuesday evening, as a suspect package threatened to blow away our hopes of a third successive away win and see this fixture postponed for the second time.
Thankfully a controlled explosion neutralised any threat and after a delay to proceedings we belatedly got underway. Or at least Fulham did.
It was difficult to gauge who was the more shocked after ten minutes of play, our lot for finding themselves two goals down, the nominal home side for scoring them, or the toon fans behind Given's goal who had already had to endure two former Magpies rippling the net nearest to them.
However, clad in what must now be known as our "lucky" grey away strip (three outings, three wins) we were at least stung into action at the other end of the field, showing ourselves as far more of an attacking force than at the Riverside.
Nevertheless a goal was desperately required from Shearer and Co. to start the fightback, peg back the Fulham advance and chuck the travelling fans a lifeline. Under those circumstances, Robert's close-range effort was perfectly timed.
Half time arrived with Newcastle still behind, but having at least suggested they weren't hoying the towel in just yet - a fact which was enough to earn them the applause of the away end (note to those toon followers who would have booed at this point on Tyneside: thanks for stopping away
tonight. You weren't missed.)

Sir Bobby (or someone) imparted some words of wisdom over the tea cups and his men could hardly have approached the second half in a more positive fashion if he'd conducted his half-time teamtalk whilst brandishing a cocked pistol.

Unlike Boro on Saturday, there were hardly any cheers or chants tonight for Viana and Lua as they limbered up on the sidelines - there was more going on within the white lines to hold the attention.

And by the time Given's reflex to stretch out a foot and block a goal bound shot preserved our 3:2 advantage, every one of our side had contributed something positive to the cause in a stirring fightback that saw us dominate the game.

Shola's direct run to force Goma into bringing him down was almost replicated on another couple of occasions as for once he and Shearer complimented each other. And with Dyer absent, Jenas made a return to form with a good assist Shearer's second as we looked motivated and united. If anyone struggled it was Aaron Hughes, again not looking happy at full back and at least in the first half, too prone to slipping off his feet.

While a variety of ailments and disputes sideline Dyer, Bellamy and Solano, we still took the fight to Fulham with what we had at our disposal - notably Bowyer, who for the first time in our colours successfully trod a fine line between being fiercely competitive but with a measure of self-control.

Once or twice events in his vicinity looked momentarily as if they'd provoke a reaction, not least on the three occasions he was left on the deck after blatant hoofings disguised as tackles and the two apparent incidents when home players stamped on him as he lay on the turf.

The nearest we came to a flare-up was with some eyeballing of Malbranque on the final whistle, but Bowyer wisely kept his counsel and can reflect on another game when he's been worthy of selection.

Honourable mentions to the defence for recovering from an horrendous start and for Bernard in sticking to his task on our left touchline, especially after the break.

That said though, Coleman's side were rather less than mustard once the comeback began and frankly there to be beaten in the second half. Thankfully, unlike similar situations at Elland Road and Goodison, we didn't pass up the opportunity of three points on this occasion.

Post-match Sir Bobby was fulsome in his praise of the "awesome" Alan Shearer, who led by example on a night when another Magpie goalscoring record fell and he incidentally moved to joint top of this season's Premiership shooting charts.

However on a personal level, our manager was no doubt chuffed to have righted the wrongs of the corresponding fixture in the last two seasons - even if he was denied the pleasure of savouring a victory on the Craven Cottage ground he once exited in tears after losing his first coaching job.

Some satisfaction also for Sir Bobby that as a result of this win, his much-maligned side sit in the top half of the table, above such alleged managerial messiahs as Houllier, Moyes, Souness and O'Leary.

Like the team, reports of his demise have been exaggerated and we now approach another three-match home series in better fettle and with greater confidence than the last one a few weeks ago. The teams were have to face are also supposedly inferior to that Man U / Partizan / Birmingham nightmare than knocked us out of kilter for a few weeks.

There still remain unresolved personnel issues for the manager to deal with and any further injury problems in crucial areas would expose the shortcomings of our squad.

For now though the mood of both players and fans has lifted considerably, the number nine continues to lead by example, the Champions League disappointment has retreated into the background and we are at last competing on the field.

That'll do for now.

Biffa