Date: Sunday 21st October 2001, 2.00pm
Live on Sky PPV

Venue: St. James' Park

Conditions: Deeply worrying.






Newcastle United
0 - 2
Tottenham Hotspur
Teams
8 mins. Gaping holes in the United defence, specifically at left back, as our left back was actually sitting on the bench with his tracksuit on at the time. Anderton was allowed one effort on goal in this area after a Ziege free kick was played infield. The ball was knocked out of defence but again fell to Darren Anderton on the edge of the Leazes box nearest the East stand. His low shot (which may even have been a cross) entered the net via a Gary Speed deflection in the congested area. If Shearer was stripped of his Man United goal then Anderton might as well already chalk off his corner-flag bound effort. 0-1

(Speed was later credited with the OG by the Dubious Goals Panel)
20 mins. Despite being afforded the compliment of a man marker, Gus Poyet was remarkably alone when he headed Anderton's cross from the right over Given and into the Leazes end net. Again Anderton had been afforded the whole of our right flank to meander forward unmolested, Laurent Robert gazing forlornly at the back of his head as he moved away from the halfway line towards our goal. 0-2
Half time: Newcastle 0 Tottenham 2
Full time: Newcastle 0 Tottenham 2
Uncle Bobby told journalists:

"I decided to go with three at the back with Aaron marking Poyet - I did not fancy leaving Poyet free playing in the hole with no-one on him. What's wrong with that? I knew Poyet would be making those runs and he is a danger-man so there's nothing wrong with that.
"We didn't give them the second goal, it was a very clever goal by Poyet. It was a brilliant goal, he is a brilliant header of the ball - I keep saying that I hate him and I still hate him. I tried to kick him in the shins when he came off at half-time.
"I didn't think we played that badly. Spurs were competent and they defended very well, but I thought we dominated the game in the second half. I decided to put Aaron (Hughes) on Poyet because I didn't fancy him being left free.

Unfortunately, he spun away from Aaron for the goal, but I was amazed the ball went in. I thought his header was going to drop over the bar.'

"In the second half I thought we dominated the play and we might have got something out of the game at the end of the day,"
On Anderton:
"He's still very much international class.''
On the absent Lee:
"We missed his passing. Clarence Acuna fought like a tiger, but we missed Rob's link play."

On another Bellamy booking for dissent:
"Craig has got to learn to keep his mouth shut. I've told him that. Against Spurs he gets a free-kick for the team and then gets himself booked. That's just great, isn't it?
"He's now got four yellow cards and if he gets one more he will be suspended. He has got to learn to stay out of trouble."

Shay Given spoke to The Chronicle and said:
"We gave Spurs a two-goal head-start and if you do that against any team in the Premiership then you are always going to find it hard to come back.
"We had some chances near the end and we knew that if we could have pulled off a win we could have gone level on points with Manchester United in third place in the table.
"Going third was a big incentive for us after winning at Bolton the previous weekend and the whole team are disappointed that we did not do it.
"The first Spurs' goal came from a free-kick right beside the corner flag so I made sure we were set up as though we were actually defending a corner.
"But we switched off when they took it short and after Darren Anderton's first shot was blocked, the ball came back to him and when he hit the rebound, the ball flew off Gary Speed's leg into the back of the net.
"Anderton's shot could have gone anywhere and it could even have been going wide, but there was no way Gary could get out of the way.
"For the second goal, Spurs broke down the right and when Anderton crossed into the middle, Poyet popped up to score. To be fair to him, he managed to get in a good looping header.

Glen Hoddle said:
"I felt it was a show of respect and that put us on the front foot. It did surprise us that they went man-for-man to try to stop Gus.
"We knew we'd be in for a hard game and we're very pleased with the win. I thought we defended very well in the first half and that gave us the foundation to go and attack them.
"We've now come away from here and Sunderland this season with great results and good performances and it shows we're growing as a team.''

Talking about the problems that meant there was no hot water for the away team.
"That didn't dampen our celebrations.''

On Anderton:
"I thought he was the pick of the bunch and I think he's going to be there or thereabouts as far as England is concerned. Who's to say he won't sneak in?''

On Dean Richards - the £8m man we could have had for nowt:
"If you know Dean, that's the sort of character he is. He's a pretty calm lad, a pretty quiet lad off the pitch.
"But he's sneaked in there and you would have thought he'd been there for a long, long time. He's adjustable, and what's helped is that obviously John Gorman and myself have worked with him and he feels more at home very quickly."
This was the first time that Spurs had taken three points at SJP since the very first game of our Premiership lives back in 1993. Scorer that day was Teddy Sheringham, now back in the Spurs side.

In all our Premiership live TV games this season we've failed to win and conceded the first goal in the match within 8, 34, 18, 3 and 8 minutes respectively. We've won all four of the non-televised Premiership games we've taken part in this season.
| | | |
| --- | --- | --- |
| Game | Result | TV |
| Chelsea (a) | Drew | PPV |
| Mackems (h) | Drew | SKY |
| Smoggies (a) | Won | None |
| Man United (h) | Won | None |
| West Ham (a) | Lost | SKY |
| Leicester (h) | Won | None |
| Liverpool (h) | Lost | PPV |
| Bolton (a) | Won | None |
| Spurs (h) | Lost | PPV |
Or in the old money, 2 points out of 15.

Of course, you could go even further back to include Southampton (h) and Charlton (a) from last season to make it a miserable 2001 on the box - last win was Boro (a) 16.10.00.

Gus Poyet again found the net against us, carrying on his fine scoring record from his Chelsea career:

2001/02 - Spurs (h) 1 goal.
2000/01 - Chelsea (a) 1 goal, Chelsea (h) - didn't play.
1999/00 - Chelsea (n) FAC semi - 2 goals.
1999/00 - Chelsea (a) 0 goals - late sub, Chelsea (h) 1 goal.
1998/00 - Chelsea (a) 0 goals, Chelsea (h) - didn't play.
1997/98 - Chelsea (a) 1 goal, Chelsea (h) 0 goals* - half time sub.

* This game marked the only time Poyet was on the losing side to Newcastle.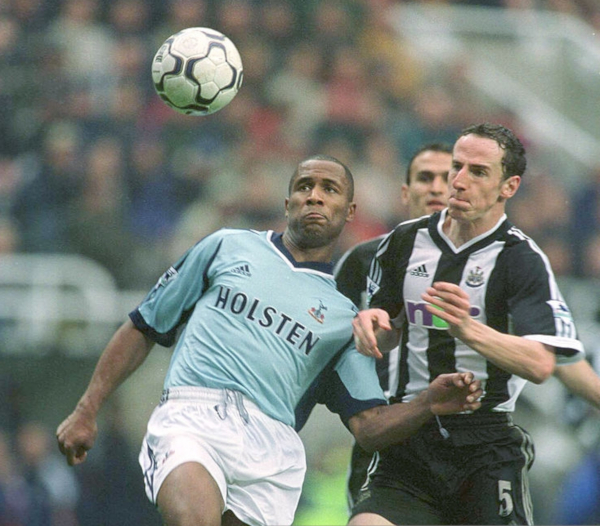 The United defence - or lack of it - was the chief topic of conversation among spectators and media folk after the match, but for all our frailties at the back, this game was lost as much in the midfield and on the drawing board.

Bobby took the decision to deploy Hughes as a man marker on the troublesome Poyet, a man who'd always relished playing against us and scoring crucial goals. To accommodate this role in the side he then decided against full backs, preferring to get by with a trio of central defenders and presumably the contributions of Robert and Solanotracking back.

The tactical decision made, a couple of training sessions then saw that side play, ensuring everyone was clear about their altered roles (Bassedas taking the part of Poyet in the practice). Robert Lee then dropped out with a virus or a knock in training depending on who you believe, meaning that Acuna took his place in a four man midfield composed of experienced international players.

That's the background, but the actual deployment of the plan proved to be anything but effective.....

From the off, both of the United flanks were exposed due to lack of wide defensive cover, and although Solano did make one or two trips back to get in tackles, Robert's efforts were rather less tangible, verging on the singular.

Indeed, it was after one of two Robert tackles, this one near his owner corner flag, that Tottenham gained a free kick and fashioned the opening goal.

Once behind, we failed to plug the gap, especially at left back, and were punished again. Poyet ghosted into the penalty area untracked and scored, with Hughes nowhere to be seen. In fairness to player and coach he had done well in a one-on-one role before (eg: against Roma in 1999 when he shackled Totti) but had been out of the side for a month before returning for one game last week. At full back.

Had his colleagues helped out more, Hughes might have had a better game, but too often he was left with a choice of unmarked opponents to try and cover as his defensive colleagues tried to help out other non-functioning bits of the team.

Now there's nothing wrong with changing tactics, but since the days of Keegan's public admission that Albert, Darren Peacock and Howey were incapable of playing as a three man unit, we've never been able to carry off this particular formation, regardless of the personnel. The fans knew that, Bobby didn't.

He's presumably used that formation with teams he's successfully coached in the past, and got it to work, and he was playing a defence chosen from and composed of a pool of players he's either brought to the club or publicly praised. So why did it fail? From the sidelines it looked as if it was a simple case of players not knowing what they were meant to be doing, to whom and precisely when.

So, with the defence stuttering and the two wide men not in the game, the onus was on the midfield to link up with the back line and try and reproduce the work of the absent full backs in pressurising down the flanks, building attacks and supplying our quick men.

They failed.
By default, this meant that for much of the game our chief playmakers were Distin, Dabizas and O'Brien. To their credit, all three took responsibility for starting attacks and tried to carry the play upfield, but the shortcomings of Distin's distribution and pass selection were only too evident. The Frenchman did look slightly better against Ferdinand in the air - a more familiar job for a defender, and could get another chance next week against Ferguson.

O'Brien did look reasonably convincing going upfield, and pushed forward to such an extent that he overlapped Solano down the right several times after the break. However, the Peruvian either didn't see him or couldn't be bothered to pass to him. Both may be true.

By now you're starting to get the picture - a wet day, players not playing well and the crowd audibly unsettled by the unfolding action. With Acuna and Speed contributing little in midfield and the front pair never getting into the box for the first hour, it's fair to say things weren't going our way and nothing seemed likely to change with the side set out the way they'd begun.

Time then for a shakeup? No.

For reasons that Robson chose not to reveal, he left his subs to warm up for another 30 minutes of second half rubbish that matched the first in drabness before he belatedly decided to change things around.

Despite having only 15 minutes to do something, LuaLua at least brought the crowd to life with his own individual approach to the game. Gradually United managed to make some sort of impression on Spurs, and both Bellamy and Dabizas looked certain scorers before the former blazed wide and the latter brought a good save from Sullivan.

Had we got one back, there's a fair chance we'd have somehow salvaged a point, but the suspicion remained that we would continue all night without reward and so it proved. Inevitably Spurs had one or two late sorties upfield as we piled forward, and Sheringham could easily have killed off the game on two occasions.

Too little too late then, and for the second successive home game we had basically blown the three points by half time. Our wingless wonders were more evocative of Alf Roberts than Alf Ramsey, and only in the last 15 minutes did Robert stir himself to beating a man on the left, and having a goalbound shot cleared off the line direct from a corner. As against Liverpool, Solano was anonymous.

With nothing coming down the flanks, we looked thin and vulnerable to counter-attack, as well as static when we did pick up possession in dangerous areas. Belatedly Robson decided that Bassedas might be a better Lee stand-in than Acuna, but the man who wasn't deemed suitable to even get a game against Barnsley or in our reserve team wasn't able to conjure up miracles in his 15 minutes of fame. Make no bones about it - by not playing, Robert Lee did far more to justify his claims for an extended contract.

Negatives far outweighed the positives then, and we can only hope that the same combination of ineptness doesn't return too often this season - there again if you take trips to London and televised matches away from the equation, there are less and less games to pick from.

Spurs have certainly improved under Hoddle, but since when have we worried about the opposition players in a home game? The second leg of a UEFA Cup tie against a Serie A giant does not warrant the same respect as a league match against a team sitting below us in the Premiership.
What TV viewers may have missed was the uncommon sight of Bobby Robson sitting in the dugout for most of the game - from my seat, slumped was more appropriate once we were behind. He was moved to rise to his feet in the latter stages as the quiet home crowd attempted to lift the lads, but his usual tic-tac signings and visual pyrotechnics were missing. Post-Houllier he might have been trying not to get himself over-excited, but there was surely no reason to include the rest of us in that?

He'd brightened up by the post-match press conference, but failed to enlighten the general public why the defenders were acting as playmakers, the wingers as defenders and the midfield as showroom dummies. No answer either as to why he gave Bassedas and Lua 15 minutes and Shola less than 10 to perform miracles. His assertion that we'd played well also brought back memories of that bare-faced liar, miserable Kenny.

PS: This was meant to be the club's flag day, which as an exercise in fake passion got the derisory response it deserved. Despite the exhortations of some big-gobbed Chris Evans wannabe dj - obviously on his first visit to SJP (or indded the North East), only a handful of cheap and tatty black and white flags fluttered in the breeze amongst the rank and file in the stands.

Symbolic really - except they should have been just white.
Biffa