Date: Wed 1st August 2001, 7.45pm.

Venue: St. James' Park

Conditions: Another fine summer evening

Admission: £tbc






Newcastle United
3 - 1
1860 Munich
Teams
5 mins Nobby Solano swung in a right-wing cross and a Gary Speed bullet header found the bottom corner of the Leazes goal, leaving keeper Jentsch no chance. 1-0
42 mins Slack defensive work down the right allowed Borimirov to cross low for Schroth to turn the ball in from close range. 1-1
Half time: Newcastle 1 1860 Munich 1
80 mins 1860 defender Riseth was caught in possession by Lomana LuaLua who raced into the box and rounded the keeper before tucking the ball in from a tight angle. 2-1
89 mins A needless handball from Tyce allowed Nolberto Solano to send Jentsch the wrong way from the penalty spot. 3-1
Full time: Newcastle 3 1860 Munich 1
Uncle Bobby said about new-boy Laurent Robert:
"He was delighted we won and we're now playing a French team, so Laurent may be able to give us some information about them,"
1860 trainer Werner Lorant said:

"Our pace was good, we played well, and then went behind to a dead-ball situation but we tried to play the ball forwards. We should have equalised much earlier. Martin Max had great chance but his shot went over. Then after a wonderful combination on the wing we equalised and after the break Martin Max could have given us the lead if he'd stayed calm.

Then we went behind through a grave individual error. You can't play with the keeper like that, you have to get rid of the ball. We tried everything but after this mistake the game was lost. I'd have to look again to see if the penalty was on purpose or an accident but the game was over."
1860 player Erik Mykland:

"I don't know why I was booed. Perhaps it was a compliment. When I was a boy, I watched all of Newcastle's games on the television and their fans always booed someone. Tonight it was my turn."
Counting all qualifying games, and matches in the Fairs, UEFA, Cup Winners, Anglo Italian, Champions League and Intertoto cups, this was our 73rd European tie, and our 38th victory. Our competitive record against German teams now reads: played two, won two.

We had faced 1860 before, in October 1958 at Gallowgate, when the Germans were beaten 3-0 in a friendly encounter (Ivor Allchurch, George Eastham, Gordon Hughes on target, 20,530 in attendance.)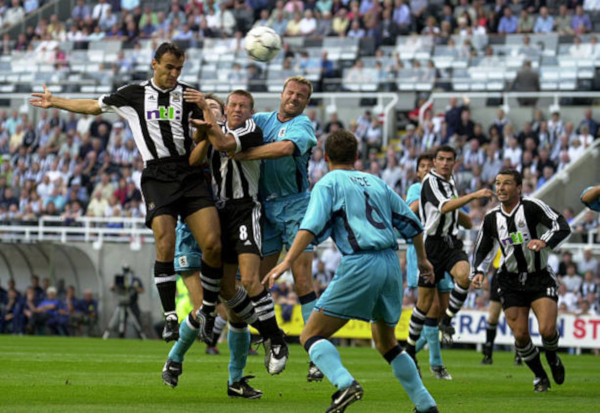 It was a strange night all round for what the perceived formality of qualifying for the Intertoto Cup Final. The sun was still shining too brightly for this to feel like an evening game and although we're into August there was still an air of pre-season unreality.

A semi-final at this time of year also felt odd and add to this queues snaking around the pillars underneath the Milburn Stand and we had a mixture of sights seldom seen at St. James', especially all together.
Turnstile and ticket problems caused congestion prior to kick-off and so inside the ground it was odd to see vast areas of unpopulated seats. The East Stand was still closed but the Gallowgate-Milburn corner and the usual away area up in the sky was also empty.

The Bavarians were housed in the middle tier of the Leazes-Milburn corner and about 250 plus a similar number of draped flags, made themselves heard sporadically with some enthusiastic arm-waving. Unfortunately this provoked the predictable response from the xenophobes but probably nothing that Auf Wiedersehen Oz wouldn't have said.
There were probably still only 25,000 in the ground when Bobby and a white T-shirted Laurent Robert were paraded on the pitch. However, it was nice to remember just how loud 25,000 can be as the Frenchman was given a rousing reception. The cheers were undoubtedly for the Reunion islander but Bobby and especially his dogged Chairman should also have accepted a hearty slap on the back for not allowing the deal to die.
The ground kept on filling, up to and beyond kick-off, as the snaking queues were eventually reduced. Some must have missed our opening forays and one or two probably missed Speed's goal.

Solano and Ameobi had already linked up well down the right and when the latter was tugged back there was genuine expectancy as he stepped up to swing the ball across the box. His delivery was spot on as it evaded the first defender and landed squarely on the forehead of Gary Speed who bulleted a header into the bottom corner. Five minutes gone, 1-0 up tie over - in theory - as Munich now needed at least three goals.
United started to turn on the style as Shola again performed some fancy footwork. One move which saw him Solano and Bellamy link-up with fast one-touch football was sublime and Speed almost gave it the perfect finish with a header that he glanced just wide.

Surprise starter, Rob Lee, gave the midfield a solidity and Craig Bellamy's pace was worrying the Germans. But after a bright 15 minutes Munich's defence began to get the measure of our young forwards and our midfield looked a bit stifled. In fact, we were looking distinctly second best for large chunks of the first half and our less than watertight defence was tested a few times before the equaliser.
The ball was gifted down our left as Quinn and Elliott pushed forward. With the ball lost 1860 had the weight of numbers to pour forward and when Borimirov got to the byline he had no problem picking out Schroth to easily guide the ball into the empty net.

The tie was still ours - the Germans still needed to score twice without reply and now just had 45 minutes to do it - but it felt like we were in danger of a spectacular demise. The break came at the right time for us to re-group.
Munich came out with purpose and Max should have leveled on aggregate when volleying over from a good position and Given stopped him meeting a Borimirov cross minutes later. Our midfield looked slow to support the forwards and even slower to help out the defence, but it was easy to forget that fitness levels are still around the 75% mark.

A change of personnel looked inevitable. Munich were becoming more and more physical and the Russian referee was allowing them free-licence to dish it out. Lomana LuaLua and surprise inclusion, Clarence Acuna, replaced Bellamy and the dependable Speed.
Former Celtic defender Vidar Riseth dallied in defence and LuaLua nicked the ball away from him. LuaLua bounded into the area, skipped past keeper Jentsch and finished from a tight angle before his wildly acrobatic celebration.

Solano rounded the evening off with a smartly taken penalty after Tyce had needlessly handled a Quinn cross and the 36,635 crowd were off to celebrate an early August victory like never before.
To conclude, it's still difficult to gain a true perspective of how Bobby's side is shaping up. Munich did look a beaten side playing for a bit of pride and they don't look particularly strong and yet they caused us some problems.

Our fitness is still improving and we have the prospect of adding Shearer, Dyer, Cort and, of course, Robert to the side. Ameobi and Bellamy look lively but my eternal pessimism still can't help thinking they would get little change from the best Premiership defences.

Still, this Intertoto lark has been a good laugh so far and the prospect of a place in the UEFA Cup is still something that we'll all take great delight in ramming down mackem throats for months to come....
Niall MacKenzie
From the Telegraph 1860 (h) match report:

"Shola Ameobi was soon inspired and the tall England U21 striker tried his luck out wide in the 5th minute. His marker, Achim Pfuderer, resembled a fisherman trying to control a particularly boisterous octopus and succeeded in only fouling Ameobi."

Fantastic. Thanks to Denty for the spot.