Date: Saturday 21st October 2000, 3.00pm

Venue: St. James' Park

Conditions: Blue skies







Newcastle United

Everton

0 - 1

Teams
Half time: Magpies 0 Toffees 0

80 mins A United winner looked possible as we piled on a bit of late pressure but Kevin Gallacher's run into the box was halted and Everton broke with pace. Crossing the halfway line it was four against four and Gazza's backheel to Nyarko allowed Naysmith to take the ball down the left and cross perfectly for Kevin Campbell to finish at the far post. 0-1
Full time: Magpies 0 Toffees 1

While Uncle Bobby, chewed the fat with Freddy, Mick Wadsworth uttered this:
"The reason we lost against Everton had nothing to do with the boss and England. The reason we lost was Everton's tactics and our failure to score.
"They employed stifling tactics, filling their midfield, defending deeply to stop us getting behind them and limiting the number of crosses we could deliver. But I still think we had enough good situations from which to score and I'm disappointed that we didn't.
"Just as I'm disappointed that we were caught on the counter-attack for the Everton goal as it started from a situation where we had been enjoying good possession.
At 0-0 I always thought we might go on and win it but Everton got their tactics spot on, and you have to congratulate them for that."


A delighted Walter Smith said:
"Paul (Gascoigne) has been playing around that level for the last couple of months once he'd got one or two games under his belt. Some of the little things in his game we saw 10 years ago might not be in place now, but nobody can complain about his effort.
"Today he had a job to do. He's sometimes not an easy player to get to do a steady job because if you ask him to do something, sometimes he gets carried away with it, but today he did well with it.
"Really, for the first time this season, we played fairly consistently throughout the 90 minutes. I don't think anybody could begrudge us a win."

A third successive home league game without a win or a goal suggests that the bigger and better St. James' Park isn't necessarily more of a fortress.

Toffees @ SJP - Premier years:

2000/01 Lost 0-1
1999/00 Drew 1-1 Shearer
1998/99 Lost 1-3 Shearer
1998/99 Won 4-1 Ketsbaia 2, Shearer, Georgiadis (FAC)
1997/98 Won 1-0 Lee
1996/97 Won 4-1 Ferdinand, Lee, Shearer, Elliott
1995/96 Won 1-0 Ferdinand
1994/95 Won 2-0 Fox, Beardsley
1993/94 Won 1-0 Allen


Waffle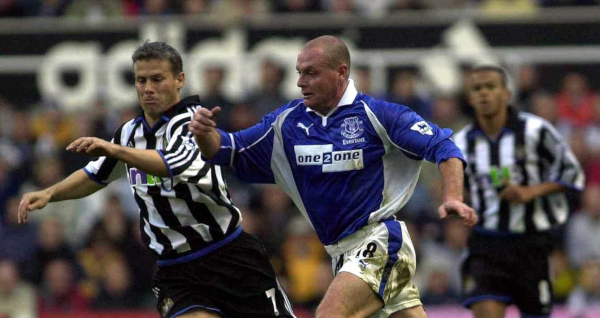 There's often one incident that sums up games like these and so there was 15 minutes into the first half of this one. United were awarded a free kick on the right hand side about 10 yards out of the box, probably too far for a direct shot. Solano, Dyer and Speed all shaped up to deliver the ball into the box - a training ground manoeuvre about to put into practice with military precision.

The referee blew, Solano hopped over it, Dyer hopped over it and Gary Speed hopped over it, leaving the motionless ball looking rather forlorn. Speed doubled back and then found Dyer down the left who put in a decent cross that almost found a United head.
Theories that the triple dummy was intentional were put forward by those who didn't see the look of blind panic on Gary Speed's face spotted by those of us in the East Corner of the Leazes. Confused teammates muddling through in the hope that it might all come good is a fair summary of United's performance against a resolute and determined Everton.

And like the free-kick, it nearly worked.
The early stages of the first half saw United breaking down both flanks with great purpose but delivery into the box was poor. The biggest culprit was Daniel Cordone. Whatever the Argentinean promised in pre-season and early season seems to be rapidly vanishing, although the first-time cross for Goma at Boro was fabulous. On several occasions he had plenty of time and space to steady himself and pick out any number of United men in the box only to deliver some limp and feeble.
Warren Barton's brief return was soon over as Paul Ferris sprinted around the pitch perimeter, spoke to Barton and gave the substitute signal to the bench. Was it more bad luck or bad judgment by United with yet another comeback nipped in the bud?

With only Steve Caldwell as the recognised defender it seemed that he would go into the centre of defence and Hughes likely to switch to right back. Not so, on came Kevin Gallacher and Nolberto Solano was switched to full-back. Given Solano's dislike of the defensive role it seemed fitting punishment for the Peruvian who had failed to get forward on three occasions when bare acres had beckoned up the right.
Gallacher's introduction almost paid dividends when he surged down the right and, unlike Cordone, looked up, picked out his man and delivered an inviting cross for the on-rushing Dyer. Young Kieron leapt but couldn't get on top of his header and it sailed over Gerrard's crossbar.

Speed also went close with a volley that came sharp to him but again the effort cleared the goal. Shearer had a stinging free-kick well saved by Gerrard and it was a major disappointment that we ended up going in for the half-time cuppa not being in front.
Dyer seemed to get behind the Everton left at will in the second half and one mesmeric run could and should have ended with something more than a half-hearted penalty claim. A pull-back for Shearer ended with the no.9 firing in a tremendous snapshot, despite a bit of miscontrol.

Again Gerrard saved superbly low to his right and the linesman's flag penalised the offside Cordone hoping to pick up the pieces. We'll never know if the flag would have denied Shearer's goal had his shot gone directly in.
It wasn't long before Lua Lua came on to replace the ineffective Cordone and the noise that greeted the young imp was deafening. He probed and jinked a couple of times but often ended up running into the big blue wall that had been built on the edge of the box. Even his trickery never looked like prising an opening that would give us the winning strike. Unfortunately that came at the other end when Campbell finished off a four man move that had started deep in Everton territory.

That was a sucker punch but United had already had a similar smack in the gob when Campbell had missed an earlier chance as he inexplicably missed on the other side of the area. Credit to Solano for a last ditch tackle from behind which didn't look like a penalty but from the angle of attack seemed certain to be.
Another free-kick from Speed was well saved but even with well over ten minutes to salvage a point we never really threatened. This is worrying. Lee and Speed definitely had off days but even at the top of their game they rarely provide the invention that Gascogine still can.

We certainly possess some skill, pace and trickery in Dyer, Solano and Lua Lua but someone in the middle who can pull the strings and break down teams like Everton and Charlton is sadly lacking. Mutterings that the fit-again Bassedas could be the man for this job will hopefully be correct. Those who have already seen him in action pre-season and for the reserves fear that he's more Georgiadis than George Best....
A word or two about the returning Mags. Steve Watson had the sort of game that became very familiar towards the end of his United days. Reasonable competent at the back but occasionally vulnerable and looked good with the ball going forward but never really got anywhere.

Gazza? The classic mixed reception - for a first half corner he was applauded as he went to take the kick and then roundly booed as he hit it. Elbows and arms often flailing and some desperate lunges that could have broken a leg or two.

No doubt Bobby would still say he is "daft as a brush" but his applause and blowing of kisses to the home support after the final whistle seemed genuine, and most of those who hadn't already stomped off home in a huff reciprocated.
Niall Mackenzie