Date:

Thursday 21st October 1999 7.15pm UK

Venue: Letzigrund, Zurich.

Conditions: Cool and clear

Tickets: £

33 and £19








FC Zurich

Newcastle

1 - 2

Teams
Half time: Zurich 0 Newcastle 0
51 mins. The moment we've all been waiting for: A Silvio Maric goal, which came from a rotten piece of player by the defender Kebe. He passed the ball to the Croat at chest height and he broke unguarded into the area before beating the 'keeper. Silvio's goal reaction consisted of walking towards the corner flag and standing bemused - I thought he'd wet himself. 1-0

60 mins. The magnificent Maric centred for Gary Speed to nod on and Aaron Hughes strike the bar with his shot. I thought he'd scored, but Alan Shearer leathered it in to end all doubts. 2-0

68 mins: The lumbering carthorse that is Carl Serrant dropped his chance to impress with both hands, standing like a bag of sand as Castillo swept round him and found the back of the net. 2-1

Full time: Zurich 1 Newcastle 2
Sir Bobby said:

To follow


manager tbc:

To follow


Newcastle made their competitive senior debut in Switzerland.

This victory was the the first time that we've ever won two proper European away matches in a row in the same season. Alan Shearer scored his fourth European goal for United.

Waffle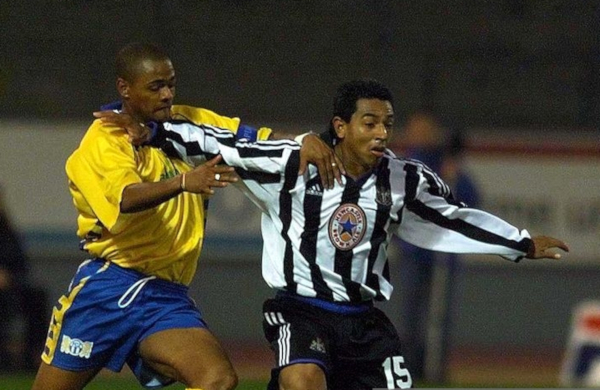 A good flight out on the morning of the match saw the hardy band of travellers that are daft enough to go with me arrive in Zurich City Centre around Noon. First impressions were much as expected - very ordered and civilised, quite a pleasant place to walk around in the Autumn Sun.

Before we turned into Judith Chalmers, drink was called for and our pre-arranged spot "The Bonnie Prince" was soon located, already sprinkled with a few black and white shirts.
An afternoon of supping Hurlimanns (about £3.20 a pint) and selecting increasingly bizarre tunes from the jukebox was enlivened by chatting to our friendly tapstress Sylvia, and also nabbing a bloke who tried to do a runner without paying his tab. Cue free beer for your correspondent.

Eventually a decision was made to eat before venturing to ther ground, and an adjournment to a nearby pizza place was made, although one of our number inisisted on taking off on a search for rosti - some concoction of tatties and burnt bacon I gather...I think I'd rather have had frosties.
One slight difference of opinion over which way up the map was later, and we were on the tram bound for the ground. Again the civilised manner of the locals was noticeable, contrasting sharply with the local police, who had their CS gas guns on show. Rather strangely they also wore blue overalls reminiscent of "quick fit fitters", but didn't do that little dance and jump routine.
Into the ground and the true oddness of it became apparent, a profusion of oddly angled stands behind the goals and steep ones down the sides - separated from the pitch by a running track.

The £19 bit for away fans was stuck in one corner, while the £33 was ostensibly the far end of the side stand. In practice the total lack of segregation meant that us richies could sit anywhere, and it was heartening to see both sets of fans intermingled.
Less heartening was the infighting between alleged Newcastle fans that plagued the trip. In the ground one lad tried (and succeeded) in annoying most of his fellow supporters by pushing people over from the back of the (steep) seats and hoying beer around. He looked odds on for a pasting but darted over the seats and down the exit in the manner of "rat boy" from the Byker Wall.

Elsewhere, a hasty retreat was made from a post-match tram when a mate of mine being was being abused by the "no surrender" brigade who were out in force and managed to damage any bonhomie built up with the locals with their "Where Were You in WW2" chants and anti- IRA shite.

I won't watch England because of knuckle-draggers like these, and unfortunately they were to have the upper hand as darkness fell and post-match celebrations were indulged in.
Thankfully we got back in our pre-match haunt and had a good night talking to the locals and shouting at some daft Old German woman who took exception to something which we could never quite work out.

One or two loonies came in but didn't stay, and by all accounts went on to fight among themselves as well as get chucked out of another couple of bars. Of course normal people were affected by this, not least one lad who got wax poured over him for being unfortunate enough to drink in the same bar as the space cadets.
Eventually "The Bonnie Prince" decided it was bedtime and we moved on to some other place already well-filled with sensible, inebriated Geordies, watched over by a couple of coppers and a woman of dubious virtue wedged into red plastic hot pants. Mention must also be made of the gargantuan bosoms jiggled by the lassie serving the drinks - Lolo Ferrari indeed.....
One or two of our number grabbed some kip as the night wore on - hotels having been spurned in favour of a 6:30am flight to England. By the time we wandered out for the airport train, the numbers drinking had thinned out noticeably, but one or two were still downing their beers, whiling away the last couple of hours before breakfast....
On the plane, and there may well have been a safety announcement...but I didn't see or hear it. One of the quietest flights on record, with most people stirring only when the pilot hoyed the plane on the runaway at a jaunty angle. Some wimps went home to bed and sympathy, of course others of a stronger disposition went to work. Someone had to update this bloody web page after all.....
Biffa