Date: Saturday 1st August 1998, 1.30pm

Venue: Riverside Stadium

Conditions: tbc

Admission: £15

Programme: £2 (one edition for both days)


Benfica

Newcastle

0 - 0

Teams
Half time: Benfica 0 Newcastle 0
Full time: Benfica 0 Newcastle 0

No extra time was played

The Shootout:

Watson scored 1-0
Madeira scored 1-1
Pearce scored 2-1
Minto missed 2-1
Speed missed 2-1
Nandinho scored 2-2
Keidel missed 2-2
Kandaurov scored 2-3
Ketsbaia scored 3-3
Carlos scored 3-4
Benfica win
Kenny Dalglish said:

"It's only pre-season, so it's not really a match, is it? At this stage it's all about building up fitness.

"It's understandable that the cutting edge isn't there but I thought everybody got some benefit from the match. It was a good game for both teams and both teams benefitted."


Graeme Souness:

"We achieved a minor miracle last season in lifting the team from eighth place to second, but my head will be in the noose if we don't beat (Beitar) Jerusalem (in the Champions League)."


In the other game at 4pm, Serie A side Empoli (a replacement for the originally-billed Fiorentina) beat Middlesbrough 1-0 with an 80th minute goal from Fabio Artico.

That left Sunday's Tyne-Tees derby as the 3rd/4th place playoff match.


Waffle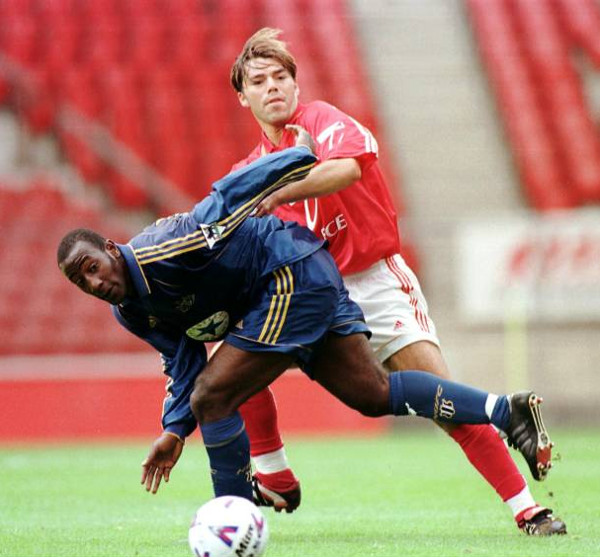 Independent newspaper report:

Having ended last season by failing to win the FA Cup, Newcastle started this one by failing to make progress in the four-team JD Sports Cup competition at the Riverside Stadium in Middlesbrough yesterday when they went out on penalties after a drab goalless affair with Benfica.
Making every sort of pre-season allowance, it was a dire contest, relieved only by the intelligent running of Karel Poborsky for the Portuguese team and the effort put in for Newcastle by Temuri Ketsbaia.
There was hardly a shot worthy of the name on target and when it came to the shoot-out the wonder was that Steve Watson, Stuart Pearce and Ketsbaia managed to get their shots on target, while Gary Speed and the German Ralf Keidel missed.
Only two of Newcastle's new signings, the Frenchman Laurent Charvet and Carl Serant from Oldham, were in the team and Charvet in particular must have wondered what he has got himself into. All the dismal shortcomings of last season were in evidence again: lack of imagination and an abysmal shortage of punch.
They didn't even look like Newcastle, since the Magpie shirts had been replaced for the day by an all-blue outfit, and Alan Shearer was among those missing. He is just back from his post-World Cup holiday and was honest enough to report: "I might have lost a bit [of fitness] because I had a few drinks, so I've not done a great deal yet."
Some of his team-mates might have had similar problems, so poorly did they perform, to the delight of the Middlesbrough supporters in the sparse crowd who were cheering Benfica because they were wearing Boro red.
It was an indication of the European transfer market in reverse that Benfica's manager, one Graeme Souness, included three Englishmen - Brian Deane, Scott Minto and Michael Thomas - a Welshman - Mark Pembridge - and Poborsky, the Czech who had also gone to Portugal straight from Manchester United.
Perhaps it was because he wanted to show Old Trafford supporters what might have been, but Poborsky was the brightest operator in sight yesterday until his second-half withdrawal, though United fans would have hardly recognised him with his short, bleached hair and white beach-type boots.
Having been asked to stump up £25 to watch yesterday's two games in a meaningless competition, most of the Middlesbrough population understandably declined, since there is much anger among them at the hike in season-ticket prices since Boro got back into the Premiership.

Those who stayed away did well, since neither goalkeeper was unduly bothered until the shoot-out. Ketsbaia (twice) and John Barnes were off-target for Newcastle, while Pembridge and Jose Calado had efforts charged down.
Souness used the second half to make multiple experiments, Newcastle less so. It was all very frustrating for the loyal fans of the club and eventually one bellowed in the direction of the manager Kenny Dalglish: "Kenny, you've got to get rid of half this lot."

The trouble is, he has only just signed quite a few of this lot.
Benfica were much the sounder combination in the second half and one Poborsky effort looked destined for the top corner of goal until it was deflected away for a corner by Pearce.
At least the penalty kicks were taken at their end of the stadium. The first to miss, to their delight, was Minto, who scuffed a left-foot shot straight at Given, only for Speed immediately to do the same. However, the key miss was by Keidel, who hoofed the ball high over the bar.
Biffa