Ticket news:
Hull (h) Public sale now
Palace (a) ST holder sale now (zero points)
Stoke (a) Member sale now
Swansea (a) ST holder sale now (zero points)
Spurs (a) ST holder sale now (zero points)

Twist and shout:
A nation decides

Alan Pardew reveals his new matchday attire
"It is very, very painful. We have all had beatings before but how you recover is what makes you what you are. We can talk about tactics until we're blue in the face.

"I have been saying all week that we must handle the occasion but from the off, we didn't and we got blown away by a far superior team on the day."

Yet more Pardew ramblings post-Southampton? Wrong.

Those are the thoughts of one Steve Bruce, following a 1-5 defeat for his mackem side here in October 2010.

That's the same Steve Bruce who returns to SJP on Saturday, boosted in his quest to secure points for Hull City by the threat of protests. Regardless of whatever in-house disputes we have though, he must be stopped and sent away empty-handed once more.

The Tigers will come in good heart and look to make a positive start, taking advantage of what was incorrectly termed "mass hysteria" by Pardew - yet another example of him misreading a situation.

Just as the protests back in May weren't unanimous, then the anti-Pardew abuse at Southampton wasn't coming from everyone present - and we don't mean Carver.

Some travelling fans chose to leave in disgust at the performance and/or the abuse, while initial attempts at unfurling the banner that ended up on the front row resulted in supporters confronting one another.

Moving on to Saturday and regardless of their opinion of the manager, not everyone attending will be waving a Sack Pardew placard. For those who choose not to vote with their feet and boycott though, this is the only opportunity to protest and try and effect change.

One by-product of the Ashley era is that some supporters of long standing have dropped out - altering the mix of the crowd and removing elements of our core support with a consequent negative effect on the atmosphere.

So if nothing else, the prospect of SJP being occupied by motivated and vocal home supporters should be taken as a positive and used effectively in that manner.

Toxic though the atmosphere was against Cardiff, among the vocal protests lay the strongest backing to the team for many months - a far cry from deathly silences when the likes of Spurs, Everton and Swansea came, saw and conquered without a whimper on or off the field.

And although Cardiff contributed vastly to their own downfall that day, the record books will show that our 3-0 win is the largest margin of victory at SJP in 2014.

Of course, actually having something to support would help immeasurably, something that the players must bear great responsibility for. Perhaps some of the bile destined for Pardew could be redirected at coasters like Moussa Sissoko, Yoan Gouffran and Cheick "Lazarus" Tiote....

Any debate triggered has to be about the direction of the club, even more so than what we consider to be a wholly justified mass vote of no confidence in the manager.

Without a change in the structure, his replacement - whether next week or next year- will be of similar standing to both Hughton and Pardew, compromised and emasculated from day one...and doomed to failure.

Regardless of that though, we're at such a low ebb that any boost to the dressing room gained by hoofing Pardew out NOW would be eagerly taken. If it did turn out to be Fabricio Coloccini though, that might further divide the protest movement....

Our own reading is that the owner has no intention of making a managerial change until midway through the season. We believe he's mistaken and that not acting now betrays a lack of knowledge, both personally and from those he surrounds himself with. It's too late.

Regardless of the protests though, Ashley doesn't care as long as he's got your money and those TV cameras focus on his SJP placards in the Premier League. A far more telling protest would be to take advantage of the brief season ticket deal opt out window next January.

Alan Pardew has two roles - first team coach and club mouthpiece - and has been thoroughly unconvincing in both roles throughout 2014.

Some faces have changed, but the downbeat aspect of the team and their lack of spirit remains, as do his excuses - like many, we're at the stage where we take most of his public utterances as a personal affront.

Back to Saturday and regardless of the managerial issue,
what remains is the task of trying to earn three vital points against a team who are our rivals (notwithstanding the fact that we've loaned them an asset that may well help them win points in other games to finish above us).

Setting fan against fan won't help anyone's cause, while interruptions to the game would only give our numerous critics - and the footballing authorities - ammunition.

Protest and support, or support. The choice remains yours, but don't be guilty of doing neither.

As an aside, some readers have questioned why we linked to the protest website - our response is public interest.

It's the same mindset that saw us publicise the fan march that got NCJ banned and within days also provide details for anyone interested in joining the club's fan forum. We received identical criticism from radically opposed fans - which usually reassures us that we're on the right lines...

In all cases, the opportunity is given to see what is suggested and make a personal decision whether to support it, work against it, or modify your behaviour accordingly if desired.

Alternatively, just ignore it and do nothing, it's your call and we remain nothing more than a website. Plans to found our own religion remain resolutely on hold.

PS: We don't have any monopoly on discontent, with a Hull City fan protest group issuing a statement on Friday urging their own supporters not to abuse one another.

That follows booing between different sections of the home support at one point during last Monday's game against West Ham.

Premier League:
Hull City (h)
The attention switches to St. James' Park
on
Saturday, when a Tigers side

looking for their fourth successive victory on Tyneside provide the opposition.



Kick-off is at

3pm and tickets remain on public sale. It's not known whether owner Mike Ashley will attend.


The sackpardew.com campaign have published details of their planned protests at Saturday's game online here
A message from Northumbria Police:

The Police will facilitate peaceful protest.

The Police will not seize any banners (unless they are grossly offensive).

The safety and enjoyment of all attending football matches is our priority.
Since we last played Hull in March, we've taken just eight points from a possible 42, scored 9 and conceded 29.

Squad: Davide Santon, Siem De Jong and Rolando Aarons are all missing through injury, while Papiss Cisse and Ryan Taylor are back in training but remain unavailable.

Paddy Power match betting is online here

Hull to win @ 13/5
Newcastle to score first and fail to win @ 9/4
Riviere to score in a 1-0 in @ 25/1
Hull to win 3-2 @ 45/1

(NB: quoted odds were accurate at the time of writing, but subject to fluctuation - click on the link above to display current live odds).

HCFC: Robert Snodgrass is a long-term injury victim.

Ahead of this game, Steve Bruce's side drew 2-2 at home with West Ham on Monday.

On-loan Hatem Ben Arfa is ineligible to play against his parent club, but there's nothing to prevent him from taking a place in the visitor's dugout....

Referee: Neil Swarbrick - sighted twice at SJP last season, for a 0-2 loss to Manchester City in the Capital One Cup and a 0-4 league defeat by Spurs.

Pub Watch: The Bodega 125 Westgate Road, NE1 4AG




One of the most popular venues in Newcastle, and the pub where staff from other pubs go for a drink, The Bodega boasts a traditional long bar, Victorian stained glass domes, elaborately tiled floors, and lots and lots (and lots) of history.

And as the newly-crowned CAMRA Tyneside 2014 Real Ale Pub of the Year, you can also expect a true commitment to offering the very best real ale.

Combine that with a great mix of people, large screen plasma TVs, and friendly staff, it's the perfect place to relax before or after visiting nearby St James' Park, the Mill Volvo Tyne Theatre, or virtually anywhere else.

Find further details of this and the 20 other locations that make up the Sir John Fitzgerald estate online here

Travel:

Metro: No scheduled service disruptions

Soccerbus: Details of the X50 Soccerbus linking the Metrocentre Coach Park and the X40 Great Park & Ride connecting from the north of the city are online here

UK TV: None

Overseas TV:
beIN Sports 2 +HD (Indonesia)
Cytavision Sports 5
Fox Sports Plus Ch 505 Red Button (Aus)
GO Sports 6 (Malta)
GOL Stadium (Spain)
NBC Sports Live Extra (USA)
PremierLeaguePass (NZ)
SportKlub 5 (Croatia)
SportsNet World (Canada)
Viaplay(Sweden)
Yomvi +HD (Spain)

UK Radio: tbc

NE Radio: Live commentary on BBC Newcastle

Overseas Radio: Live commentary on talkSPORT

Stats:

Tigers in Toon - all-time record:

2013/14 lost 2-3 Remy 2
2008/09 lost 0-1 (FAC)
2008/09 lost 1-2 Xisco
1997/98 won 2-0 Rush, Hamilton (LC)
1990/91 lost 1-2 Clark
1989/90 won 2-0 McGhee 2
1935/36 won 4-1 Pearson, Connelly 2, Weaver
1934/35 won 6-2 Smith 2, Pearson 2, Gallantree, Wilson
1929/30 drew 1-1 Lang (FAC)
1912/13 won 3-0 Hibbert, Rutherford, Hudspeth (FAC)
1910/11 won 3-2 Shepherd 2, Veitch (FAC)

Latest Premier League fixtures:

Sat 20.09.2014:
QPR v Stoke City (12.45pm) BT
Aston Villa v Arsenal
Burnley v mackems
Swansea City v Southampton
West Ham v Liverpool (5.30pm) Sky

Sun 21.09.2014:
Leicester City v Manchester United (1.30pm) Sky
Spurs v West Bromwich Albion (1.30pm)
Everton v Crystal Palace (4pm)
Manchester City v Chelsea (4pm) Sky






2014/15 season Magpie Mover tickets are available for NUFC season ticket holders to buy, Priced at £20 (£21 by post) they allow free travel on buses, Metro, trains & ferries in Tyne and wear for three hours before and after competitive home first team games. Order online here




Options

:


Saturday: walking, talking, looking

Ahead of kickoff on Saturday, here are a few different possible ways to while away your time - aside from imbibing and/or daubing bedsheets:

NUST Public Meeting @ 12 noon in the Miners Institute, Neville Hall, opposite the Union Rooms by the station, running until 1.30pm.

Titled "Political Football", MPs Ian Mearns and Mary Glindon, Supporters Direct rep Kevin Rye and Kevin Miles from the Football Supporters Federation will discuss the ongoing attempts to improve supporter engagement and football governance generally.

Four years on from a Government Select Committee that asked the Premier League to bring forward proposals for legislative change, very little appears to have been done to give fans a voice in the way their clubs are run.

http://www.nust.org.uk/

Tyneside Memory Walk @ 11am, Baltic Square, outside the Baltic Arts Centre on Gateshead quayside NE8 3BA.

The widow of Newcastle United legend Charlie Crowe is to officially open the Alzheimer's Society's Memory Walk

Ruth Crowe will cut a ceremonial ribbon on the Millennium Bridge to get the dementia charity's flagship fundraising and awareness-raising event under way on Saturday.

More than 1,000 people will take part in the Memory Walk which is expected to raise more than £40,000 to boost the charity's coffers.

'I'm really glad that I have been able to help the Alzheimer's Society because the fight against dementia is close to my heart,' said Ruth, who lives in Wallsend.

'I'm absolutely determined to do whatever I can to help people with dementia and their loved ones because I know from Charlie's experience that we need to do more to fight it. It's a terrible disease.'

Charlie was the last surviving member of the 1951 FA Cup-winning team but developed dementia and died in North Tyneside Hospital in 2010 at the age of 85.

Ruth added: 'Charlie didn't know he was dying by inches because it is a slow, long drawn-out illness. They should have called it the long goodbye.

'He had dementia for 12 years before he died at the age of 85. I still remember the assessment with Charlie being asked to remember how many things were on a tray under a cloth. It was a memory test and it was then that the doctors knew for certain that something was wrong.

'Charlie changed completely. When I used to go and see him in his care home I would see him walking up his corridor to his room and he would smile but he didn't have much conversation.

'When this illness hits them you are not prepared for it. You have lots of banter with them and lots of laughs and then it all starts to change but I'm glad Alzheimer's Society is doing all it can to make things better.'

Ruth spoke out as she teamed up their daughter Lesley Edmondson and Newcastle-based Alzheimer's Society staff at Millennium Bridge to launch the second ever Tyneside Memory Walk.

She said: 'It is important that we are having the Memory Walk because it raises money and it raises awareness which is vitally important to people with dementia and their carers.

'There are almost 35,000 people who have dementia in the North East but nowadays there are lots of stories about dementia which shows we are moving in the right direction and it just shows how good it is to have things like Memory Walk.'

Lesley added: 'Everyone you talk to seems to have someone in their family who has dementia or they know someone who is affected by the disease. Now it is getting a lot of publicity which it deserves because it is possibly the biggest challenge facing our communities.'

http://www.memorywalk.org.uk

Toon Times exhibition @ 11am, Newcastle Discovery Museum, Blandford Square (off Milburn Way) NE1 4JA.

This is the last home matchday when the free exhibition curated by Newcastle United Foundation is open, with October 5th seeing its doors close for the last time.

Tickets are also on sale for a special event on Saturday September 27th when, club historian Paul Joannou gives an hour-long talk on "Newcastle United Football Club and the Great War."

100 years after the outbreak of hostilities, Paul provides an overview of how the war affected the Magpies and recounts some of the stories of those in black and white who served King and country.

Venue is the Archives Education Room at the Discovery Museum and start time is 11.30am. Tickets cost £4, bookable

in advance from the museum shop and here



2014/15

:
third (fourth) kit
As seen in the official 2014/15 Premier League handbook some weeks ago, Newcastle have now belatedly supplied details of the third kit, which goes on sale from Saturday and will be worn away at Stoke City on Monday week.

In their launch blurb, they claim that the design was chosen in conjunction with the fans forum last season, although that's disputed.

It's yet to be confirmed whether a red, white and blue kit was among discarded options...

(this is confusingly the fourth kit to be revealed, but the third to go on sale, with the predominantly white one worn against Real Sociedad in August available to buy nearer Christmas)
U18s:
Third time lucky?
Having taken maximum points from their most recent two visits to Rockcliffe Park, Newcastle's U18s go there on Saturday (11am) in search of a morale-boosting first league success of the season.

Dave Watson's side have taken just one point from their first four fixtures thanks to a 1-1 home draw with Stoke City - the only time they've actually taken the lead.

By contrast, Boro's youngsters come into this game after a 6-0 win away to Bolton and 3-2 home success against Liverpool. Local lad Junior Mondal has played his part in that success with six goals so far this season, signing a first professional contract at the Riverside on Friday.

For United, Wearside-born goalkeeper Kieran Stoker is promoted from the U16 squad and is in line to make his U18 debut.

Squad: Stoker, Cobain, Gibson, Pollock, Cameron, Laidler, Storey, Drennan, Longstaff, Newberry, Heaney, Hunter, Charman, Kerridge, Ward.


U21s
:
Babes in the Wood


United's U21 side break new ground on Monday night, when they take on their Arsenal counterparts at the Meadow Park home of non-league Boreham Wood FC.

Kickoff is at 7pm and admission is listed as being free to all on the Premier League website. The ground is on Broughinge Road, WD6 5AL.

Squad details to follow

Hat check:
Arfa chance
Contrary to reports that the loan deal that took Hatem Ben Arfa to Hull City on transfer deadline day contained no recall provision, it's now emerged that the player and the two clubs all have provision to end the agreement.

Given the poor standing of the player in the Newcastle dressing room though, it's difficult to envisage seeing Hatem again in a black and white shirt - regardless of whether Alan Pardew remains in post or not.
Internationals:
Freddie called up
Currently on loan at League Two side Hartlepool United, Newcastle reserve goalkeeper Freddie Woodman has been drafted into the England U18 squad following the withdrawal of another player.

Woodman is one of two custodians in the selection for a friendly match against Italy on Wednesday afternoon in the Adriatic coastal town of Caorle.


Quotes
:
"as tough as
it's ever been"

Alan Pardew news conference, Thursday:

""This situation at the moment is almost like mass hysteria, to a degree. It's really gone to a level which makes it really difficult for players to perform in. I am hoping we can turn that around.

"There's nothing I can do about that. I can't affect things I can't affect. The only thing I can really affect this Saturday is the team, my manner, my bench's manner and everything else that we do in terms of our conduct in that game.

"Am I the best person to sort it out? I think so, but I don't think our fans agree with that! They (Chronicle) did a poll today - 98 per cent didn't want me, so I am up a few per cent.

"There's nothing I can do to stop them protesting and I don't intend to, but all I do hope is that they give the team the chance to win the game and that the protest comes quickly and goes as quickly and hopefully we take the lead and we can see the game out.

"I think the worst scenario would be still protesting when we're winning - that would be unwelcome and puts the win in jeopardy.

"I think I'm kind of resolved to how the stadium is going to be and I think I've prepared the players for that, I'm hoping that myself and the team can handle it.

"People take this as an arrogance or some sort of ego trip or something - it's nothing of the kind. It's trying to be professional with my job.

"I've signed a contract here to be the manager for a long time and there were scenarios when it was good for me and now at this time it isn't.

"I need to make sure that I'm the same standards. Now the standards on the football pitch at the moment are not the levels that I've had at this football club and not the level we had at the start of this season.

"We need to banish that performance at Southampton and get it out of the memory as quick as we can.

"It's not been an easy week because after the events of Southampton, as manager you have to reflect and the performance really upset me going back to my old team.

"It wasn't a performance I was proud of in any shape or form.

"We spoke to the group about it we have some new players and I'm not going to offer any excuses. We need to make sure that if we go behind in games we have to show a better spirit as a group than we did in that game.

"But you know, in the season you get games when it gets away from you completely. It happened to some top teams last year - Arsenal had two or three times they got well beat - five and six - it happens in a Premiership season when it just doesn't work.

"It's bad timing for us because obviously the start we've had - we didn't get the win that we needed before then and so it's put added pressure on us, particularly myself - I'm fully aware of that.

"I've spoken to Mike (Ashley) we had a long conversation on Sunday and obviously he was disappointed in the performance as he has a right to as the owner, and he reflected that to me.

"The one thing that we both agreed on was that we really needed to focus on this Saturday and try and get a win for the football club.

"I think that's very important that certain issues, particularly the issue regarding me somewhat take a bit of a back seat in terms of the team because it's going to be a difficult environment if we have the atmosphere we had at Southampton for long periods.

"It never really come up if I'm honest and if that sounds like I'm sort of trying to fudge the issue, then I'm not.

"We talked about the team, we talked about a couple of things that were a problem and also about the performance and of course he was upset about the performance and really we focused on that.

"I never asked for any assurance - all I do know is that I've signed a long contract here for good and bad. We've had some great times that seem to have been forgotten recently.

"We've had some tough days as well and this will be one of our toughest. I can think of some tough games that I've had as manager here but the environment for the players on Saturday will probably be as tough as it's ever been.

"We have to accept and we have know that Hull are going to come and make good use of our situation and make it difficult for us.

"I think you're fighting for your job in terms of the record on the back end of last year and the record we've got at the start of this year but we've got a different squad this year and one of two - like all players in the Premiership - are finding the adjustment tough.

"Some can take straight to it, I remember when we bought Cabaye that year we brought him in and three or four others with him and we just hit the ground running.

"Everyone's surprised that happened and it is a surprise I think, because the more knowledgeable you get about players coming and adjusting to the Premiership it takes time and I think one or two of our players particularly without the win have found that a little bit tough.

"But we have all that, all them excuses and everything else this Saturday and get this magnificent football club - because that's what it is - a win.

On Jonas Gutierrez:

"We send our love to Jonas and the messages of support we have had are fantastic. I really hope he comes back sooner than later."

On John Carver:

"This is a guy who absolutely loves this football club as much as any fan we've had. Trust me he lives and breathes this football club, he's got black and white blood flowing.

"He's worked here for some unbelievable managers - Sir Bobby Robson for one. He's done every role at this football club.

"Do you think before the start of the game that he wants to see the manager banners going up and the negativity towards the team?

Of course not and he tried to defend it - albeit in the way John Carver does, which is that way and he's apologised for that kind aggression - that's all it was, a slight bit of aggression.

"For me he just wants to protect the team and I think it's been an over-reaction in the strongest kind of form and I hope our fans accept that for him, he's hurting as much as them."


Proud sponsors of NUFC.com

Update:
Coaches apologise following fan abuse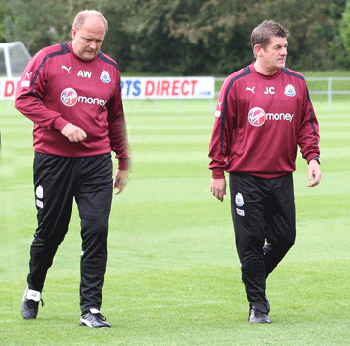 Club statement, Thursday:

Newcastle United received a number of complaints from supporters regarding the conduct of its coaching staff during and after the defeat to Southampton on Saturday, 13th September.

This matter has now been dealt with internally.

Following the conclusion of the Club's enquiries, assistant manager John Carver, said: "My sole focus on Saturday, as it always is, was on trying to gain three points for Newcastle United and preparing the players to the best of my ability.

"This included keeping them focused on their roles and duties in the upcoming 90 minutes.

"In the warm-up, I was disappointed to see banners that could, in my opinion, distract the players and take focus away from the job in hand - namely winning the match.

"I went over to our fans to ask them to help us and requested that they take the banners down. The vast majority of supporters back the team through thick and thin and I am very proud to be one of them.

"I was met with abuse from one supporter and I regret that I responded inappropriately. I sincerely apologise for any offence caused by my reaction.

"Every fan is entitled to an opinion, positive or negative, and I respect that. I hope fans will understand that I, like them, only wanted what was best for the team.

"I am proud to work for my home town club and would ask every supporter to back the players and all staff, as they really can make a difference."

Goalkeeping coach Andy Woodman, said: "I am very sorry for the ill-advised comment I posted privately on Twitter on Sunday morning, which was subsequently made public.

"It was never my intention, of course, for my response to enter the public domain.

"My response was a reaction to significant personal abuse I received from a number of fans which I felt exceeded that which was fair and balanced.

"That said, I understand my response was unacceptable and I regret my actions and apologise for any offence caused."

Thanks for that lads, that leaves just the apologies to come from the manager and the players for their own insulting performances at St. Mary's.....

Stadium art:
SJP giveaway


T
ake one iconic aerial photo of St. James' Park unadorned by commercial branding....and cut it up into four pieces.

That's the slightly unlikely premise of a Tyneside-based company who have produced this stunning g

lass effect acrylic wall art
image of the stadium in full colour.
Each A4-sized quarter has

polished edges
, doesn't
require
framing and is supplied with wall mounting. I
n addition to the four-piece edition pictured above, the same SJP image is also available in a single piece A3 size edition.
These unique items will be on sale soon via NUFC.com, but while final preparations are made, we've got one of each to give away in a free-to-enter competition.


To be in with a chance of winning one, email us here with your answer to this question:

Known as the East Stand since opening for business back in 1973, what was the standing terrace that previously occupied that side of St. James' Park usually known as?
The closing date is Wed Sep 24th @ 8pm, subject is: SJP. No purchase necessary, no age restriction and entries welcome from anywhere in the world, although free prize delivery is restricted to UK addresses only.

Those choosing their own subject line will be disqualified (except for the ongoing HM Forces email restriction).
Premier League:
Cisse: club & country
Having returned to full training following the knee injury that has sidelined him since the home game against Swansea City in April, a comeback for Papiss Cisse is anticipated at Stoke City on Monday week - although he could yet be play some part in Wednesday's Capital Cup trip to Crystal Palace.

Assuming that he does feature against the Potters however and at Swansea on the following Saturday, a hasty callup at international level is then anticipated.

Having won their opening two African Nations Cup qualifiers, positive results in next month's double-header against Tunisia would seal qualification for the Final tournament - staged in Morocco from January 17th.

Assuming he's a) fit and b) still a Newcastle playe by then, Cisse would stand to miss six Premier League fixtures and the FA Cup Third Round tie while away representing his country in those finals.

PS: while the return of our number 9 would be a boost, it's perhaps wise to recall his lack of firepower - managing just four Premier League strikes in the 12 months before his injury, at an average of 481 minutes per goal.
Latest:
Jonas: update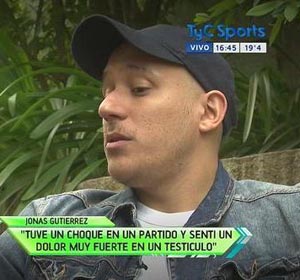 Update: further details from the Gutierrez TV interview reveal that the initial diagnosis of his testicular cancer came a scan that he underwent after suffering an injury during the home game against Arsenal in May 2013.

After having the affected testicle removed in Argentina, during October, Jonas returned to Newcastle and played one reserve game in December before joining Norwich City on loan, making four appearances in as many months.

Five months on from the surgery, a check up revealed traces of cancer had returned and at that point he was prescribed a course of chemotherapy, during which he lost his trademark flowing locks.

Putting together the above into a timeline does raise a number of questions, in particular the short interval between surgery and returning to playing, plus what medical checks were carried out before joining Norwich.

And finally, was including Jonas in Newcastle's 25 man Premier League squad this season a confidence booster for him or indicative of a possible playing return?

24 hours after the player made his announcement, NUFC released their own statement:

Newcastle United can confirm that winger Jonas Gutierrez is continuing to receive treatment in Argentina after being diagnosed with testicular cancer.

The Club has been aware of Jonas' condition for some time but has respected his wish for privacy as he undergoes treatment with his friends and family around him.

Newcastle United managing director, Lee Charnley, said: "We have and will continue to offer Jonas our full support.

"We thank our fans for their kind messages of support for Jonas and the thoughts and best wishes of everyone connected to Newcastle United are with him at this time."
The club kindly requests that Jonas' privacy is respected ahead of further enquiries.
Tuesday evening saw the publication of quotes from Jonas Gutierrez given to a TV station in his native Argentina, confirming why he's not featured in the Newcastle squad this season:

"When I confirmed that I had cancer I went home crying. This was the most difficult game I had to play.
"I detected a tumour in a testicle. I came here and I assumed the costs, despite having a contract with Newcastle.
"Money is not important. What is important is health and I had to start chemotherapy. It was hard to find my hair falling out. I did not want to cut it. I wanted to hold on.
"Fighting cancer makes the rest of the problems are insignificant. I decided to tell my story because maybe is will help people who have cancer."
"I removed the left testicle. I returned to England and Newcastle told me to leave."

Concerned about testicular cancer? click here
Loan lads:

The borrowers

Magpies currently on temporary assignment elsewhere:

Sylvain Marveaux (Guingamp)
The on-loan winger started his side's Europa League tie away to Fiorentina on Thursday, earning a booking and playing 52 minutes as Guingamp were beaten 0-3.

Next game: AS Monaco (a) Ligue 1, Sunday.

Mapou Yanga-Mbiwa (AS Roma)
The defender (pictured) made his Roma debut during a 5-1 home win over CSKA Moscow in the Champions League on Wednesday night.

Next game: Cagliari (h) Serie A, Sunday.

Jamaal Lascelles, Karl Darlow (Nottingham Forest)
Darlow was between the posts and Lascelles on the bench for Wednesday's eventful home meeting with Fulham in the Championship.

A see-saw game eventually went 5-3 in Forest's favour, sending them to the top of the table. Lascelles made a late appearance in the 90th minute and managed to be booked during the six additional minutes played.

Next game: Millwall (a) Championship, Saturday.

Freddie Woodman (Hartlepool United)
The Magpies custodian watched from the bench on Tuesday evening as the Monkey Hangers lost 1-5 at Northampton Town in League Two.

Next game: Plymouth Argyle (a) League Two, Saturday

Hatem Ben Arfa (Hull City)
A Tigers debut came from the bench in the 79th minute of Monday night's 2-2 home draw with West Ham in the Premier League.

Next game: West Bromwich Albion (a) Capital One Cup, Wednesday 24th (ineligible to play against Newcastle).


Premier League:
Humped in Hants

Southampton 4 Newcastle 0
Match report

If any male supporter mislaid their glasses during last Saturday's visit to Southampton, email biffa@nufc.com
and we may have some good news for you.....


Talk-in
:
Gibbo
and Mac
out on the Town

Following John Gibson's appearance in Wallsend on Friday night, he'll be hosting a similar event at Northern League club Dunston UTS next Thursday, September 25th.

Appearing with John will be Malcolm Macdonald and the event gets underway at 7pm. Tickets are £5 including a pie and pea supper, available from the clubhouse or by calling 0191 493 2935. All proceeds go to the club.

The event is part of John's promotion of his new book, "The Gibbo Files", available for £9.99 from local booksellers including The Back Page on St. Andrews Street.
Old boy:
Shola spotted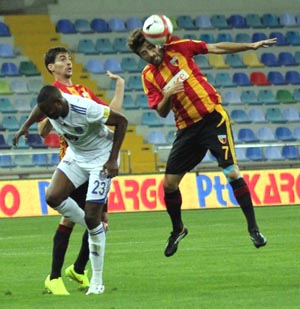 While his old team were sinking without trace at Southampton, Shola Ameobi made a competitive debut for Gaziantep in the second tier of Turkish football.

Wearing his familiar number 23 shirt, Ameobi (pictured above in the all white strip) completed all 90 minutes of a 0-0 draw away to Kayserispor, collecting a booking within three minutes of the opening whistle.

Shola's debut had been delayed a week due to serving a suspension following the red card that curtailed his final appearance for Newcastle last season, at Anfield.

PS: Friday saw Shola net his first goal in Turkish football, converting a penalty in a 1-1 draw against Adanaspor.
Fanzine
:

Tablets of Toon


Issue 114 of True Faith is now available in digital-only format. Click here for details of how to subscribe.

Online subscriptions cost £17.99 annually, with a £5.99 quarterly option. Ten issues per season, each one has a minimum of 100 pages (114 clocks in at 108 pages.

Subscribers also get free access to 34 back issues.

Memorabilia:
Signed KK shirts
/boots
For more information click here.

Update: signed KK boot/photo montage now also on sale.
2014/15
:
Crystal Palace (a)
United visit Selhurst Park for a Capital One Third Round tie against Crystal Palace this coming Wednesday (24th).

Kickoff is at 8pm and as usual in this competition, the tie must conclude on the night - via extra time and penalty kicks if required.

The Fourth Round draw will take place live on Sky Sports on Wednesday night, following their coverage of the Spurs v Nottingham Forest tie.

Tickets remain on sale to NUFC ST holders and members, with Newcastle fans in blocks R, S and T of the Arthur Wait Stand. Due to lack of demand, Palace haven't yet sold any seats to home fans in the rest of that stand.

After a 610 mile round trip to Gillingham in the last round, this adds another 595 miles for those on the road from Tyneside - and to make matters worse, the league visit to Palace next February is also on a midweek night.

Squad: Davide Santon, Siem De Jong and Rolando Aarons are all missing through injury, while Papiss Cisse and Ryan Taylor are back in training but remain unavailable.

Paddy Power match betting will appear online here


CP
FC:
T
he Eagles must play a trio of matches in just seven days, travelling to Everton on Sunday before entertaining Leicester City on Saturday week.

By contrast, United will face a manageable three games in a ten day period, facing Hull City at home on Saturday and Stoke City away on Monday week.


Referee: Robert Madley (West Yorkshire) whistler who made his bow in the Premier League during the 2013/14 season but has never previously taken charge of any competitive senior fixture involving United.

Travel: no scheduled disruptions



UK TV:

None



Overseas TV: tbc

UK Radio:

tbc



NE Radio: Live commentary on BBC Newcastle

Stats:

If you're looking for positives, United will go to Selhurst in search of a fifth successive win over Palace there. Less comfortingly though, we've lost 17 of our 26 League Cup ties against fellow Premier League sides since 1993 and won only one of the last eight (Chelsea away in 2010).

We've faced Alan Pardew's former club six times in the FA Cup (all at SJP, with Newcastle winning five and losing one) but this is the first-ever League Cup meeting.

However, Selhurst Park itself has hosted a tie in this competition involving United, when temporary tenants Wimbledon defeated us 1-2 in a Third Round in 1993.

Magpies v Eagles @ Selhurst - all time:
2013/14 won 3-0 Cabaye, og(Gabbidon), Ben Arfa(pen)
2009/10 won 2-0 Nolan, Ryan Taylor
2004/05 won 2-0 Kluivert, Bellamy
1997/98 won 2-1 Tomasson, Ketsbaia
1994/95 won 1-0 Beardsley
1983/84 lost 1-3 Beardsley
1982/83 won 2-0 Waddle, Varadi
1981/82 won 2-1 Waddle, Mills
1978/79 lost 0-1
1972/73 lost 1-2 Tudor
1971/72 lost 0-2
1970/71 lost 0-1
1969/70 won 3-0 Davies, Dyson, Robson
1964/65 drew 1-1 Cummings

Capital One Cup
Third Round:

Tue 23.09.2014:

Arsenal v Southampton
Cardiff City v Bournemouth
Derby County v Reading
Fulham v Doncaster Rovers
Leyton Orient v Sheffield United
Liverpool v Middlesbrough Sky
MK Dons v Bradford City
Shrewsbury Town v Norwich City
mackems v Stoke City
Swansea City v Everton

Wed 24.09.2014:
Burton Albion v Brighton & Hove Albion
Chelsea v Bolton Wanderers
Crystal Palace v Newcastle United
Manchester City v Sheffield Wednesday
Spurs v Nottingham Forest Sky
West Bromwich Albion v Hull City



2014/15

:
More cuts


Wednesday saw United confirm further reciprocal pricing deals with two Premier League sides - and announce a discount on ticket prices for a third away day.

Following on from agreements reached with Southampton and Stoke City, travelling fans will now pay less for the games with Swansea City and Everton, while the visit to Spurs will also be subject to a price restriction.

Swansea City: £25 adults, £12.50 concessions
(this still represents a price increase on 2013/14 when adults were charged £20, but better than the £35 that Toon fans had to fork out in the two previous visits).

Everton: £20 adults, £10 concessions
(that's a rather more real world price to occupy a 19th century hovel with awful sightlines than the £33 last season and the £39 in 2012/13)

Spurs away: NUFC will subsidise their support for the visit to White Hart Lane from the away fans fund:

£31 adults, £14 OAPS, £12 juniors (upper)
£27 adults, £11 OAPs, £9 juniors (tier)

(2013/14 adult prices were £41 upper, £37 lower)

(for clarity, the reciprocal rates apply to away fans attending each game against that side and reaching an agreement of this type allows the home club to offer discounted tickets to home fans without any fear of sanction for flouting parallel pricing guidelines).


NUFC
Next Match
Hull City
Premier League
St. James' Park
Saturday 20th September
Kick-off 3.00pm
NUFC
Last Match
Southampton 4
Newcastle 0
Premier League
St. Mary's Stadium
Saturday 13th September
Match report
NUFC.com's
Never-Ending Tour
| | |
| --- | --- |
| Number of Newcastle games attended by NUFC.com in 2014/15: | 25 |
Fixtures, Tickets etc.
Season 2014/15

The ticket office is on the first floor of the SJP club shop, under the Gallowgate End towards the Strawberry.

New season opening Hours: TBC

Paid-for matchday ticket collections take place from the windows at the back of the Gallowgate End Stand, above NINE Bar.

Matchday ticket sales are from the Box Office in the Milburn Stand, just up the slope from the Sir Bobby Robson Statue.

SJP Box Office phone: 0844 372 1892*
(Open for away ticket sales and enquiries during the above Box Office hours).

* 0044 870 1892 from overseas

Online Box Office is available here

2014/15 season ticket details here

On the opening day of ticket sales, they officially commence at 10am.

Away tickets are sold only to season ticket holders and members. All ST holders are also automatically members (a non-negotiable fee is added annually by NUFC to each ST).

A £1 administration fee per ticket applies to away sales in all competitions, with no upper limit. In addition, non-NUFC members pay the same fee on home ticket sales.

NUFC's members only away ticket policy is still in force, with only NUFC ST holders and members able to purchase tickets. NB: for the pre-season games listed below, two tickets per member number can be bought.

SJP season ticket info online here

SJP Stadium seating plan online here

Newcastle City Centre map (PDF)

Fixtures:

Ongoing: Toon Times exhibition @ Discovery Museum, Blandford Square, Newcastle NE1 4JA. Free entry. (runs until 05.10.2014)

Sat 20.09.2014 U18s v Boro (a) @ Rockcliffe Park, 11am. U18 Premier League.

Sat 20.09.2014 Hull City (h) @ SJP, 3pm. Premier League. Public sale now.

Mon 22.09.2014 U21s v Arsenal (a) @ Meadow Park, Boreham Wood, 7pm. U21 Premier League. Note new date.

Wed 24.09.2014 Crystal Palace (a) @ Selhurst Park, 8pm. Capital One Cup Third Round. ST holder sale now (zero points) £15 adults, £10 OAPs/U18s.

Sat 27.09.2014 U18s v Liverpool (h) @ Little Benton, 11am. U18 Premier League.

Mon 29.09.2014 Stoke City (a) @ Britannia Stadium, 8pm. Premier League. Member sale now. £20 adults, £5 OAPs, U17s. Live on Sky Sports.

Wed 01.10.2014 U21s v Heaton Stannington (a) @ Grounsell Park, 7pm Friendly.

Sat 04.10.2014 U18s v Derby County (h) @ Little Benton, 1pm. U18 Premier League.

Sat 04.10.2014 Swansea City (a) @ Liberty Stadium, 3pm. Premier League. ST holder sale now (zero points), member sale from Mon 22.09.2014 (if any). £25 adults, £12.50 Over 60s, U16s, NUS.

Sat 11.10.2014 U18s v Manchester City (a) @ Platt Lane, 1pm. U18 Premier League.

Sat 18.10.2014 U18s v Everton (h) @ Little Benton, 12.30pm. U18 Premier League.

Sat 18.10.2014 Leicester City (h) @ SJP, 3pm. Premier League. Ticket details awaited.

Mon 20.10.2014 U21s v Brighton (h) @ Whitley Park, 1pm. U21 Premier League.

Sat 25.10.2014 U18s v Blackburn Rovers (a) @ Brockhall, 12.30pm. U18 Premier League.

Sun 26.10.2014 Spurs (a) @ White Hart Lane, 1.30pm. Premier League. ST holder sale now (zero points), members sale from Tue 23.09.2014 (if any). Upper tier: £31, £14 over 65s, £12 U16s. Lower tier: £27, £11 over 65s, £9 U16s.

Mon 27.10.2014 U21s v Middlesbrough (a) @ Victoria Park, Hartlepool 7pm. U21 Premier League.

Capital One Cup Round Dates:
3rd Round w/c 22.09.2014
4th Round w/c 27.10.2014
QF w/c 01.12.2014
SF(1L) w/c 05.01.2015
SF(2L) w/c 19.01.2015
Final Sun 01.03.2015

FA Cup Round Dates:

3rd Round w/e of 03.01.2015
4th Round w/e of 24.01.2015
5th Round w/e of 14.02.2015
6th Round w/e of 07.03.2015
SF Sat 18.04.2015/Sun 19.04.2015
Final Sat 30.05.2015

FA Youth Cup Round Dates:

3rd Round by 20.12.2014
4th Round by 17.01.2015
5th Round by 31.01.2015
6th Round by 21.02.2015
SF1 by 07.03.2015
SF2 by 21.03.2015
Final 1 tbc
Final 2 tbc

U21 Premier League Cup Dates:

Round of 32: no later than 08.12.2014
Round of 16: no later than 05.01.2015
QF: no later than 02.02.2015
SF: no later than 02.03.2015
Final: no later than 30.03.2015

Northumberland Senior Cup 1st Round:

06.10.2014 Team Northumbria v Bedlington
07.10.2014 Alnwick Town v Heaton Stan
08.10.2014 Morpeth Town v North Shields
08.10.2014 Newcastle Benfield v WA Celtic
(The four winners of those ties then go into the Second Round draw with Ashington, Blyth Spartans, NUFC and Whitley Bay).


Altoonative Travel is the public face of the Newcastle United Travel Plan, aimed to help fans attend games using the most efficient and sustainable methods available.


Confirmed NUFC UK live TV coverage:

NUFC Live on Sky Sports:
Mon 29.09.2014 Stoke City (a) 8pm
Sun 09.11.2014 West Brom (a) 1.30pm



NUFC Live on BT Sport:
Sat 01.11.2014 Liverpool (h) 12.45pm


Gateshead FC are offering a £5 saving on Conference Premier League home games for NUFC season ticket holders this season.

On production of their current ST card, fans pay just £10 for adult admission to the Tyne and wear Stand - a saving of £5.

Upcoming home League games
(all 3pm KO unless specified):

Sat 27.09.2014 Aldershot Town
Sat 04.10.2014 Braintree Town
Sat 18.10.2014 Barnet

A similar scheme is also in operation at Northern Premier League side Darlington 1883, where NUFC season ticket holders can gain entry to league games for £6.

Upcoming home League games
(all 3pm KO unless specified):

Sat 20.09.2014 Salford City
Wed 01.10 2014 Harrogate RA (7.45pm)
Sat 04.10.2014 Padiham

(NB: home games are staged at Bishop Auckland FC's Heritage Park home)

Rugby League Magic Weekend @ SJP:

The 12 team event takes place on 30.05.2015 and 31.05.2015, with three games at SJP each day.

Teams: Catalans Dragons, Castleford Tigers, Hull, Hull KR, Huddersfield Giants, Leeds Rhinos, St Helens, Salford Red Devils, Wakefield Trinity Wildcats, Warrington Wolves, Widnes Vikings, Wigan Warriors.

Ticket details tbc.

Rugby Union World Cup @ SJP:

The 20 team event runs from 18.09.2015 to 31.10.2015 with three games at SJP:

Sat 03.10.2015 South Africa v Scotland
Fri 09.10.2015 New Zealand v Tonga
Sat 10.10.2015 Samoa v Scotland

RUWC match ticket sales:

Now: Traveling Fan Packages
Now: Hospitality Packages
Now: English rugby club members

12-29.09.2014 General sale
General sale to the public via a ballot

11.2014/12.2014 General sale
First come, first served basis for any left

International Magpies
National Service

The way international matches are scheduled is changing, as UEFA confirm:

The Week of Football means matches take place over six days from Thursday to Tuesday. Kick-off times will be set largely at 18.00CET and 20.45CET on Saturdays and Sundays and at 20.45CET for Thursdays, Fridays, Mondays and Tuesdays.

On double-header match weeks, teams will play on Thursday and Sunday, Friday and Monday or Saturday and Tuesday.

2014/15 match dates :
Wed-Fri 09-11.10.2014
Sat-Mon 12-14.10.2014
Thu-Sat 14-16.11.2014
Fri-Sun 27-29.03.2015
Fri-Sun 12-14.06.2015

2014/15 African Nations Cup:
Sat 17.01.2015-Sun 08.02.2015

Group D qualifiers:
11.10.2014 DR Congo v Ivory Coast
15.10.2014 Ivory Coast v DR Congo
15.11.2014 Sierra Leone v Ivory Coast
19.11.2014 Ivory Coast v Cameroon

Group G qualifiers:
11.10.2014 Senegal v Tunisia
15.10.2014 Tunisia v Senegal
15.11.2014 Egypt v Senegal
19.11.2014 Senegal v Botswana

2015/16 match dates:
Thu-Sat 03-05.09.2015
Sun-Tue 06-08.09.2015
Thu-Sat 08-10.10.2015
Sun-Tue 11-13.10.2015
Thu-Sat 12-14.11.2015 (playoff 1)
Sun-Tue 15-17.11.2015 (playoff 2)

Coxy's Cockup Corner
Whoops, He did it Again...

What's this all about then? Click here
for a rambling explanation of sorts....


On This Day in History
19th September

Born Or Died:
1919 Arnold Grundy born, Whickham.
(1936-44)

Left half who appeared for United in the final game of the 1936/37 season, deputising for the injured Bill Imrie.

United won that game 2-0 at SJP against Bradford City, but lost 4-1 at Luton 12 months later on the occasion of Arnold's second and final first team appearance.

The outbreak of war curtailed his career, but he did appear for both Liverpool & Southport as a guest player in the War Leagues.

1939 Brian Wright born, Sunderland.
(1956-63)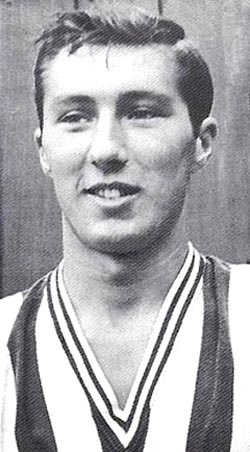 Defender/midfielder who was drafted into the first team after coming through academy and reserve ranks, making his senior bow in a 3-0 defeat at Nottingham Forest in April 1960.

An occasional starter in the first team under Charlie Mitten as United were relegated in the 1960/61 season, Brian featured more often under Norman Smith the following season in Division Two.

However his days were numbered when Joe Harvey took over as manager in 1962, departing at the end of that season just before Ollie Burton arrived from Norwich.

Brian went on to become a regular with Peterborough United, playing over 300 games returning to his hometown with Posh in 1967 in the FA Cup, only to lose 7-1 at Roker Park.

Leaving London Road in 1972, he ended his playing career at Scarborough, before returning to live on his native wearside.

1944 Eric Ross born, Belfast, Northern Ireland. (1967-69)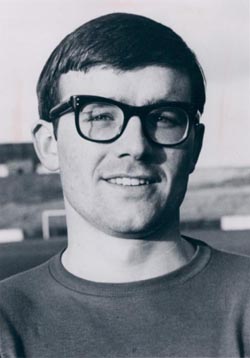 A bespectacled left-sided midfielder (who later wore contact lenses on the field), Eric joined United for £5,250 from Glentoran in 1967, having spent that summer in the USA playing for Detroit Cougars.

Coming to prominence as part of the Glens squad who drew 1-1 and 0-0 with a Benfica side including Eusebio in the European Cup, Ross joined a Northern Ireland enclave at United, including Iam McFaul, David Craig and John Cowan.

Like the latter though, he was a rare starter at first team level and after debuting in a League Cup defeat at Lincoln, made just one league start in his first season, at Fulham.

The following campaign was little better, as he lost his place in the side after an opening day draw at home to West Ham, making a fourth and final senior appearance in the League Cup, against Southampton.

Without a win in his four first team outings, Eric became a reserve team regular and was capped at full international level by Northern Ireland in September 1968 against Israel.

However he does appear in the official club photograph of the 1968/69 Fairs Cup team, despite playing no part in that campaign - being dragged in to the shot by Joe Harvey as the back row looked uneven....

A £15,000 move to Northampton Town in October 1969 followed and Ross was part of the Cobblers side humbled 2-8 in an FA Cup tie by Manchester United, with fellow Belfast boy George Best running in six of the goals.

A subsequent loan spell at Hartlepool United was followed by a stint playing in Canada and Eric returned to the region in 1976 to play for local amateur side North Shields.

Emigrating to Canada, Ross later settled in Vancouver and worked as an estate agent.

1962 Gary Brazil born, Tunbridge Wells.
(1989-90)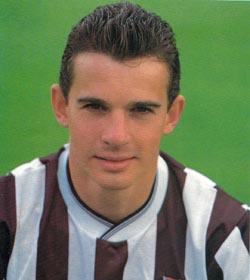 Forward who began his playing career as an apprentice at Crystal Palace, moving on to Sheffield United in 1980 and then joining Preston North End in 1986 after a loan spell with Port Vale.

Eventually establishing himself at Deepdale after being loaned out to Mansfield Town, Gary arriving at SJP in February 1989 in a part exchange deal with Ian Bogie and £100K heading to Deepdale.

Debuting in a 2-1 win at Coventry City, played seven times in the First Division without scoring but struggled with injury towards the end of a season that ended in United's relegation.

And before a ball was kicked in Division Two, Gary fell further back in the forward pecking order after the signings of Mark McGhee and Mick Quinn.

His ill-fated time in Toon then took another wrong turning, when a stray ball broke his nose during a squad golfing day.

Most often deployed as a substitute at SJP, Gary opted to join Fulham after failing to break into the first team at the start of the 1990/91 season.

That move soon became permanent and he was to enjoy six years with the Cottagers before ending his playing days at Cambridge United, Barnet and non-league sides Slough Town and St.Albans City.

Brazil joined Notts County in 1997, recruited by then-Magpies boss Sam Allardyce to join the youth coaching staff.

In a seven year stint at Meadow Lane he also became manager, served as assistant boss and finally reverted to youth coaching.

A brief stint at Doncaster Rovers in 2004 was followed by a role with the FA before Brazil returned to Craven Cottage as Fulham's U18 Academy coach.

Leaving Fulham in 2011 to work for the Premier League in the Midlands, closer to his Nottingham home, Gary was appointed Youth team coach at Forest in May 2012 - serving briefly as caretaker boss of the first team before Stuart Pearce was appointed.

1978 Sean Hessey born, Whiston.
(1997)
Defender released by Liverpool's Academy in March 1997 along with Terry Burghall - both players accepting invites from Kenny Dalglish to train with Newcastle juniors.

However, that failed to work out and Hessey then turned up on trial at Burnley in 1997.

No contract offer was forthcoming at Turf Moor, but Sean went on to play first team football at Wigan, Huddersfield, Kilmarnock, Blackpool, Chester and Macclesfield Town.

August 2010 then saw Hessey in the colours of Accrington Stanley, with a first goal for his new club coming in a Carling Cup tie against... Newcastle United.

Leaving the Crown Ground in May 2012 to sign for Conference Premier league side, Barrow, Sean made the switch to Welsh Premier League side Prestatyn Town ahead of the 2013/14 season.

1979 Death of Monte Wilkinson, 71.

1983 Damon Robson born, Chester-le- Street. (1999-2003)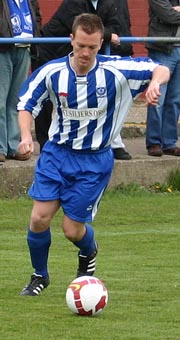 Midfielder & England youth international who appeared at junior and reserve team level for Newcastle, but failed to secure a professional contract and was released.

Playing for Bristol City in a short trial, Damon opted to remain in the North East and began a career in the Northern League with his hometown club, Chester-le-Street.

Later moves took him to Bishop Auckland and Horden Colliery Welfare, before making the switch to Whitley Bay in 2006.

Damon collected an FA Vase winner's medal at Wembley Stadium in 2009 after Bay beat Glossop North End 2-0 and returned to repeat the feat 12 months later, after an awesome 6-1 demolition of Wroxham.

Incredibly Bay made it a hat-trick of Vase successes in 2011 and Robson captained the side as they beat Coalville Town 3-2.
He left Hillheads in 2012.

1986 Leon Best born, Nottingham.
(2010-12)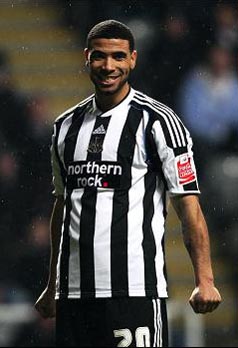 A deadline day acquisition from Coventry City in January 2010, this Republic of Ireland international striker began his playing career with Southampton, debuting against United at St.Mary's in September 2004.

Loan spells at QPR, Sheffield Wednesday, Bournemouth and Yeovil Town then followed for the player who had been with Notts County as a youngster.

Leon then made the switch from the Saints to Coventry City in summer of 2007, lining up against United in the 2009/10 season with Toon loanee Patrick Van Aanholt.

His Magpies bow came as a substitute in a 5-1 home win over Cardiff City in February 2010 and he would feature during the rest of that promotion season without scoring.

Netting at both Carlisle United and against PSV Eindhoven at SJP in pre-season, an ankle injury sustained during training then sidelined Leon from the opening weeks of Newcastle's Premier League return.

However, injuries to other strikers saw him make a number of Premier League starts and he hit a memorable hat-trick against West Ham, one of the comeback goals against Arsenal and strikes against Birmingham and Everton after Andy Carroll had departed.

The 2011/12 season saw that rich vein of form continue as he grabbed both goals in the win over Fulham and a vital equaliser at Villa Park two days before his 25th birthday.
First recognised by the Republic of Ireland at U21 level in March 2008, Leon made his full international debut in a friendly against Nigeria at Craven Cottage in May 2009.

The arrival of Demba Ba and Papiss Cisse on Tyneside saw Best declared surplus to requirements and he departed for Blackburn Rovers for a £3m fee in July 2012.

However, he sustained a cruciate ligament injury almost immediately in a pre-season friendly and didn't make his competitive debut for Blackburn until March 2013.

Scoring his first Rovers goal in the opening Championship game of the following season, Best failed to command a regular first team place at Ewood Park and was loaned out to Sheffield Wednesday in February 2014.

Five goals in 16 appearances followed, but no deal keeping the striker at Hillsborough was forthcoming and Best agreed a loan move to fellow Championship side Derby County for the 2014/15 campaign.

And he got off the mark in his eighth Rams outing, returning to his home town to salvage a point against Nottingham Forest just days before his 28th birthday.

What Else?
1896 Notts County (a)
1-3 (1-2)
Division Two
Stott
Murphy, Bull, Langham
6,000
1903 Everton (a)
1-4 (0-1)
Division One
Howie
Booth, Hardman, Settle, Young
20,000
1908 Notts County (h)
1-0 (1-0)
Division One
Wilson
31,000
1910 Norwich City (a)
1-1 (1-0)
Friendly
Veitch
Kirkman(pen)
13,473
Hospital Cup Match.
1914 Bradford City (h)
1-0 (1-0)
Division One
Douglas
15,000
1925 Leicester City (h)
3-2 (2-0)
Division One
Loughlin 3
Bamber 2
31,000
1931 West Ham United (a)
1-2 (0-2)
Division One
Allen
Watson, Ruffell
28,000
1936 Blackpool (a)
0-3 (0-3)
Division Two
Hampson 2, Finan
26,962
1942 Huddersfield Town (h)
0-4 (0-0)
Wartime
Boot, Wilkinson 2, Price
8,000
1953 Tottenham Hotspur (h)
1-3 (0-1)
Division One
Milburn
Walters, Baily, Robb
53,056



1956 Hearts (h)
1-2 (1-1)
Friendly
Keeble
Young, McFadzean
23,780

1959 Burnley (h)
1-3 (1-1)
Division One
Tait
Connelly 2, McIlroy
38,576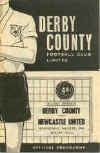 1962 Derby County (a)
1-0 (1-0)
Division Two
Fell
14,901
Jimmy Fell got the only goal as United won the second of what would three successive away successes, something that elevated them to fifth.

1964 Cardiff City (a)
1-1 (0-1)
Division Two
Cummings
Allchurch
12,016
Former United Captain Jimmy Scoular was in his first full season charge at Ninian Park and was to remain there until 1973.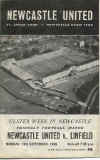 1966 Linfield (h)
7-2 (4-0)
Friendly
McGarry 2(1 pen) Robson 2, Burton, Guthrie, Suddick

Scorers tbc
4,224

Linfield goalkeeper Willie McFaul impressed United officials sufficiently despite conceding seven to be invited over to Tyneside.

1970 West Ham United (a) 2-0 (1-0)
Division One
Robson 2
25,841
According to the programme notes the referee was "a professional pavior". You don't get many of them nowadays....
1973 Morton (a)
2-1 (1-1)
Texaco Cup
Tudor, Smith
scorer tbc
4,326

1981 Norwich City (a)
1-2 (1-1)
Division Two
Waddle(11)
Watson(17), Jack(82)
14,384
Waddle opened the scoring with Newcastle's 5000th league goal which was also our first away goal for 903 minutes. McGuire missed a penalty for the home team, hitting the post, but we still lost.

1989 Reading (a)
1-3 (0-1)
League Cup 2nd Round 1st Leg
Gallacher
Senior 2, Taylor
7,960
A fairly miserable evening at Elm Park, but a two goal deficit was turned round in the second leg.

1992 Bristol City (h)
5-0 (2-0)
Division One
O'Brien(40), Peacock(45pen,68pen), Carr(64), Brock(86)
29,465
The promotion bandwagon was now in full swing, with a seventh successive league win for Kevin Keegan's side.
Youtube footage is online here

1995 Bristol City (a)
5-0 (3-0)
League Cup 2nd Round
1st Leg
Peacock(8), Sellars(22), Ferdinand(30), Gillespie(46), Lee(85)
15,952
Scott Sellars scored on his return to first team duty after an eleven month absence through injury. Bristol-born defender Darren Peacock meanwhile set United on their way with an early goal at Ashton Gate.
1998 Coventry City (a)
5-1 (3-0)
Premiership
Dabizas(14), Shearer(42,90), Speed(43), Glass(58)
Whelan(4)
22,656
Just weeks after the arrival of Ruud Gullit, Newcastle racked up a third victory in seven days - Southampton thumped 4-0 and Partizan Belgrade 2-1, both at SJP.

Ruud had seemingly come in and waved his magic wand, even if he was still unable to stimulate the moribund Stephane Guivarc'h.

1999 Sheffield Wednesday (h) 8-0 (4-0)
Premiership
Hughes(11), Shearer (30,33pen,42,81,84pen) Dyer(46), Speed(78)
36,619
This was the stuff of fairytales as Bobby Robson's first game on Tyneside as Newcastle manager saw United register a first league win of the season at the eighth time of asking.

Aaron Hughes got things underway with his first goal for the club, having persuaded Bobby that he was up to the task of replacing the suspended Nicos Dabizas - and a loan deal for veteran defender Colin Hendry wasn't needed.

Enter Alan Shearer, who equalled Andy Cole's Premiership scoring record (for Manchester United against Ipswich Town) and proceeded to complete a 12 minute hat trick at the Gallowgate End.

What unused Owls substitute 'keeper made it all wasn't recorded - but Pavel Srnicek was probably trying not to celebrate...
NUFC.com match report
Youtube footage is online here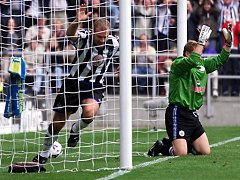 Shearer and Pressman: one hand,
celebration - two hands, frustration
2001 Gary Caldwell and Richard Offiong gave the Reserves a 2-1 win over Middlesbrough at the Riverside. Joseph Job had equalised for 'Boro before Offy's late winner.
NUFC.com match report

2004 Southampton (a)
2-1 (1-0)
Premiership
og(Prutton)(45), Carr(57)
Svensson(53)
30,709
Stephen Carr drove in a 30-yard screamer to give a generation of Newcastle fans a new experience - a league win at Southampton.
More than 32 years had passed since Supermac and Stewy Barrowclough scored in a 2-1 win at The Dell before this success. The victory was United's first on their Premiership travels since October 2003 - ending a winless run of 16 games.
Saints old boy Alan Shearer had given us the lead just before half-time - although the Premier League misers credited it as an own goal to David Prutton - but Anders Svensson had equalised after the break.
NUFC.com match report
2005 A first half goal from Manchester City striker Ishmael Miller was enough to beat Newcastle Reserves at the Sport City Stadium, as the home side maintained their unbeaten start to the season.
NUFC.com match report
2006 The infamous BBC Panorama investigation into alleged corruption in the Premiership was screened.
Newcastle Assistant Manager Kevin Bond featured but taking a starring role was Sam Allardyce and his son Craig.



2009 Plymouth Argyle (h)
3-1 (1-0)
Championship
S.Taylor(6), Nolan(61), Carroll(84)
Duguid(50)
42,898
Despite the Pilgrims becoming the first side to score at SJP in the Championship, United recovered to claim their fourth successive home league win - following their first loss of season at Blackpool the previous midweek.

After losing Shola Ameobi to injury after the previous home game, Chris Hughton then saw Danny Simpson limp off this time round.
NUFC.com match report