Premier League:
Glad it's all over
Newcastle 0 Arsenal 1

Match report is online here

Telly dosh:
TV tally

Figures just release show that Newcastle's total revenue from the live TV transmission of Premier League games in the 2012/13 season was £45.2m - down almost £9m on their earnings for the previous season.

The Magpies finished 13th in the overall Premier League revenue table alongside Fulham, Aston Villa and Stoke City but well behind the champions Manchester United who raked in £60.8m.

Revenue figures are calculated by an equal division of half the domestic TV revenue among all Premier League clubs, along with sharing out all of the overseas rights wedge.

25% of the domestic fund is awarded based on eague placing and the remaining 25% recognises the frequency that a team has their game transmitted live in the UK.

Earnings for the 2013/14 campaign are expected to increase by around £20m per team, following the agreement of lucrative new contracts.

NB: Newcastle partially offset the reduced revenues due to the payment of additional undisclosed revenues from live transmission of their League Cup tie at Old Trafford, the FA Cup tie at Brighton and their Europa League ties.

Tournament:
Retreat from France

A Magpies squad participated in the annual Tournoi International de Football U17 competition near to the French city of Lille last weekend, but had to settle for eighth place after winning just one of their five games.

Kicking off on Saturday with a 7-0 victory over host side US St.Andre, United then conceded four without reply to Club Brugge in their second group stage game.

Finishing second behind the Belgian side in the group and advance to a Quarter Final tie on Sunday against Benfica, but fared no better against the team from Lisbon than our first team and were beaten 0-1.

United then faced Anderlecht and after a scoreless draw, lost 3-5 in a penalty shootout. Monday then saw them round off their participation by losing a 7th/8th place decider 1-0 to French side Racing Club Lens.

All games were of forty minutes duration and United were forced to replace Freddie Woodman in the squad, after the goalkeeper suffered a bout of food poisoning.

Squad: Adam Armstrong, Liam Bell, Paul Blackett, Luke Charman, Shane Donaghey, Ben Drennan, Andy Hall, Jamie Holmes, Louis Johnson, Mackenzie McCubbin, James Morgan, Andrew Sharpe, Ben Smith, Lewis Suddick, Jake Trodd, Scott Urwin.
Update:
Departures

Confirmation of which Academy and reserve team players have been released by United is yet to be received, but we understand that defensive trio Alex Nicholson, Alex Kitchen and Lee Desmond have all been declared surplus to requirements.

Proud sponsors of NUFC.com

Borrowers:
Loan lads


Paul Dummett / Conor Newton (St. Mirren):
The Saints rounded off their season on a winning note thanks to a 3-1 victory at Kilmanock on Saturday. Both lads played the full game and Conor netted once.

Dummett made 36 appearances for the Paisley club (34 starts) in all competitions and scored twice. Newton managed 19 starts in all competitions and hit the net three times. Both lads return with Scottish League Cup Winners medals after beating Hearts at Hampden Park.

Mehdi Abeid (St.Johnstone):
The midfielder passed a fitness test on a thigh strain and appeared off the bench as a 69th minute substitute in a 2-0 home win over Motherwell - a result guaranteeing Europa League football in Perth next season.





AMSTER-DAM GOOD VALUE! Save up to 40% off Amsterdam Mini Cruises with DFDS Seaways!

Enjoy 2 nights onboard & spend a day in the vibrant Dutch capital from as little as £48pp. With live entertainment, you'll arrive refreshed for your day ahead taking in the sights of Amsterdam. Book by 31 May to take advantage of this great offer!

Extend your stay with up to 25% off Amsterdam hotel breaks too – explore Amsterdam across two days with time to see the vibrant city lit up at night from just £85pp! Click here to book or find out more information.

Fanzine:
New Mag


The new issue of The Mag is now on sale in Tyneside newsagents. Copies can also be bought online (only £3) in The Mag Shop, with subscriptions from £23 also available. Visit the main Mag website here

Reserves:
Belle Stars

Consett 0 Newcastle Res XI 6
Goal action is online here
(NB: Inman scored the third, caption is incorrect)

Match report
Internationals:
Summer service in
store for
young Mags
Young Magpie Adam Campbell faces a busy summer following his inclusion in the England U20 squad, hard on the the heels of international selection at U19 level.

Selected for U19 European Championship qualifying duty in Belgium next week, the striker is also named in a 35 man group for the U20 World Cup Finals in Turkey.

They take place in late June and early July and fellow Magpie Gael Bigirimana is also named in an England squad for the first time - until now it was unclear as to who the Burundian player would choose to represent.

Both players will discover whether they've made the final selection when it is revealed on Friday June 7th.

U19 fixtures:

Fri 24.05.2013 England v Georgia (Bornem)
Sun 26.05.2013 Belgium v England (Geel)
Wed 29.05.2013 England v Scotland (Westerlo)

And were England to win that that mini tournament, they would appear at the European U19 Championship finals in Lithuania in and around the last two weeks of July.

U20 fixtures:

Sun 23.06.2013 England v Iraq (Antalya)
Wed 26.06.2013 Chile v England (Antalya)
Sat 29.06.2013 England v Egypt (Bursa)

Also warming up for the U20 World Cup is Newcastle defender Curtis Good, whose Australian side are preparing in Europe with the following friendlies:

Fri 24.05.2013 Netherlands v Australia (Emmen)
Fri 31.05.2013 Germany v Australia (location tbc)

U20 fixtures:

Sat 22.06.2013 Colombia v Australia (Trabzon)
Tue 25.06.2013 Australia v El Salvador (Rize)
Fri 28.06.2013 Turkey v Australia (Trabzon)

PS: Magpies defender Lubo Satka is also involved in U19 European Championship Qualifers as follows for Slovakia:

Thu 06.06.2013 Serbia v Slovakia (Novi Sad)
Sat 08.06.2013 Slovakia v Republic of Ireland (Belgrade)
Tue 11.06.2013 Switzerland v Slovakia (Belgrade)

(The Ireland selection is awaited, with young Magpie Brandon Miele among those under consideration).



Internationals

:




No rest



Senior international football grinds on through the close season and the French squad to play two friendlies in South America next month includes toon duo Yohan Cabaye and Mathieu Debuchy:

Wed 05.06.2013 Uruguay v France (Montevideo)
Sun 09.06.2013 Brazil V France (Porto Alegre)

Meanwhile, Ivory Coast have selected Cheick Tiote for their World Cup Qualifying double header next month:

Sat 08.06.2013 Gambia v Ivory Coast (Bakau)
Sun 16.06.2013 Tanzania v Ivory Coast (Dar Es Salaam)

(Ivory Coast also play two friendlies against Nigeria in late June and early July, but if previous selection policy is any guide, will only choose African-based players for those).

PS: confirmation that Papiss Cisse has been included in the Senegal squad for their qualifiers against Angola and Liberia is awaited, while there's also the possibility that Fabricio Coloccini could be involved when Argentina face Colombia and Ecuador in June.



2012/13

:


Stiffs and bairns update

The inaugural season of Premier League U18 and U21 competitions has now concluded, with Fulham taking honours in the teenage section and Manchester United walking off with the U21 trophy.

Starting with the U18s, Newcastle were pipped to the Group Two title by Aston Villa in the very last game, denying the Magpies a derby eliminator to decide which side advanced to the playoff semi-finals.

The Group One winning mackems duly overcame Villa 4-2 on penalties after a 1-1 draw at Whitburn, only to then lose 3-4 away at Elite Group winners Fulham.

The Cottagers then beat Reading 3-0 in the national final at Craven Cottage on Sunday, the Royals having made it through courtesy of a 4-0 win over Everton.

Turning to the U21 title and after United's hopes were ended in penalty defeat at Everton in the Group Winner eliminator, the Toffees went down 2-3 to Elite Group winners Spurs at White Hart Lane on Monday night.

With Manchester United hitting three goals without reply to eliminate Liverpool in their semi-final, the Red Devils then beat Spurs 3-2 at Old Trafford on Monday.

Fobs and lockers:
Whese keys are these?

If anyone out there has mislaid any keys while visiting St. James' Park during this season, a sizeable haul has been accumulated by the club's lost property department.

And in addition to door keys etc. a quantity of keyless car ignition fobs have also been found. Get more details from 0191 201 8634 or email to glenn.patterson@nufc.co.uk



Premier

League

:
R's holed

QPR 1 Newcastle 2

Match report is online here

Fund raisers:
Harvey plans
taking shape
A group of Newcastle fans have gained permission from the club for a plaque commemorating Joe Harvey to be displayed at the Gallowgate End of St.James' Park - and two associated fund-raisers have now been confirmed.

Members of The Fairs Club have co-ordinated efforts for an overdue recognition of the man who served United as both a player and manager and organised two talk-ins.

The first event is on Thursday June 20th, when local journalist John Gibson will host an evening at The Barking Dog in Wallsend featuring former players Vic Keeble, Dave Hilley, John McNamee, Keith Dyson and Ron McGarry.

Thursday July 11th then sees a massing of ex-Magpies at the High Howden Social Club, Wallsend. John Gibson will again act as MC and among those already confirmed are Stan Anderson, Tommy Robson, Jim Iley and Frank Clark.

Tickets for the June event are £10 and £20 for July. For further details and bookings, please contact Bill Bruce on 0775 3573613 or william.bruce6@btopenworld.com

££££££:
Enough is enough

While United continue to offer cut-price season ticket options for home games, travelling toon fans have once again encountered hefty price rises this season.

The price of following Newcastle to all 19 Premier League away games this season was £754 (excluding booking fees), which compares to £686 in the 2011/12 season.

And while some clubs such as Wigan (£25) and Stoke City (£30) pegged their prices, others imposed scandalously large increases, notably Manchester City (up £11 to £49) and West Bromwich Albion (up £10 to £39).

Perhaps the worst value though in the league remains the breathtaking £45 that Norwich City have charged since their promotion in 2011 for some of their worst seats.

And away from the Premier League, let's not forget the criminally over-priced League Cup fixture at Old Trafford when fans were charged £45 on a night when other all Premier League ties slashed admission prices.

The Europa League also wasn't immune to dodgy pricing tactics, with those who made the trip to Moscow paying more than six times what locals were charged (NB: UEFA are currently investigating a complaint about that).

The Football Supporters Federation have taken up the cause of away supporters and are currently hosting a petition aimed at introducing a £20 ticket price cap.

While that sounds unrealistic at first glance, the FSF position is that the enhanced overseas TV contracts agreed are a reflection of the importance of full stadia and atmosphere - and by pricing away fans out of the equation, the clubs risk damaging their "product".

Equally pertinent is the admission by certain Premier League clubs that only a small percentage of their revenue streams are from the match ticket sales.

Like us, the FSF are concerned that away fans are in danger of becoming extinct - not just due to ticket prices but also the rising cost of transport, restrictive club sales policies and the mangling of the fixture list for TV. Their campaign is an attempt to try and redress the balance.

To add your name to the "Twenty's Plenty" petition please click here. You'll find further details of this campaign and the work of the FSF online here




Book addition:
Ultimate Record update
Following the success of the free 2011/12 season update for the Newcastle United Ultimate Record, the author Paul Joannou confirms that a similar update will be made available during the close season for 2012/13.

All UR subscribers and those receiving a copy of the 2011/12 update will automatically receive the new update. Anyone else wishing to be added to the mailing list can email info@newcastleultimaterecord.com

Newcastle 0
Arsenal 1
Premier League
St. James' Park
Sunday 19th May
Match report
NUFC.com's
Never-Ending Tour
| | |
| --- | --- |
| Number of Newcastle games attended by NUFC.com in 2012/13: | 105 |
Fixtures, Tickets etc.
Season 2012/13

The SJP Box Office is located upstairs in the club shop (underneath the Gallowgate End stand) and open as follows:

Mon-Fri 10am-5pm
Sat 9am-6pm
Sun 11am-5pm

The Matchday Box Office is in the Milburn Stand, a short distance up the slope from the Sir Bobby Robson Statue.

Paid-for matchday ticket collections take place from the windows at the back of the Gallowgate End Stand, above Shearers.

SJP Box Office phone: 0844 372 1892*
(Open for away ticket sales and enquiries during the above Box Office hours).

* 0044 870 1892 from overseas

Online Box Office is available here

On the opening day of ticket sales, they officially commence at 10am.

Away tickets are sold only to season ticket holders and members. All ST holders are also automatically members (a non-negotiable fee is added annually by NUFC to each ST).

A £1 administration fee per ticket applies to away sales in all competitions, with no upper limit. In addition, non-NUFC members pay the same fee on home ticket sales.

Details of pricing/availability of 2013/14 season tickets can be found online here

SJP Stadium seating plan is online here



Altoonative Travel is the public face of the Newcastle United Travel Plan,aimed to help fans attend games using the most efficient and sustainable methods available.
Newcastle City Centre map (PDF)

Sat 25.05.2013 Res v various (n) @ Hong Kong FC. Hong Kong Citibank Soccer 7s.
NUFC v KH Select 3.57pm, NUFC v HKFA4 5.39pm, NUFC v Leicester City 7.38pm.

Sixteen teams participate in four groups:

A: Man City, mackems, S'pore CC, Yau Yee
B: NUFC, Leicester City,HKFA4, HK Select
C: Rangers, HKFA1, HKFA Dragons, HKFC
D: Aston Villa. HKFA2, HKFA3, Kowloon CC

(The top four finishers in the Hong Kong league will take the HKFA1-4 slots).

Sun 26.05.2013 Hong Kong Citibank Soccer 7's Tournament concludes.

Thu 06.06.2013 Talk-in featuring Tommy Cassidy @ Seahorse Pub, Hillheads Park, Whitley Bay, 8pm. Tickets £5 (inc. pie & peas) from the venue and 07761 976892.

Fri 05.07.2013 Talk-in featuring Steve Howey @ Wallsend Labour Club, 7pm. Tickets £10 (inc. pie & peas) from the venue and Rob Dunn on 07538 291227.

Sun 07.07.2013 Family Fun Day featuring Malcolm Macdonald @ Fire Station pub, Whitley Bay. Free admission.

Puma's first 2013/14 kit was the away one, which launched on Thursday May 16th. The home kit is scheduled for a mid-August launch, with the third kit a month later.

Northern Ireland Milk Cup:

The Magpies are one of 20 clubs competing for the Premier U17 title between July 28th and August 2nd.

They will play in Group Four with Liverpool, County Armagh and O'Higgins of Chile. KO times and venues are tbc, with the Final staged in Ballymena.

2013/14 Season:

The Premier League season gets underway on the weekend of August 17th, with the fixtures released at 9am on Wed June 19th.

League Cup Round Dates:
1st Round w/c 05.08.2013
2nd Round w/c 26.08.2013
3rd Round w/c 23.09.2013
4th Round w/c 28.10.2013
QF w/c 16.12.2013
SF(1L) w/c 06.01.2014
SF(2L) w/c 20.01.2014
Final Sun 02.03.2014

FA Cup Round Dates:

3rd Round w/e of 04.01.2014
4th Round w/e of 25.01.2014
5th Round w/e of 15.02.2014
6th Round w/e of 08.03.2014
SF Sat 12.04.2013/Sun 13.04.2013
Final Sat 17.05.2014

The third edition of Biffa's Newcastle Miscellany remains available, featuring a wealth of Toon facts, stats and anecdotes.

Pay £9.99 in shops or get it online here for the discount price of £5.99 plus £2.49 UK p&p with promotion code NUFC. It's also available as an ebook online here

Rugby Union World Cup:

The 20 team event runs between September 18th and October 31st 2015, with three games scheduled to be played at SJP:

Sat 03.10.2015 South Africa v Scotland
Fri 09.10.2015 New Zealand v Tonga
Sat 10.10.2015 Samoa v Scotland



International Magpies
National Service
Future international dates:

07.09.2013 / 11.09.2013 Internationals
12.10.2013 / 16.10.2013 Internationals


Coxy's Cockup Corner
Whoops, He did it Again...
Some startling team news for the Arsenal game from the Mail:

Newcastle: Out - Sessegnon, Elliot (bans), Shola Ameobi, Sissoko, R.Taylor (all knee), Krul (shoulder)

(Ray Coxon, Roland Marshall, Dale Wighton)

What's this all about then? Click here
for a rambling explanation of sorts....


On This Day in History
21st May

Born Or Died:
1895 Andy Smailes born, Radcliffe, Northumberland. (1919-22)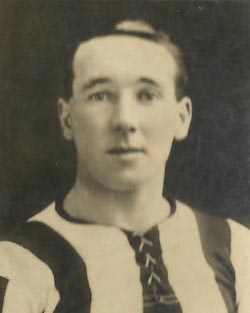 Inside right signed from Blyth Spartans at a cost of £300, having begun his playing career with Ashington.

Debuting for Newcastle in a 1-2 defeat at Sheffield United in December 1919, Smailes marked his SJP debut with a goal in a 2-1 victory over the Blades a week later.

Enjoying his best season in 1920/21 when netting 18 league goals - one less than top scorer Neil Harris - Smailes fell from favour and played his final game in a 0-2 loss away to Sheffield United in September 1922.

Signing for Sheffield Wednesday in a £1,500 deal the following month, Smailes moved on again 12 months later to Bristol City.
Rotherham August 1929

Joining Rotherham as a centre half in August 1929, he switched from player to trainer in 1934 and was Millers boss from 1952 to 1958 - narrowly failing to gain promotion to the First Division on goal average in 1955.

Managing Scarborough between 1959 and 1961, Andy's passing was recorded in the Somerset town of Shepton Mallet during October 1978.

1975 Laurent Robert born, Saint-Benoit,
La Réunion. (2001-05)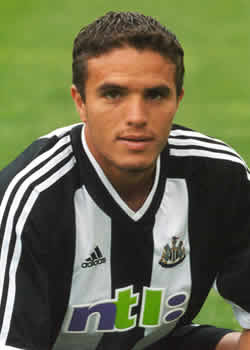 French international left winger who began his career with Montpelier and was signed from Paris St.Germain in August 2001 at a cost of £9.5m.
Introduced to the SJP crowd ahead of the Intertoto tie with 1860 Munich, Laurent's first outing was in Robert Lee's testimonial against Athletic Bilbao, before a debut in a 1-1 draw at Chelsea, with Bobby Robson saying, "I think we have signed a gem".

Robert's first goal came in his third game ofr the club and was a memorable effort to cap a 4-1 win at the smoggies. Three more strikes then followed in four-goal victories (4-3 at home to Man United, 4-0 at Bolton and 4-1 at home to Ipswich in the League Cup), before sealing our famous Highbury victory as we topped the table.

Five more goals and various assists followed that season as United finished fourth spot, going one place better in the following campaign - although Laurent enjoyed a less prolific season in front of goal.

A dozen netbusters followed in what proved to be Sir Bobby's last full campaign in charge, including two stupendous efforts in a home win over Spurs in December 2003.

However, those goals and other wonderful free kick conversions were becoming less and less representative of Robert's input, while writing a regular comment column on his own website (often critical of the club) hardly endeared him to colleagues and fans.

Grappling on the training pitch with Andy Griffin and storming into the SJP press room to confront a reporter showed some of the gallic fire in his belly, but an awful display on the night we exited from the UEFA Cup in Marseille showed up his unreliability.

The final season of Robert's SJP career was something of a long goodbye, his attitude never likely to prove popular with the newly-installed Graeme Souness.

This had come to a head by the time United played the second leg of their UEFA Cup Quarter Final away to Sporting Lisbon.

Robert watching from the stand as his sode threw away a lead having being dropped following pre-match comments in the press criticising club performances, tactics and transfers - claiming (correctly) that United had gone backwards in twelve months.

With no communication between him and Souness a parting was inevitable and following a farewell bow against Chelsea when he left the SJP pitch clad only in grey underpants, his bags were packed.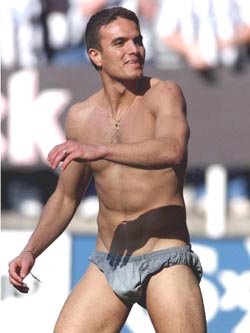 Pantaloon
Joining Portsmouth on a season-long loan, the departure of French boss Alain Perrin soon sent that into a tailspin - after just one goal and a public refusal to sit on the subs bench in a game at the mackems.

Nominally a Newcastle player again in late 2005, he was released from his deal and joined Portuguese side Benfica early in 2006.

After just one year in Lisbon though, he was sold on to Spanish side Levante and after an
equally uninspiring spell in La Liga returned to England with Derby County in 2008.

However, Robert played just four times for the Rams and could do nothing to halt their headlong slide into the Championship.
His next stop was Canada, signing for MLS side Toronto after a successful trial, playing under his former United coach John Carver.

That lasted barely five months though before the winger was on the move again, linking up with his one-time Magpies team mate Nicos Dabizas at Greek side Larissa.

Back in France by 2009 Robert tried to keep fit by training with former club PSG - along with fellow free agent, Fabrice Pancrate.

And when the latter was offered a trial at SJP, Robert encouraged him to go - before urging United to let him return, when a deal was agreed for Pancrate. Chris Hughton mysteriously lost his number though....

1990 James Marwood born St.Albans.
(2006-09)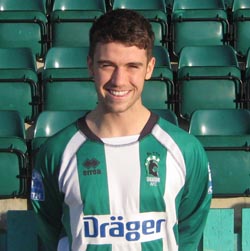 Reserve and Academy midfielder who made his second string debut off the bench in March 2007 against Sheffield United at Chesterfield's former Saltergate home.

The son of former Hull City, Arsenal and Sheffield Wednesday & United winger Brian, James failed to win a professional deal at SJP and was released in 2009, having suffered numerous injury setbacks.

After trials at both Darlington and Carlisle signed for Blyth Spartans and later joined Gateshead, via a stint at Northern League side, Team Northumbria.

Loaned to AFC Halifax during the 2011/12 season, James later returned to the International Stadium and agreed a new contract with the Tynesiders in 2012.

1991 Max Johnson born, Norwich.
(2007-10)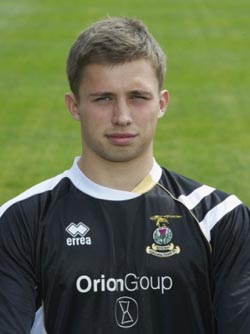 Academy 'keeper signed from Bury in 2007, only to sustain knee ligament damage on his debut that sidelined him for five months.

Appearing for the club's U18s, Max also guested for Chorley in a pre-season friendly ahead of the 2009/10 season and had a stint on loan at Motherwell soon after.

Regular bench cover for Newcastle's reserve side, Johnson made his second string debut against Boro at Whitley Park in April 2010.

Leaving United soon afterr, his next port of call was Inverness Caledonian Thistle, before training with Colorado Rapids over in the USA the following summer.

Beginning the 2011/12 campaign back in the region with Blyth Spartans, Max was then spotted in the colours of non-league sides Bacup Borough and Woodley Sports, while also training with Manchester City.

Graduating to the City reserve team squad, he unfortunately suffered another knee injury while playing in a training ground game in February - assisting with coaching at City's Academy while working to regain his fitness.

He moved to relegated Conference side Barrow in 2012/13 but didn't make any appearances for them.

What Else?
1905 Berlin British (a)
10-1
Friendly
Scorers tbc

Scorer tbc
Crowd tbc

United's ten day stay in Prague ended with them having scored a grand total of 36 goals in the five games they played.
1911 Basle (Switzerland) (a)
7-1 (some sources give 7-0)
Friendly
Scorers tbc
Scorer tbc
5,000
1922 GAIS (Sweden) (a)
3-1 (1-0)
Friendly
Smailes, McDonald, Dixon

Scorer tbc
6,000

1924 Everton (a)
2-3
Friendly
Cowan, Keating
Chadwick 2, Cock
Played in Barcelona.
NUFC: Bradley, Russell, Hunter, Curry, Spencer, Gibson, MacKenzie, Cowan, Keating, McDonald, Mitchell.
EFC: Harland, Raitt, Livingstone, Brown, McBain, Hart, Parry, Irvine, Cock, Chadwick, Troup.
Ref: Ramon
1945 Gateshead (h)
3-1 (0-0)
Wartime
Stubbins, Milburn, Carr
Scorer tbc
18,000
1947 Blackburn Rovers (a)
1-0 (0-0)
Friendly
Hair
9,000
Cumberland Cup Match at Workington.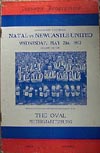 1952 Natal (a)
6-2 (5-0)
Friendly
G.Robledo 4, Harvey, Davies

Scorers tbc
8,000

The second game of United's exhausting post-season tour of Southern Africa, complete with the FA Cup.

The Magpies returned to England almost two months later, after playing a gargantuan sixteen friendlies.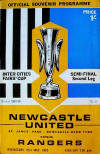 1969 Glasgow Rangers (h) 2-0 (0-0)
(2-0 on aggregate)
Fairs Cup Semi Final
2nd Leg
Scott(52), Sinclair(77)
59,303
After Iam McFaul's penalty save at Ibrox had kept the tie scoreless after the first leg, second half goals from two of our Scottish-born players sent us into the final.

Sinclair's goal sparked a hail of bottles being thrown on to the field from the Rangers fans in the Gallowgate End and pitch invasion that followed halted play for seventeen minutes.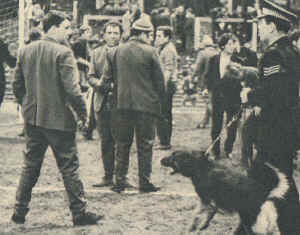 Police made 30 arrests - all but five of which were from Clydeside - and 89 fans needed medical attention.

Trouble had flared before the game in the city centre with pubs and shops vandalised, while visiting fans forced a gate at the Gallowgate End open to gain entry to the ground.

And there had been a brief stoppage before half time in the tie, when Rangers supporters spilled on to the field after a bottle was thrown at their own 'keeper, Gerhardt Neef.

1973 Crystal Palace (h)
5-1 (2-0)
(5-1 on aggregate)
Anglo Italian Cup
Macdonald 3,
Barrowclough, Gibb
Cannon
12,510
After a scoreless first leg at Selhurst Park, this completed a 5-1 aggregate success and gave Newcastle a place in the final against Fiorentina.

1982 Newcastle midfielder Mick Martin played for the Republic of Ireland as they lost 1-0 to Chile in a friendly international in Santiago.

1988 Bobby Robson's England side were grateful to Peter Beardsley, who scored the only goal of the game to beat Scotland at Wembley in a Euro Championship warm-up.

1991 Less than 24,000 fans turned up at Wembley to see Graham Taylor's England side beat the USSR 3-1 in a friendly international.

Future Magpie David Batty won the first of his 42 senior international caps when appearing as a substitute.

1999 24 hours before kicking off at Wembley against Manchester United, the Magpies were settling in to their FA Cup Final hotel, the West Lodge Park in Hadley Wood.
2000 Tobago XI (a)
4-2 (2-0)
Friendly
Gallacher(20), Gavilan(23), Solano(67,89)
James(55), Hutchinson(84pen)
4,000
The second of our two post-season games in the West Indies saw United move on from Trinidad to neighbouring Tobago.
2005 Little over a week after his 26th birthday, Newcastle confirmed that midfielder Jamie McClen had been released by the club.

That brought an end to the Toon career of a man labelled in some quarters as "the luckiest **** on Tyneside" - even if many fans still didn't know his name (McClen not McGlen...).
2008 The London Evening Standard stated that Chris Mort would be standing down as Newcastle Chairman with immediate effect.

His replacement was announced as Derek Llambias, an Ashley associate and Managing Director of a London casino. The story came as something of a shock to North East journalists - the shape of things to come....
Copyright © 2013 NUFC.com. All rights reserved. Niall & Biffa. NUFC.com Privacy Policy