Ticket news:
Liverpool (h) SOLD OUT
QPR (h) Member sale now
West Brom (a) SOLD OUT
West Ham / Burnley (a) ST holder sale now (0 pts)
Spurs COC (a) Ticket details awaited

Capital One Cup:
Richard, keys

One of our number had slight cause to regret the events of Wednesday night - losing his keys while celebrating Moussa Sissoko's goal in the lower tier of the away end.

The home club cannot help, but if anyone out there is able to do so then please email Biffa

Capital One Cup:
Back to the Lane

Minutes after the final whistle went at the Etihad Stadium on Wednesday, United were paired with Tottenham Hotspur in the Capital One Cup Quarter Final draw.

Our fourth successive away tie (and the ninth in eleven for this competition) means a quick return to White Hart Lane, the scene of last Sunday's Premier League victory.

Ties are to be played on Tuesday 16th and Wednesday 17th December, with Spurs in Premier League action at Swansea the previous Sunday afternoon (14th).

For Newcastle meanwhile, the tie comes between a Saturday teatime visit to North London rivals Arsenal and the Tyne-wear derby at SJP the following Sunday.

Quarter-final draw:
Tue 16.12.2014 Derby v Chelsea Sky
Wed 17.12.2014 Bournemouth v Liverpool Sky
date tbc Sheffield United v Southampton
date tbc Tottenham v Newcastle

The only previous away fixture against the Cockerels in this competition was the first leg of a semi-final tie in January 1976. John Pratt scored the only goal at White Hart Lane to nudge Spurs ahead, but their hero was goalkeeper Pat Jennings who played a blinder here.

Jennings though could do nothing to stop United winning 3-1 at SJP thanks to goals from Alan Gowling, Glen Keeley and Geoff Nulty, Don McAllister replying.

Our second and most recent meeting saw Spurs win a Third Round tie at SJP 2-1 back in September 2008.


MJS Computer Services are offering a 20% discount on Apple and laptop repairs to NUFC.com readers until next Wednesday, November 5th. To qualify, just print and present this voucher in their shop on Birtley High Street.

If you have multiple Apple devices in need of repair, pay for two and get the third free by quoting 1,2,FREE. And watch out next week for an exclusive NUFC.com / MJS free to enter competition to win an ipad mini!

FA Cup:
Sunday service
for local lads
The BBC's increased commitment to coverage of the FA Cup has resulted in a number of First Round ties being scheduled away from the traditional 3pm Saturday slot - including both our regional representatives.

The Blyth Spartans v Altrincham tie and Gateshead's trip to Potteries-based Norton United will kick off at 2pm on Sunday 9th November - overlapping with our Premier League trip to West Bromwich Albion (1.30pm).

BBC1 will broadcast a special edition of Final Score from 1.55pm until 4.20pm on that Sunday, including updates and footage of the Blyth and Gateshead ties and six others played that afternoon.

Victory in this round is worth £18K in prize money, while clubs will receive £12.5K for featuring on Final Score.
Capital One Cup:
Ryan Taylor - over the moon!



Manchester City 0 Newcastle 2

Strikes from Rolando Aarons and Moussa Sissoko gave Newcastle a remarkable and famous victory at the Etihad Stadium as a young side knocked out the Capital One Cup holders on a wonderful Wednesday evening.

After an absence of over two years due to injury, Ryan Taylor completed the full game and helped set up the opening goal as well as making a fantastic goalline clearance shortly after Sissoko had scored the second.

United should have been awarded a penalty with the score at 1-0 when Gabriel Obertan was felled by Aleksandar Kolarov who would have been red-carded but rotten referee Stuart Attwell waved away the appeals.

Obertan had an effort disallowed for offside, Paul Dummett had a volley cleared off the line and Adam Armstrong also went close but Fabricio Coloccini hit his own post and Rob Elliot made some vital stops as the Magpies marched into the next round.

There was no promise of what was to come with Pardew making six changes from Sunday's starting XI, ahead of Liverpool's televised Saturday lunchtime visit.

Dummett was switched to partner Coloccini in the centre of defence and up front Aarons and Armstrong made it a teenage strikeforce against the current cup holders and Premier League Champions.

The return of Taylor was a fantastic boost for him, the club and fans after a two year absence and he was immediately involved, challenging David Silva who fell awkwardly and was eventually subbed.

But that was after Aarons had put United in front after Taylor winning the ball from Fernandinho, the winger charging into the box and slipping the ball past Willy Caballero from a tight angle for his second senior goal.

Aarons sprinted to the touchline to celebrate with the Newcastle coaching and physio staff who had helped him get back to fitness following an injury that curtailed his headline-grabbing start to the season back in August.

Sissoko's decisive goal 15 minutes from time was a similar strike but he showed great strength and skill in beating defenders on his run before stabbing the ball past Caballero in front of the jubilant away fans.




They celebrated in ironic style with the "Poznan" move that City fans indulge in and the jubilations continued well after the final whistle as the players came over to join in - although the manager again refrained from joining in.




Having concluded an interview in the centre circle, the last player to take a bow was a clearly emotional Ryan Taylor, who ended up in the front row of the lower tier, as he handed his shirt to a fan.

The quarter-final draw moments later took the shine off this victory slightly, with a fourth successive away tie meaning that travellers now face the prospect of three London trips in as many weeks before Christmas.

Our first Quarter Final tie in this competition since 2006 should hold few fears though for a side that has rather spectacularly rediscovered the winning habit, despite lacking the senior players that left the manager bemoaning his lot earlier in the season.

Rated at 9/1 in a two horse race before kickoff, United were once again rewarded for their positive stance and getting on the front foot and playing without fear.

So-called experts talk about the unrealistic expectations of Toon fans, but in reality they are ridiculously easy to please - responding to any hint of effort and commitment allied with some attacking adventure. Have a go heroes.

While many of the younger fans who took advantage of cheap admission in half term week enjoyed one of the best nights of their supporting lives to date, pleasure and satisfaction was no less evident among older followers.

Another timely reminder that good things sometimes do come to those who wait, comments and messages from those attending and tuning in confirming that previous scores were settled here - right back to that Dennis Tueart bicycle kick in the 1976 Wembley Final defeat.
Full match report to follow.
Thanks to NUFC.com reader Ken F for this view of the away end after full time - he was in the home seats.
Team: Elliot, Janmaat (Sissoko 65), Coloccini, Dummett, Haidara, R.Taylor, Abeid, Colback, Obertan, Armstrong (Riviere 65), Aarons (Ameobi 46).
Subs n/u: Krul, Cabella, Gouffran, Perez.

Booked: Dummett, Ameobi.

Goals: Aarons 6, Sissoko 75.

MCFC: Caballero, Sagna, Demichelis, Mangala, Kolarov, Milner, Toure (Navas 60), Fernandinho, Silva (Nasri 9 [Aguero 70]), Jovetic, Dzeko.
Subs n/u: Hart, Boyata, Zabaleta, Fernando.

Booked: Mangala, Aguero, Milner.

Crowd: 40,752 including around 3,000 away fans housed in both the upper and lower tiers of the South Stand.

Ongoing building work at that end of the stadium that will add 6,000 places by next season meant a reduction in the space outside the away turnstiles.

That was then exacerbated by some over-zealous ticket checks reminiscent of our European away games (three separate checks in rapid succession, a dog search, body search and then scan to get through the turnstile).

And while some of those employed by City were good humoured and helpful, others seemed to be rehearsing their posturing and hard stares in advance of this Sunday's visit of the chaps from over Salford way.
Alan Pardew:
"Well, it's a marvellous performance for Newcastle I thought everything we tried to achieve in the game sort of come off for us - we defended well, we obviously conceded possession but we always carried a threat.

"This was a victory for our fans, because we get criticised for not concentrating in the cups in particular -
I've been a bit unlucky as a manager I think in terms of when those cup games have come round.

"But I had a whole group to select from tonight - we protected ourselves a little bit for Liverpool and we can go and attack that now and we've got real confidence and belief and it's very important in football.

"It's important for us that we just keep this momentum going. I do know what I'm doing - I think I've had most of the scalps as Newcastle manager, maybe except Arsenal, and I look forward to playing them.

"We don't ever come not to win. We had a game plan. The players needed to execute it but I couldn't ask for more than they gave me.

"It was outstanding in discipline and the way they carried the threat all night. The pace in wide areas is something that I think is an asset for us."

About Ryan Taylor:
"Obviously he was outstanding. Professional footballers sometimes get a bad press for the way they conduct themselves and their professionalism but you are talking about a guy who for two years has been injured and conducted himself in the best possible manner.

"He came in with a smile on his face, encouraged players in those two years. He got his reward because of that professionalism.

"He has only had one and a half reserve games and to play like he did was absolutely outstanding and a credit to himself.

"Our staff have been very impressed with his conduct. He is a beacon of light in professional football.

"We are delighted we have been able to give him a platform but he had 10 good players around him and we couldn't have asked for more."

Quarter-final draw:
Derby v Chelsea
Tottenham v Newcastle
Bournemouth v Liverpool
Sheffield United v Southampton

Capital One Cup Fourth Round ties:

Tue 28.10.2014:
Bournemouth 2-1 West Bromwich Albion
Fulham 2-5 Derby County
Liverpool 2-1 Swansea City
MK Dons 1-2 Sheffield United
Shrewsbury Town 1-2 Chelsea

Wed 29.10.2014:
Stoke City 2-3 Southampton
Spurs 2-0 Brighton and Hove Albion

Referee: Stuart Attwell - Warwickshire-based whistler who was once the bright hope of the Select Group of Referees and the youngest person to take charge of a Premier League game.

We first encountered him competitively on Boxing Day 2009 when he officiated our 2-2 draw at Sheffield Wednesday at the age of 26.

A trio of Premier League away games then followed: a 1-1 draw at Wolves in August 2010 when he booked a dozen players (but allowed Karl Henry to foul Joey Barton with impiunity), a 0-0 draw away at Blackburn in February 2011 and a 0-1 loss at Villa two months later.

Attwell was demoted to the Football League list in early 2012 and hasn't returned. Tonight proved that he was rightly discarded and rightly overlooked since then, but incapable of handling a match of this magnitude - his remarkable decision not to penalise Kolarov for clealy upending Obertan in the box one of several incredibly lenient calls in favour of the home side.

Stats:

United finally beat City after 17 unsuccessful league and cup games and having lost the last 11 meetings.

Our last victory anywhere over them came at SJP during September 2005 when Michael Owen scored the only goal of the game, while we haven't beaten City on their own ground since another 1-0 victory at Maine Road in September 2000 - Alan Shearer on target that day.

We exited from this competition at the same point last season when losing 0-2 to City in extra time at SJP. They of course went on to lift the trophy at Wembley.

This breakthrough result came 31 years to the day since Peter Beardsley grabbed a hat trick in a 5-0 win over City on Tyneside in the old Second Division.

Rolando Aarons became the first Magpie to net against City since Demba Ba at SJP in December 2012, ending a run of five blank returns for United totaling 525 minutes.

Newcastle's first cup tie at the Etihad Stadium was also our maiden victory at that venue - just over a decade after a debuting there in May 2004. Before tonight, ten visits there ended in two draws and eight defeats.

This was our 136th game in this competition since it was founded in 1960. We've recorded 63 wins, lost 55 and drawn 18. Conceding 186 goals, we've scored 218.

Alan Pardew's side are into the Quarter Finals of the competition for the seventh time in 44 years they've entered, and the first time since a single goal home defeat to Chelsea in December 2006.

City v United - Cup Record:

2014/15 won 2-0 (a) LC Aarons, Sissoko
2013/14 lost 0-1 (h) LC
2001/02 won 1-0 (h) FAC Solano
1994/95 won 3-1 (h) FAC Gillespie 2, Beresford
1994/95 lost 0-2 (h) LC
1994/95 drew 1-1 (a) LC Jeffrey
1976/77 lost 1-3 (h) FAC Gowling
1975/76 lost 1-2 (n) LC Gowling
1974/75 won 2-0 (a) FAC Nulty, Burns
1968/69 lost 0-2 (a) FAC
1968/69 drew 0-0 (h) FAC
1956/57 won 5-4 (a) FAC White 2, Curry, Tait, Casey
1954/55 won 3-1 (n) FAC Hannah, Milburn, Mitchell
1923/24 won 2-0 (n) FAC Harris 2

League Cup Top Scorers - current NUFC players:

3: Ryan Taylor
2: Sammy Ameobi, Papiss Cisse, Emmanuel Riviere
1: Rolando Aarons, Paul Dummett, Yoan Gouffran, Moussa Sissoko

City v United - PL era:

2014/15 Won 2-0 Aarons, Sissoko
2013/14 Lost 0-4
2012/13 Lost 0-4
2011/12 Lost 1-3 Gosling
2010/11 Lost 1-2 Gutierrez
2008/09 Lost 1-2 Carroll
2007/08 Lost 1-3 Martins
2006/07 Drew 0-0
2005/06 Lost 0-3
2004/05 Drew 1-1 Shearer
2003/04 Lost 0-1
2002/03 Lost 0-1
2000/01 Won 1-0 Shearer
1995/96 Drew 3-3 Albert 2, Asprilla
1994/95 Drew 0-0
1993/94 Lost 1-2 Sellars*
1993/94 Drew 1-1 Jeffrey (LC)

(games before 2003/04 at Maine Road)

League Cup Top Scorers - current NUFC players:

3: Ryan Taylor
2: Sammy Ameobi, Papiss Cisse, Emmanuel Riviere
1: Paul Dummett, Yoan Gouffran

Unlikely lad:
Old boy takes
on Tangerines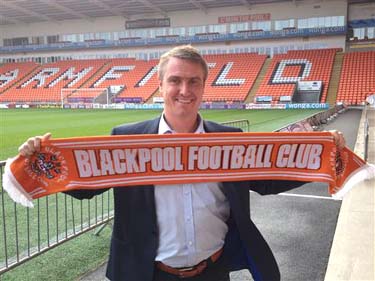 Championship basement side Blackpool confirmed on Thursday morning that they had appointed Lee Clark as their new manager a one year rolling contract.

Tynesider Clark celebrated his 42nd birthday on Monday having being dismissed as Birmingham City boss a week earlier. He previously took charge of Huddersfield Town.

Among the tasks facing Lee at Bloomfield Road is coaxing effective performances from a certain Nile Ranger, who has netted just once in nine games for the Seasiders.

Clark's first game comes at home to Ipswich Town on Saturday before a midweek visit to another of his former clubs, Fulham.

His appointment continues a link between the two clubs, with predecessors in the Blackpool hotseat Gary Megson, Sam Allardyce, Graham Carr and Bob Stokoe all holding or having held positions at SJP.

Premier League:
No Spain, no gain!

Spurs 1 Newcastle 2

Match report is online here


Proud sponsors of NUFC.com
Quick giveaway:
Talk-in compo


Recalling their times playing together for Newcastle (and doubtless glossing over their brief reunion at Leicester City), Keith Gillespie and Steve Howey will appear at South Shields Customs House on Friday November 7th.


Tickets are on sale now from £10 here and we have pairs to give away in a free-to-enter competition. To enter, email here to tell us who is celebrating a goal at Elland Road in this photo with Gillespie and Sir Les:




Closing date Sat Nov 1st @ Noon Subject: Shields. No purchase necessary. Prize is of tickets only. No transport, refreshments, court costs etc. will be paid. Those choosing their own subject line will be disqualified.

Premier League:
Liverpool (h)

Saturday sees the Magpies complete a hectic run of three games in seven days when Pope Brendan brings his side from the Vatican Anfield to SJP for a 12.45pm kickoff.

And after a stuttering start to the season, United go into the contest bidding to register their fourth successive victory in all competitions - something they last managed exactly a year ago, when winning a quartet of PL games.

Squad: Davide Santon, Siem De Jong and Cheick Tiote are sidelined, while Steven Taylor was withdrawn as a precaution from Wednesday's squad but should be OK to continue. Mike Williamson was also pictured training.

Following successive away wins in league and cup, Alan Pardew finds himself with a variety of options for this game, having given pitch time to 20 different players during 180 minutes at White Hart Lane and the Etihad.

That total doesn't include phantom striker Facundo Ferreyra or Papiss Cisse, with the latter joining training ahead of the Liverpool and with a chance of featuring.

Paddy Power match betting is online here

Newcastle to win @ 11/4

(NB: quoted odds were accurate at the time of writing, but subject to fluctuation - click on the link above to display current live odds).

LFC: Mamadou Sakho
,
Jose Enrique Daniel Sturridge and John Flanagan won't be considered due to fitness issues.

Ahead of the game, the Reds came from a goal down a
gainst

Swansea City
at Anfield

in the Capital One Cup
on Tuesday
to record a 2-1 win in 90 minutes.

On the road in the Premier League this season, Liverpool have been beaten twice in four games - having lost just four times in 19 away fixtures in the 2013/14 season.

So far this time round they've lost 1-3 at Manchester City and West Ham winning at Spurs (3-0) and QPR (3-2).


Striker Fabio Borini will hope to be involved on Saturday
to have a chance of continuing his 100% record against Newcastle, scoring and winning each time he faces us.

Netting within seconds of appearing from the bench for Liverpool at SJP in April 2013, the Italian got on the scoresheet in both derby matches last season while on loan to the mackems.

Referee: Andrew Marriner (West Midlands), whistler who presided over Southampton's recent 8-0 routing of the mackems. We've not had the pleasure of his company since our 0-4 loss at St.Mary's in March.

That was the fifth appointment of an eye-catching series of games involving us last season. Dismissing Steven Taylor in a 0-4 loss at Manchester City, Mapou Yanga- Mbiwa saw red in a 2-2 home draw with Liverpool before eleven Toon players remained on the pitch for victories at both Old Trafford and Upton Park.

Pub Watch: The

B

ridge, Castle Square, NE1 1RQ
If a great location is what you're after, then The Bridge Hotel offers one of the most spectacular in Newcastle. Just a short walk from Grey Street and the Quayside, and right next door to the Castle Keep and the High Level bridge, you'll find stunning views of the River Tyne from both the pub and outdoor terrace.
Built on a medieval site, the Bridge Hotel is a traditional venue boasting quiet secluded areas, cozy Victorian snugs, wooden paneling and carved fittings, together with stained glass windows and highly detailed mosaics.
The atmosphere is just as impressive, and the friendly staff offers a true local Tyneside welcome to huge variety of customers who visit the venue for its history, its impressive programme of live entertainment, its outstanding reputation for serving a huge choice of cask ale, and its mouth-watering menus.
Find further details of this and the 20 other locations that make up the Sir John Fitzgerald estate online here

Travel:

Metro: No scheduled service disruptions

Soccerbus: Details of the X50 Soccerbus linking the Metrocentre Coach Park and the X40 Great Park & Ride connecting from the north of the city are online here

UK TV: Live on BT Sport

Overseas TV: tbc

UK Radio: Live commentary on BBC Radio 5 Live

NE Radio: Live commentary on BBC Newcastle

Overseas Radio: Live commentary on talkSPORT

Stats:

Reds @ SJP - Premier League era:
2013/15: Drew 2-2 Cabaye, Dummett
2012/13: Lost 0-6
2011/12: Won 2-0 Cisse 2
2010/11: Won 3-1 Nolan, Barton, Carroll
2008/09: Lost 1-5 Edgar
2007/08: Lost 0-3
2006/07: Won 2-1 Martins, Solano (pen)
2005/06: Lost 1-3 Ameobi
2004/05: Won 1-0 Robert
2003/04: Drew 1-1 Shearer (pen)
2002/03: Won 1-0 Robert
2001/02: Lost 0-2
2000/01: Won 2-1 Solano, Dyer
1999/00: Drew 2-2 Shearer, Ferguson
1998/99: Lost 1-4 Guivarc'h
1997/98: Lost 0-2 (LC)
1997/98: Lost 1-2 Watson
1996/97: Drew 1-1 Shearer
1995/96: Won 2-1 Ferdinand, Watson
1994/95: Drew 1-1 Lee
1993/94: Won 3-0 Cole 3
Latest Premier League fixtures:
(3pm unless specified)

Sat 01.11.2014:
Arsenal v Burnley
Chelsea v QPR
Everton v Swansea City
Hull City v Southampton
Leicester City v West Bromwich Albion
Stoke City v West Ham

Sun 02.11.2014:
Manchester City v Manchester United (1.30pm) Sky
Aston Villa v Spurs (4pm) Sky

Mon 03.11.2014:
Crystal Palace v mackems (8pm) Sky

2014/15 season Magpie Mover tickets remain available to NUFC season ticket holders. Priced at £20 (£21 by post) they allow free travel on buses, Metro, trains & ferries in Tyne and wear for three hours before and after competitive home first team games. Order online here
Loan lads:
The borrowers

Magpies currently on temporary assignment elsewhere:

Mapou Yanga-Mbiwa (AS Roma)
The defender appeared as 54th minute substitute against Cesena on Wednesday, contributing an assist in a 2-0 home success. Roma remain second in Serie A, level on points, goals scored and conceded with Juventus - the bianconeri in pole position after beating Roma recently.

Jonathyn Quinn (Blyth Spartans)
Farsley (a) FA Trophy, Saturday.

Remie Streete (Port Vale)
Colchester United (a) League One, Saturday.

Sylvain Marveaux (Guingamp)
Bastia (h) Ligue 1, Saturday.

Hatem Ben Arfa (Hull City)
Southampton (h) Premier League, Saturday.

Jamaal Lascelles, Karl Darlow (Nottingham Forest)
Huddersfield Town (a) Championship, Saturday.
Internationals:
Wooly triumphant

Three wins in as many games for England's U17 side in Cyprus saw the youngsters secure a berth in the Elite Qualifying Round of the European Championships and Newcastle' Paul Woolston collect a trio of caps.

The goalkeeper was between the posts for a 4-1 win over Cyprus on Saturday, keeping his place for Monday's 1-0 success against Macedonia and a 3-1 conquest of the French in Paphos on Thursday.

The Elite Round takes place early next year for the 16 team Finals, held during May 2015 in Bulgaria.

Victory Shield callups:

Mackenzie Heaney (England U16s):
Fri 31.10.2014 Wales (a) Bangor
Same competition, different side for midfielder Mackenzie, who represented Scotland in the Victory Shield in 2013.

Owen Gallacher (Scotland U16s):
Fri 31.10.2014 Northern Ireland (h) St. Mirren
Standing by for action is striker Owen, whose father John played for Newcastle between 1989 and 1992.
U21s:
Second string surrender
Smoggies U21s 2 Newcastle U21s 1
Youtube footage is online here
RIP
:
'You should be up
in your seat, John'

From The Times, Monday:

"John Alder was one of two Newcastle fans who died when Malaysia Airlines flight MH17 was shot down.
His sister talks movingly about a private man who was also a super fan."

An excellent article available to Times purchasers and online subscribers, reproduced without permission
here

Silverware:
Perez: goal and gongs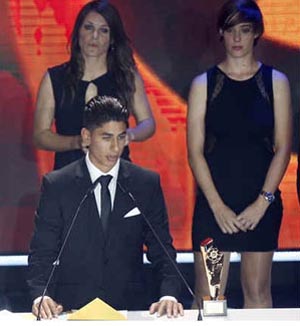 Having opened his goalscoring account for Newcastle on Sunday, Monday saw striker Ayoze Perez back in his native Spain to attend the 2014 LFP Awards ceremony.

And the 21 year-old collected gongs for best attacking midfielder in the Second Division and best breakthrough player, after netting 16 times in 34 games for previous club Tenerife last season.


Owner:
Del boy in at Ibrox
Update: Former NUFC Derek Llambias flew into Glasgow on Monday night and within 24 hours was confirmed as a "consultant" to Rangers.

Herald Scotland profile of Llambias

From the BBC, Monday, confirmation that the Newcastle owner has got his way and effectively assumed control at Ibrox despite owning less than 10% of the club shares:

Graham Wallace has resigned from his role as Rangers chief executive, the club has announced.

The news comes as the Ibrox outfit confirm the agreement of an emergency interest free £2m loan from Newcastle owner Mike Ashley. Wallace follows finance director Philip Nash in leaving the club.

Ashley, whose loan is secured against Edmiston House and the Albion car park, had wanted Wallace and Nash to leave the club. The Newcastle owner will now "put forward" two names to be elected to the Ibrox board.

Ashley - who owns 8.92% of the Championship side - saw off rival offers of funding from former Rangers director Dave King and Sale Sharks owner Brian Kennedy.

"The board is pleased to announce that the company's subsidiary, The Rangers Football Club Limited, has entered into a credit facility agreement with MASH Holdings Limited pursuant to which MASH shall make available the sum of £2m for drawdown by the company," a Rangers statement to the Stock Exchange read.

"MASH is a shareholder in the company holding 8.92 per cent of the voting rights in the company. The facility shall be secured by standard security granted by the company over Edmiston House and Albion car park.

"The facility shall be for a six-month term and is interest-free. The facility will be used by the company for general working capital purposes. Under the terms of the facility, MASH has the right to appoint up to two directors on the board of directors of RFCL."

Giveaway:
Book compo - winners
We had two copies of Michael Walker's fine examination of North East football "Up There" to give away and asked which Newcastle manager tried to sign Steve Bruce, Mark Hateley and Kevin Sheedy following promotion in 1984 but ended up resigning when he was blocked by the board.

Virtually everyone knew that it was Arthur Cox (but a couple of Jack Charltons crept in). From our bulging sack, books will soon be crashing on to the doormats of:

Tony Griffiths, Essex
The North Shields Badger

"Up There" is available from all good bookshops now and can be ordered direct from the publishers here. Michael will also be signing copies in Newcastle later this month (details tbc) accompanied by former Magpie Rob Lee.
Fanzine:
Finger clicking good


Issue 115 of True Faith is now available in digital-only format. Click here for details of how to subscribe.

Online subscriptions cost £17.99 annually, with a £5.99 quarterly option. Ten issues per season, each one has a minimum of 100 pages and subscribers also get free access to over 30 back issues.

Update:
Fan Forum #5 minutes


Monday saw the fifth meeting of the fan forum run by NUFC, what they "term an opportunity for members to quiz the club on any issues on behalf of all supporters, as well as being the club's opportunity to redress the balance with facts. All questions and answers are published on the club's website for the wider fan base".

minutes are available online here

A few things that caught our eye:

Ambitions for the current season:

"The club's minimum target this season is to finish in the top ten of the Premier League."

Whether that tenth place is the trigger for staff bonuses to be paid this season wasn't elaborated upon.

Striker arrival in next transfer window:

"....additional attacking players had been pursued. The club are continuing to look at potential targets but stressed no guarantee could be made in reference to January."

Mapou Yanga-Mbiwa situation:

"The move was sanctioned in the interests of all parties. There is the possibility that the transfer could become permanent at the end of the loan period at around the fee Newcastle United initially paid for him*.

"The club added that it had initially reached a verbal agreement for a replacement defender in the summer. Because the deal with AS Roma took longer than expected, the replacement transfer was no longer possible.

"The club's view was that the deal to allow Mapou Yanga-Mbiwa to leave was in the interests of all parties and, after taking the medium-to-long term view, the club let him leave."

* reported as £6.7m by Sky Sports in January 2013

That appears to back up the one in / one out line that was peddled by the club in the closing days of the last transfer window - what does occur to us was that the "replacement transfer" that couldn't be completed was actually a permanent switch for Jamaal Lascelles from Forest, which could only then be concluded as a loan leading to a future transfer.

Recall rumours for the Nottingham Forest loanees:

"....

the club are delighted to have secured both Jamaal (Lascelles) and Karl Darlow and while they will be big assets to the squad in future, it was not true that they could be recalled from their current loan deals until the end of the 2014/15 season."

The question of why Lascelles was part of the Premier League squad list NUFC submitted in September (but Darlow wasn't) didn't then get asked by forumites.

Regarding the story about Lascelles and the fact that the club confirmed it was wrong, it's yet to be seen whether the media outlets who published that would be subject to a ban. If they consider it "patently untrue" then they'll be out, or if "incorrect information" then they'll stay in.

Leicester City (h) kickoff delay (i):

Asked how NUFC communicated information on this:

The club used social media and club website, sent emails to broadcasters and journalists and gave face-to-face updates to reporters and TV/radio personnel, while stewards around the stadium used loud hailers to communicate with fans.

There's a danger here that the club are relying on social media to get messages out, regardless of whether fans use those networks - or could even connect to them.

Our reading of the "loudhailer" comment is that there's no PA system around external areas of SJP - in contrast to other Premier League stadia (eg Old Trafford, Anfield), where announcements are regularly made on matchdays.

That begs the question of how emergency situations would be dealt with if turnstiles were already open and fans were leaving and arriving at the same time. Those inside the ground would hear the PA, but those outside wouldn't be able to.

Given the large number of spectators unfamiliar with SJP who will attend both rugby events in 2015, it's surely worth reviewing all possible communication channels.

Leicester City (h) kickoff delay (ii):

When asked about fans adversely affected by the late finish to the game because of booked trains, the club responded by saying that:

Those supporters are asked to write to the club's Box Office (St. James' Park, Newcastle, NE1 4ST) so that the club can assess complaints on a case-by-case basis.

(We're aware of some of who left the game early because of service specific ticket bookings and others who stayed and were charged additional fares on later trains. Anyone who used public transport other than the train ie coach services or flights may also wish to write to the club).


NUFC
Next Match
Liverpool
Premier League
St. James' Park
Saturday 1st November
Kick-off 12.45pm
Live on BT Sport
NUFC
Last Match
Manchester City 0
Newcastle 2
Capital One Cup 4th Round
Etihad Stadium
Wednesday 29th October
Match report to follow
NUFC.com's
Never-Ending Tour
| | |
| --- | --- |
| Number of Newcastle games attended by NUFC.com in 2014/15: | 39 |
Fixtures, Tickets etc.
Season 2014/15

The ticket office is on the first floor of the SJP club shop, under the Gallowgate End towards the Strawberry.

New season opening Hours: TBC

Paid-for matchday ticket collections take place from the windows at the back of the Gallowgate End Stand, above NINE Bar.

Matchday ticket sales are from the Box Office in the Milburn Stand, just up the slope from the Sir Bobby Robson Statue.

SJP Box Office phone: 0844 372 1892*
(Open for away ticket sales and enquiries during the above Box Office hours).

* 0044 870 444 1892 from overseas

Online Box Office is available here

2014/15 season ticket details here

On the opening day of ticket sales, they officially commence at 10am.

Away tickets are sold only to season ticket holders and members. All ST holders are also automatically members (a non-negotiable fee is added annually by NUFC to each ST).

A £1 administration fee per ticket applies to away sales in all competitions, with no upper limit. In addition, non-NUFC members pay the same fee on home ticket sales.

NUFC's members only away ticket policy is still in force, with only NUFC ST holders and members able to purchase tickets.

SJP season ticket info online here

SJP Stadium seating plan online here

Newcastle City Centre map (PDF)

Fixtures:

Sat 01.11.2014 U18s v Wolves (h) @ Little Benton, 1pm. U18 Premier League.

Sat 01.11.2014 Liverpool (h) @ SJP, 12.45pm. Premier League. SOLD OUT. Live on BT Sport.

Mon 03.11.2014 U21s v Aston Villa (h)
@ SJP 7pm. U21 Premier League.

Fri 07.11.2014 Draw for FA Youth Cup Third Round takes place (includes NUFC).

Sun 09.11.2014 West Bromwich Albion (a) @ The Hawthorns, 1.30pm. Premier League. SOLD OUT. Live on Sky Sports.

Fri 14.11.2014 U21s v Stoke City (a)
@ Britannia Stadium, 7pm. U21 Premier League. Note amended venue - there's also some dispute over whether it's now on Thu 13.11 as per PL bulletin.

Fri 21.11.2014 U18s v Manchester United (h) @ Moss Lane, Altrincham, 7pm. U18 Premier League.

Sat 22.11.2014 QPR (h) @ SJP, 3pm. Premier League. Member sale now.

Sat 29.11.2014 U18s v mackems (h) @ Little Benton, 11am. U18 Premier League.

Sat 29.11.2014 West Ham (a) @ Boleyn Ground, 3pm, Premier League. ST holder sale now, zero points. £43 adults, £25 over-65s/U16s. Member sale from Mon 10.11.2014 (if any).

Mon 01.12.2014 U21s v Blackburn Rovers (a) @ Leigh Sports Village, 7pm. U21 Premier League.

Tue 02.12.2014 Burnley (a) @ Turf Moor, 7.45pm, Premier League. ST holder sale now, zero points. £40 adults, £25 over-65s / 18s-21s, £18 U18s. Member sale from Tue 11.11.2014 (if any).

Capital One Cup Round Dates:

QF w/c 15.12.2014
SF(1L) w/c 19.01.2015
SF(2L) w/c 26.01.2015
Final Sun 01.03.2015

FA Cup Round Dates:

3rd Round w/e of 03.01.2015
4th Round w/e of 24.01.2015
5th Round w/e of 14.02.2015
6th Round w/e of 07.03.2015
SF Sat 18.04.2015/Sun 19.04.2015
Final Sat 30.05.2015

FA Youth Cup Round Dates:

3rd Round by 20.12.2014
4th Round by 17.01.2015
5th Round by 31.01.2015
6th Round by 21.02.2015
SF1 by 07.03.2015
SF2 by 21.03.2015
Final 1 tbc
Final 2 tbc

U21 Premier League Cup Dates:

Round of 32: no later than 08.12.2014
Round of 16: no later than 05.01.2015
QF: no later than 02.02.2015
SF: no later than 02.03.2015
Final: no later than 30.03.2015

Northumberland Senior Cup 2nd Round:

The draw will be conducted on or around Saturday November 1st and include:

Alnwick Town, Ashington, Blyth Spartans
Morpeth Town, Newcastle Benfield, NUFC U21s, Team Northumbria & Whitley Bay.




Altoonative Travel is the public face of the Newcastle United Travel Plan, aimed to help fans attend games using the most efficient and sustainable methods available.


Confirmed NUFC UK live TV coverage:

NUFC Live on Sky Sports:
Sun 09.11.2014 West Brom (a) 1.30pm
Sat 13.12.2014 Arsenal (a) 5.30pm
Sun 21.12.2014 mackems (h) 1.30pm
Sun 28.12.2014 Everton (h) 4.15pm

NUFC Live on BT Sport:
Sat 01.11.2014 Liverpool (h) 12.45pm
Sat 06.12.2014 Chelsea (h) @ 12.45pm
Fri 26.12.2014 Manchester United (a) 3pm

(Live games selected up to and including Thu 01.01.2015)


Gateshead FC are offering a £5 saving on Conference Premier League home games for NUFC season ticket holders. On production of their current ST card, adult admission to the Tyne and wear Stand is £10.

Upcoming home League games

:

Tue 11.11.2014 Lincoln City (7.45pm)
Sat 29.11.2014 Dover Athletic (3pm)
Sat 06.12.2014 Woking (3pm)
Fri 26.12.2014 FC Halifax Town (3pm)

Northern Premier League side Darlington 1883 operate a similar scheme, with NUFC season ticket holders gaining entry to their league games for £6 - a saving of £3.

Upcoming home League games:

Wed 05.11.2014 Spennymoor (7.45pm)
Sat 22.11.2014 Clitheroe (3pm)
Sat 29.11.2014 Lancaster City (3pm)
Sat 20.12.2014 Radcliffe Borough (3pm)

(NB: home games are staged at Bishop Auckland FC's Heritage Park home)

Rugby League Magic Weekend @ SJP:

The 12 team event takes place on 30.05.2015 and 31.05.2015, with three games at SJP each day.

Teams: Catalans Dragons, Castleford Tigers, Hull, Hull KR, Huddersfield Giants, Leeds Rhinos, St Helens, Salford Red Devils, Wakefield Trinity Wildcats, Warrington Wolves, Widnes Vikings, Wigan Warriors.

Rugby Union World Cup @ SJP:

The 20 team event runs from 18.09.2015 to 31.10.2015 with three games at SJP:

Sat 03.10.2015 South Africa v Scotland
Fri 09.10.2015 New Zealand v Tonga
Sat 10.10.2015 Samoa v Scotland

Mark Allison aka Run Geordie Run will embark on his latest and longest charity quest - from Lisbon to Istanbul - in 2016.

Running to raise funds for The Children's Foundation and the Sir Bobby Robson Foundation, Mark intends to complete the 3,580 miles in 100 days through Portugal, Spain, Andorra, France, Italy, Switzerland, Germany, Austria, Croatia, Serbia, Bulgaria, Greece and Turkey.

Mark is also planning further runs in 2018, 2020, 2022 and 2024 - by which time he hopes to have completed the remaining 13,642 miles of his 20K mile global lap.

International Magpies
National Service

The way international matches are scheduled is changing, as UEFA confirm:

The Week of Football means matches take place over six days from Thursday to Tuesday. Kick-off times will be set largely at 18.00CET and 20.45CET on Saturdays and Sundays and at 20.45CET for Thursdays, Fridays, Mondays and Tuesdays.

On double-header match weeks, teams will play on Thursday and Sunday, Friday and Monday or Saturday and Tuesday.

2014/15 match dates :
Thu-Sat 14-16.11.2014
Fri-Sun 27-29.03.2015
Fri-Sun 12-14.06.2015

2014/15 African Nations Cup:
Sat 17.01.2015-Sun 08.02.2015

Group D qualifiers:
15.11.2014 Sierra Leone v Ivory Coast
19.11.2014 Ivory Coast v Cameroon

Group G qualifiers:
15.11.2014 Egypt v Senegal
19.11.2014 Senegal v Botswana

2015/16 match dates:
Thu-Sat 03-05.09.2015
Sun-Tue 06-08.09.2015
Thu-Sat 08-10.10.2015
Sun-Tue 11-13.10.2015
Thu-Sat 12-14.11.2015 (playoff 1)
Sun-Tue 15-17.11.2015 (playoff 2)

Coxy's Cockup Corner
Whoops, He did it Again...
London24 seem to think we interviewed Alan Pardew ahead of the visit to Spurs!

"I can feel a little bit more confidence in and around the camp. But we have to improve results full stop going forward," Pardew told NUFC.com.

First with the news as ever, the Independent promise:
A look ahead to Wednesday's Carling Cup fixture at The Etihad

This is the third successive season of Capital One sponsorship...

What's this all about then? Click here
for a rambling explanation of sorts....

On This Day in History
30th October

Born Or Died:
1894 Neil Harris born, Tollcross, Glasgow.
(1920-25)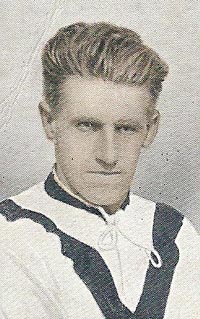 Diminutive forward who had begun his playing career with Vale of Clyde before moving on to join Partick Thistle.

Guesting during wartime for Distillery and Fulham, Harris was loaned to Kilmarnock, Rangers and St.Mirren before completing a £3,300 move to Newcastle in May 1920.

Debuting in a 1-1 home draw against West Bromwich Albion the following August, Neil's first goal goal came the following week during a 1-3 defeat away to Everton.

A hat trick in a 6-1 home hammering of the mackems later that season then came during a record eight game scoring run and he remained an attacking mainstay during the following four seasons.

The 1923/24 campaign was to be a high point for Harris, his 23 goal haul including eight FA strikes, not least of which was a hat trick to defeat Derby County in the third replay of a Second Round tie.

Scoring both goals in the 2-0 semi-final win over Manchester City at St.Andrews, Neil then made the vital breakthrough against Aston Villa in the final, netting with just seven minutes remaining as the Magpies ultimately ran out 2-0 winners.

That was a second memorable moment at Wembley that month for Harris, who had won what was to be his sole senior cap there for Scotland in a 1-1 draw with England just two weeks earlier.

Leaving United in 1925, Harris appeared for the Magpies of Notts County, Irish side Shelbourne and Oldham Athletic before returning to Scotland with Third Lanark.

A first taste of management came as player -boss of Burton Town and after a stint in Ireland with Distillery, he took charge of Swansea Town in 1934 and then Swindon Town some five years later.

Remaining in post after the outbreak of WW2 saw league football suspended, Neil made a brief playing return at the age of 45 away to Bristol City. However it's reported that his borrowed boots were too small and he lost two toenails in a 2-5 defeat!

With the County Ground in use by the War Department, Swindon opted to suspend playing in 1940 and Harris was released on the understanding that he'd be recalled to his post once football recommenced.

However, he passed away in December 1941.
1924 Charlie Crowe born, Walker.
(1944-57)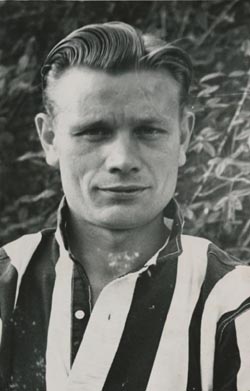 Left half who joined United in 1944 from local football and played in wartime games, although his competitive first team debut didn't come until an FA Cup tie against Barnsley in January 1946.

Becoming a senior team regular by the 1949-50 season as United cemented their place back in the top flight, Charlie played in the 1951 FA Cup final victory over Blackpool at Wembley Stadium.

However he wasn't selected for the 1952 final and also missed out in 1955, picking up an ankle injury during a league match against Spurs just days earlier.

Despite that winner's medal however, Charlie maintained that the highlight of his career at SJP was when his fellow players chose him as Magpies club captain in 1954.

After leaving United, Charlie appeared for Mansfield Town, returning to live in North Tyneside after retiring from playing.

Spells coaching in Egypt, Whitley Bay and on the FA staff followed and he also worked as a civil servant on North Tyneside.

Sadly, Charlie was diagnosed with Alzheimers disease and died in February 2010, the last survivor of the 1951 side.

His name lived on in a successful charity effort to acquire a high-powered MRI scanner to be housed in Newcastle.

1946 Tony Green born, Kinning Park, Glasgow. (1971-73)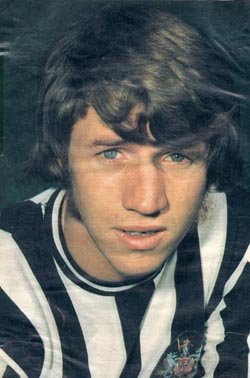 Recalled with genuine fondness by those who saw him play, Tony Green's talents were comparable with the likes of Paul Gascoigne and Peter Beardsley. However, injury would prevent him from truly making his mark for both club and country.

Brought to England by Blackpool from Albion Rovers in May 1967 at a cost of £15,500, Tony's skill had delighted Tangerines fans although he spent a year out through injury.

After submitting a transfer request, Green moved to SJP in a part-exchange deal in October 1971, with £150,000 and Keith Dyson heading to Bloomfield Road.

Debuting the following month in a 0-1 loss at Everton on his 25th birthday, a 5-1 win over Coventry City in the Texaco Cup then gave Gallowgate spectators their first taste of the midfielder's magic.

And when he marked his home league debut the following Saturday with a goal in a 3-1 win over Southampton, Tyneside had a new cult hero and manager Joe Harvey had the missing piece of his ideal XI.

Tony's task was to provide service to front duo Malcolm Macdonald and John Tudor, but the sheer artistry of his ball playing was worth the admission fee alone.

International recognition came while Green was still a Seasider, winning the first of six full caps for Scotland against Belgium in Liege during February 1971 - in the same side as future club colleague Bob Moncur.

However a tackle during a game against Crystal Palace at Selhurst Park in September 1972 left Green with cartilage damage from which he never recovered.

After a failed comeback attempt in the reserves, what Joe Harvey called "the saddest day of my life" came in December 1973, when Green confirmed his retirement.

Awarded a testimonial match at SJP in May 1974, Tony became a mathematics teacher in the Blackpool area and two years later was invited to join the Pools Panel.

Speaking to a Seasiders' website he said:

"When I played for Blackpool, we regularly had crowds of 20,000 or above, this was often increased when the illuminations were on, as a result of holiday makers.

"In Newcastle, everyone seems to support the football team. Even the wives knew the result, as it depended on whether their partners were in a good mood or not.

"It's unfair to compare Blackpool's fans with Newcastle's, because I believe that Newcastle have the best support in the country."

1997 Sean Longstaff born, North Shields
(2014-present)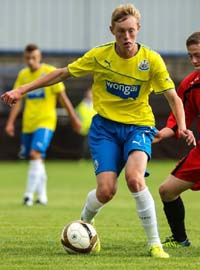 Midfielder who was handed his debut at U18 level as substitute in a 0-1 reverse away to Arsenal during April 2014.

An encouraging start to his first full season saw Sean score seven times in his first ten league games and mark his reserve bow in October 2014 by netting in a friendly win at local side Heaton Stannington.

1997 Ben Smith born, Gateshead
(2014-present)

Goalkeeper who began training with Newcastle's Academy in 2010, earning a scholarship ahead of the 2014/15 season.

However he suffered an injury during a pre-season game for the Magpies, which prevented him from making a competitive debut by his 17th birthday.

Smith's absence and international duty for fellow young Magpies Freddie Woodman and Paul Woolston saw United forced into short term loan moves, bringing in custodians from both Liverpool and Manchester United.

What Else?
1897 Willington Athletic (h)
6-0 (2-0)
FA Cup Qualifier
Aitken 4, Campbell, Jackson
6,000

1902 Dundee (a)
2-1 (2-1)
Friendly
Roberts, Carr

Scorer tbc
9,000
1909 Bury (a)
2-1 (1-1)
Division One
Shepherd 2
Kay
15,204
1920 Bradford (a)
2-0 (0-0)
Division One
Harris, Aitken
15,000
1926 Sunderland (a)
0-2 (1-0)
Division One
Halliday(34), Death(71)
30,000
1937 West Ham United (a)
0-1 (0-0)
Division Two
Morton
34,000
1943 Hartlepool United (a)
4-5 (1-2)
Wartime
Stubbins 3, Milburn

Short 2, Scott, Mullen, Newman

7,472

1948 Liverpool (h)
1-0 (1-0)
Division One
Milburn
67,362
The first return of Albert Stubbins to SJP saw the crowd increase from the 60,958 that saw Wolves beaten two weeks earlier.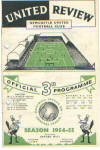 1954 Wolverhampton Wanderers (h)
2-3 (1-2)
Division One
Milburn 2
Smith, Swinbourne, Wilshaw
49,279
No home win in three for United now, after a 1-3 defeat by Chelsea and a 4-4 draw with Spurs.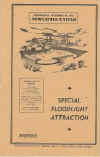 1957 Middlesbrough (a)
0-3 (0-1)
Friendly
Fitzsimons, McLean, Peacock
27,056
After defeating their wearside rivals 2-0 a fortnight earlier, the smoggies won another friendly under the new Ayresome Park floodlights.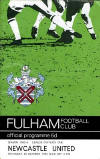 1965 Fulham (a)
0-2 (0-0)
Division One
Key, Leggat
19,226
Goalscoring continued to be a problem for Joe Harvey's side, who recorded a third successive blank despite dominating the game.

The Cottagers then broke away twice in the closing stages to win the game and leave United languishing in 15th place - what was to be their finishing position that season.

1968 Sporting Lisbon (Portugal) (a)
1-1 (1-0)
Fairs Cup 2nd Round 1st Leg
Scott (32)
Morais(90)
9,000
A cloudburst in the Jose Alvalade stadium threatened to bring a premature end to this tie but United held firm until conceding in the last seconds, when a hopeful shot hit the bar and then rebounded into the net via Willie McFaul's elbow.

Press photographs of the game reveal that the home side played in two different kits, discarding their sodden green and white hoops at half time in favour of a half in half design change kit in the same colours.

1971 Everton (a)
0-1 (0-0)
Division One
Ball
38,811
Tony Green made his United debut on his 25th birthday, having only met his new team mates an hour before kickoff.

1973 Birmingham City (a) 2-2 (1-1)
League Cup 3rd Round
Gibb, McDermott,
Latchford 2
13,025
Gary Sprake saved a late Malcolm Macdonald spot kick, meaning that the two sides had to do it all again at SJP a week later.
1975 England lost 2-1 in Bratislava to a lively Czechoslovakia side and Malcolm Macdonald again couldn't hit the target.



1976 Stoke City (h)
1-0 (0-0)
Division One
Cannell
32,339
Just over a month after losing there in the League Cup, The Potters returned to SJP and lost again - despite fielding highly-rated goalkeeper Peter Shilton and former Magpie striker John Tudor.
1982 Leeds United (a)
1-3 (1-1)
Division Two
Anderson(40)
Worthington(44), Burns(76), Butterworth(84)
26,570
Youngster Chris Hedworth debuted from the bench in a violent encounter at Elland Road, coming soon after a two-legged League Cup meeting between the teams.

Kevin Keegan was struck by objects (including a ball bearing) thrown from the home fans, while goalscorer John Anderson appeared to have been hit with a coin flung from among the away contingent.

The referee took the teams from the field on both occasions and the police struggled to restore order as fighting broke out between rival fans, with more trouble outside following the final whistle.

1984 Ipswich Town (a)
1-1 (1-0)
League Cup 3rd Round
McDonald
Gates
15,084
Having convincingly beaten them 3-0 at SJP in the league earlier in the month, it ended honours even in this midweek visit to Suffolk.

However, former Magpie Bobby Ferguson was to steer his side to victory in the replay.
Youtube footage is online here



1985 Oxford United (a)
1-3 (1-1)
League Cup 3rd Round
Cunningham
Thomas 2, Hebberd
8,096
Future Magpie Andy Thomas netted a brace as United lost at the Manor Ground.

1993 Wimbledon (h)
4-0 (1-0)
Premier League
Beardsley(36pen,63,71), Cole(60)
33,371
After a troubling week that included away defeat to Southampton and Wimbledon and quarrels between Lee Clark, Andy Cole and United boss Kevin Keegan, peace broke out.

After clearing the air, both players were back in the side and celebrated as Cole netted.

The day belonged to Peter Beardsley though, who scored the first goals of his second spell at SJP, capping the afternoon with his hat trick goal - a cheeky chip over Hans Segers.
Youtube footage is online here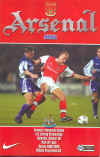 1999 Arsenal (a)
0-0 (0-0)
Premiership
38,106
Franck Dumas cleared off the line but Match of the Day cameras later showed that a Russian linesman might have given it. John Karelse made a rare appearance in goal
NUFC.com match report.
2003 A staggering crowd of 3,102 saw the Reserves crash to a 4-0 home defeat at the hands of Manchester United's second string.
NUFC.com match report

2005 West Bromwich Albion (a) 3-0 (0-0)
Premiership
Owen(46,78), Shearer(80)
26,216
One of the highlights of a forgettable season was seeing messrs Owen and Shearer celebrate in front of the away fans having just destroyed the Baggies with some world class finishing.
NUFC.com match report
2006 Newcastle Reserves extended their unbeaten home run to 18 games as Blackburn Rovers left Kingston Park empty-handed.

The vital breakthrough came when substitute Andy Carroll netted from close range.
NUFC.com match report
2007 Glenn Roeder was announced as the new boss at Carrow Road, with Norwich City sitting at the bottom of the Championship.

2009 Newcastle Academy manager Richard Money left the club in order to take up the vacant position of Luton Town manager.

The former Hatter had been linked with various lower league jobs since arriving at United in the summer of 2008.


2010 Newcastle's Academy team inflicted another defeat on a beleaguered Leeds side with only a single point from ten games.

Ryan McGorrigan opened the scoring before a Brad Inman brace rounded off a 3-0 victory.



2013 Manchester City (h)
0-2aet 0-0

(0-0)


Capital One Cup 4th Round
Negredo(99), Dzeko (105)


33,846


Extra time efforts from Alvaro Negredo and Edin Dzeko proved enough to end our interest in the League Cup for another season.

A City side showing ten changes from beaten at Chelsea in the Premier League four days earlier, survived some uncomfortable moments and were slightly fortunate to make it as far as the additional half hour.

However, United lacked the killer touch to record a first win over City in fifteen league and cup attempts going back eight years.
NUFC.com match report

Copyright © 2014 NUFC.com. All rights reserved.
Niall & Biffa. NUFC.com Privacy Policy