Ticket news:
Arsenal (a) / Liverpool (a) SOLD OUT
Cardiff (h) Public sale

Premier League:
Record breaker

Newcastle 1 Swansea City 2

"Of course I haven't lost the dressing room
- it's down there, first on the right...."
Alan Pardew became the first Newcastle manager ever to preside over five successive Premier League defeats, as Swansea eased their relegation fears thanks to goals in
added time at the end of each half on Saturday.

A woeful lack of quality from both sides left another 50K+ home crowd suffering in silence, the lifeless nature of the match giving it the air of a pre-season friendly.

And although a fifth successive defeat came to pass, the timing of both City goals - and United breaking their own scoring famine - meant that dissenting voices were only evident at full time: for 90 minutes this was a silent vigil.

Given his side's decline, the point that looked inevitable as the game moved into second half added time would have been seized upon by the manager as proof that the rot had been stopped - regardless of the feeble display that his disenchanted rabble of a side had served up.

An ill-advised lunge by Cheick Tiote on former smoggy Marvin Emnes changed all that though, stand-in referee Anthony Taylor correctly awarding a penalty and City striker Wilfried Bony shooting past Tim Krul.

Taylor had stepped up from fourth official duty after half an hour, when Chris Foy decided that he was unable to continue in the middle. The match referee had taken an early blow in the face from a ball that was blocked by Fabricio Coloccini, falling to the floor before resuming following some treatment from the United physio.

Having clung to the return of Mathieu Debuchy and Loic Remy like a life raft in the lead up to this game, Pardew opted to name both players on the bench, prompting inevitable comments of the "fit enough to play, fit enough to start" variety from fans and pundits alike.

And with a certain degree of inevitability, both players were on the field by the 40th minute mark, not because our colander-like defence had been breached, but due to injuries picked up by two of our front trio.

Fielding Shola Ameobi, Luuk de Dong and Papiss Cisse (the Hatem Ben Arfa "situation" dealt with by allowing him to return to France on Thursday with an alleged injury), the wide right role handed to Cisse didn't look to suit him and almost immediately he was hobbling with a leg problem.

Cisse's removal saw the arrival of Debuchy and a return to midfield for Vurnon Anita, while Remy replaced a dazed- looking De Jong shortly before the half time interval.

By then though, SJP had witnessed an all-too-rare goal, made even more of a collector's item by coming from Ameobi and involving an assist from De Jong.

Krul's long punt upfield was nodded on to De Jong by Shola, who took the Dutchman's return pass before turning to hit a low shot beyond Michel Vorm to register his first Premier League strike in a remarkable 1,399 minutes and only a second in his last PL 55 outings.

But rather than building on that lead though, the Magpies never looked like scoring twice for the first time at home in 2014 and continued in much the same sloppy fashion.

A brief flurry from Swansea before the break saw them level with the simplest of goals, Wilfried Bony leaving his marker Mike Williamson for dead before heading a right wing corner in unopposed at the near post.

The second period continued in a similar style with only a scuffed Dan Gosling volley and a speculative Vurnon Anita effort bothering Vorm.

Krul looked like he'd earned his side a point later on, when scurrying off his line to block Bony's run with his legs but neither side looked like adding to their first half strikes until the game moved into added time.

A home attack broke down in the City box and as the visitors swarmed forward, substitute Emnes sped into the box but looked to have been crowded out by Coloccini.

However Tiote opted to dive in and upend his opponent with a ridiculous challenge. That saw him booked and handed Swansea the chance to record their first away win under the guidance of Garry Monk and put some daylight between themselves and the bottom three.

Three games remaining then, and with the nightmarish prospect of what awaits us at the Emirates and Anfield, there's just one more afternoon of purgatory on Barrack Road before we can turn our back on this shower - and begin to worry about which three teams could possibly contrive to finish below us next May....

Gut-wrenching though it is to admit, as Bony ran up to take that penalty, our over-riding feeling was rooting for him to beat Krul -that's how much of a head f*ck watching this rubbish week after week has become.

And just as sadly, we'd willingly see Cardiff come here and win for the second time this season, were another home loss enough to prompt the demise of this discredited buffoon who calls himself the manager. Presumably the squad won't risk a lap of "honour" whatever the score....

Putting aside the "bigger picture" view we subscribe to that whoever fills the manager/coach role is immaterial while the current status quo prevails, something has to change if this end of season hangover isn't to become something far more elongated and debilitating.

Tasked with achieving a top ten finish, home wins by Stoke City and Crystal Palace next weekend would see Pardew take his side to Arsenal the following Monday languishing in eleventh spot.

Despite that though, his post-match burbling suggested he would have been content with a draw - an appalling lack of ambition mirrored in the inspid, pride-free apology of a performance he presided over, that again prompted scores of fans leaving with the score 1-1.

Thanking the fans for their backing (in reality not booing him or his side, but providing a vote of no confidence by their lack of support) was pathetic, while his suggestion that the winning goal could have been prevented had he been on the touchline just invited further derision - what did he intend to do, tackle an opponent?

And maintaining his inconsistent streak, Pardew expressed his delight at returning to the dugout for our next game - having previously spoken about watching from the stands after his ban ended in a bid to modify his behaviour.

Yet more stream of consciousness twaddle and like his formations, tactics and motivational speeches, totally ignored by a dressing room that propelled him to the manager of the year title two years ago.

Now they just want to propel him. And so do we. A change of direction is needed, because everyone is heartily sick of going backwards.

Forget ambition, forget austerity. If we were playing in the Northern League you'd look at the lack of heart, lack of pride and lack of commitment from the eleven players sent out wearing our shirts and do something about it. And short of emptying the dressing room, the bloke who took the plaudits should now suffer the consequences.

Whether the mechanism to achieve such a change exists is open to question though, with the financial burden of paying off the current boss presumably a cost that the football club would have to bear.

And whether there's anyone on the payroll capable of securing a credible candidate to fill the vacancy is another moot point - unless the third coming of JFK awaits as the latest ignominy to befall us....

Pardew mentioned Bobby Robson's side in his pre-match waffle. Today further emphasised to us that like the late Knight, there came a point when he had nothing left to say to his players, no cards left un-played. Maybe his current no.2 could share his recollections of that time...

The failure to appreciate that and act saw Robson remain in post at the end of the 2003/04 campaign, only to then be ejected just four games into the following season - when it became apparent that nothing had changed.

Exactly ten years on, that time has now arrived for the second-longest serving manager in the division to be relieved of his duties after the final whistle at Anfield next month - the same venue that the previous administration should have made Robson's last in 2004.

Team: Krul, Coloccini, Williamson, Dummett, Anita, Gosling (Armstrong 81), Tiote, Gouffran, De Jong (Remy 40), Cisse (Debuchy 21), Sh Ameobi.
Subs n/u: Elliot, Haidara, Yanga-Mbiwa, S Taylor.

Booked: Gosling, Tiote.

Goal: Sh.Ameobi 23.

SCFC: Vorm, Rangel, Amat, Williams, Davies, Britton, Shelvey, De Guzman, Routledge (Bartley 90+4), Hernandez (Emnes 81), Bony.
Subs n/u: Tremmel, Taylor, Fulton, Dyer, Ngog.

Goals: Bony 45+1, 90+2.

Crowd: 51,057, including 800 Swans' followers.

Referee: Chris Foy - fourth appointment this season involving Newcastle, following a 1-0 home win over Fulham, 1-0 win at Spurs and 0-0 draw at Norwich.

Foy was replaced by fourth official Anthony Taylor after 31 minutes, after suffering an early bang in the face.

Taylor's only previous game involving United this season was the 1-2 home loss to Cardiff City in the FA Cup.

The Back Page Easter Opening Hours:
Sun: 11am - 4pm
Mon: 10.30am - 4.30pm

Stats:

Alan Pardew acquired another unwanted record for his expanding collection; namely that of the first United manager to lose five successive Premier League games.

United last lost five league games in succession during March and April 1992, when Kevin Keegan's attempts to stave off relegation to the third tier faltered - only for that 1-0 home win over Pompey to end the sequence.

And in terms of top flight seasons, December 1986 and January 1987 saw Willie McFaul's side reel off six First Division defeats in a row.

Pardew had previously shared the four defeat total with Kenny Dalglish (1997/98), Graeme Souness (2004/05) & Kevin Keegan (2007/08) and himself (2012/13). We also lost four on the bounce in both 2007/08 & 2008/09 seasons under multiple "managers".

Pardew's seven game ban:
Stadium ban:
15.03.2014 Fulham (a) lost 0-1
22.03.2014 Crystal Palace (h) won 1-0
25.03.2014 Everton (h) lost 0-3

Touchline ban:
29.03.2014 Southampton (a) lost 0-4
05.04.2014 Manchester United (h) lost 0-4
12.04.2014 Stoke City (a) lost 0-1
19.04.2014 Swansea City (h) lost 1-2
Shola Ameobi's goal was the 78th of his SJP career and the 42nd in the Premier League - the 41st arriving way back in December 2012 against QPR at the Leazes end.

This latest goal moved him up to fourth in the club's all-time Premier League goalscorers list:

1. Alan Shearer 148
2. Peter Beardsley 46
3. Andy Cole 43
4. Shola Ameobi 42
5. Les Ferdinand 41

The Magpies finally scored after 383 minutes of play - and have netted just twice in 563 minutes of the artless slop that passes for football round our way.

In nine Premier League home games since Boxing Day, we've scored just three times - as many as the mackems managed in their single visit to SJP.

With one home game to play, United have managed to score just 20 times in the Premier League at SJP to date - with five of them in one game, against Stoke City.

Our lowest seasonal total in the Premier League to date is 22 (reached in 1997/98 and 2006/07), while both 2012/13 and the 2008/09 relegation campaign saw 24 netted.

Just 9 of that 20 have come in the first half of games, while the "end" split is 16/4 in favour of the Gallowgate, despite today's effort from Shola - the first to be netted at the Leazes End in 2014.

Fans at that end had previously witnessed only Yohan Cabaye's shot against Liverpool, a Yoan Gouffran back header against West Brom and Loic Remy's Boxing Day opener against the Potters.

PL home scoring record to date 2013/14:

West Ham

0-0

Fulham

1-0

Ben Arfa 86

Hull City

2-3

Remy 10,44

Liverpool

2-2

Cabaye 23, Dummett 56

Chelsea

2-0

Gouffran 68, Remy 89

Norwich City

2-1

Remy 2, Gouffran 38

West Brom

2-1

Gouffran 36 Sissoko 57

Southampton

1-1

Gouffran 27

Stoke City

5-1

Remy 44,56 Gouffran 48
Cabaye 66 Cisse 80pen

Arsenal

0-1

Man City

0-2

mackems

0-3

Spurs

0-4

Aston Villa

1-0

Remy 90+2

Crystal Palace

1-0

Cisse 90+4

Everton

0-3

Man United
0-4

Swansea City
1-2

Sh.Ameobi 23

Swans @ SJP - all-time:
2013/14 lost 1-2 Sh.Ameobi
2012/13 lost 1-2 Ba
2011/12 drew 0-0
2009/10 won 3-0 Harewood 2, Lovenkrands
1994/95 won 3-0 Kitson 3 (FAC)
1983/84 won 2-0 Beardsley, Wharton
1980/81 lost 1-2 Rafferty
1979/80 lost 1-3 Shoulder
1964/65 won 3-1 Penman 3
1963/64 won 4-1 Hilley 2, Taylor, Thomas
1962/63 won 6-0 Fell 2, Suddick 2, Thomas, og
1961/62 drew 2-2 Leek, Allchurch
1952/53 won 3-0 Davies, Keeble, Mitchell (FAC)
1946/47 drew 1-1 Woodburn
1938/39 lost 1-2 Clifton
1937/38 won 1-0 Imrie
1936/37 won 5-1 Rogers 2, Smith 2, Pearson
1935/36 won 2-0 Connelly, J.Smith
1934/35 won 5-1 Cairns 3, Imrie, Murray
1914/15 drew 1-1 McCracken (FAC)

Alan Pardew:

"It was a really cruel blow for the club and the team. It was a game that looked like it was heading for a draw, but we just switched off on our own set play and it's cost us at least a point.
"We had the numbers back to deal with it, we just didn't concentrate and I think that is one of those situations that, if I had been on the touchline, I could have influenced that situation.
"I'm looking forward to getting back on to the touchline against Arsenal for sure. "It is very frustrating (not to be allowed in the dugout) - that's how it is for us. When the manager is not on the sideline you can't influence as I would have done.

"I was pleased with the crowd today because I thought they gave us a platform to try and win the game. I'm absolutely choked for them we haven't given them the sort of result we wanted.
"The position we were in the game, we didn't deserve that. I don't want to be the first manager who has lost five Premier League games here on my CV.
"I'm absolutely choked for the players and the staff because I think even a point would have been something to carry forward.
"I think it's important we win one of our last three games to secure a top 10 finish. Teams are chasing us down and that's the last thing we wanted. A win today would have probably secured it.
"It was a game that was looking like finishing a draw. We played a lot better and that last goal was a real killer blow. That should not have been allowed to happen.
"We made three of four errors in that goal. I felt we should have won the game. Errors at the end of both halves had cost us dear.
"Their effort was there for all to see. We keep making errors and we are getting punished. You can't afford to do that with the run we are on. We've got to grin and bear it.
"That's five defeats and there is nothing more to say. But today was a cruel blow. We will work hard and make sure that in the next three games we get a win.
"We have been beaten by some good teams and we've probably not been good enough, but today we were good enough to win this game and we should have come out of it with at least a point and I thought we should have won it.
"But as a team we have made some errors and it has cost us, Swansea got a break at the end of each half and they have capitalised through that.
"There was not much to be said really other than we are going to have to work hard this week and try and get us a win before the end of the season for sure and the sooner the better."
Remaining Premier League results/fixture:
(3pm unless specified)

Sat 19.04.2014:
Spurs 3-1 Fulham
Aston Villa 0-0 Southampton
Cardiff City 1-1 Stoke City
West Ham 0-1 Crystal Palace
Chelsea 1-2 mackems

Sun 20.04.2014:
Norwich City 2-3 Liverpool
Hull City 0-3 Arsenal
Everton 2-0 Manchester United

Mon 21.04.2014:
Manchester City v West Bromwich Albion (8pm) Sky

Ex-Mag:
Old boy celebrates
treble achievement


A 16 minute appearance from the bench was enough to earn former Magpie Yohan Cabaye the first silverware of his Paris Saint Germain career on Saturday.

The French international midfielder was introduced during the second half of the League Cup Final between PSG and Lyon, with his side 2-1 ahead in the Stade de France.

And that's how it stayed, meaning that Cabaye completes a clean sweep of domestic honours, having appeared for Lille in their 2011 French Cup Final success and also helped his side win Ligue 1 that same season.

Saturday was the 17th game he's played for PSG.

Book:
Ultimate who's who: deadline approaching
Of a similar size and weight to 2011's Ultimate Record, "Newcastle United: The Ultimate Who's Who" is a completely separate, newly -compiled book from club historian Paul Joannou to be published in November.

Boasting over 1,800 profiles and photos of Toon players and officials, the last date for subscriber copies to be ordered is now only weeks away - place your order online here

Subscriber copies are individually numbered, feature a personalised certificate mounted within the book, and allow the name of the purchaser to appear on a roll of honour that is reproduced in every copy of the book.

Advance purchase price of £30 is the same as the cover price but subscribers get their copy hand-delivered or posted to them at any address in the UK for no extra charge (overseas orders welcome, shipping at cost).

Non-League #1:
'Heed remain
in the frame
A 2-2 draw against Southport in front of a crowd of 2,121 at the International Stadium on Friday made it ten games without defeat for Conference side Gateshead.

The Tynesiders remain fifth in the table and occupy the final playoff position, but a 1-0 home victory by their nearest rivals Braintree leaves the pressure firmly on, ahead of their final two scheduled fixtures.

Remaining GFC fixtures:

Mon 21.04.2014 Macclesfield Town (a) (3pm)
Sat 26.04.2014 Cambridge United (h) (5.30pm)

Sides finishing second to fifth will meet in two-legged semi-finals staged on Wed 30.04.2014 /Thu 01.05.2014 and Sun 04.05.2014. That will then decide the two sides who play at Wembley on Sunday May 18th to decide which club joins champions Luton Town in going up.

Non-League #2:
At the Hop




Aside from the latest episode of torture at SJP, there's a wealth of football action across the region this weekend - including another Northern League groundhopper event.

For the uninitiated, part of the Northern League's 125th anniversary celebrations has seen staggered kickoffs at various games, allowing fans to watch two...or more.

The last - and maddest - of these events is the Easter Hop and although the organised travel is all booked out, there's nothing to stop anyone turning up and paying on the gate (around £4-£6 per game).

Good Friday:
North Shields 3-0 West Allotment Celtic
Whitley Bay 2-1 Newcastle Benfield
Ashington 7-3 Crook Town
Easter Saturday:
Jarrow Roofing BCA 1-0 Heaton Stannington
Washington 1-1 Seaham Red Star
Birtley Town 3-1 Chester-le-Street
Easter Sunday:
Consett 0-1 Durham City
Ryton 1-1 Crawcrook Albion v Whickham
Easter Monday:
Bishop Auckland v Crook Town Noon (D1)
Spennymoor Town v Team Northumbria 3pm (D1)
Newton Aycliffe v Shildon 6pm (D1)

Details of the other Northern League games over the weekend, directions and other information is here
Compo:
Alan Shearer giveaway

Former Magpie Alan Shearer is the special guest at a talk-in event in South Shields next month - and we have a pair of tickets up for grabs in a free competition.

The club's record goalscorer appears at Hedworth Hall on Thursday May 8th from 7pm and tickets are on sale now.
These are priced at £30 entry only, £50 standard and £100 VIP (£70 VIP tickets are sold out).

Bookings can be made online here or direct from the venue (which avoids the online booking fee).




To be in with a chance of winning two standard tickets, simply email us to say where the above photo of Al and his fellow BBC pundit Robbie Savage was taken.

The closing date is Fri April 24th @ 5pm and the subject is: Al. Those who choose their own subject line will be disqualified (except for the HM Forces email restriction that we're aware of).

There's no age restriction and readers are free to enter regardless of where they are on the planet. One entry per person please, no purchase necessary. Prize consists of two admission tickets to the event including food - any other costs (drinks, travel etc.) are excluded.

PS: tickets are also on sale now for this year's Black & White Reunion event, at Dunston's Lancastrian Suite.

Defenders are on the menu this time round and appearing will be: John Anderson, Olivier Bernard, John Beresford, John Carver, Frank Clark, David Craig, Pat Howard, Steve Howey, Peter Jackson, Irving Nattrass & Darren Peacock.

John Gibson will be hosting the event and local comic Gavin Webster will also appear. Telling jokes, obviously.

Following the success of the 2013 reunion, this year's event will be staged on a Sunday lunchtime once again, kicking off at Noon on Sunday 18th May.
Tickets are £20 for entry only and £35 for VIP places - the latter including lunch - and The Stroke Association stand to benefit from funds raised.

Bookings can be made online here or via Premier Sports on 0191 280 5603.

Senior Cup:
Senior Cup
Northern Premier League side Blyth Spartans face the task of playing on successive days next week, having failed in an attempt to get one of the games altered.

Closing their home programme with the visit of Whitby Town to Croft Park for a 3pm start on Easter Monday, Blyth are then in action the following night in the Techflow Group Northumberland Senior Cup Final.

Their opponents at Gallowgate in a 7pm KO on Tuesday are Newcastle Reserves and the final will be played to a finish - via extra time and penalties if required.

Admission can be gained by paying at the East Stand turnstiles - £6 adults, £3 concessions. NB: NUFC season ticket holders and members do not receive free entry.

Since lifting the trophy after beating Blue Star in 1994, Spartans have lost nine times in the final - six of them against Newcastle - the most recent coming in 2011.

Proud sponsors of NUFC.com

Loan lads:
Abeid scores again

Trailing 0-1 after the first leg in Crete, a 3-0 home win by Panathinaikos on Wednesday was enough to see off OFI and ensure a place in this season's Greek Cup Final.

The Athens side took just 20 minutes of the second leg to cancel out OFI's lead, with on-loan Magpie Mehdi Abeid bagging his eight goal in all competitions for the Greens.

Watch Mehdi's goal online here

Mehdi and his current team mates face PAOK in the final at the Olympic Stadium in Athens this coming Saturday.

And after that, Panathinaikos will embark on an end of season mini league, where the teams finishing second, third, fourth and fifth do battle to decide who joins champions Olympiakos in the Champions League.

A frantic schedule means that each side must play six games in just 18 days, Panathinaikos facing this task:

Tue 29.04.2014 Atromitos (a)
Sat 03.05.2014 PAOK (h)
Tue 06.05.2014 Asteras Tripolis (a)
Sat 10.05.2014 Asteras Tripolis (h)
Tue 13.05.2014 Atromitos (h)
Fri 16.05.2014 PAOK (a)

Other current Toon loans:

James Tavernier/Haris Vuckic (Rotherham United)
A remarkable game at Molineux on Friday saw Wolves record a 6-4 win over the Millers. Both on-loan Magpies began the game, with Haris replaced on 69 minutes.

Rotherham now host Port Vale on Easter Monday.

Shane Ferguson (Birmingham City)
Recalled to the starting XI for a Championship visit to Nottingham Forest on Saturday, Fergie didn't reappear after the half time interval. City were beaten 0-1.

Next up for City is an Easter Monday home meeting with Blackburn Rovers.

Conor Newton / Adam Campbell (St.Mirren)
A morale-boosting 2-0 home win over Hibernian in the SPFL on Saturday was achieved thanks to another 90 minute shift from Conor Newton and an unused sub role for Adam Campbell.

Jonas Gutierrez (Norwich City)
The winger began on the bench for City as they came up against Liverpool at Carrow Road in the Premier League on Sunday.

Romain Amalfitano (Dijon)
A 1-2 loss at AS Nancy in Ligue 2 on Friday saw the United winger complete the full game.

Curtis Good (Dundee United) (injured)
After recovering from a hip problem sustained during his senior international debut for Australia, Curtis is due to resume training on Tayside next week and could be in contention for a squad place when Motherwell visit Tannadice in the SPFL on Saturday.

There's the prospect of another cup final appearance to add to the defender's CV, following an outing for Bradford City against Swansea City in the 2013 League Cup Final.

The Tangerines will face St.Johnstone in the Scottish Cup Final on Saturday May 17th, staged this season at Celtic Park due to rebuilding work at Hampden Park.

Premier League:
Arsenal (a)
Assuming he's not been kidnapped or deported before then, Alan Pardew returns to the Newcastle dugout after his eight game ban when his side visit the Emirates on Monday week (April 28th), live on Sky Sports 1.

Kickoff is at 8pm and all 1,800 away tickets have been sold, United subsidising the cost by £10 per adult ticket from their away fan fund.

Squad: Moussa Sissoko may return after injury, but Davide Santon isn't expected to play again this season and the knee problem that resulted in Papiss Cisse leaving the field during the home loss to Swansea is anticipated to sideline him.

The current whereabouts, mood and fitness of Hatem Ben Arfa remain undisclosed.

Paddy Power match betting is online here

Newcastle to win @ 13/2

(NB: quoted odds were accurate at the time of writing, but subject to fluctuation - click on the link above to display current live odds).
AFC: To follow.

Referee: tbc

Travel:

The RMT trade union have announced a two day strike by London Underground staff, beginning on Monday at 9pm - midway through our visit to the Emirates Stadium.

A recent strike call was ultimately called off, while a reduced service continued on some lines during previous industrial action. If this strike does go ahead however, beware that parts of the network usually begin to close down ahead of the actual declared start time - meaning that journeys to the stadium may well be affected.

UK TV: None

Overseas TV: to follow

UK Radio: tbc

NE Radio: Live commentary on BBC Newcastle

Overseas Radio: Live commentary on talkSPORT

Stats:

Magpies @ Gunners - Premier years

2012/13: Lost 3-7 Ba 2, Marveaux
2011/12: Lost 1-2 Ben Arfa
2010/11: Won 1-0 Carroll
2008/09: Lost 0-3
2007/08: Lost 0-3
2007/08: Lost 0-3 (FAC)
2007/08: Lost 0-2 (LC)
2006/07: Drew 1-1 Dyer
2005/06: Lost 0-2
2004/05: Lost 0-1
2003/04: Lost 2-3 Robert, Bernard
2002/03: Lost 0-1
2001/02: Lost 0-3 (FAC)
2001/02: Won 3-1 O'Brien, Shearer, Robert
2000/01: Lost 0-5
1999/00: Drew 0-0
1998/99: Lost 0-3
1997/98: Lost 1-3 Barton
1996/97: Won 1-0 Elliott
1995/96: Lost 0-2 (LC)
1995/96: Lost 0-2
1994/95: Won 3-2 Keown og, Beardsley, Fox
1993/94: Lost 1-2 Beardsley
(@ Highbury until 2005-06 season, Emirates thereafter)

Remaining Premier League fixtures:

Sat 26.04.2014:
Southampton v Everton (12.45pm) BT
Fulham v Hull City
Stoke City v Spurs
Swansea City v Aston Villa
West Bromwich Albion v West Ham
Manchester United v Norwich City (5.30pm) Sky

Sun 27.04.2014:
mackems v Cardiff (Noon) Sky
Liverpool v Chelsea (2.05pm) Sky
Crystal Palace v Man City (4.10pm) Sky

Sat 03.05.2014:
West Ham v Spurs (12.45pm) BT
Aston Villa v Hull City
Manchester United v mackems
Stoke City v Fulham
Swansea City v Southampton
Everton v Manchester City (5.30pm) Sky

Sun 04.05.2014:
Arsenal v West Bromwich Albion (1.30pm) Sky
Chelsea v Norwich City (4pm) Sky

Mon 05.05.2014:
Crystal Palace v Liverpool (8pm) Sky

Tue 06.05.2014:
Manchester United v Hull City (7.45pm)

Wed 07.05.2014:
Manchester City v Aston Villa (7.45pm) Sky
mackems v West Bromwich Albion (7.45pm)

Sun 11.05.2014 (TV picks yet tbc):
Cardiff City v Chelsea
Fulham v Crystal Palace
Hull City v Everton
Manchester City v West Ham
Norwich City v Arsenal
Southampton v Manchester United
mackems v Swansea City
Spurs v Aston Villa
West Bromwich Albion v Stoke City

Internationals:
Another cap for Alex
Fresh from scoring twice in United's U18 league victory over Chelsea on Saturday, Toon midfielder Alex Gilliead won his second England U18 cap on Wednesday night.

Alex started for the young Lions in a friendly against Germany at Rotherham United's New York Stadium and although his side were trailing 0-1 when he was replaced after 66 minutes, England eventually ran out 2-1 victors.

U18s:
Tom topples Tees teens




Newcastle U18s 3 Middlesbrough U18s 2

A second half brace from striker Tom Heardman took him into double figures for the season on Tuesday, as United edged a well-contested Tyne-tees derby fixture.

Having beaten Chelsea 3-2 at Little Benton on Saturday, Dave Watson's youngsters went into this rearranged game looking for a fifth successive win on their own ground - and an eighth home victory in nine outings this year.

And they got off to a decent start when a low shot from Ben Drennan from the edge of the box seemed to catch out visiting goalkeeper Joe Fryer after 18 minutes.

Boro almost hit back from the kickoff as striker Jordan Jowers exploited some confusion in the United area and shot against the goal frame from a narrow angle.

The equaliser wasn't long in arriving though and when Jowers was challenged in the box by Ryan McKinnon midway through the first half, referee James Simpson pointed to the spot - and Joe Wheatley converted.

In glorious conditions, Newcastle regained the lead barely two minutes into the second half when Tom Heardman netted from 18 yards - Fryer again less than impressive.

Ten minutes later Heardman struck again, after substitute Liam Gibson wormed his way to the byline and pulled the ball across the six yard box for the 18 year-old striker to force past Fryer and a couple of covering defenders.

That never looked likely to be the end of the scoring though and Boro reduced the arrears on 67 minutes, Lee Hetherington beating Freddie Woodman from close in.

A Boro equaliser seemed inevitable as the visitors began to dominate possession, but some poor shooting and an instinctive stop from Woodman in the final seconds of normal time ensured that United held on for the win.

There were first starts at this level for Jack Hunter and Luke Charman, while Macaulay Gillesphey made his comeback following ankle ligament problems.

Team: Woodman, Newberry, Cameron, Hunter, McKinnon, Gillesphey, Kerridge, Drennan (Gibson 50), Heardman, Charman, Laidler.
Subs n/u: Woolston, Tatters, Trodd, Suddick.

Premier League:
Fluke goal - but
defeat no accident

Stoke City 1 Newcastle 0
Match report is online here

2014/15:
German trip latest




Kick-off times have now been confirmed for the Schalke 04 tournament involving United in August as follows:

Sat Aug 2nd 3pm CET and 5pm CET
Sun Aug 3rd 3pm CET and 5pm CET

NB: On the basis that any drawn game in the tournament proceeds to a penalty shootout after 90 minutes, that second kick-off time may be pushed back slightly.

(CET is one hour ahead of UK time)

The Bundesliga club have now placed tickets on public sale to all fans without any specific segregation details, but confirmation is awaited as to whether NUFC will receive an allocation to sell direct to their fans.

PS: to all those asking, we have no information as yet whether other NUFC pre-season games will be scheduled in or around Germany before or after this tournament.

Wed 18.06.2014 Premier League fixtures published.
Sat 16.08.2014 Premier League opening fixtures.
In addition to the Bundesliga hosts and ourselves, West Ham and Spanish Primera Division side Malaga are also now confirmed for the tournament in the German city of Gelsenkirchen (a twin town of Newcastle since 1948).

The games will be in stark contrast to United's last two games on German soil in 2012, low-key friendlies against third tier outfit Chemnitzer and AS Monaco - the latter played on a neutral field in deepest Bavaria....

Opened in 2001 as a replacement for the Parkstadion that hosted games in the 1974 World Cup, the Veltins Arena (originally christened the Arena AufSchalke) has a capacity of almost 62,000 for domestic fixtures - which reduces to 54,000 when rail seats at one end allowing fans to stand are locked into their down position.

Boasting a retractable roof, the Arena staged the 2004 Champions League Final and five matches in the 2006 World Cup Finals, including England's defeat on penalties by a Portugal side featuring old boy Hugo Viana.

United's last meeting with Schalke 04 came back in May 1960 when Charlie Mitten's side won 3-0 in Germany during a post-season tour that also saw kickabouts played in Ireland, Yugoslavia and Spain.

The only notable player link between the clubs came in 2009, when Peter Lovenkrands moved "on a free from Germany" to SJP after his Schalke deal was cancelled.

PS: There's an interesting article about Schalke, Lovenkrands, Freddy Shepherd & NUFC online here

2014/15:
Kiwi claims emerge

Reports emanating from New Zealand in recent days suggest that Newcastle are among a handful of Premier League sides under consideration to participate in a pre-season tournament later this year.

Ourselves, Everton and West Ham have all been linked with a proposed series of games involving Wellington Phoenix (who actually play in Australia's A League) at their 34,500 Westpac stadium.

The option of Auckland's 25,000 North Harbour Stadium hosting games has also been mooted, but like previous reports of United heading to South Africa, the club haven't given any hint that future plans for friendlies involve them going further than mainland Europe.

United have previously visited New Zealand, playing a series of four matches against the national side in May 1985 in Christchurch, Wellington, Napier and Auckland.



NUFC
Next Match
Arsenal
Premier League
Emirates Stadium
Monday 28th April
Kick-off 8.00pm
Live on Sky Sports
NUFC
Last Match
Newcastle 1
Swansea City 2
Premier League
St. James' Park
Saturday 19th April
Match report to follow
NUFC.com's
Never-Ending Tour
| | |
| --- | --- |
| Number of Newcastle games attended by NUFC.com in 2013/14: | 99 |
Fixtures, Tickets etc.
Season 2013/14

The ticket office has now re-opened on the first floor of the SJP club shop, under the Gallowgate End towards the Strawberry.

NUFC box office Easter opening hours:

Easter Sunday: closed
Easter Monday: closed

Normal opening Hours:

Mon-Fri 10am-5pm
Sat 9am-6pm
Sun 11am-5pm

Paid-for matchday ticket collections take place from the windows at the back of the Gallowgate End Stand, above NINE Bar.

Matchday ticket sales are from the Box Office in the Milburn Stand, just up the slope from the Sir Bobby Robson Statue.

SJP Box Office phone: 0844 372 1892*
(Open for away ticket sales and enquiries during the above Box Office hours).

* 0044 870 1892 from overseas

Online Box Office is available here

Details of 2014/15 season ticket sales/ prices can be found online here

On the opening day of ticket sales, they officially commence at 10am.

Away tickets are sold only to season ticket holders and members. All ST holders are also automatically members (a non-negotiable fee is added annually by NUFC to each ST).

A £1 administration fee per ticket applies to away sales in all competitions, with no upper limit. In addition, non-NUFC members pay the same fee on home ticket sales.

SJP season ticket info online here

SJP Stadium seating plan online here

Newcastle City Centre map (PDF)

Show Racism the Red Card have a free download of the NUFC team photo in both PDF and jpeg formats online here

Fixtures:

Tue 22.04.2014 U21s v Blyth Spartans @ SJP, 7pm. Techflow Group Northumberland Senior Cup Final.

Fri 25.04.2014 U21s v Arsenal (h) @ Darsley Park, 1pm. U21 Premier League. Note further new date, venue change and that game is now BCD.

Sat 26.04.2014 U18s v Norwich City (a) @ Colney Training Centre, NR4 7TS. 11am. U18 Premier League.

Mon 28.04.2014 Arsenal (a) @ Emirates Stadium, 8pm. Premier League. SOLD OUT. Allocation: 1,800. Live on Sky Sports.

Sat 03.05.2014 U18s v Manchester City (a) @ Platt Lane, 1pm. U18 Premier League. Note new date.

Sat 03.05.2014 Cardiff City (h) @ SJP, 3pm. Premier League.Public sale now.

Sun 11.05.2014 Liverpool (a) @ Anfield, 3pm. Premier League. SOLD OUT. Allocation: 2,800 tbc.

Guidance from LFC:
Included in the allocation are a number of tickets marked 'restricted view' and 'severely restricted view'.
Seats classed as restricted view on Row 1 is due to personnel movement. Seats classed as restricted view on other rows is due to stanchions supporting the Upper Tier, which impair the view of either goal.
Any seats classed as severely restricted view is due to supporters standing up and down and, in the event of this happening during the game, the supporters on Rows 34 and 35 have a very limited view of the goals due to overhang of the upper tier roof.
In purchasing a 'restricted view' or 'severely restricted view' ticket, you are accepting this view and there can be no ticket exchanges or refunds under any circumstances.
Ongoing: Toon Times exhibition @ Discovery Museum, Blandford Square, Newcastle NE1 4JA. Free entry. (runs until 05.10.2014)

Fri 23.05.2014 to Sun 25.05,2014 Hong Kong Soccer 7s featuring NUFC.
Group A: NUFC, Guangzhou Evergrande, HKFA U23, Hong Kong FC.
Group B: Chelsea, mackems, Kitchee, HKFC Captain's Select.
Group C: Manchester City, Rangers, HKFA team tbc, Singapore Cricket Club.
Group D: Leicester City, Aston Villa, HKFA U21s, Yau Yee League Select.

Wed 18.06.2014 Premier League fixtures published.

Sun 27.07.2014 to Fri 01.08.2014 Northern Ireland Milk Cup featuring NUFC.

Sat 02.08.2014 NUFC v team tbc @ Veltins Arena, Gelsenkirchen, KO 3pm or 5pm local time. Schalke 04 Cup, Friendly.

Sun 03.08.2014 NUFC v team tbc @ Veltins Arena, Gelsenkirchen, KO 3pm or 5pm local time. Schalke 04 Cup, Friendly.

Sat 16.08.2014 Premier League kicks off.



Altoonative Travel is the public face of the Newcastle United Travel Plan, aimed to help fans attend games using the most efficient and sustainable methods available.

Confirmed NUFC UK live TV coverage:

NUFC Live on Sky Sports:
Mon 28.04.2014 Arsenal (a) 8pm

NUFC Live on BT:
None currently scheduled

To mark the Northern League's 125th anniversary, SJP will host their League Cup Final on Tue 06.05.2014 (KO tbc)

Northern League Cup Quarter Finals:
18.03.2014 Marske United 4-1 Guisborough
19.03.2014 Brandon 0-2 Whitehaven
08.04.2014 Whitley Bay 3-2 B.Auckland
15.04.2014 Tow Law Town 1-3 Ashington

Semi Final draw:

21.04.2014 Whitehaven v Whitley Bay
21.04.2014 Ashington v Marske United

Live Music @ SJP:

Sat 31.05.2014 Kings of Leon + White Lies + further support act still tbc. Tickets remain on public sale
here

Rugby Union World Cup @ SJP:

The 20 team event runs from 18.09.2015 to 31.10.2015 with three games at SJP:

Sat 03.10.2015 South Africa v Scotland
Fri 09.10.2015 New Zealand v Tonga
Sat 10.10.2015 Samoa v Scotland


RUWC match ticket sales in five batches:

Now: Traveling Fan Packages

Now: Hospitality Packages

05.2014/06.2014 via Rugby Clubs
To members of rugby clubs in England

09.2014 General sale
General sale to the public via a ballot

11.2014/12.2014 General sale
First come, first served basis for any left
International Magpies
National Service

Future international dates:

09.05.2014 to 21.05.2014 UEFA U17 Final tournament (Malta)

Group A: England, Holland, Turkey, Malta
Group B: Scotland, Germany, Portugal, Switzerland.

Friendlies:

26.05.2014 Australia v S'Africa (Sydney)
27.05.2014 France v Norway (Paris)
28.05.2014 Scotland v Nigeria (Fulham)
30.05.2014 Bosnia v Ivory Coast (tbc)

01.06.2014 France v Paraguay (Nice)
03.06.2014 Greece v Nigeria (Chester)
04.06.2014 Argentina v T & T (Rosario)
04.06.2014 El Salvador v I'Coast (Frisco)
06.06.2014 Croatia v Australia (tbc)
07.06.2014 Arg v Slovenia (Buenos Aires)
07.06.2014 USA v Nigeria (Jacksonville)
08.06.2014 France v Jamaica (Lille)

12.06.2014-13.07.2014 WCF (Brazil)

A: Brazil, Mexico, Croatia, Cameroon
B: Spain, Chile, Australia, Netherlands
C: Colombia, Greece, Ivory Coast, Japan
D: Uruguay, England, Costa Rica, Italy
E: Switzerland, Ecuador, France, Honduras
F: Argentina, Bosnia, Iran, Nigeria
G: Germany, Ghana, Portugal, USA
H: Belgium, Algeria, Russia, South Korea

(Nations in bold expected to have NUFC involvement in their squads)

The way international matches are scheduled is changing, as UEFA confirm:

The Week of Football means matches take place over six days from Thursday to Tuesday. Kick-off times will be set largely at 18.00CET and 20.45CET on Saturdays and Sundays and at 20.45CET for Thursdays, Fridays, Mondays and Tuesdays.

On double-header match weeks, teams will play on Thursday and Sunday, Friday and Monday or Saturday and Tuesday.

2014/15 match dates :
Sat-Mon 07-09.09.2014
Wed-Fri 09-11.10.2014
Sat-Mon 12-14.10.2014
Thu-Sat 14-16.11.2014
Fri-Sun 27-29.03.2015
Fri-Sun 12-14.06.2015

2015/16 match dates:
Thu-Sat 03-05.09.2015
Sun-Tue 06-08.09.2015
Thu-Sat 08-10.10.2015
Sun-Tue 11-13.10.2015
Thu-Sat 12-14.11.2015 (playoff 1)
Sun-Tue 15-17.11.2015 (playoff 2)

Coxy's Cockup Corner
Whoops, He did it Again...

What's this all about then? Click here
for a rambling explanation of sorts....


On This Day in History
20th April

Born Or Died:
1890 Frank Hudspeth born, Percy Main. (1910-29)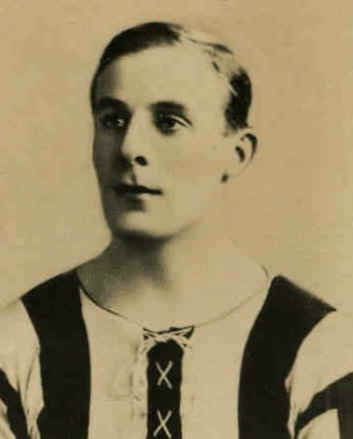 Holder of the club's all-time appearance record for an outfield player, United paid £100 to local amateur club North Shields Athletic for their left back in March 1909.

Gradually replacing Jack Carr and Tony Whiston over the following three seasons, Hudspeth became the bedrock of United's defence alongside Bill McCracken.

Working in a Tyneside munitions factory during WW1, Hudspeth also appeared as a guest player for the Leeds City club and served in the Royal Navy as an Able Seaman before returning to play for the Magpies in the Victory War League of 1918/19.

That saw him renew the partnership with McCracken and the pair continued to good effect when league football resumed the following season, aided by their stifling but unpopular application of the offside rule.

In 1923/24 he captained the side for their Wembley debut in the FA Cup Final against Aston Villa, collecting the trophy after his side scored two late goals.

An England call-up followed for Frank in October 1925 and he helped post a clean sheet against Northern Ireland in Belfast.

More silverware was to come Hudspeth's way – but only after he relinquished the captaincy to Hughie Gallacher in 1926.

Undeterred, he was an ever-present in the title winning season, forming another solid defensive partnership with Alf Maitland.

Continuing to feature in the first team until September 1928, Frank finally lost his place after a 0-5 defeat by Manchester United at Old Trafford.

His final six games that season brought him three more goals - including two of his trademark blockbuster penalty conversions.

Leaving SJP in 1929, Frank played for Stockport County and Crook Town before hanging up his boots in the summer of 1931.

Two years later he was appointed Rochdale trainer, moving on to a similar position at nearby Burnley in 1934 - eventually retiring in 1945.

Frank remained in Burnley until his death, in February 1963.

1942 James Wilson born, Newmilns, Scotland. (1959-62)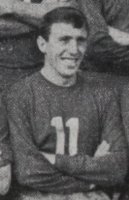 Outside left who was signed from Shotts Bon Accord for £750 in September 1959.

Making his first team debut the following October in a 5-0 home win over Cardiff City, Jimmy played just once more in what became a relegation season.

Used more in the following campaign when, selected by new boss Norman Smith in preference to Liam Tuohy, Wilson then lost his place to FA Youth Cup winner Alan Suddick and exited from SJP.

Returning to his native Scotland, he enjoyed spells in the colours of Greenock Morton, Aberdeen, Motherwell, Dundee and Falkirk.

Ending his career at Elgin City, he later managed Highland League sides Keith and Cove Rangers and ran a pub in Aberdeen named after himself.

Jimmy maintained his Pittdorie associations by working as a corporate matchday host for Dons home games and being involved with the Aberdeen ex-players association.

1976 Shay Given born, Lifford, Republic of Ireland. (1997-2009).
United boss Kenny Dalglish went back to his former club Blackburn Rovers in May 1997 to sign Shay Given at a cost of £1.5m - having previously brought the teenage 'keeper from Celtic Park to Ewood in 1994.

Having played just twice in the Rovers first team when deputising for Tim Flowers, Given had been out on loan at both Swindon Town and the mackems (who it was rumoured were unable to fund a permanent transfer).

His arrival at SJP saw him tussle with Steve Harper for the goalkeeper's jersey, taking possession by the 2000/01 season, after withdrawing a transfer request.

Shay began a run of 140 consecutive league appearances away at Leeds in January 2001 – broken in October 2004 when his wife gave birth and Harper deputised at Bolton.

By the end of the 2006/07 season, Given had risen to sixth in Newcastle's all-time appearance table and captained the side.

However he had also belied his "Lazarus" nickname by missing a number of games throughout the season through injury.

A sickening collision with Marlon Harewood at West Ham in September 2006 left Given with abdominal injuries likened by his surgeon to those suffered in car crashes.

The subject of many transfer rumours over the years (often linked to Arsenal), Shay eventually left SJP in January 2009, with
Manchester City reportedly paying £8m.

While there was sadness at his leaving, there had been a certain air of inevitability about it. In later years, Given had regularly spoken of the need for the club to invest properly in the squad - but to no avail.

Shay's final United appearance came in a 0-3 loss at Blackburn, which ended in him preventing an onfield clash between Joey Barton and Jose Enrique.

He then exited the field without the usual acknowledgement of the Toon fans, which prompted us to write that:

"If he'd finally reached the point of no return with this bloody cowboy outfit, then we couldn't blame him."

His departure from United left him third in the all time club appearance list, having played 463 game in all competitions (including one sub outing).

The grass at Manchester City didn't however prove to be green, with Given losing his first-choice status in April 2010 when he dislocated a shoulder.

Replaced by Márton Fülöp for the remaining three games of the season, Shay then saw Joe Hart return from his loan at Birmingham City and take over between the posts at Eastlands for 2010/11.

Given found himself restricted to a handful of cup outings including bench duty at Wembley in the FA Cup Final win over Stoke - for which he received a medal.

Bowing to the inevitable, Given moved on and join Aston Villa in July 2011 for a fee of around £3.5m.

Internationally, Shay became the Republic of Ireland's most-capped player of all time in March 2010 when he made his 103rd senior appearance - he's now amassed 125.

He announced his international retirement in August 2012 but had reversed that decision by January 2013, partly due to his lack of appearances at Villa.

Going on loan to Middlesbrough in November meant that Shay earned the dubious honour of appearing for teams by the
Tyne, wear and tees, but remained out of the first team picture following his return four months on.

Given secured a new role at Villa though in April 2014, unexpectedly joining Paul Lambert's coaching staff following some backroom sackings at Villa Park.

PS: no profile of Shay would be complete without mentioning the events of Saturday 8th November 1997 at Highfield Road.

In an initially innocuous piece of play, Given claimed possession of the ball on the edge of his six yard box and threw the ball down in preparation for clearing it downfield.

However, as was later written by numerous reporters, he was the only Irishman who didn't know where Dublin was – City striker Dion Dublin appearing from behind him and scoring a perfectly legitimate goal by tapping the loose ball into the United net.

What Else?
1896 Burslem Port Vale (a)
0-2 (0-0)
Division Two
34pts, 5th
J.Mason, Randles
2,000
Last game of the season and despite the defeat, United finished 5th in the league.
1897 St.Mirren (h)
3-0 (2-0)
Friendly
Stewart, Smellie, Aitken
2,000
1898 Stoke (h)
2-1 (1-0)
Test Match
Smith, Harvey
Kennedy
17,000
1901 Manchester City (a)
1-2 (1-1)
Division One
37pts, 6th
Peddie
Gillespie 2
18,000
1907 Bolton Wanderers (a)
2-4 (2-2)
Division One
51pts, 1st
Orr, Veitch
Marsh 2, White, Gaskell
5,000
This was the final game of the Championship winning season and saw a debut for George Jobey, signed from Morpeth Harriers for the princely sum of £10.
1908 Middlesbrough (a)
1-2 (1-0)
Division One
42pts, 4th
Higgins
Dixon, Bloomer
20,000
The season ended with United losing their final two games to the mackems and then the smoggies. This saw them drop to fourth, having been second since Christmas Day.
1912 Aston Villa (a)
0-2 (0-0)
Division One
43pts, 2nd
Hampton, Hall
20,000
1921 Middlesbrough (a)
1-2 (0-0)
Friendly
King
12,000
1929 Sheffield Wednesday (h)
2-1 (2-0)
Division One
40pts, 10th
Gallacher 2(1pen)
Allen
26,401
1935 Bolton Wanderers (h)
1-3 (1-1)
Division Two
46pts, 6th
Leach
Milsom, Westwood 2
28,277
1935 The Reserves travelled to Villa Park while the First team entertained Bolton at St. James'.



1955 Preston North End (h)
3-3 (2-2)
Division One
39pts, 11th
Davies, Hannah, Milburn
Higham 2, Baxter
38,681
1955 Newcastle pair Alf McMichael and Tommy Casey appeared for Northern Ireland as a John Charles hat trick gave Wales a 3-2 victory at Windsor Park, Belfast.

In the Wales team was future Magpie Ivor Allchurch, alongside his brother Len.
1957 Aston Villa (h)
1-2 (1-0)
Division One
36pts, 12th
Mitchell
Sewell, McParland
28,453



1962 Derby County (h) 3-0 (2-0)
Division Two
37pts, 15th
Fell (pen), Hale, Thomas
33,138

1963 Bury (h)
1-3 (0-1)
Division Two
40pts, 8th
McGarry
Calder 3
25,017





1966 Blackpool (a)
1-1 (1-0)
Division One
34pts, 14th
Suddick
Charnley
12,446

1968 Fulham (a)
0-2 (0-2)
Division One
41pts, 9th
Clarke 2
14,670





1974 Birmingham City (h)
1-1 (1-1)
Division One
37pts, 14th
Robson
Francis
34,066

1981 Grimsby Town (h) 1-1 (0-1)
Division Two
40pts, 11th
Shoulder
Drinkell(43)
13,170





1983 Rotherham United (h)
4-0 (2-0)
Division Two
57pts, 5th
McDermott(18), Varadi, Wharton, Keegan
18,523


1984 Blackburn Rovers (a) 1-1 (0-0)
Division Two
70pts, 3rd
Trewick
Fazackerley(pen)
19,196
Future United coach Derek Fazackerley, netted from the spot for Rovers.


1985 Liverpool (a)
1-3 (1-0)
Division One
45pts, 14th
McDonald(81)
Wark(57) Gillespie(69), Walsh(80)
34,733
Joe Fagan's side remained in fourth positon after John Wark, Gary Gillespie and Paul Walsh all beat Martin Thomas.

United managed a late consolation when Neil McDonald shot past Bruce Grobbelaar from the penalty spot - our first Anfield goal in six league and cup visits.

1987 Everton (a)
0-3 (0-0)
Division One
43pts, 17th
Clark 3
43,576
There was a debut for Brian Tinnion, at left back, as Neil McDonald was sent off for moaning to the referee.

Wayne Clark scored a hat-trick for the Toffees, who were well on their way to becoming champions.
Youtube footage is online here

1991 Ipswich Town (h)
2-2 (1-2)
Division Two
Stimson, Quinn
Kiwomya 2
17,638
Having beaten Oldham and Sheffield Wednesday at home in the previous week, Ossie Ardiles saw his side held by John Lyall's outfit.

1992 Derby County (a)
1-4 (0-2)
Division Two
Peacock(49)
Williams(pen), Kitson,
Ramage 2
21,363
An Easter Monday disaster, as referee Brian Coddington sent off Kevin Brock, Kevin Scott and Liam O'Brien and banished coach Terry McDermott from the bench as United were left in a relegation position with only two games left.

Paul Williams gave the Rams an early lead from the penalty spot, with future Magpie Paul Kitson doubling the lead before half time.

A second half onslaught from nine-man United - backed by frenetic support - saw Gavin Peacock hit the bar and then pull one back after 49 minutes.

Dreams faded with 20 minutes remaining though when Craig Ramage got Derby's third and within two minutes Liam O'Brien had walked, reducing us to eight men.

Ramage then claimed a fourth and United fans ripped seats out of the Osmaston Stand and frisbeed them on to the field, before trouble flared outside the Baseball Ground.
Youtube footage is online here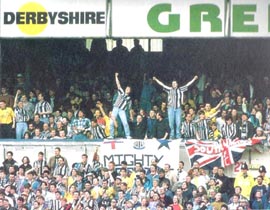 "rip the seats out for the lads..."
1994 After finally becoming a first choice for United, defender Alan Neilson made his senior Welsh debut against Sweden.

2002 Charlton Athletic (h)
3-0 (1-0)
Premiership
Speed(22), LuaLua(46), Shearer(89)
51,360
Alan Shearer got his long -awaited 200th Premiership goal in what was his 400th club start. His late strike to beat Dean Kiely at the Gallowgate End also brought up a century of first team goals for the season.
NUFC.com match report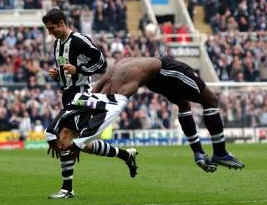 LuaLua celebrates in typical fashion...

2005 Norwich City (a)
1-2 (0-0)
Premiership
Kluivert(90)
Safri(68), Ashton(90+4)
25,503
After successive 1-4 losses at Sporting Lisbon (Thursday) and against Manchester United at Cardiff (Sunday), a weary squad and support moved on to Carrow Road on Wednesday night.

Patrick Kluivert's late effort looked to have won a point and stopped the rot, only for Dean Ashton to head home deep into added time and give City what turned out to be false hope of avoiding relegation.
NUFC.com match report

2008 mackems (h)
2-0 (2-0)
Premier League
Owen(4,45pen)
52,305
Kevin Keegan's side made it six games without loss and five wins in a row against our alleged rivals.

One of the easiest victories KK presided over saw Roy Keane's awful side and their meek followers comfortably dispatched by two first half Michael Owen goals.

After the victory, KK commented:

"I don't care what anybody says, you can go around the world twice if you like and you would not get an atmosphere like that anywhere else."
NUFC.com match report

2010 Newcastle reserves recorded their biggest win of the season - after falling behind to an early goal - beating Huddersfield Town Reserves 5-1.

Haris Vuckic, Paul Dummett, Wesley Ngo Baheng, Callum Morris and Phil Airey all netted at Whitley Park after the Terriers had gone ahead within 90 seconds.
NUFC.com match report


2011 Despite a valiant effort from an Ashington side containing various ex-Mags, the reserves booked their place in the Senior Cup Final with a 2-0 win at Whitley Park - thanks to goals from Brad Inman and Michael Richardson.
NUFC.com match report

2013 West Bromwich Albion
1-1 (1-0)
Premier League
Gouffran(8)
Jones(64)
25,671
United ended a losing sequence of four away games with a point at The Hawthorns - but Yoan Gouffran's first half goal wasn't a true reflection of their first half dominance.

Baggies boss Steve Clarke paired Shane Long and Romelu Lukaku, but Newcastle' ineptness was as much to blame as Albion's increased efforts for the full time score.
Copyright © 2014 NUFC.com. All rights reserved.
Niall & Biffa. NUFC.com Privacy Policy